5 Mins
WhatsApp announced changes to its Terms and Privacy Policy at the beginning of the year and has been the talk of the town ever since. In this guide, we highlight important changes, things that remain unchanged, and new opportunities emerging from this change.
As one of the most loved communication channels in the market, WhatsApp is a valuable platform for businesses. But with WhatsApp's recent privacy policy update, there has been a lot of confusion.
Companies using the WhatsApp Business account need to follow WhatsApp's terms and conditions to maintain quality standards.
As WhatsApp clarifies all the questions, they've pushed the new business commerce policy update dates from February 8th to May 15th.
Let's look at the new changes and what remains same.

WhatsApp shopping features
With a move to conversational commerce, WhatsApp is fast becoming the digital store for businesses.
To empower these brands, WhatsApp commerce policy has introduced services like Carts and Shop. With Carts, customers can browse your brand's catalogue, select multiple products and send the order as one message. This way, customers don't have to leave the chat to explore your products.
Businesses can benefit from this feature as it will make it easier to keep track of order requests, manage demands and close sales.
Businesses that have Shop on Facebook or Instagram can also use it on WhatsApp. Many businesses don't have this feature as it's being slowly rolled out (and is not available in India yet.)
When customers interact with your brand using WhatsApp Shop or other shopping features, customer's data can be collected by the business to personalise the experience and show relevant ads on Facebook and Instagram.
To keep communication transparent, WhatsApp will show a message to the customer, informing them about the information collection.
The new WhatsApp business privacy policy, however, doesn't change anything in the Payment policy whatsoever. It remains unchanged. 
Facebook hosting services
WhatsApp Businesses and Business Solution Providers (BSPs) will have the option to use Facebook's secure hosting services to host their numbers on WhatsApp. This option will make it easier for small and medium-sized businesses to get started on WhatsApp.
In line with industry standards, if a company chooses to use Facebook's hosting service, Facebook will use the messages it processes on behalf of and at the instruction of the business.
To make it clear, Facebook will not directly use the messages. Businesses will have to explicitly opt-in to use these messages for their marketing purposes, which includes advertising on Facebook.
Similar to the customer intimation during shopping, if a business is using Facebook's hosting service, WhatsApp will inform the users with a label message (see the image below). The goal is to be transparent about the end-to-end encryption status of a chat.
It should be noted, this change has nothing to do with the underlying technology of how BSPs and some businesses host the enterprise client with the on-premise Business API. This remains unchanged.
To know more about what information is collected and how Facebook will use it, read WhatsApp Privacy Policy.
What's not changing?
User's personal chat privacy
Customer's personal messages' security and privacy remain unchanged. That is, any chat between two users and the groups they are part of are as secure as before.
Facebook will not be able to read or listen to their personal information in chats or calls. Personal messages are protected by end-to-end encryption and this doesn't change even now.
To clarify, WhatsApp has shared the below infographic for the users.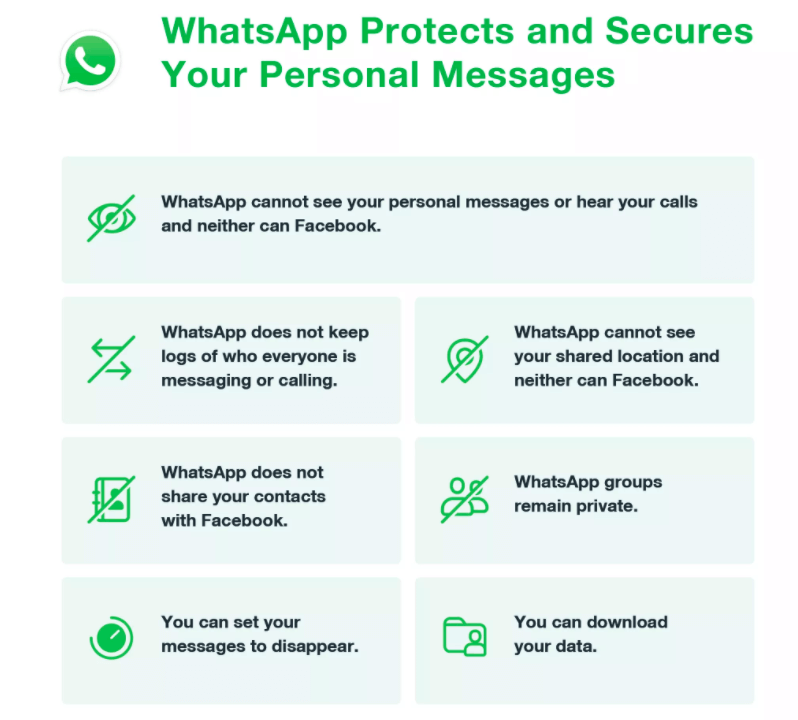 User experience
WhatsApp Business API requires you to provide a quality experience to the users. To that end, WhatsApp has clearly defined what messages are allowed and what are not.
Allowed Messages:
Customer Support: When customers start a message to seek support or make a purchase. For example, support queries, product purchase, returns request and such activities.
Customer Notification: When businesses share messages to improve customer experience. For example, sharing invoices, order confirmations, delivery status, etc.
Two-Step Verification: This is to add an extra layer of security to the WhatsApp Business API Client.
Prohibited Messages:
Marketing/promotional messaging in templates
Newsletter or subscription-type messaging, including content subscription
Suggested Reading: Auto-reply for WhatsApp: A Guide for 2021
When communicating with customers, businesses should keep the following in mind:
You can send or reply to only those customers who have agreed to be contacted by you.
You must respect the customer's request to block, discontinue, or opt-out of your communication service. To honor the request, even if you are obliged to delete the contact detail from your database, you should.
You must not confuse, deceive, mislead, or spam a customer with wrong and irrelevant information.
You should not ask customers to share sensitive data like payment card numbers, bank details, etc.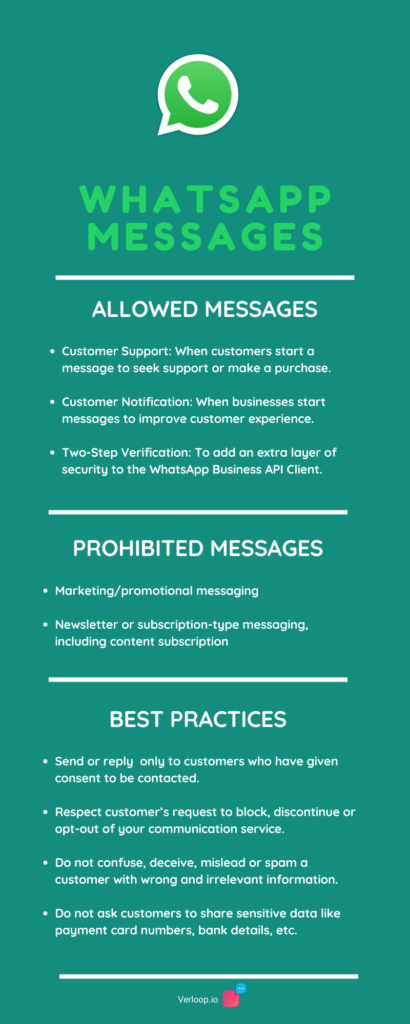 It's clear WhatsApp is striving for relevant communication that brings value to both your company and your customers. If you'd like to read the details of the business communication, check out the WhatsApp Business Policy.
Suggested Reading: 10 Reasons Your Business Needs a WhatsApp Chatbot Today
Verloop.io's Take on WhatsApp's Policy Change
Facebook and WhatsApp have made it clear that the user's peer-to-peer communication will not be affected by the new privacy policy change. That is, all private chats between individuals and groups remain end-to-end encrypted.
But when it comes to user's interaction with a WhatsApp Business account, the shopping activity and chat data can be used to improve shopping experience and for the brand's marketing purpose, which includes showing ads on Facebook and Instagram.
To handle the load of customer support, WhatsApp had previously introduced WhatsApp Business APIs (WABA) that can be hosted on a Business Service Provider (BSP) such as Verloop.io.
There are two challenge with this system:
WABA servers take time to deploy
Not all BSPs have the infrastructure to host WABA servers
To solve for this, Facebook is giving businesses the option to host their WhatsApp number directly on Facebook.
As long as the business's WhatsApp number is hosted with their BSPs, nothing will change. But if a business decides to host their number on Facebook, the business can use customer's data to show them personalised ads on Facebook family of apps. Either way, Facebook cannot explicitly access this data.
In addition to this, to keep communication transparent, the end-user will be notified if a business' number is hosted on Facebook's server and when they use the Shop feature on WhatsApp.
New opportunities with WhatsApp
WhatsApp Business accounts open up new doors for business-customer communication. Like using the WhatsApp chatbot for customer service. With these policies in place, you can provide quality content to your customers and improve their experience with your brand.
With the new WhatsApp commerce policy, you can:
Host your number directly on Facebook instead of a third-party for a faster onboarding
Get access to data on how customers engage with your brand, what they purchase, and converse
Customise customer experience using the above data and increase customer satisfaction
Personalise Ads and let customers discover your brand on Facebook and Instagram
Small- and medium-sized businesses can improve customer service by engaging with their customers in real-time
Use conversational commerce to let customers shop directly from WhatsApp
Express yourself and endorse your products with richer content in the form of images, videos, PDFs, etc
Get creative with your communication by using emojis, gifs, bolded/italicized content, catalogues, etc
Be proactive in interacting with customers with timely updates
We are keeping a close eye on this topic and will revise this document with new WhatsApp commerce policy updates.
Interested in automating your customer support on WhatsApp?