5 Mins
Is WhatsApp Business free to use? Are there any rules I need to know? How does WhatsApp charge for messages? Know everything about WhatsApp Business pricing here.
In 2022, WhatsApp will continue to be the most popular global mobile messenger app. It's also the third most popular social network worldwide. It has approximately two billion monthly active users.
Chances are that you already know the convenience, speed, and personalisation of WhatsApp. For many businesses, it's a lifeline and an effective way to reach out to customers and meet their needs.
The best way to leverage this is with WhatsApp for Business. So what do you need to know about how to use it, and what will it cost? That's what you're going to find out.
We think you'd also like: 21 Most Frequently Asked Questions On WhatsApp Business
Two Types of WhatsApp for Business
There are two forms of WhatsApp for Business that you can consider. WhatsApp Business App is ideal for smaller companies. The WhatsApp Business API is for medium to large companies.
WhatsApp Business App is free to download for Android and iOS. With this, you can:
– connect with customers
– highlight products, services, and offers
– provide customer service and more.
This means higher levels of trust and engagement.
The WhatsApp Business API can turbocharge the experience. You get scalability, flexibility, and dedicated enterprise features to meet your needs.
The API works with authorised third-party software, from a WhatsApp Business Solution Provider. And so working with such a provider means a set-up and monthly costs. Each provider has varying rates.
Besides, there is also a charge for messages sent by WhatsApp. Before we get into this, it's important to be clear about the types of messages for WhatsApp Business.
Understanding session messages and template messages
For the WhatsApp Business API, there are two types of messages. These are Session Messages and Template Messages.
Session messages are those sent and received in response to a message initiated by the user. A messaging session starts when your business receives a message. It lasts for 24 hours in the context of the most recently received message.
An example of a session message is if a user asks you for more information about a product. Or if a user follows up on a sale, or a customer care issue.
However, template messages are formats sent to those who opt to receive messages from your business. They are a useful, efficient, and time-saving form of communication on WhatsApp. Here's your go-to recipe to create great WhatsApp message templates.
For example, you can use templates for:
– alerts
– appointments
– payment reminders
– shipping updates, and more.
Many businesses find such templated messages to be a powerful channel of communication. Consumers, too, have come to depend on them for a variety of needs. Template messages need to be pre-approved by WhatsApp.
We have also curated a quick video detailing the new changes and what they mean. Check it out below!
Conversation-based pricing: The new WhatsApp Business pricing system from Feb 2022
When it came to WhatsApp Business API pricing, there was no charge for session messages earlier. WhatsApp simply charged businesses for the number of messages they initiate and send to users.
But now, WhatsApp charges its API users using the new conversation-based pricing model.
WhatsApp will charge businesses per conversation over a 24-hour period. WhatsApp divides such conversations into two categories, with different pricing slabs.
1. User-initiated
These conversations begin when a business responds to a message first sent by the user. The first response from the business initiates a 24-hour session window.
All messages exchanged between a business and a user within this 24-hour window are associated as a single conversation. These messages render a single charge.
Businesses can send any number of free-form messages within these 24 hours.
These conversations usually begin when a user has a query.
2. Business-initiated
These conversations begin when the business first sends a message to the user. These messages are counted after the 24-hour window is exhausted.
These conversations require businesses to only communicate with users with pre-approved message templates.

Make the most every month: Free-tier conversations
WhatsApp has a new addition to the pricing system.
Now, businesses will get 1000 conversations for free every month. This means that WhatsApp will not charge for the first 1000 monthly chat sessions businesses have with users.
The quota is refreshed every month. These conversations can either be user or business initiated.
What if I have multiple numbers registered to the same business account? The threshold still remains 1000 conversations per month.
When does the threshold renew? WhatsApp reinstates free and fresh 1000 conversations every month based on the WABA's timezone.
Convert users to your heart's delight: Free-entry point conversations
There's another good news for businesses from February 2022 onwards!
WhatsApp will not charge businesses for conversations initiated with users clicking on CTAs on ads that click to WhatsApp or CTAs on your Facebook page.
Needless to say, these conversations can ONLY be user-initiated.
The first conversation initiated from the entry point (Ad CTAs) is free of charge. You will incur standard charges for any subsequent conversations you have with the user.
Here's how it differs for different countries:
| | | |
| --- | --- | --- |
| Region | Business-initiated rate (in dollars) | User-initiated rate (in dollars) |
| India | $ 0.0066 | $ 0.0040 |
| Indonesia | $ 0.0316 | $ 0.0190 |
| Malaysia | $ 0.0732 | $ 0.0220 |
| Egypt | $ 0.1073 | $ 0.0644 |
| Saudi Arabia | $ 0.0325 | $ 0.0195 |
| UAE | $ 0.0316 | $ 0.0190 |
| Rest of Africa | $ 0.1208 | $ 0.0363 |
| Rest of Asia Pacific | $ 0.0745 | $ 0.0224 |
| Rest of Middle East | $ 0.0727 | $ 0.0218 |
A few common scenarios to understand the new pricing system
We'll now take a look at a few common situations that may arise as a result of the updated WhatsApp business pricing system.
For the sake of simplicity, we will take the case of Maya, a user who placed a food order with a restaurant.
Under user-initiated conversations…
1. User inquiries within 24-hours of sending the first message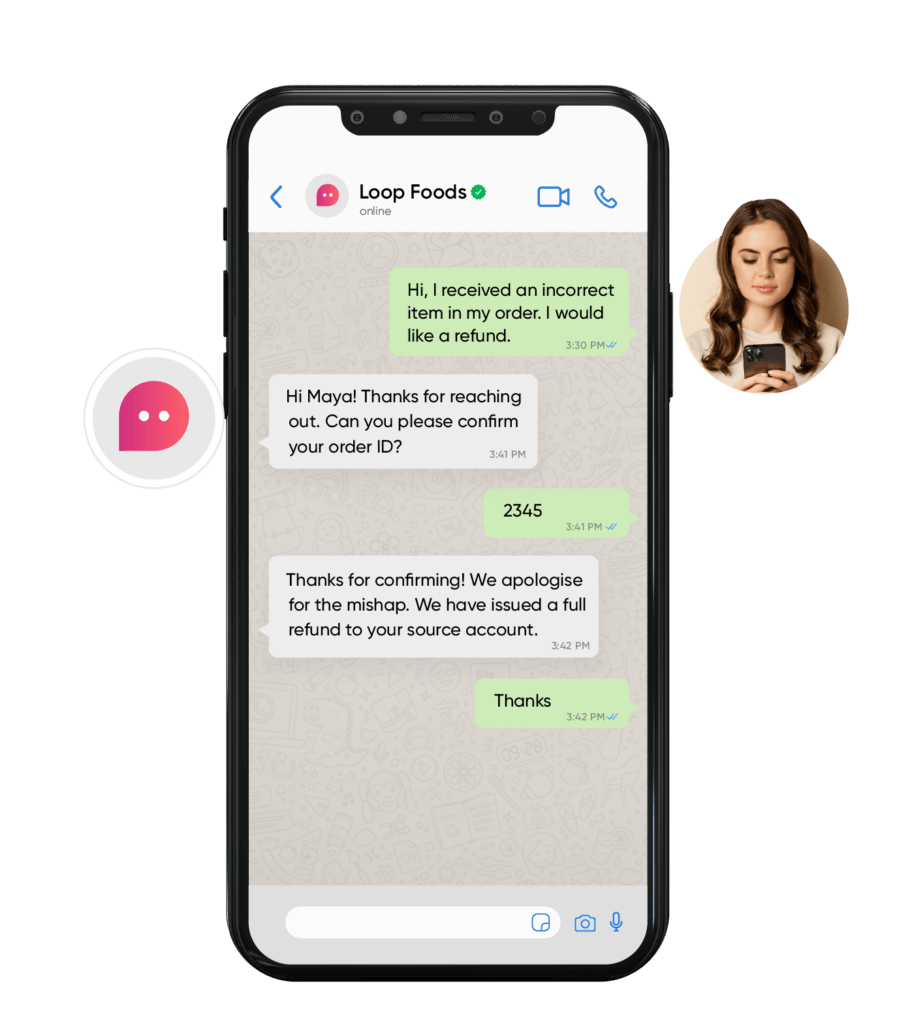 Maya sends a message describing the problem she faced with her order. She requests a refund.
The business responds to Maya an hour later, thus beginning the 24-hour chat session.
Multiple messages are exchanged between Maya and the business during this time, and the business closes the conversation by issuing a refund.
The business will be charged for a single user-initiated conversation in this case.
2. User inquiries extending after the initial 24-hour window is exhausted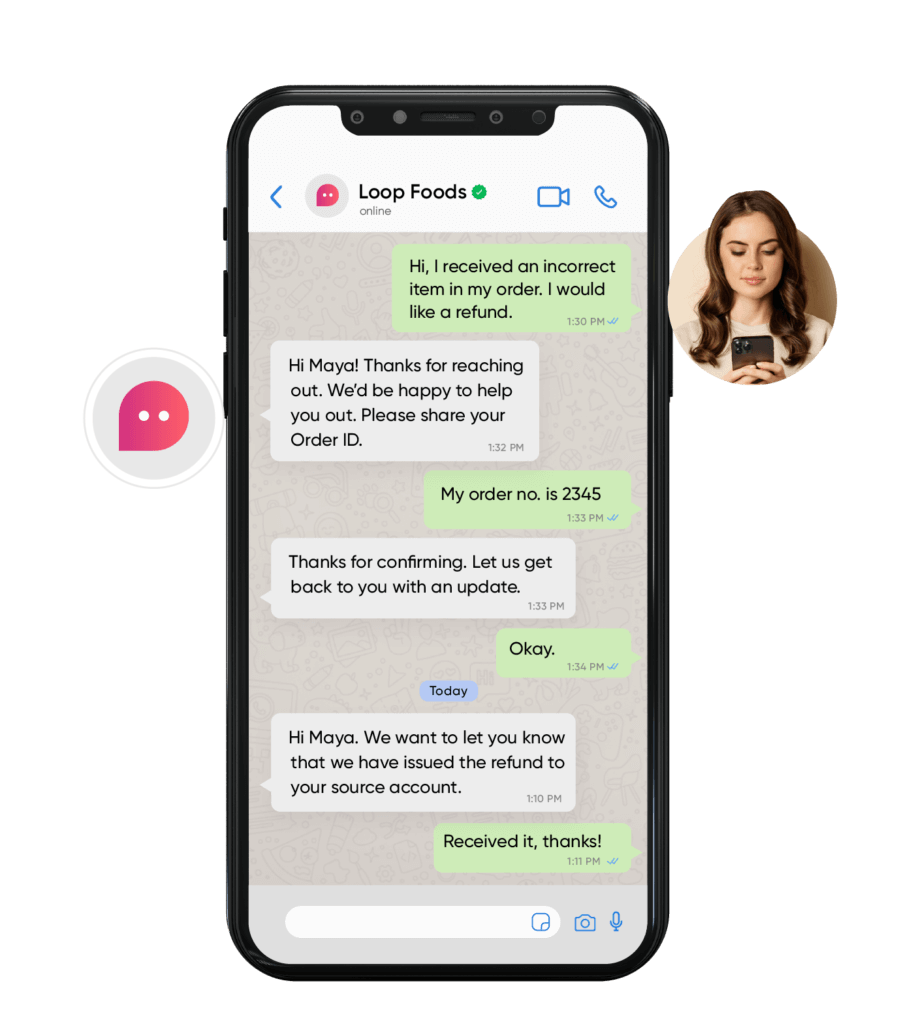 This time Maya explains her problem, receives an automated response from the business, but no resolution in the first 24 hours. The first chat session expires.
The business can carry forward this conversation after 24-hours, which will now initiate a new 24-hour window.
In this case, the business will be charged for two user-initiated conversations.
3. User-initiated conversation leads to a business-initiated conversation post 24-hours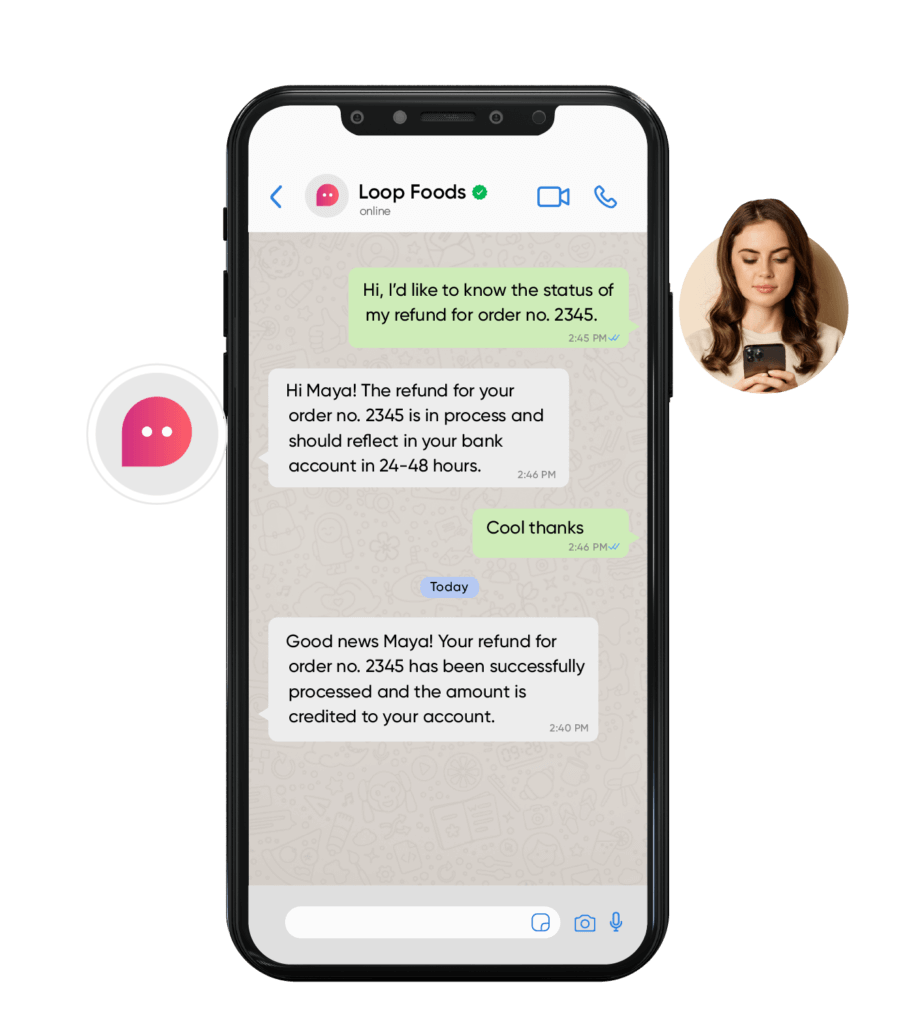 Maya enquires the business regarding her refund status, and the chatbot on WhatsApp answers her with an update.
Maya receives her money after the initial 24-hours are exhausted. Following up the next day, the business updates Maya on the successful refund. They have a message template for this scenario and use it to let Maya know.
In this case, the business will be charged for one user-initiated conversation and one business-initiated conversation.
Under business-initiated conversations…
1. Business initiates the conversation using a message template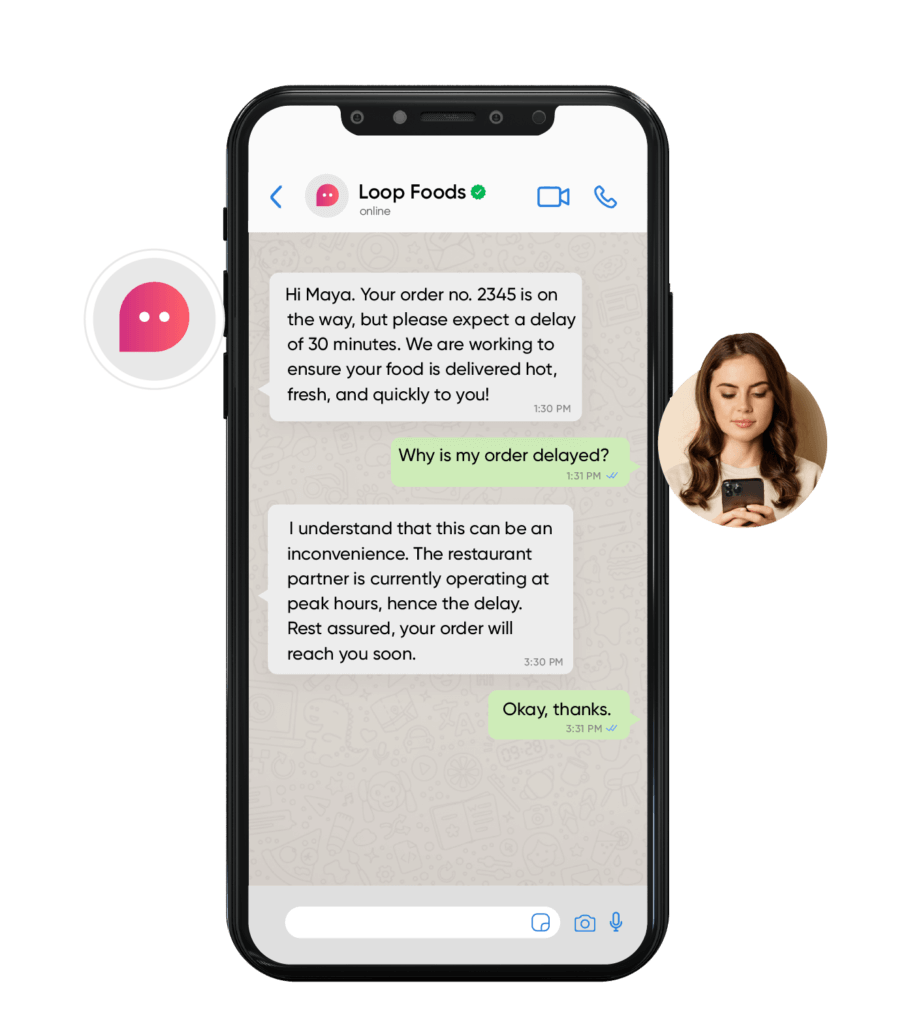 Maya's food order is delayed by 30 minutes because of a roadblock. She had opted-in to receive updates from the business.
The business uses a message template to let Maya know of the delay.
This initiates a conversation between the two as Maya enquires more about her order.
She eventually receives her order and the conversation has no further development.
In this case, the business is charged for a single business-initiated conversation.
2. Business initiated conversation lasting 24-hour session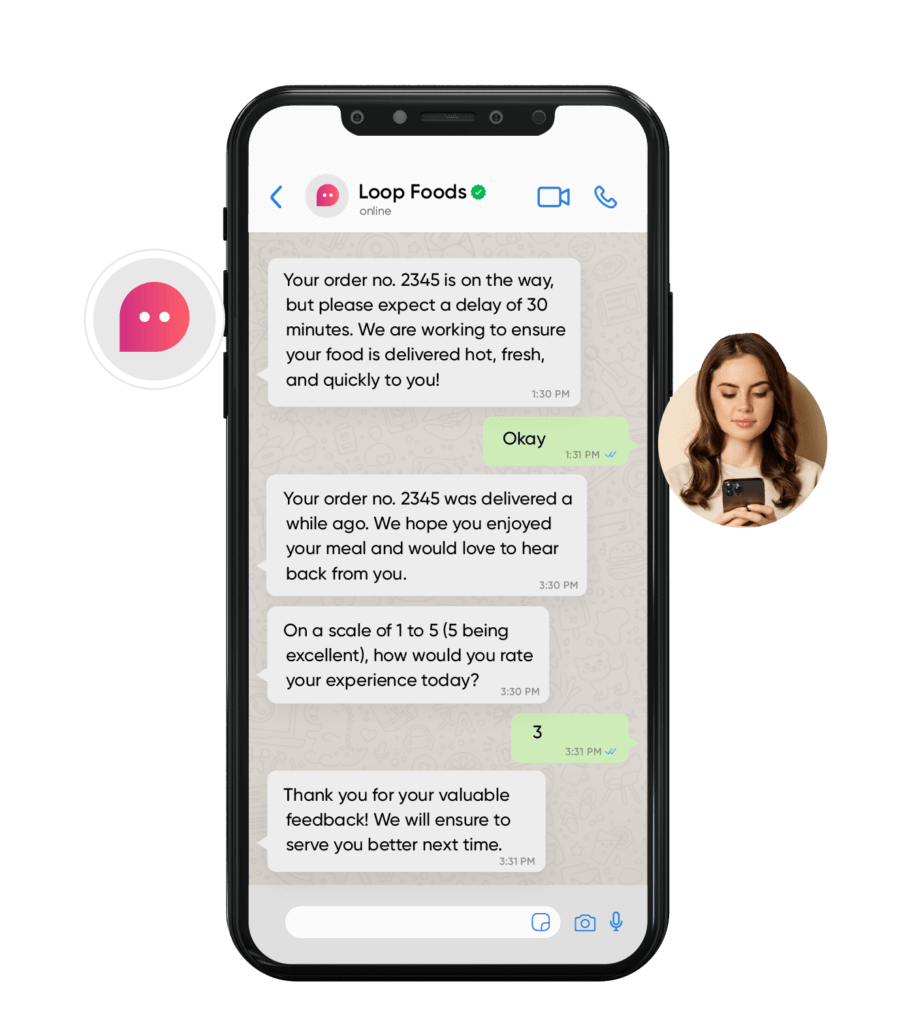 Let's continue with the above scenario. The business sent Maya a template message to share an update on order status. Maya received her order and the conversation has no further development.
However, within 2 hours of receiving her order, Maya gets another template message from the business, asking her for feedback.
In this case, the business is charged for a single business-initiated conversation.
3. Business initiated conversation leads to a user-initiated conversation after the 24 hour session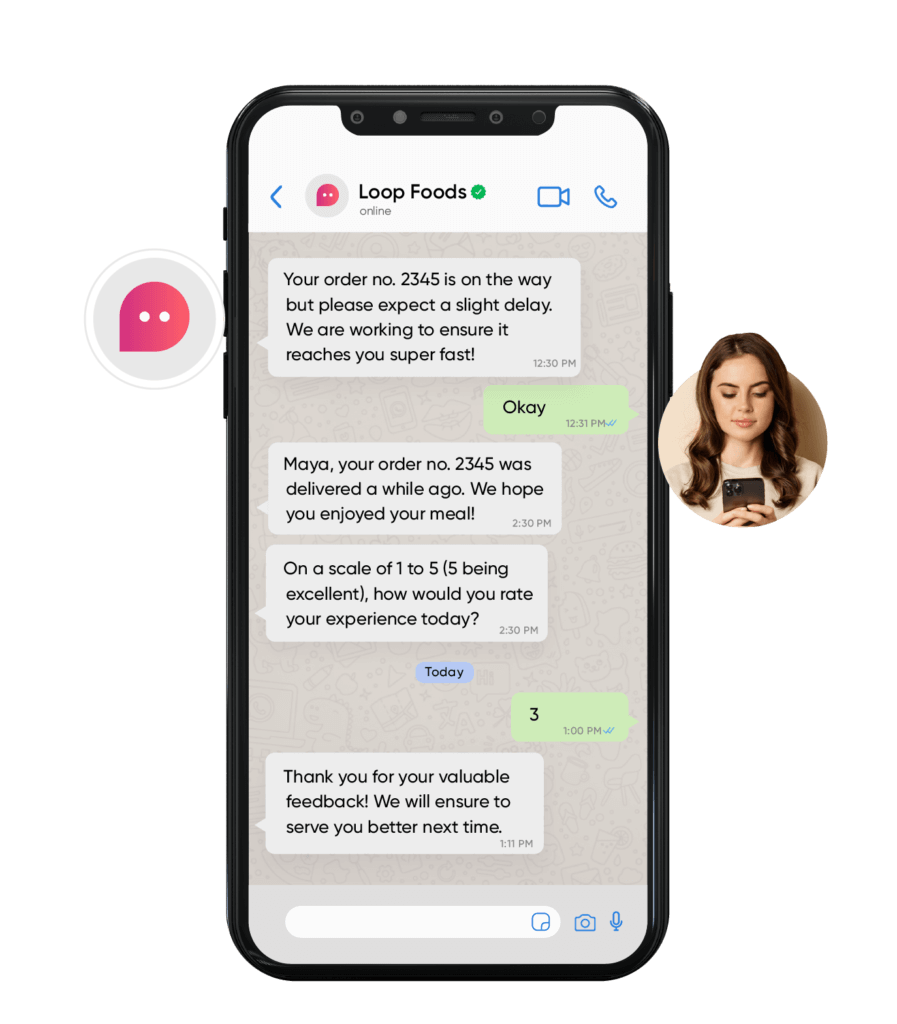 In the above scenario, if Maya responds to the business within the 24-hour session, there would be no extra charge.
However, it is possible that Maya responded to the business after the 24-hour session has elapsed. If the business responds to Maya's feedback, they will start a new 24-hour session.
In this scenario, the business will be charged a single business-initiated conversation and a single user-initiated conversation.
4. Business inititates a new conversation after the 24-hour session.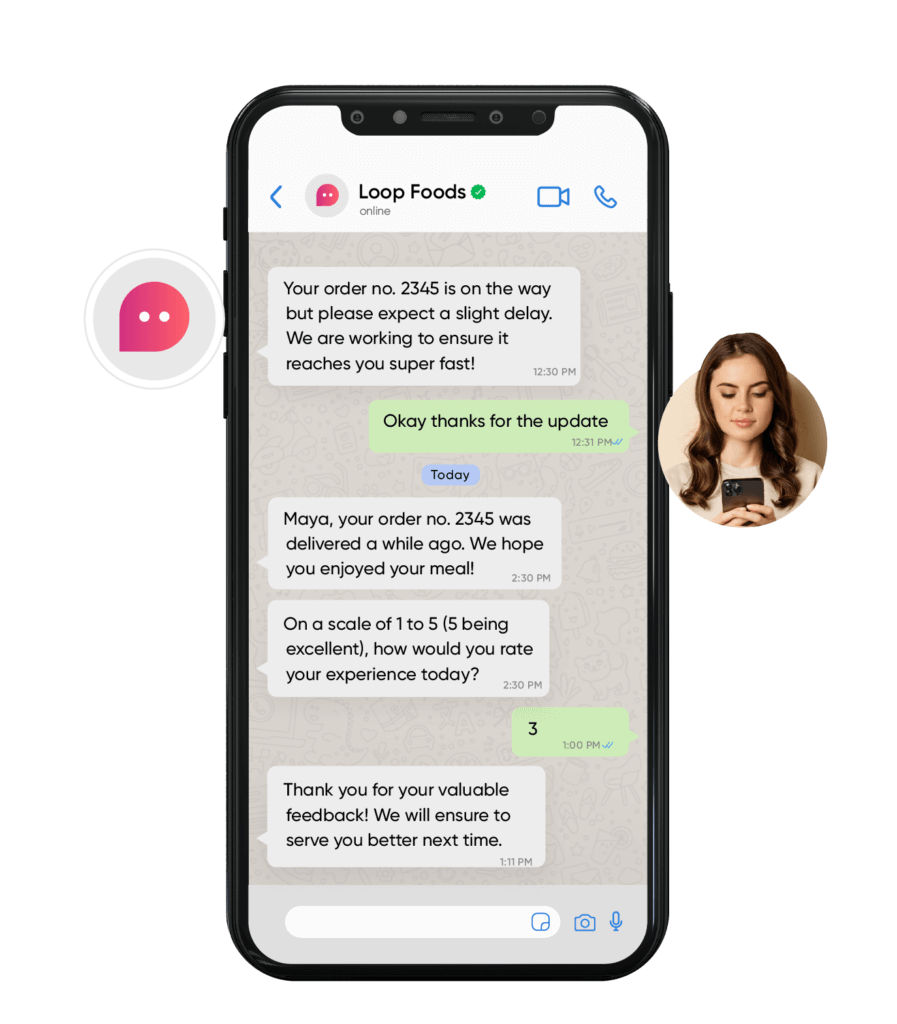 Now let's take the example of the business sending Maya a feedback message template after the 24-hour session had expired, it would start a new 24-hour session.
In this case, the business is charged for two business-initiated conversations.
---
WhatsApp is turning out to be a key force driving commerce online. With billions of users (quite literally billions) active on the chat app, WhatsApp gives unparalleled reach to businesses today.
To explore the remarkable jump in e-commerce on the app, we are sitting down with Renisha Rowe, who is handling strategic partnerships at WhatsApp for a talk! Join us on 16th February as we enter the WhatsApp world of conversational commerce!
---
The implications for small and large businesses
Many small businesses have yet to scale up their skills and tech stack to make full use of the Internet to reach out to customers. For them, WhatsApp for Business can be a great platform to reach out and personally connect with their customers.
They can estimate the amount they will have to pay, make use of the free slab (the first 1000 messages per month free), and grow their online presence accordingly.
For larger businesses who already have a robust online presence, WhatsApp for Business can also be a wonderful value-add. It offers speed, responsiveness and convenience. It also plays a part to boost the larger digital strategy.
Because of the cost of the template messages, businesses will take care not to send them indiscriminately, but on the basis of a thought-through strategy. Another step is to send responses within the 24-hour window and reduce spamming the user.
The changes from February 2021 mean that businesses with estimates of more than 1,000 conversations will see a change in their costs. Service providers will be in the best position to tell you of the new usage-based fees.
You might be interested in: Handling Customer-Communication on WhatsApp the right way
How WhatsApp for Business delivers value
There are many ways for you to take full advantage of WhatsApp Business. It makes it simpler to communicate, engage and convert customers.
For example, with WhatsApp Chatbots, you can use virtual agents for automated chats. A customer's request will be scanned, along with the context. The chatbot responds with a reply designed to meet the need.
There are several use cases for this. Take e-commerce. You can:
– automate lead generation
– get orders placed
– devise a shipment strategy
– and much more.
Another example is insurance. With WhatsApp automation, insurance companies can get help in lead generation, policy selection, quotes, document submissions, and more.
Wrapping up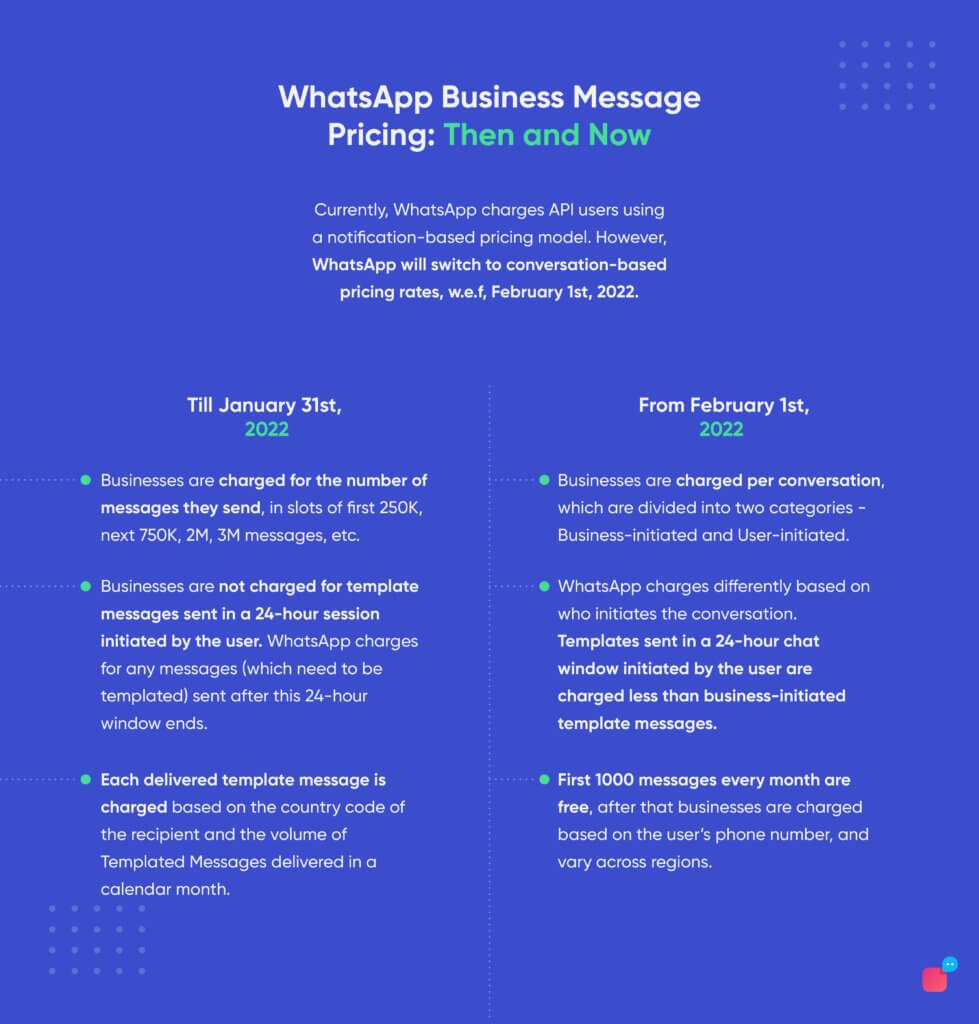 In conclusion, to understand how WhatsApp charges your business for messages going forward, you need to keep in mind a few key factors:
– The different rates for user-initiated and business-initiated messages.
– From where the user has started the conversation.
– How to take advantage by using the free conversation limit, as well as responding within 24-hours.
Once you've worked out the right WhatsApp Business model and the WhatsApp Business API pricing, you're well on your way to unleashing a powerful tool.