4 Mins
Natural conversations with the power of AI are transforming customer support. Here, we explore the top 5 brands using website chatbots to improve CX.
Chat marketing is causing a riot in the world of communication run by long-winded channels like the post and email. Chat support with website chatbots makes everything smooth sailing for users. It is now pivotal for companies to offer speedy, innovative, and incisive client care.
What is a website chatbot?
Let's start by understanding the meaning of a chatbot. It's an online chat software that communicates with users through a text/text-to-speech framework, linking their issues with a live agent when needed.
It can employ NLP and an intelligent AI algorithm to decode natural language to make the conversation coherent and free-flowing.
Whether you want to place an order or register a complaint, website chatbots can automate everything.
Several renowned brands have embedded chatbot in website and have seen a remarkable surge in their business growth.
Let's talk numbers, shall we?
Emirates Vacations was launched in 2018. Ever since the company integrated a chatbot on their website, they saw their user engagement rate rise by 87%.
Another example is the automobile company, Kia.
Their website chatbot acts as an informational platform for users that was able to generate a 21% conversion rate. What's more? The bot also registered three times more weekly user engagement against other corporate websites.
Nykaa, on the other hand, implemented a live chat feature on their website and engaged with 99.7% of all its users in under a minute. Now, that's quite a number!
The bus ticket booking platform, AbhiBus, used live chat to automate queries. The advanced feature resulted in a stellar 33% boost in agent productivity and handling time of under a minute.
Next up, we'll dive into some of the best website chatbot examples from brands using for customer support.
Suggested Reading: The Essential Chatbot Terminology for Beginners
5 best website chatbot examples from brands
Here's how major brands are using website chatbots to generate leads with better conversations, to improve the customer experience and so much more! Automation using chatbots is paving the way for a more efficient future.
1. Domino's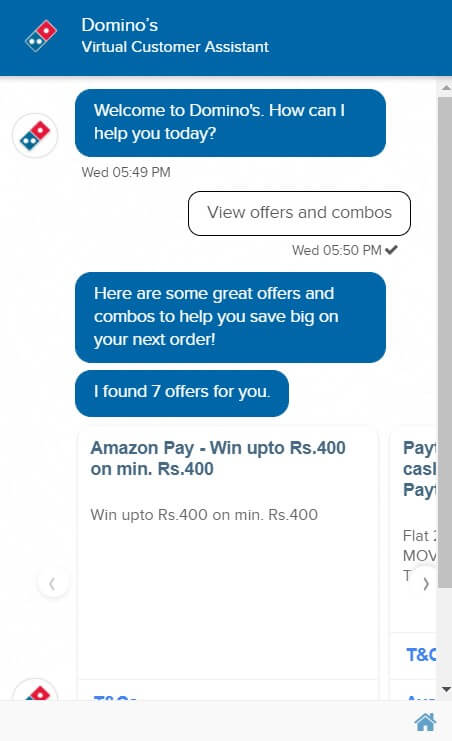 Domino's chatbot offers a robust online order experience to its users with its website chatbot.
There are three tabs that let you place orders, track them and reorder them. The user-friendly interface makes ordering pizza a breeze.
The chatbot can answer most queries and alleviates the load on customer support staff. This allows them to be more productive and focus on what matters the most.
2. Starbucks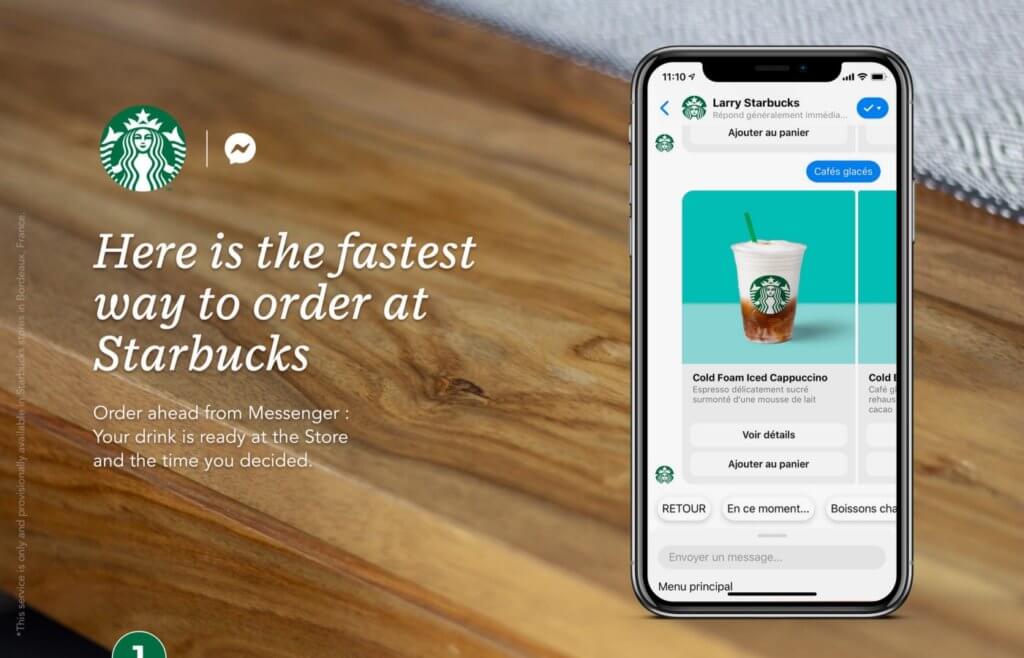 Starbucks is one of the most loved coffee brands in the world. The much-loved coffee chain uses an intelligent chatbot to improve customer satisfaction and simplifies the ordering and customisation process.
The website chatbot can learn customer preferences over time and help them order their favourite drink quickly. It also notifies them when their order will be ready so they can enjoy their drink without having to wait in line.
Suggested Reading: How Conversational AI Plays a Key Role in Foodservice Industry
3. Duolingo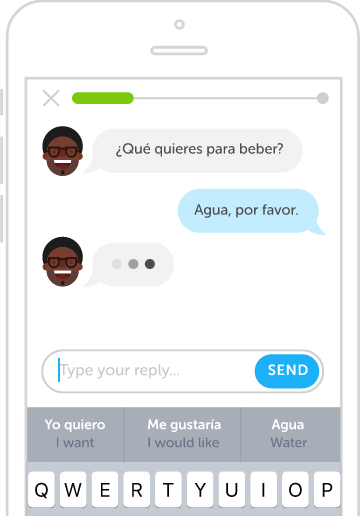 Duolingo's website chatbot Duo is a wise-owl with a knack for teaching languages.
The chatbot helps users practice communication skills and pick up a language effortlessly. Duo integrates perfectly into the language-learning platform to enhance the learning experience by emulating conversations with native speakers. It is highly convenient for users as they can hone their skills comfortably at any time they want.
Suggested Reading: WhatsApp Chatbot for Edtech: A Complete Guide
4. Peloton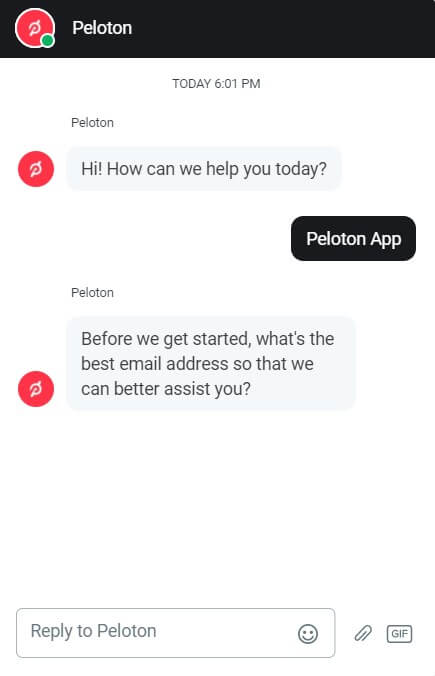 Not so fun fact: Shopping cart abandonment is one of the burning problems the eCommerce space faces with an average abandonment rate of 74.5%. This can be due to the slow response times, unresolved queries, etc.
Peloton, a fitness eCommerce company, aims at fixing this by integrating a website chatbot onto its platform. They sell on-demand, high-quality fitness and workout gear.
Peloton's chatbot analyses customer issues and connects them to a support executive from the relevant team. This helps support teams resolve tickets quickly and with a higher degree of customer satisfaction.
5. Hazel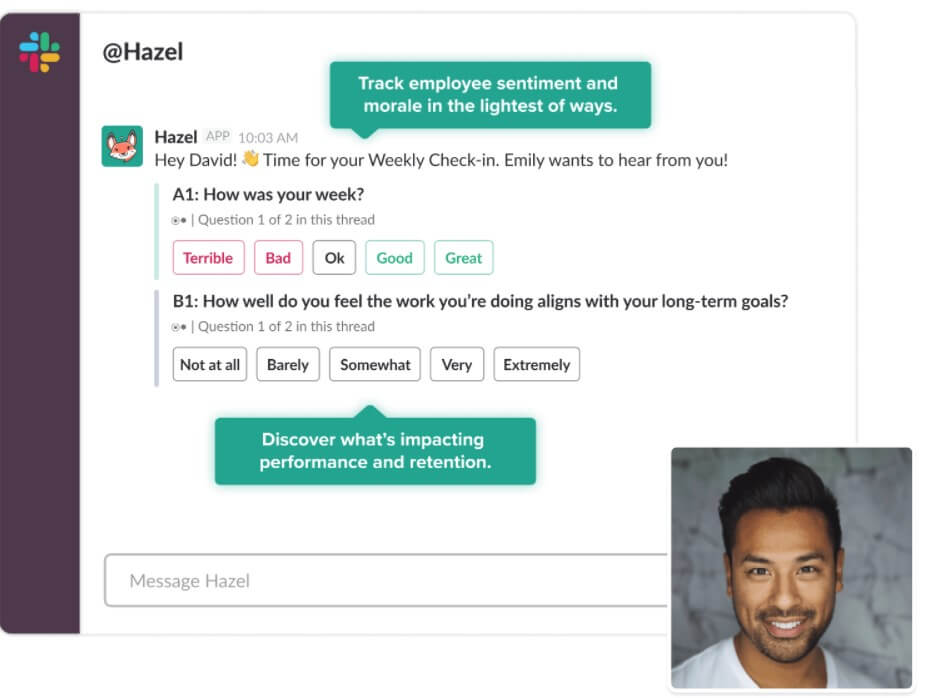 Hazel is a well-known tool that assists users with managing their workplace. It employs a website chatbot that collects data and provides key insights into workplace management. The website chatbot identifies pain points and delivers tailored growth plans to improve efficiency.
These are some of the many ways brands are leveraging website chatbots to improve customer experience, satisfaction, and retention.
Suggested Reading: Customer Support Automation and Its Importance
Chatbots are enriching end-to-end customer journeys
Automation can solve many problems in a business. These are a few examples of how brands have harnessed the power of AI to realize a 360° customer experience.
You too can hone the peak efficiency and true potential of your business by getting a customized chatbot for your website. Conversational AI website chatbot can weld scattered processes onto an integrated chat window. Now, how convenient is that?
We, at Verloop.io, have crafted technology in AI chatbot for website from evolving and dynamic use cases. With a chatbot tailored to your needs, you can bring your company's efficiency a notch up!
Get in touch with us for a free demo and our team will be more than happy to show you how the magic happens!