4 Mins
Natural conversations with the power of AI are transforming customer support. Here, we explore the top 8 brands examples of chatbots on websites to improve CX.
Some of the real-life examples of website chatbots are setting a benchmark for value delivery. Whether it's selling more to your target or ensuring they receive the smoothest support experiences – chatbots take businesses on a victory ride. This is a researched fact, not a claim.
Online consumer sales with chatbots are predicted to grow from $28 billion in 2019 to a blazing $142 billion by 2024. Now, that is a crazy 50x growth in a mere 5 years.
Whereas MIT says that in a room of 10 business executives, 8 will vouch for AI chatbots to deliver high user satisfaction, better service delivery, and improved call centre performance. Chat support makes everything smooth sailing for users. It is now pivotal for companies to offer speedy, innovative, and incisive client care. So what do the best chatbots for websites look like?
8 best examples of website chatbots stealing the spotlight
To talk about the wonders chatbots of today are doing for brands worldwide, let us talk some numbers. Scripbox, a wealth management company deployed an AI-powered chatbot only to find it resolve 70% of all their incoming queries autonomously. Whereas, the OTA platform, Abhibus recorded 96% bot deflection for all their tickets. Chatbots have time and again proven to be top drivers of user engagement, these are setting a solid narrative in their markets. So what are some of the best chatbot on website example?
1. Abu Dhabi Islamic Bank (ADIB)
One of the biggest tech enablers in the Middle Eastern BFSI network knows what it takes to build flawless banking experiences. Abu Dhabi Islamic Bank opened up a new wing of banking services solely operable through multilingual chatbots called ChatBanking. The chatbot is natively trained on language models that encompass 17+ dialects of Arabic and English.
"ADIB ChatBanking is a step in the direction of ADIB's overall vision of ensuring customers can bank anywhere, anytime, in the language of their choice without any hassles.", notes Siraj Patel, CTO. With an intuitive bot builder, ADIB was able to end-to-end automate user journeys of 30+ banking services.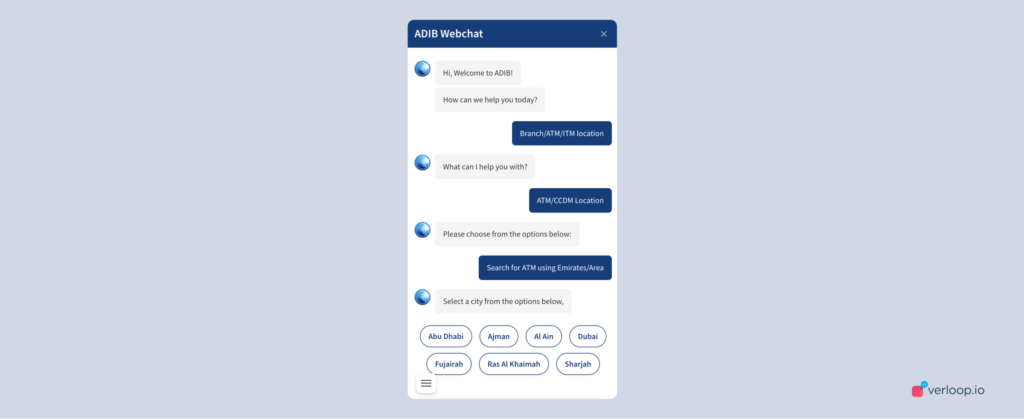 Suggested Reading: Verloop.io named in Gartner's Competitive Landscape: Conversational AI Platform Providers
2. Nykaa
Who doesn't want to buy skincare that suits them perfectly? That's how Nykaa emerged as the leading beauty mogul in the Indian online marketplace. The brand stepped up its game by deploying a website chatbot that helps customers navigate their way around the online store through simple, direct conversations.
Another example of how their website chatbot generates a high drive for conversions is with sharp and focused personalisation. With an option to choose "Beauty advice", consumers were redirected to Nykaa's in-house experts who can talk to them as and when they arrive. The expert then speaks to the consumer to know more about what they need – products that suit their skin or hair type, ingredients that they need in their beauty product, and more.
Suggested Reading: The ABCs of a Chatbot with Examples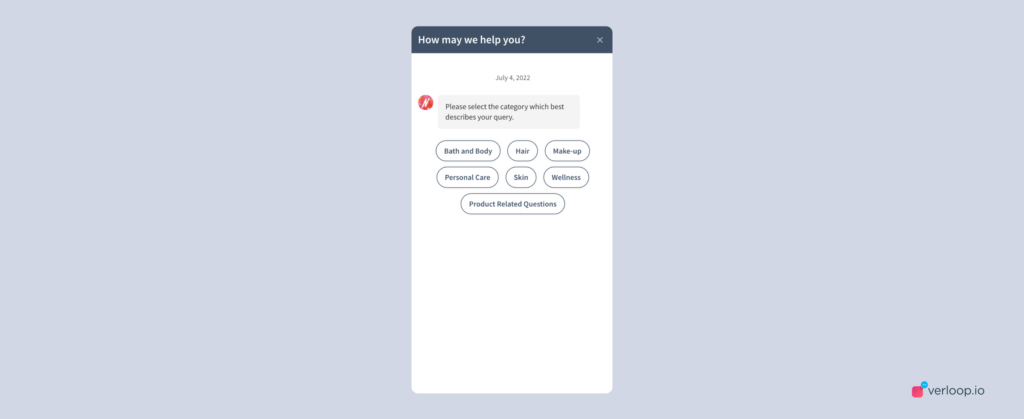 3. Peloton
Not so fun fact: Shopping cart abandonment is one of the burning problems the eCommerce space faces with an average abandonment rate of 74.5%.
Peloton, a fitness eCommerce company, aimed at fixing this by integrating a website chatbot onto its platform. They sell on-demand, high-quality fitness and workout gear.
Peloton's chatbot analyses customer issues and connects them to a support executive from the relevant team. This helps support teams resolve tickets quickly and with a higher degree of customer
satisfaction.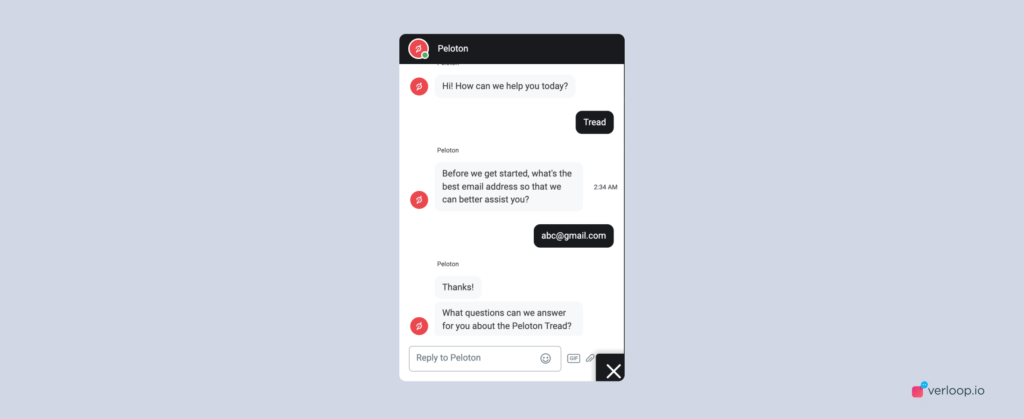 4. Scripbox
Wealth management is not easy. At least not for people, who are not experienced and are looking for a user-friendly solution. Scripbox aims to make wealth management a breeze for its users. And what's better than an independent chatbot handholding users along the way?
Scripbox's website chatbot presents itself with a beautiful and interactive conversation design that grips the user right off the bat. The right use of emojis fits well with the brand's tone of voice and keeps the customers engaged to continue the conversation. It offers the users a variety of fields to explore that can help them make more informed and up-to-date investment decisions.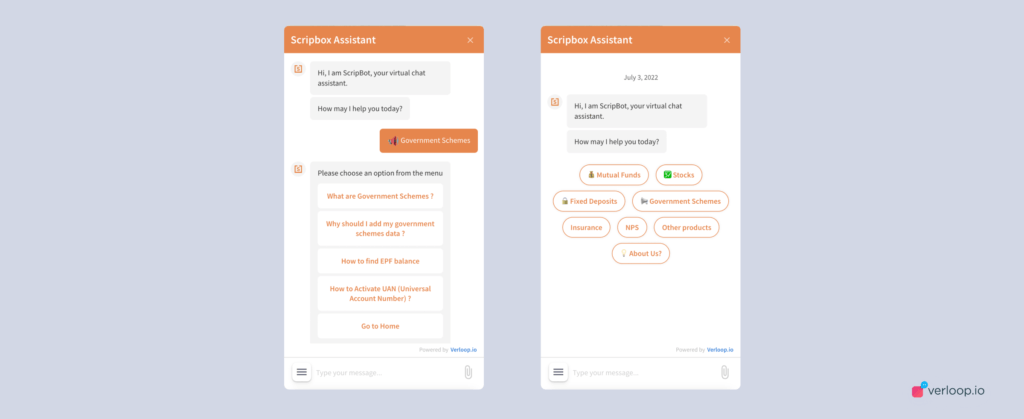 5. Amtrak
After real estate, the travel industry is the largest adopter of AI chatbots. And rightfully so – chatbots bring a whole new level of convenience and on-demand access to information travellers on the go need. Amtrak's chatbot "Julie" lets users check train schedules, plan journeys, and navigate routes – all through simple conversations. A travel chatbot like Amtrak's also makes recurrent functions like ticket booking an easy self-service. Earlier users had to scavenge through the website to book tickets or have an agent book for them. But now, Julie makes such repetitive customer journeys typically seen in travel and ticketing aggregators seamless.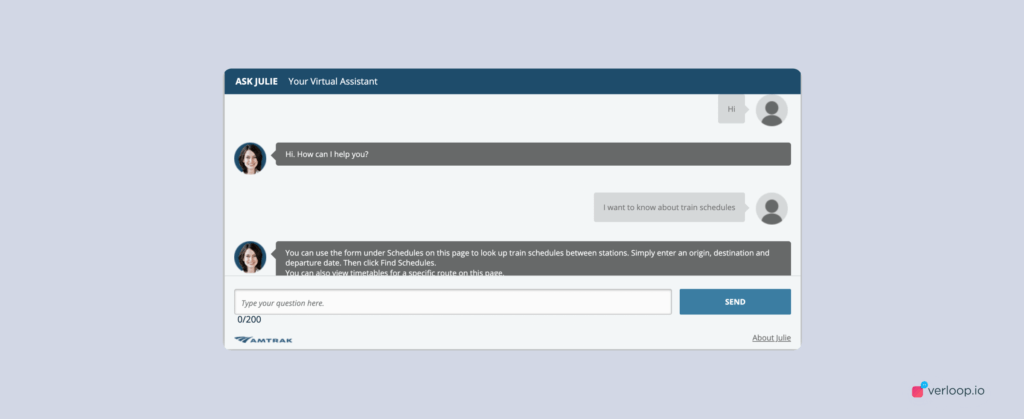 6. Sephora
There's probably no make-up enthusiast who doesn't know about Sephora. As one of the world's leading cosmetics marketplace, Sephora's traffic could only benefit from automation. The makeup mecca offers 24×7 website support with an FAQ chatbot that answers any customer support-related queries. It also directs its responses based on different categories of queries visitors may have – whether it's skincare, hair care, fragrances and more. Once the chatbot collects all the relevant information regarding the user's queries, it routes the tickets to a "Beauty Advisor" who takes the conversation forward and provides responses based on the use case.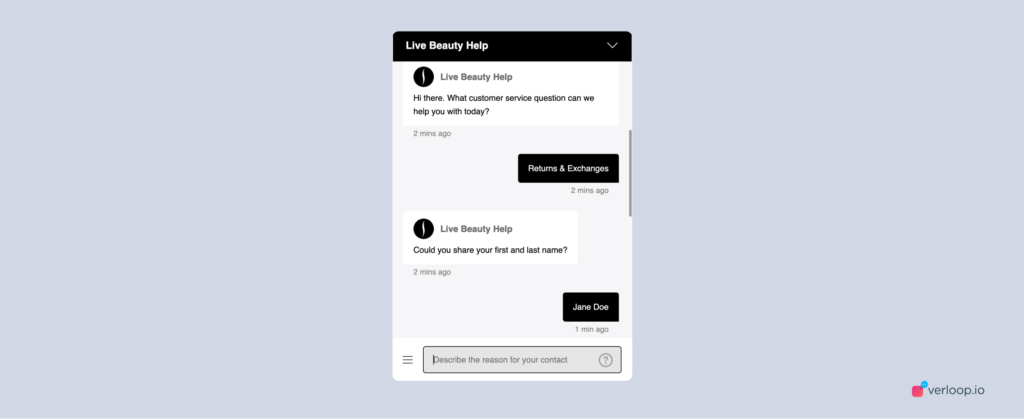 7. Emirates Holidays
If you have or know someone who has even flown Emirates, we are sure that you can't stop talking about the world-class hospitality this UAE-based travel brand offers. Emirates Holidays is the holiday and destination planning wing of the airline carrier that helps itinerants plan their vacations.
Their website chatbot is meticulously designed to personalise holiday planning based on every minute detail shared by the user. From choosing the city to the hotel, to departure stations, the Emirates Holidays bot knows just how to make travelling a breeze for vacationers!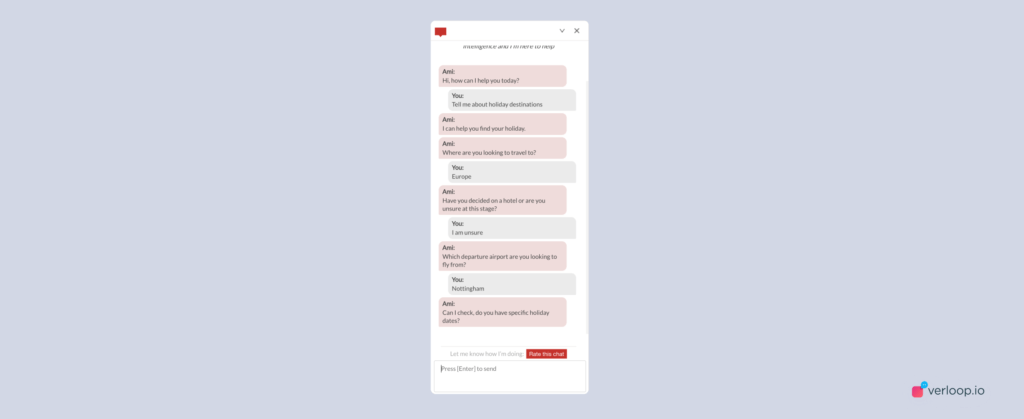 8. Kuki AI
One of the finest examples of Natural Language Processing (NLP) and Artificial Intelligence Markup Language (AIML), Kuki AI was created to mimic real-life conversation and befriend users. Her (she knows and specifies her pronouns too!) responses are largely non-repetitive, unique, and strikingly relevant to the user's input every time.
Kuki is also known to remember names, likes, dislikes, past conversations exchanged between the user and her. Earlier known as Mitsuki, Kuki AI is built in Metaverse and is able to display logic within specific parameters. For example, if asked "Can you live on the moon?", she will reason it with a negation citing factors like "lack of atmosphere" and "temperature". You can play games, do quizzes, and even ask her to do magic tricks!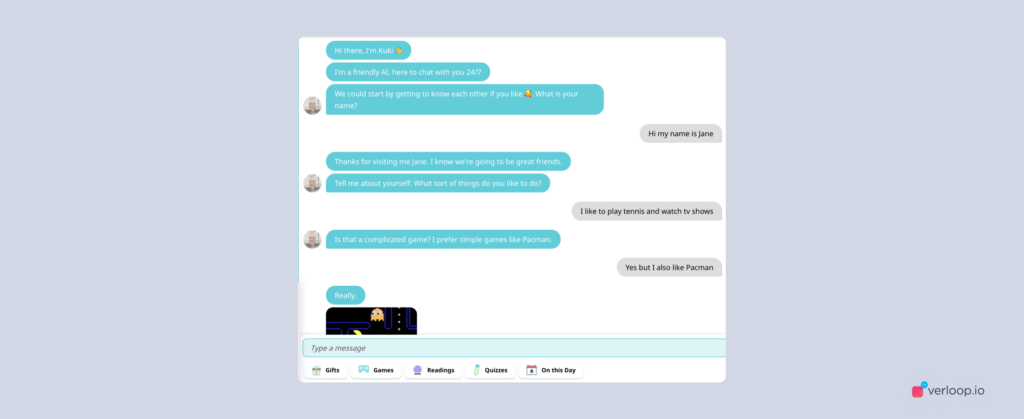 Connection, conversion, customer support – Let your website chatbot bring a revolution
These are a few chatbot website examples of how brands have harnessed the power of AI to realize a 360° customer experience.
You too can hone the peak efficiency and true potential of your business by getting a customised chatbot for your website. A conversational AI website chatbot can weld scattered processes onto an integrated chat window. Now, how convenient is that?
We, at Verloop.io, have crafted AI chatbot technology from evolving and dynamic use cases. With a chatbot tailored to your needs, you can bring your company's efficiency a notch up!
Get in touch with us for a free demo and our team will be more than happy to show you how the magic happens!
Suggested Reading: Verloop.io in Forrester's New Tech: Conversational AI For Customer Service In India Report