5 Mins
The uncertainty in the tourism industry regarding time-sensitive information, delays, and new development require a force to stay connected with many customers 24×7. This factor adds to the dominating presence of automated voicebot technology in the tourism and hospitality industry. Available to answer everything from the other end in real-time, artificial intelligence in Voice brings high engagement and the improved customer experience in tourism.
Additionally, AI in the tourism industry will cross the $1.2B mark by 2026 with a CAGR of ~10%.
Since the boom of AI in customer service during the pandemic, various voice tools have been utilised to mitigate customer queries. So let's look at these tools and understand their distinct purposes first.
Voice AI: Voice AI is a section of Conversational AI that emphasises imitating human voices to enable a dual-ended conversation and customer interaction.
VoiceBots: A voicebot is a conversational software powered by AI which understands, interprets, and analyses the message given by the customer in natural human language.
Voice Assistants: Voice assistants are devices/apps that use voice recognition technology, NLP (natural language processing), and AI to respond to humans. Using the technology, the device synthesises the user's message, breaks it down, evaluates it, and offers a meaningful response in return.
Now that we have a fair understanding of these essential Voice tools, let's look at the different trends AI sets in the travel industry!
Suggested Reading: How is a Voice Assistant Different From Voicebot and Voice Chat?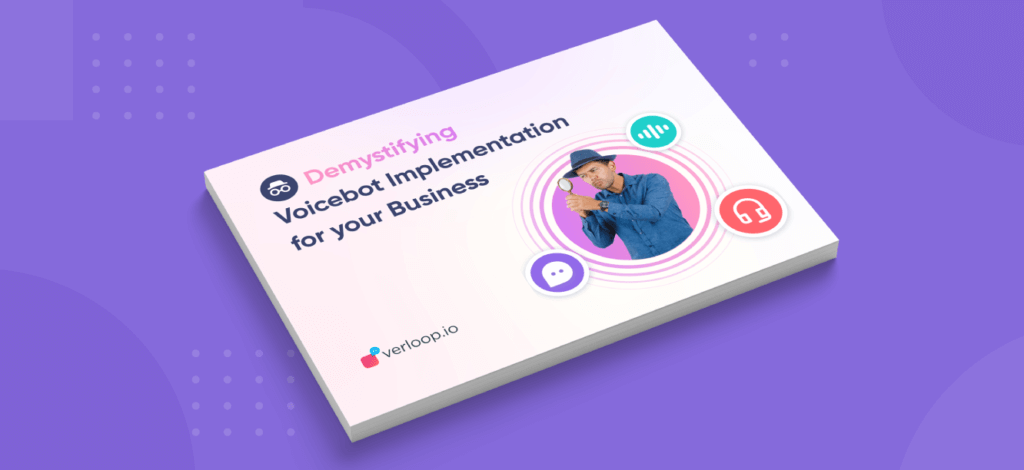 Trends and expectations from travel and hospitality
Changing customer expectations are redefining the travel industry in 2022 and beyond. A Riyadh-based OTA platform, Flyin was able to scale up its functions during COVID-19 with conversational AI: A multi-lingual, remote-friendly AI solution was able to answer 84% of all customer queries on flight schedules and the latest changes.
With the evolution of technology and changes in customers' priorities, we see new trends in the travel and hospitality sector.
Personalisation will take centre stage – and can act as a competitive differentiator to a certain degree.
Contactless and digitalised guest experiences will be a standard expectation, and businesses will have to scale accordingly.
Bleisure (Business + Leisure) travel and converting hotels into workspaces or makeshift offices will rise as the number of remote employees doubles.
Sustainability in travel and hospitality will be back into focus, and so will the slow travel culture.
Even though travel-related restrictions may have relaxed significantly, staycations are here to stay.
But how do these trends align with the rising demand within tourism for Artificial Intelligence in Voice?
Today's customer expectations are screenless searches, omnichannel travel booking experiences, and on-demand customer service. Voice technology in the travel industry will be the primary enabler in catering to these requirements.
How does voicebot address dynamic customer expectations and changing travel and hospitality industry trends?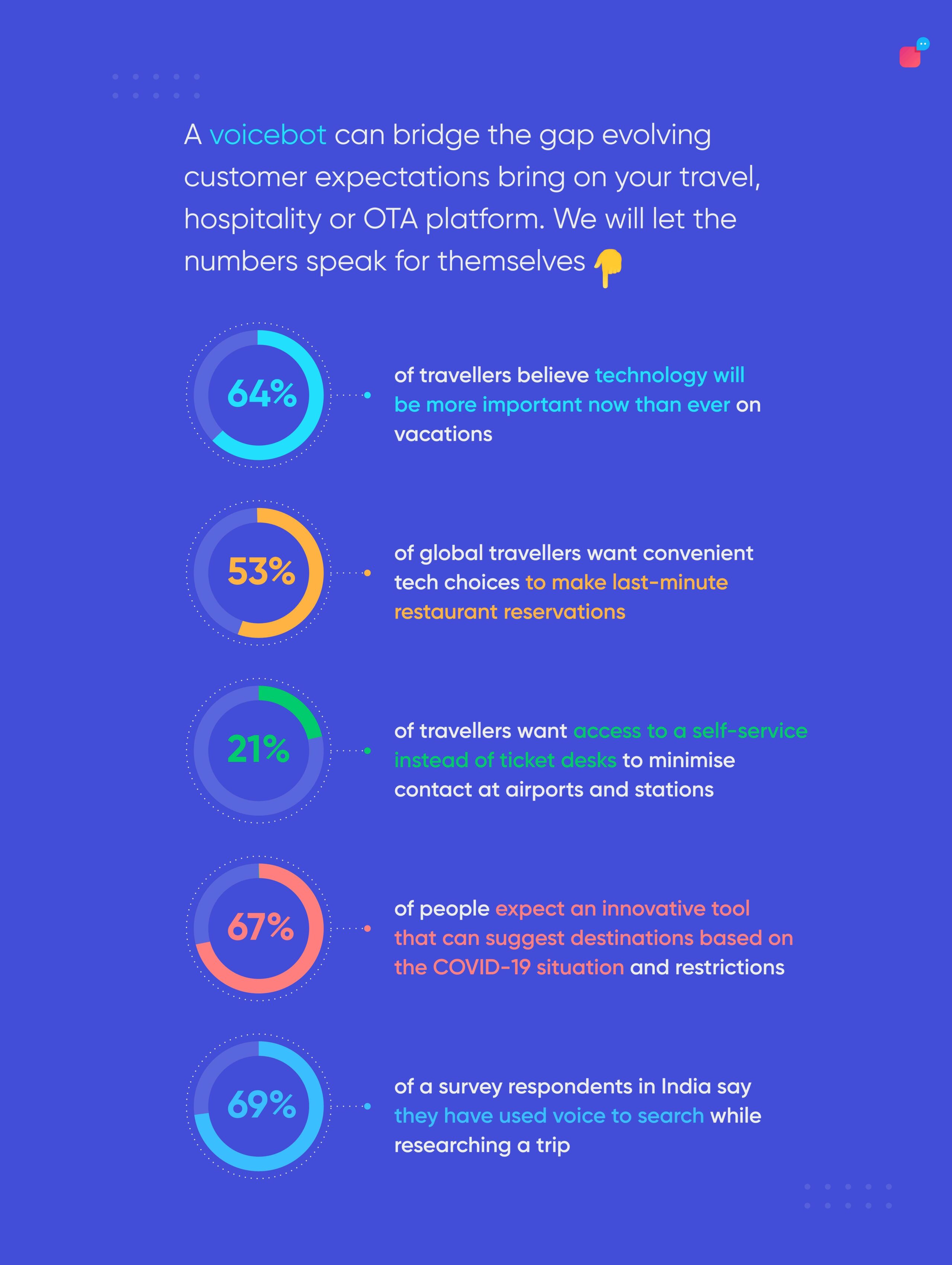 Convenience and accessibility of information in real-time are crucial for just any traveller. With changing regulations and uncertain travel restrictions, customers always expect to stay in the know. PwC reports that every 1 in 3 people abandon a brand they love after going through just a single bad experience. And in tourism/hospitality, where many people travel to create happy memories, happy user experiences can't be compromised.
This is why a conversational voicebot can be your trusted right-hand man to provide delightful customer experiences.
1. Unfaltering accessibility, even at the eleventh hour
Let's talk about a user who needs to catch a flight at once at 6 PM and another time at 6 AM. However, they are facing trouble completing their web check-in.
A manned support team may be quick to respond in the first scenario, but can they offer assistance at 4 AM for the early morning flight?
People don't just travel between 9 to 5. And so, your customer support needs to be available, accessible, and consistent at all times of the day. This is where a travel voicebot can be a great handy tool for your customer. In fact, 64% of travellers believe technology will be more important now than ever on vacations. A trained voice AI in tourism can guide the user through the steps to perform a task frictionlessly with no agent intervention.
2. Personalised error-free interactions, every time
1 in 3 tourists is willing to pay more to businesses for information tailored to their needs.
Let me put the importance of personalisation in travel into perspective with an example.
Dia wants to reschedule her bus journey and only wants a ride that leaves earliest in the morning. Here, two things will happen with a trained voicebot –
It will accurately assess the rescheduled date for the new booking
It will personalise the choices based on which buses are scheduled to leave at dawn.
Our traveller, Dia, can now easily choose the bus ride that suits her schedule. As the next step, an intelligent travel voicebot can even collect payments by sending payment links to the user right then and there. Personalisation not only lies in what user has to say in real-time but also in what they have communicated previously. Your voicebot can access every bit of information available with seamless CRM integrations before coming back with the right response. And all this without human intervention.
3. Efficient self-service during the holiday rush
Whether you are buying a gift or booking a holiday, people are more willing to spend during the festive seasons. People are travelling back home or planning vacations with their families and friends. Naturally, your travel or hospitality business will also see a spike in call volumes. This is where the gap lies.
During holiday rush hours, customers have to wait in queue for an available agent to assist them. In fact, 33% of customers find waiting on hold most frustrating.
Here, the customer expects quick answers and timely solutions. A travel voicebot can deliver on that throughout the rush season consistently. And you don't have to add more agents to your support team to take up the surge. Last-minute flight cancellations, upgrading hotel accommodation, booking a hotel shuttle – your travellers can use a self-service tool like a voicebot to get an accurate answer to everything, even at short or no notice!
We think you'd also like to know: How to optimise your customer support during the holiday season?
4. Personal hotel concierge
With intelligent voice automation, hotels can offer guests a superior travel experience through hyper-personalisation.
Conventionally, if guests want assistance with anything, they'd be required to call the reception desk. This can be a daunting task for the customer if they want assistance multiple times. Some might even feel awkward calling up the reception desk for everything. Flexibility regions supreme for global travellers who are open to technology acting as their on-demand assistants. For instance, 53% of international travellers want convenient tech choices to make last-minute restaurant reservations.
This is where a hospitality voicebot can work as your guest concierge available at their disposal. You can use it to request toiletries and towels, schedule wake-up calls, take orders for in-room dining, reserve tables, help in locating services (such as local eateries, car rentals, etc.), act as a translator, and share real-time updates on time differences, traffic or weather conditions.
Let's bring back travel diaries with Verloop.io's travel voicebot
The post-pandemic traveller is more cautious and wants to stay up-to-the-minute when away from home. Flight disruptions, COVID-19 restrictions, and misinformation make people apprehensive and unsure about their travel plans. Here's where your voicebot can be their trusted advisor that can help them plan and navigate their travel plans better.
According to a McKinsey report, artificial tourism intelligence has the potential to generate a staggering $400B in value. As such, businesses that fail to leverage this opportunity are effectively leaving money on the table. While it may take some time to cover other aspects of AI, voice is the low-hanging fruit that offers fewer barriers to entry and a quicker market. And so, it can be your best bet to navigate the ever-evolving demands of a modern traveller unhindered.
Verloop.io's voice AI is one of the leading voicebot tools in the market. Help your travellers build pristine travel experiences with a powerful voice AI empowered by automatic speech recognition (ASR), NLP, and deep learning.