5 Mins
Voice-based support makes customer interactions easy, quick and efficient. We look at what makes it the customer support of the future.
Voice-based support is fast-rising as the preferred mode of customer support. Hence, it doesn't come as a surprise that the Voicebot market is expected to grow at a CAGR of 35% from 2018 to 2023.
The major driving force for this growth is efficiency, convenience and a sense of talking to a human.
This growth is also in part with advances in voice recognition technology, text-to-speech (TTS) and speech-to-text (STT) technologies. Lately, companies are also using conversational AI in voice to improve accuracy. It won't be far-fetched to say the future of customer support lies in voice-based experience.
Also read: The Future of Conversational AI is Bright: Say These 3 CX Leaders

What are voicebots?
In the simplest terms, voicebots are advanced intelligent automation programs based on voice commands and powered by conversational AI. It allows the computer to listen to a customer's queries and respond with the appropriate answer.
Automation helps companies reduce the burden on agents and improve process efficiency. On the other hand, conversational AI-powered voicebots allow customers to have natural human-like interactions. A win-win framework to improve both agent and customer experience.
Voice support is on the rise. And this is backed by research. According to a prediction made by Gartner, 25% of customer and employee interactions will be through voice by 2023. These searches include questions asked to virtual voice-based assistants such as Voicebots and Voice assistants (e.g. Siri, Alexa, etc.)
So, why are brands moving to voice technology?
Their extraordinary ability to analyse, understand and respond to users through conversational interactions makes AI-powered voicebots one of the finest customer support tools.
Banks are leading with an example on voicebot usage. With slow and outdated IVR solutions putting a dent on customer experience, banks are adopting latest AI-powered voicebots to improve customer experience.
According to Capgemini, using voicebots in the banking industry has reduced the overall wait time by 92% and increased the first call success rate by 80%.
A few of the main reasons for the shift to the use of voice-based customer support are:
1. Empowered customer service and experience
Voice automation has been adopted in various significant places, especially in answering repetitive questions and sharing updates, notifications, reminders, etc. to the customers.
2. Future of search and SEO
The world is now more dependent on the use of keywords as today SEO-based searches are prominent. Almost everyone uses Alexa, Siri or Google Assistant to read messages, get updates on their order or find more information about something.
Gradually, as the users get more comfortable using these services, they will expect the same experience and comfort from businesses as well. To be prepared for this situation, brands are adopting voicebots and training them to answer customer queries seamlessly.
3. Easy accessibility
Despite having many channels of communication, people are using phone services to connect with business. It's not because the experience is better but because it's familiar. Users have been dialling up the contact centre so frequently that they know how to use it and are comfortable with it. And anyone can use it: you don't need to know how to type or click anything.
While businesses tried automating phone customer service with IVR, the next natural step with using AI to make it more efficient and accurate. That's where voicebots will come into the picture.
Also find out: Best Practices to Future Proof Your Customer Support with AI

Benefits of voice-based customer support
Voice-based customer support comes with a lot of benefits for users as well as brands. The significant benefits that a voicebot offers are:
1. Faster resolution of queries
Voicebot ensures faster resolution for general, standard and repetitive queries. With automation and AI, customers get instant replies round the clock. For complex questions, smart routing connects them to the relevant agent.
2. Better meet customer needs
Customer satisfaction is of primary importance for all businesses. Using the voicebot as the point of interaction, the brand can typically solve the queries in real-time and at the customer's convenience.
Voicebots meet the basic customer need of time urgency and language connection. It can help customers know about the product and service seamlessly.
3. More inclusive
The technological advancements are great for all, but there are instances where the elderly and uneducated may face issues. This is where voice support can act as an effective tool.
4. Customers can express themselves clearly
Customers can send their support query through emails, chat or voice. And though the possibility of getting it resolved using any of these ways is high, voicebot gives customers the option to express their concern with emotion. In a Campaign Monitor's survey, 74% of respondents said they prefer using voice technology when performing search queries.
5. Personalise customer experience
An AI-powered voicebot personalised user's journey in various ways, that are lacking from IVR. From knowing the details about the user to letting them talk in their preferred language, personalised communication improves CX tenfold.
6. Human-like conversations
Voicebots are here to stay. Using conversational AI-powered voice support allows users to have natural human-like conversations despite talking to machines. Around 41% of people have committed that using voice-activated devices makes them feel like communicating with a human or, rather say, a friend.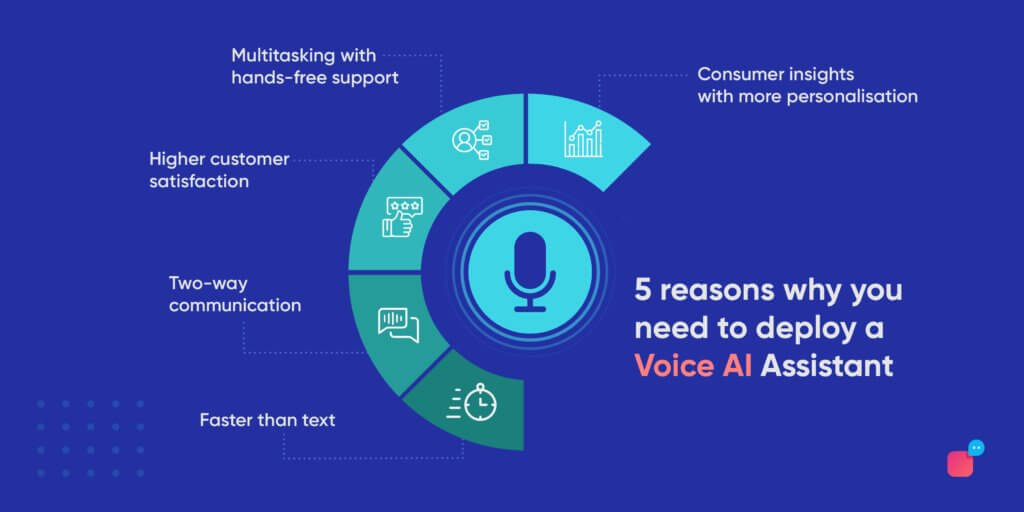 Voice-based customer support: a futuristic technology available now
There is no denying that talking is faster than typing and is the most natural form of communication. And with changing customer behaviour, users are looking for support options that are convenient and allow them to multitask.
With an exponential rise in voice technology and conversational AI, the application for voicebots are many. Businesses adopting this trend now will have an advantage over their competitors.
Developing voice-based customer support with the touch of AI, Verloop.io is taking conversations to another level. We offer friendly and straightforward technological support to reduce time, cost, and pressure while ensuring effectiveness at its peak.
Our Voice AI solution is trained over 1000 hours of customer interactions and can understand subtle differences in speech patterns to trigger different responses.
Verloop.io's Voice AI also supports an in-depth analysis of the emotional dimension of speech by detecting intent, accent, and dialect. It also complements this data by helping navigate through the case history — all on top of multilingual support (more than 20 languages).
Drop us a line or schedule a demo to learn more about how you can leverage voicebot for your customer support.