1 Mins
back to main menu
Verloop.io Enters Strategic Partnership with Bobble AI for Delightful Conversations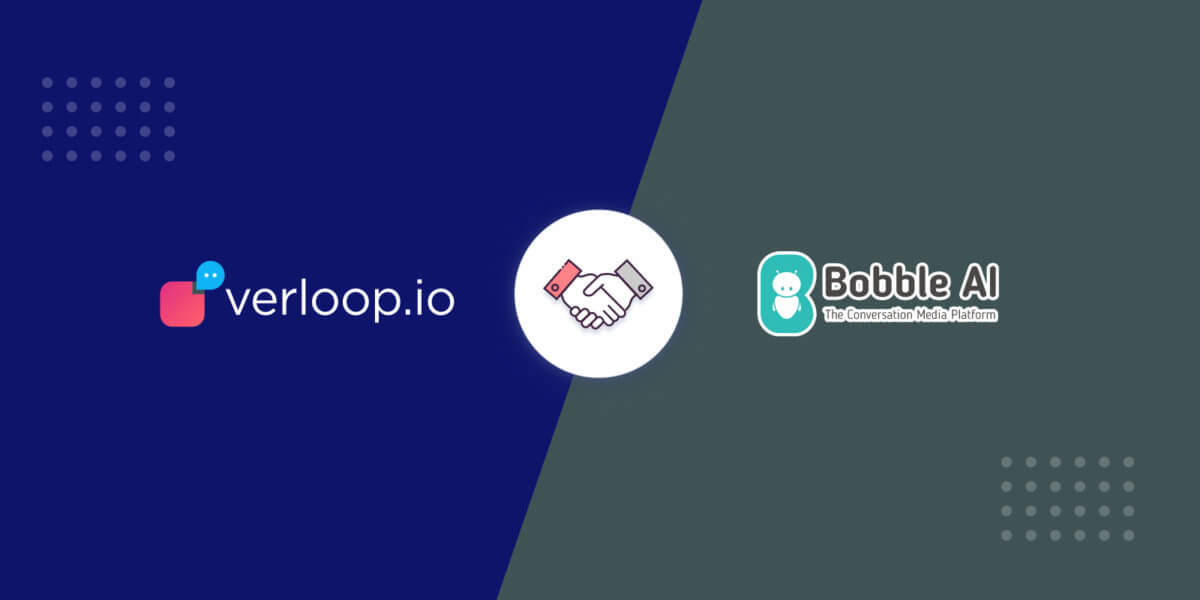 back to main menu
Verloop.io Enters Strategic Partnership with Bobble AI for Delightful Conversations
Bengaluru, 18 May, 2022: Verloop.io, a leading specialist in the conversational AI domain for customer support that helps enhance the user experience of millions of customers while interacting with their favourite brands, today announced a strategic partnership with Bobble AI, India's largest Conversation Media Platform that empowers billions of conversations among its 50 Million users globally via its keyboard products featuring highly innovative content formats and supporting all leading Indic and global languages.
With Verloop.io, brands can deploy conversational AI automation into new channels such as WhatsApp, Facebook Messenger, Viber, Voice or SMS from a single platform. This enables brands to reduce their customer support operational expenses, increase their customer engagement and improve their contact centre efficiency. On the other hand, Bobble AI's domain expertise helps brands to penetrate and create meaningful conversations through its wide range of solutions that make conversations more interesting, sticky and meaningful. This enables a brand to create moments that not only delight customers but also play an instrumental role in retaining them by enhancing their overall communication experience with the brand.
Speaking on the new partnership, Disha Shah, Senior Vice President Business of Bobble AI, commented, "Today, all consumer-facing brands, irrespective of the industry they are into, are looking at building more engaging and fruitful conversations with their customers. Verloop.io's contact centre AI suite enables all brands to build automated, personalised, 24*7, multi-lingual support to ensure efficient customer support. With the integration of Bobble AI conversational media plugins with Verloop.io's offerings, brands will be in much better shape to leverage their existing customer support channels to deliver an even more refreshing, personalised and recall-worthy conversational experience for their customers and engage them in innovative ways."
Suggested read: Tech Access Asia and Verloop.io Enter into a Strategic Partnership
Gaurav Singh, CEO and Founder of Verloop.io, also said, "Verloop.io and Bobble AI share the same passion for building delightful customer experiences. Our partnership with Bobble AI is exciting and we look forward to seeing what more we can accomplish together. I personally see this partnership as a revolutionary milestone for the conversational AI space which has the potential to redefine the future of how brands interact with their valuable customers and make them feel highly valued by serving them in a more delightful way – ultimately making customers feel more connected with the brand. We are truly excited to see the impact of this partnership and quite sure about its success."
Bobble AI is an Artificial Intelligence (AI) innovation start-up that empowers billions of everyday conversations of over 50 Million users from India and around the world via its highly expressive and personalised content – including stickers, GIFs, and Emojis, AI-powered contextual recommendations, speech-to-text, and many other innovative technologies via its diverse portfolio of smartphone keyboard applications. Bobble AI's product portfolio includes the Bobble Indic Keyboard which is the flagship product of the company, supporting 36+ Indic languages, their range of regional language keyboards under the range of Bharat Keyboards in Bangla, Marathi, Malayalam and other white-label keyboard solutions including the powerful Mint Keyboard, which is the default keyboard of Xiaomi phones.