4 Mins
GITEX, Gulf Information Technology Exhibition, is one of the biggest tech shows in the world, with over 4500 exhibitors from around the globe. A perfect stage to network, do business and bring their vision to the spotlight.
Every year GITEX is held in Dubai, UAE for the biggest gathering of the tech community to discuss and showcase future innovations. The event allows global industry leaders, startups and game-changers to meet and present their ideas across AI, 5G, Cloud, BigData, Cybersecurity, Blockchain, Fintech and more.
This year too, Verloop.io participated in this week-long event from Oct 17 to Oct 21. The focus area of Verloop.io is to help companies provide delightful customer support experiences with the help of automation and conversational AI.
Related Reading: Verloop.io at Gitex 2020
A glimpse of Verloop.io at GITEX 2021
The 41st version of GITEX Technology Week 2021 was held in person between Oct 17th and 21st at the Dubai World Trade Centre. As the world's leading conversational AI company, Verloop.io participated in the biggest tech events in the MENA region for the second year in a row.
Our team was present at our stand in Hall 7, Stand E40 to exhibit our product: the operating system for customer support. In these five days, the team interacted with entrepreneurs, business owners, global tech leaders, customer service representatives and more about how we can help companies transform their customer's post-purchase journey.
Verloop.io team was represented by Gaurav Singh (CEO and Founder), Siddharth Sharma (Director of Marketing), Urvashi Singh (Head of Sales, India), Poojit Rohra (Head of Sales, MENA), Mohy Elbaroudy (Senior Business Development) and Vaishnavi Pandian (Event Marketing Specialist).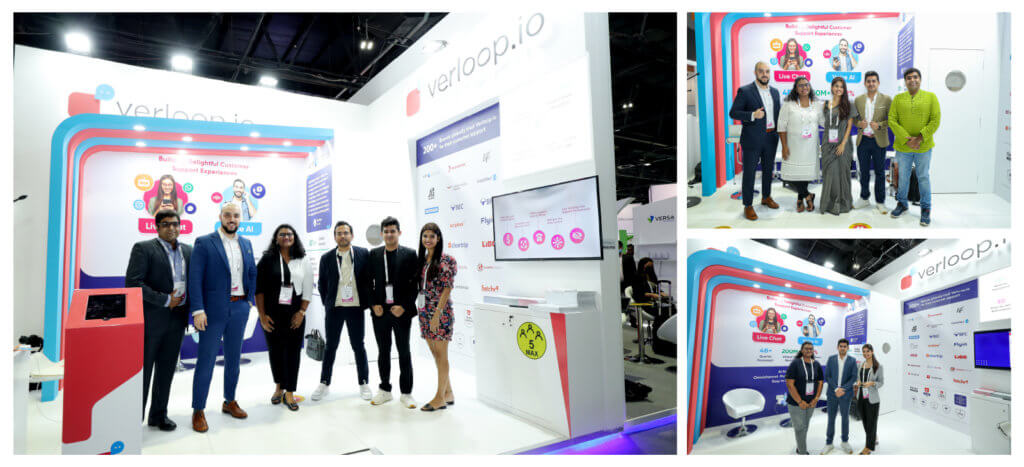 At the world's biggest tech showcase event, our booth messaging and design helped attract tech industry experts who wanted to know more about how we are helping companies solve problems in customer support with conversational AI.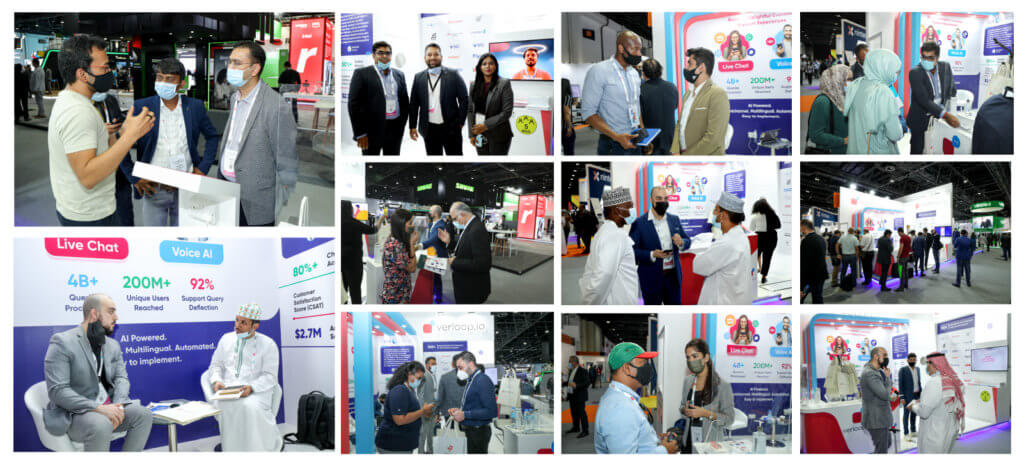 Verloop.io: the operating system for customer support
Our team took pride in bringing Verloop.io to the forefront of GITEX 2021 Technology Week. Verloop.io address the challenges companies face in delivering delightful support experiences during the time of digital transformation.
Our offering helps businesses (both big and small) provide quick and accurate ticket resolutions at scale and across channels. The conversational AI handles and resolves frequently asked questions to provide quick responses to customer queries and hence, reduce the load on support representatives.

Psst: If you'd like to know more about the product and how it scales your customer support while providing a delightful customer experience, get a demo and speak to the team. Click on the link below.
This year, customers were interested in our latest and upcoming service: Voice AI.
The Contact Centre for the Digital Age: Voice AI
Verloop.io's Voice AI transforms the customer experience by automating your support calls. No more calls in the queue. With Voice AI, answer each customer call immediately and engage with them in human-like conversations without involving your support representatives.
If you'd like to understand how voicebots work, what benefits you can expect from them, what are the latest trends in this technology and want to find answers to the other frequently asked questions, check out our comprehensive guide on voice chatbots.
Suggested Reading: 5 AI Trends Picking Up in MENA Region
Helping businesses enhance customer support experiences
Verloop.io provides everything you need to support customers and empower agents in a single platform. We offer:
Quick, intelligent and contextual responses to customer queries
20+ languages and 6+ channels to personalise the customer experience
Unified customer view and smart plugins for agent efficiency
100+ integrations to work with your tech stack and tools
Dashboard to measure your bot and agent's performance
Enterprise-grade security to protect your user's data from threats
We've helped companies like Nykaa, Kanmo Group, Lido Learning, AbhiBus, Flyin, ADIB and more scale their customer support and improve their customer's experience.
GITEX has helped us promote our product in front of the right audience. And this will definitely help our business grow. We thank all our visitors for the amazing conversations and conversions.
We are thankful to the event organisers for giving us this opportunity and taking care of us with utmost care. We'd also like to thank the government of UAE for supporting this much-loved event.
It was great to be part of this event and amongst talented people. We can't wait to see what's in store at GITEX 2022.
Suggested Reading: A Look Back at Verloop.io in 2021