5 Mins
We know AI training is no child's play. But with these tips and ways handy, you can build and train a chatbot that sails through support conversations like a breeze!
I think we can all agree that all support conversations should end in:
Delivering the right solution to the user (So the user doesn't need to come back knocking on your door)
Ensuring the user has a great experience with you (So when they do knock, it's to buy more from you!)
And if you are deploying a chatbot to lead the FIRST interaction with a user, you darn well put your best foot first. Because in a business scenario, the first impression can indeed be your last. Chatbots serve as the first touchpoint for many users and may render experiences, that even you, as a user would detest.
This is where the challenge lies – Training an AI enough to build a mighty, strong chatbot that truly delivers more value than what you've invested in it.
In this blog, we go tell you precisely just why AND how to train a chatbot.
–
Navigate your way around this blog here:
Why should you train your chatbot?
Training AI model: Things to keep in mind
Train your own AI: Steps to train your chatbot
–
Why should you train a chatbot?
While good customer support surely repays, bad customer service damages your authority. Seamless customer service can strengthen the way people see your company, products, or services. Or else, there's going to be a huge contrast between your expectations and results.
Why do we say so? Because almost 8 out of 10 users will back out from buying from a business if their customer service is poor, whereas more than 9 out of 10 (93%) users will shop with you again if your support is top-notch!
Poorly trained support chatbots have an immediate effect on your market standing. (Or they can turn into a nightmare AI like Tay, the Twitter Bot!).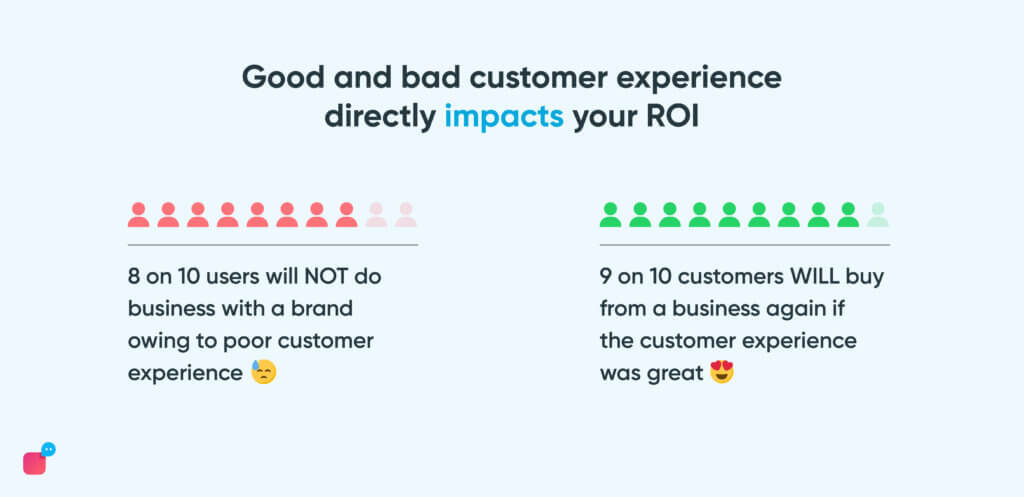 Training your chatbot to deliver on the latter statistic, on the other hand, takes work.
In a customer support scenario, poor training leads to extra fixing and the extra unplanned load on agents, defeating your original intent of deploying the chatbot. And when similar bad experiences accumulate, they convert to a highly unhappy user base and eventually low ROI.
It demands a streamlined data annotation pipeline to make sure that the AI model works smoothly. It should be able to accurately assess the user's input, assign correct intent and context to it, and take into human feelings in order to solve a problem.
"The basis of a conversational AI is the amount of training the AI had." Vittorio Barraja, an industry expert from PHD, a global marketing agency deems the top chatbot practice to be. "In a specific language, in a specific region, and in a specific business.", he continues emphasising the need to use-case train a chatbot.
However, you can't just build a chatbot and expect it to perform itself. Though it quickly learns large amounts of data and never forgets, the training needs to be continuous and exhaustive every time.
This is where data is your best friend. As Tenzin Palmo, the Buddhist monk, once said, the answer lies within you. This is also true when it comes to training your bot. The vault of all your historical support interactions is an information-rich resource that serves as a crucial training dataset for your chatbot. We will dive deeper into this in the following sections.
Things to keep in mind before you train a chatbot
You have to be mindful when you train a chatbot. You can't just feed random information to your chatbot in order to yield a good result. Let us discuss the important things to keep in mind while training your chatbot.
1. Training data
The data you're fetching the AI in order to pursue the standard result should be of high quality. If the chatbot dataset is irrelevant, then you might not get the prescribed result.
Data annotation is the key to AI performance. So, the data should always be accurate for the AI to understand and interpret. Or else, the misguided AI will give the wrong result, which will immediately reflect on your customer satisfaction scores when your users rate your chatbot poorly.
2. Problem prioritisation
Before you train a chatbot, it is important to prioritise the problem that has to be solved rather than the problem you want to solve. For instance, you want to train your chatbot that allows customers to make payments online, but the common issue customers want the chatbot to solve is the untimely disbursal of refunds. In such a case, you should avoid the issue that makes up for lesser query volume.
3. Scope for mistakes
AI is far from perfect. As helpful as it is as a tool to assist agents, it is not always able to resolve all sorts of incoming queries. This is where you must understand your chatbot's limitations and not let your users stay stuck in a loop.
A chatbot can be trained to prompt the user to rephrase their queries or give them options from the closest intent the chatbot can identify. If the chatbot is still not able to answer the user's question, it must be trained to smoothly route the ticket to an available agent.
Train your own AI: How to train a chatbot?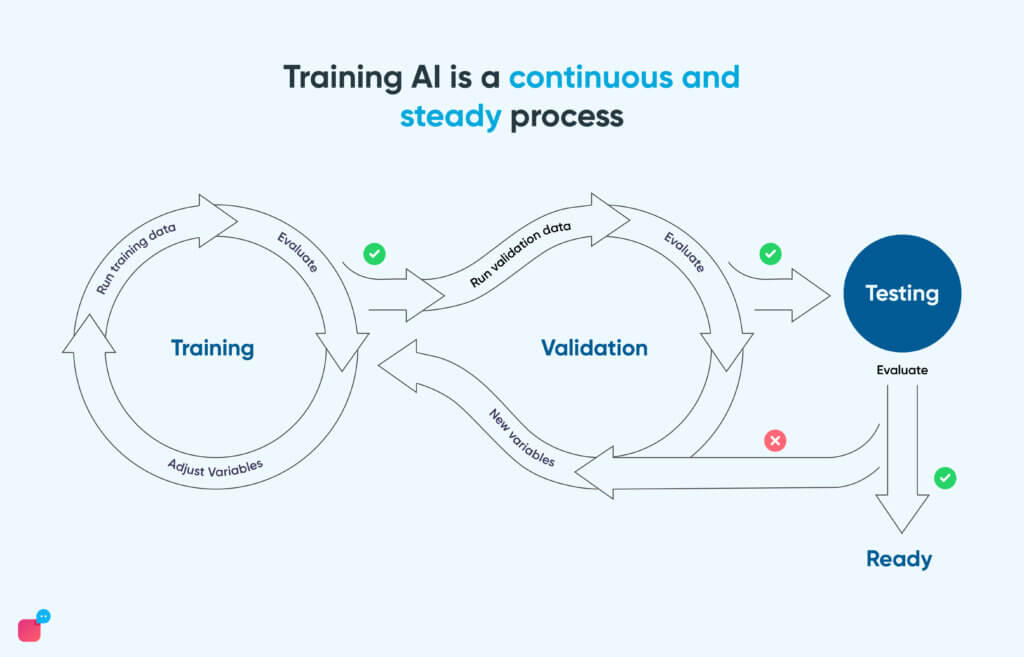 Chatbot training is a perpetual process. As your business grows, your chatbot should too. Here are 5 decisive ways to train your chatbot.
1. Recognise most frequently asked queries
What are the problems your users run into the most? Where do the confusion and doubts lie? You must pay attention to that. Keep an eye on various topics that the customers are repeatedly asking. Make an FAQ cluster and prepare answers for each of them so that the chatbot can respond with the right answer without a miss.
For example, during the holiday season, your chatbot might get bombarded with seasonal FAQs that it otherwise may not come across on a daily. "Is the BOGO offer only on menswear?" "When will Diwali decorations be back in stock?" "I have a problem applying FLAT60 discount coupon." – Your chatbot should be able to attend to such common queries so that your agents aren't left to deal with high-volumes by themselves.
2. Cover more relevant territory for your existing queries
The chatbot should be trained to recognise the variations of the questions. And for that to happen, the team should find out the most common queries the customers have, also how frequently they have been asked, and the various ways they have been asked. For example, "What's the status of my order?", "When will my order come?", "ETA on my order" – all mean the same, and your chatbot should be able to recognise that.
For a single term, there might be multiple related questions. Make answers for such questions as well, and train the bot accordingly. In case there is an unknown query, it should be routed to your team to solve. The chatbot should be able to direct the customer to the help centre. Verloop.io's FAQ builder makes FAQ training super easy. You can Improve your chatbot scope of knowledge with new question categories, relevant examples to existing question categories, and altering bot flows to adapt to the shift in demand.
3. Analyse the customer's intent
Identifying the "purpose" or the "intent" with which a user approaches you is the foundation of every AI interaction.
The chatbot should know different intents and their variations. It makes it capable of conversing naturally. AI should be able to tackle the questions and understand the intention behind the question and appropriate response. Thus training the conversational chatbot in various intents can be a huge win. 
A simple example would be a user typing in "bat" into the chat conversation. Now, as homonyms work, a bat could either mean a sports bat or a mammal. The power of a good chatbot shows when it's able to tell the two apart. It should be able to assign the right intent by picking up the context from neighbouring words.
4. Evaluate your underperforming answers
Use the questions that you get from the customer to determine how effective your bot is. Then evaluate the customer's satisfaction during their interaction with the bot. Keep an eye on how well each answer performs so that a quick modification can be done to improve those that aren't doing well.
Underperforming answers are a clear highlight of a discord between what your users are asking vs what your chatbot is responding. The team can narrow down to the underperforming section of answers and see how it can be improved or can also remove them just in case.
You need to string together enough successful attempts until the action is firmly embedded in the bot and service comes naturally.
For example, you might have trained your chatbot to give an update to a refund question like "When will my refund be processed?" with "Hi! You refund will be processed within 7-10 working days." However, your users might want to know the exact date for the refund and might rate this answer with a thumbs down. If it's happening repeatedly by many users, this is an underperforming answer that would require changing the sentence to better answer this question.
5. Don't rely only on text
Limiting your chatbot only to text is not a good idea. Train it to use different elements like images, emojis, voice, etc. Some people can explain better through speech as compared to text. So make it easy to use for any type of customer.
Emojis play a key role for the chatbot in assessing the user's emotions and feelings through text.
For instance, "Why is my loan application taking so much time? ?" would mean the user is confused and wants to be in the loop for the delay. Whereas, "Why is my loan application taking so long?! ?" would probably mean the user's patience is running thin and they require attention on absolute priority. Users can use emojis as standalone answers as well – like a ? to show they are happy with the response. Assessing the emotion also helps the chatbot to know when to route the ticket to an agent to avoid further escalation.
Similarly, in e-commerce and banking services, users upload images of damaged products or photo IDs for eKYC. A chatbot should be able to recognise these formats and continue with the conversations.
Conclusion
Just like other team members, your AI assistant represents your brand. You invest a good amount of time and money to train your staff to get them to speed. Same way, if you invest in training your AI assistant, you should be sure it yields the best results.
Your overall business performance and its growth heavily rely on customer service, and training your chatbot effectively plays a huge role. Training a chatbot doesn't pose threat to your agent employment. Instead, the focus is to minimise the time and involve the staff to participate in more complex human-centric jobs.