12 Mins
An eCommerce chatbot can help you engage more users, boost ROI and deliver better customer support. Here are some examples and simple ways to do it!
"Do you have blue princess dresses?", you ask an eCommerce chatbot as you urgently need one for your 6yo Frozen-obsessed daughter's upcoming birthday.
"Yes, we do! Here are our best picks…", the bot replies.
Overjoyed with delight, you compare, make up your mind and buy one right there.
"That was easy and quick!", you think to yourself looking at the "Your order is confirmed!" notification. Completing the purchase (including deliberation) in probably less than 5 minutes.
Wouldn't you LOVE for your users to be able to do the same on your website?
Now the raging question you need to ask yourself is – While everyone's selling online, how effectively am I?
eCommerce in 2022 is about nothing but speed, and most importantly, personalisation.
Users are going digital every passing second and eCommerce businesses need to be on their A game. That's probably why many online businesses are using such eCommerce chatbots to ensure individual user attention and top-tier engagement.
The Indian eCommerce industry particularly is on an upward growth trajectory. Do you know it's actually on its way to surpassing the US to become the second-largest eCommerce market in the world by 2034?
These gains aren't simply limited to the world's largest democracy.
In the UAE, the auspicious month of Ramadan in 2022 alone drove $6.2 billion in online retail sales! Meanwhile, compared to other regions, Southeast Asia is literally recording the fastest growth in digital sales this year!
Now, if you own or run an eCommerce site, you're probably reading this to understand how an eCommerce chatbot could help you capitalise on this boom.
But first, let's get the basics out of the way.
What is an eCommerce chatbot?
Simply put, an eCommerce chatbot is an AI-powered digital solution that eCommerce businesses can deploy on their website and social apps to engage with users at every touchpoint in their buying journey.
You can deploy a basic, script-based chatbot to answer FAQs routed to common intents, or augment every single shopping experience with an intelligent, NLP-driven eCommerce chatbot.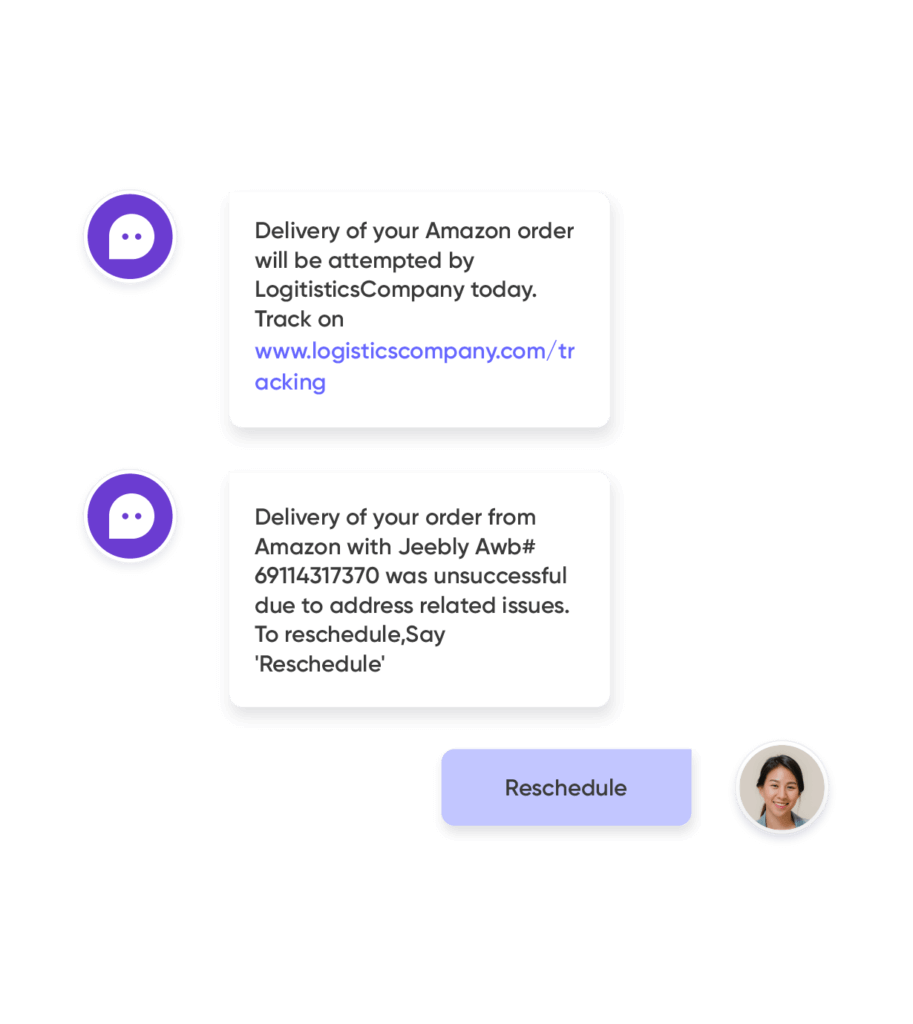 Benefits of chatbots in eCommerce: Why do you need an eCommerce chatbot at all?
It's actually easy to understand. The more you're capable of engaging with your users, the better your chances of converting them. The scope of automation in eCommerce is so expansive that by 2023, almost 70% of all commercial chatbots will be found in online retail.
There has to be a reason why isn't it? Here are several of them.
1. Convenience on fingertips
Companies who have used eCommerce chatbots have managed to engage 99% of their customers in under 1 minute. Chatbots represent an interface that customers already enjoy and can have access to at the touch of a button. No long wait lines, no high-effort service or sales experiences; talk to new prospects and existing customers alike.
2. Cross-platform consistency that delights
Today, it's not enough to be available on the web and mobile. The influx of social media into sales and support means you have a third prong that requires handling. eCommerce chatbots can help you automate all three, delivering better results in lesser time across the board. Whether your user is reaching out on WhatsApp, Facebook, or even Instagram – your eCommerce chatbot can offer consistency across the panel.
3. Context-driven at every interaction
eCommerce chatbots are also capable of gauging emotion and tweaking their behaviour based on the customers' pre-determined profile, like age, gender and location. This allows you to take advantage of existing customers, by selling differently to them. This helps improve customer retention and conversion; the latter can see rates of more than 30%, as opposed to a paltry 3% on web forms.
4. Conversational intelligence with multilingual capabilities
In an increasingly global economy, it is important to be able to speak your customers' language.
Supporting a single language is just another hindrance that reduces the efficiency of your sale. If you can't support your customers in the way they want, and in the language, they speak, you've already lost them. You can train an eCommerce AI to handle conversations for different language groups of customers with proficiency.
While you get to enjoy similar benefits on an eCommerce chatbot on every platform, here's what you can do with it on everyone's favourite chat app – WhatsApp: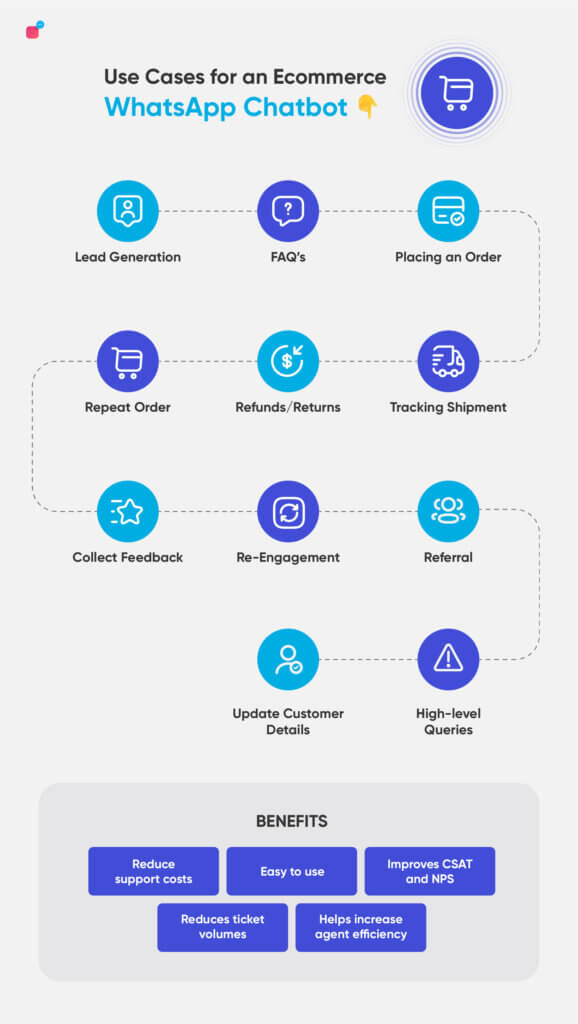 Let's dive deeper into eCommerce chatbot use cases.
What use-cases can you use an eCommerce chatbot for?
We know what an eCommerce chatbot is, but how can you actually use one? What are the different use-cases you can automate using a well-built eCommerce chatbot? Read up!
1. Lead generation on auto-pilot
Great lead generation reflects how humans, not computers, deal with information.
In fact, Verloop.io's chatbots are excellent lead generators. eCommerce companies who used Verloop.io saw between 30%-150% increase in leads generated.
Most of our eCommerce customers saw these improvements in conversion and sales overnight, simply because the bot ensured that their customers weren't being left unattended. When a customer came to their website to buy a product, they were able to reach out to them proactively and help guide the customer through the sales process. The bots also allowed them to generate, qualify and close leads during the off hours for the business (at night, or during lunch breaks). This meant that every morning the sales team would wake up to sales that were aided while they were asleep.
2. Save time, save money with 24/7 FAQ automation
Hundreds, if not thousands, of your leads are greeted with banners declaring the lowest price in the market, or best service in the industry.
But is that what they're really there for?
They're there to ask questions, and get answers. They want to know more about that dress, what the return policy is like and when the earliest delivery date is. But because they're on a computer miles away, one of two things will happen.
They will spend the next half an hour scouring your website to get that answer. (unlikely)
They won't get their answer and leave. (likely)
And when customers in your target market are left untouched, they eventually go to one of your competitors. Most of the time, to the one that answered their question quicker.
This probably goes without saying. "When will I receive this order?", "Where is my refund?", "When will my product get picked up for exchange?" – you probably have dedicated people to answer such eCommerce chatbot questions, but trust me, you need not. You can simply deflect all these queries to your eCommerce chatbot, which can help you save up to 30¢ for EVERY dollar spent.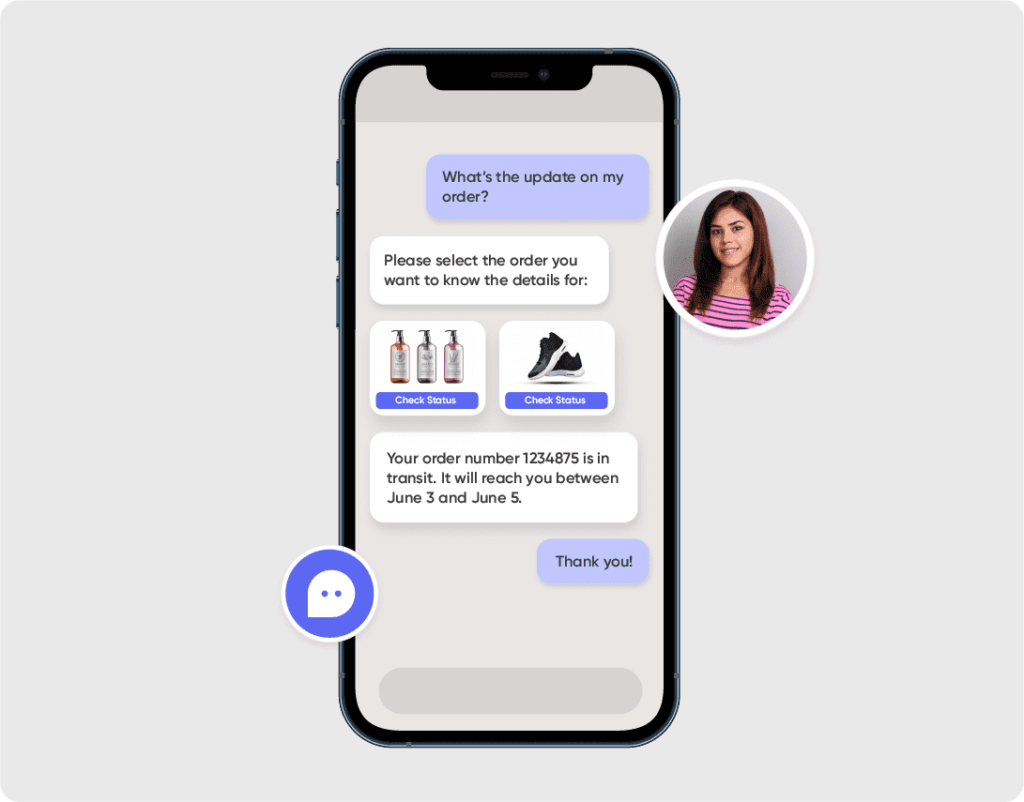 3. Make catalog browsing easy
Out of all online businesses, eCommerce companies probably boast the most extensive catalogs of products. With items grouped in several categories, manual browsing becomes quite inefficient for users. As we saw in the example above, chat-based eCommerce can help your users narrow down their search by simply conversing with the bot. Moreover, an eCommerce chatbot can smoothen catalog browsing across all your social channels.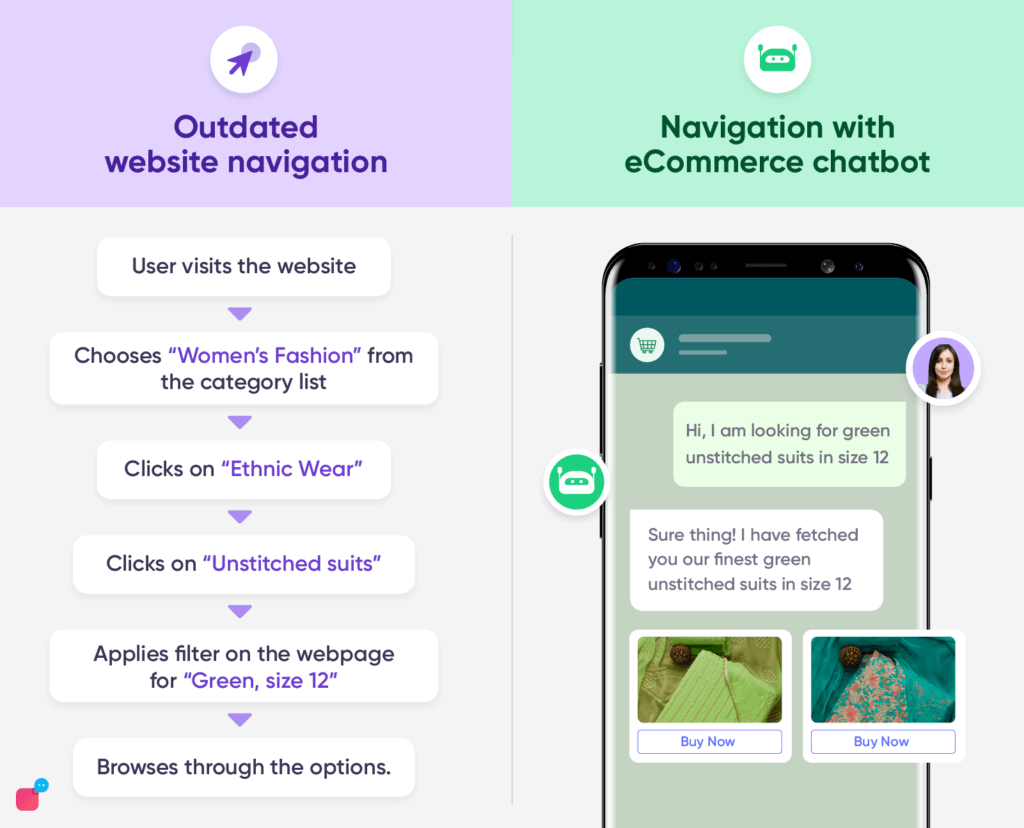 4. Personalise attention, bag customers, and cross-sell
A well-designed chatbot is intuitive — commands don't have to be taught, unlike the meanings of buttons in a visual interface or the keys on a touch-tone phone system. This allows you to tap into the prime buying behaviour of all of your customers, regardless of age, sex, geographical location or technological preference.
Because bots divide each part of the sales funnel into individual messages, Conversational Automation Analytics can measure how much time each user spends on each message, what call to action they respond to, what their attention span for certain forms of media are, and heat maps to track which part of the certain cause "friction" to the sales process.
eCommerce chatbots let you speak to your user's subconscious mind.
Let's take an example of a user looking to buy a smartphone. Best eCommerce chatbots, while showing relevant options, can further customise their experience by suggesting "Hey, would you also like to look at some sturdy phone cases to go along with your purchase?".
Personalising your user's search with more relevant options can help you sell more and guarantee your user an integrated shopping experience.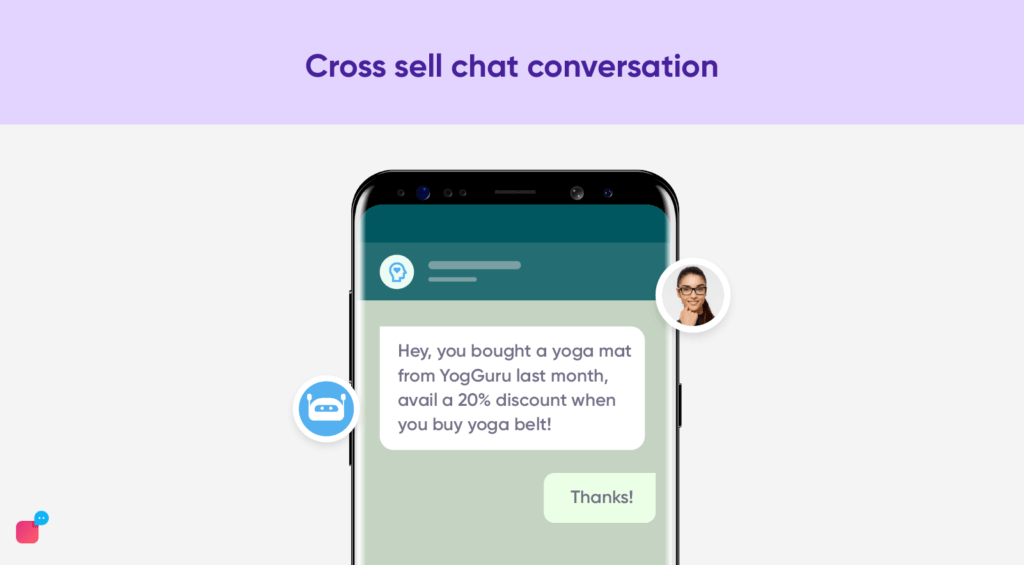 5. Collect payments at the moment
After all, conversions come down to the last stage in the journey where your customer needs to actually pay to buy. Increasing touch points during the payment process can actually drive your user to drop off mid-way.
An eCommerce chatbot integrated with payment gateways makes sure that they don't leave your chat window without converting.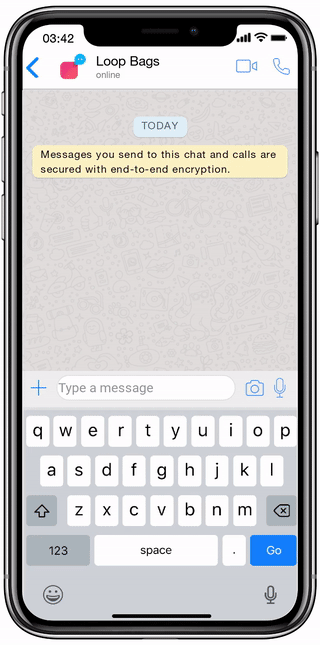 6. Process refunds, returns, exchanges – you name it!
Users want to return a product? Exchange it? Want a refund on it? An eCommerce chatbot bids farewell to all to-and-fro you typically go through with users in such situations. Whether it's either of these OR updating your users when they come back looking for the status – your intelligent chatbot is ready to answer and automate such post-sales functions.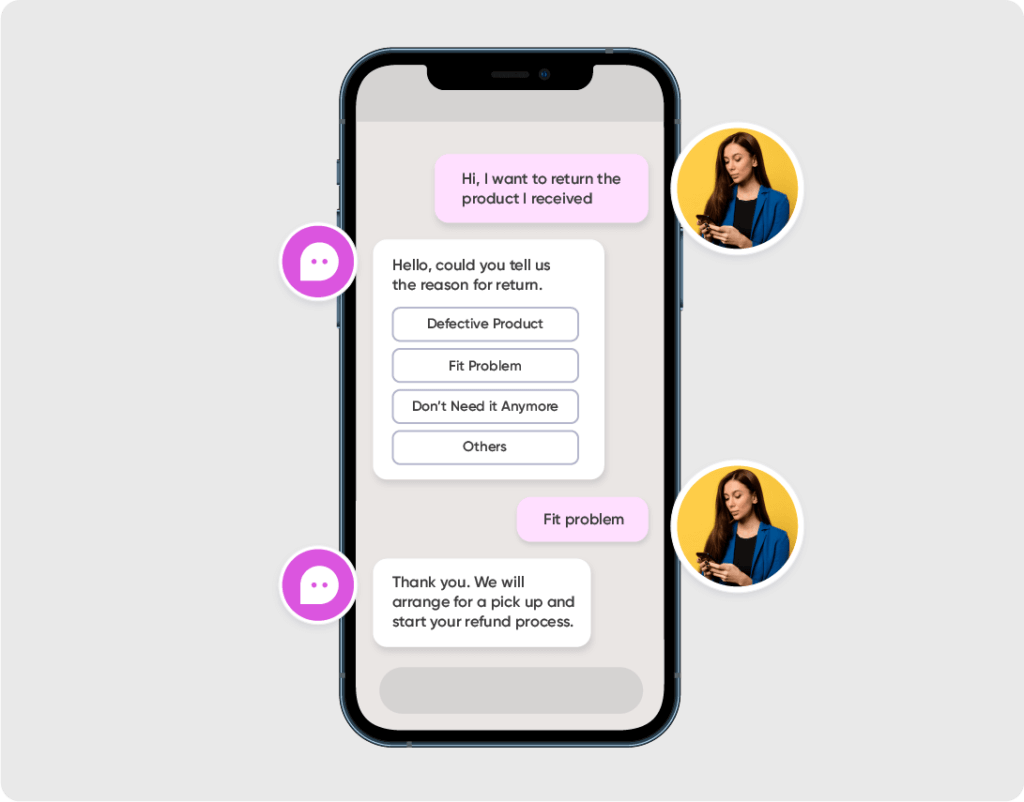 7. Gauge your performance with automated feedback
You can be 60%, yes 60% MORE PROFITABLE just by being more customer-centric. And yet again, a well-designed eCommerce chatbot template can help you be just that with automatic feedback collection at the end of every customer interaction. How did your users like your service? Were they happy with the payment process? Your eCommerce chatbot can collect invaluable critical insights by simply conversing with them.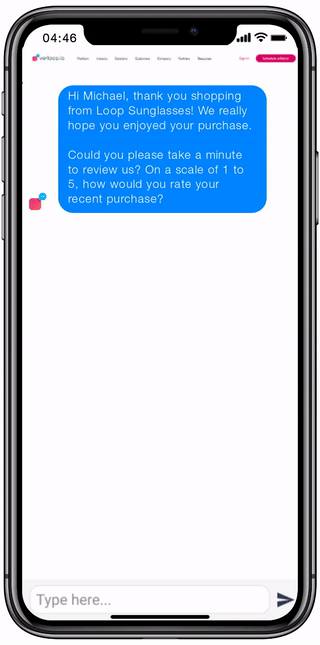 eCommerce chatbot examples: 6 awesome eCommerce chatbots to check out
I think we're done with the use-cases you can use an eCommerce chatbot for and the benefits to reap out of them. It's time to look at some of our favourite examples of the finest eCommerce chatbots businesses are using to generate more sales and deliver top-notch support!
I am going to divide these examples to show you the different aspects of an eCommerce chatbot.
1. Engagement: Nykaa's eCommerce chatbot shows you how it's done
Nykaa is an Indian fashion and beauty eCommerce platform, valued at a whopping $13 billion.
With eCommerce chatbot templates dedicated to several use cases, Nykaa automated customer queries ranging from cancellations, returns, shipping inquiries, replacements concerns, refunds and payment hassles for over half a million customers on its app. Using Verloop.io's eCommerce chatbot, Nykaa boosted its engagement by 2.2x.
"We've noticed more and more of our customers preferring self-servicing over calls to agents. Understanding customers' concerns/context is the key to an efficient self-serve. We have been collaborating with Verloop to drive this mission and have come a long way. We are confident of building a state-of-the-art experience where a lot of customer problems would be solved instantly over chat.", says Gaurav Tejwani, Vice President – Products, Nykaa
2. Personalisation: LEGO's Messenger chatbot makes shopping a childsplay
Ralph the Gift Bot, LEGO's Facebook Messenger bot is a fine example of how personalisation works wonders on chat-based eCommerce. Ralph helps users narrow down their gift search through a beautiful conversation design that seamlessly navigates them to the right choice.
The chatbot converses with the user and fetches information like location, age and interests of the receiver, and budget. It then uses this data to list down relevant toy sets a user can choose from, which redirects them to the checkout page.
It's interesting to know that Ralph is built to be highly conversational, and frequently amuses the user with toy-specific idioms and gifs throughout the interaction. What's more interesting is that if a user fails to complete the process, the Messenger bot is triggered to retarget them offering additional assistance after 24 hours.
3. Expansive reach: Frontier Markets uses WhatsApp to expand its word
Frontier Markets is an eCommerce platform working towards providing various digital solutions to rural India. It offers access to products and services in Agri, digital inclusion, home appliances, clean energy solutions, essential services, and finance to over 3000 villages.
With a team of women entrepreneurs called Sahelis, Frontier Markets leveraged the reach of WhatsApp with a dedicated eCommerce chatbot trained in Hindi to expand its reach to over 500,000 households in rural India.
The WhatsApp chatbot not only helped Sahelis in keeping track of their work but also looped in the end-users with logistical and product information.
4. Speedy conversions: Domino's in-app chatbot does like no other
Your order is confirmed – Your order is being prepared – Your order is on the way!
Don't we all love to see that on our phone screens?
Deloitte shows that 7 out of 10 foodies today would rather order online than go out and buy it. As one of the leading pizza chains worldwide, Domino's knew just what to do. Enter another flawless example of a chatbot – Your very own Domino's chat steward! Domino's chatbot offers a robust online order experience to its users with its website chatbot.
There are three tabs that let you place orders, track them and reorder them. The user-friendly interface makes ordering pizza a breeze. The chatbot can answer most queries and alleviates the load on customer support staff.
5. Seamless navigation: Epigamia Store condenses its experiences to a chatbot
Epigamia, one of India's emerging yoghurt and beverage brands, greets its visitors with a beautiful website showcasing the product featured offerings at first glance. However, Epigamia's website chatbot is a prime example of simplifying a user's journey on a website.
The chatbot greets visitors giving them multiple quick options to –
Track active orders or seek help for past ones
Explore the wide range of Epigamia products
Seek support for general queries or on products, payments, delivery
Once the user selects an option, the user is able to browse through and enable self-service through a seamless FAQ menu. The users are also able to request to be routed to an agent if need be. And when the query is resolved, the chatbot also proactively seeks feedback from the user.
6. Multilinguality: Kanmo Group connects with its users in Bahasa Indonesia
Kanmo Group is a solid testament to what having a well-trained multilingual chatbot can do for your business. As an eCommerce brand in Southeast Asia, Kanmo Group's 97% of users spoke and preferred to connect with the business in Bahasa Indonesia over English.
To uproot the communication gap, the group deployed a multilingual chatbot natively trained in the language. Shifting from email as the key support channel, Kanmo Group deflected 42% of all incoming queries with the chatbot. Going Indonesian-first not only helped the company route the queries to the bot, but it also helped its live agents boost their productivity by up to 42%!
Key metrics for eCommerce chatbot: How to measure its performance?
Your job at harnessing the best out of an AI chatbot does not stop at deployment. To ensure your eCommerce chatbot is working optimally, you will need to keep track and analyse a few KPIs. These metrics will not only help you improve the current health of your chatbot, but also bring insights into future user behaviour. These metrics can be clubbed 4 umbrella categories:
Bot metrics. – Total chats, Bot FRT, ART etc
Message metrics – No. of user and bot messages etc.
Agent metrics – Chats resolved, transferred etc
Miscellaneous – Hourly customer demand, frequent keywords
While these are a few chatbot KPIs you can look into to measure its performance, you can do a comprehensive analysis of your AI chatbot's performance. Check out our guide on 23 Top Chatbot Metrics to make sure your chatbot is fit as a fiddle!