5 Mins
With online travel agencies bouncing back, let's see how a WhatsApp Chatbot for Travel becomes a necessity, now more than ever.
The Opportunity for a WhatsApp Chatbot for Travel
March 2020 saw the travel sector push the brakes on all of its activities. Everyone all over the world faced some sort of travel ban – as we had people who were stuck in another land, people who wished to go home for vacations, or the ones who were planning to have their mini getaway.
Thus, the travel and tourism sector was one of the most severely affected industries. And with the industry contributing around US$8.9 trillion to the world's GDP in general, the motionless industry strongly hit the economic growth as well.
But this didn't stop the big names like Headout, Travelstart, Rehlat, Peek Travel.Inc, Hopper, etc. from sticking to their vision of spreading the joy of travel and making people feel safe and secure.
Fast forward a few months – given the ease in travel restrictions, companies have been taking all the necessary precautions. They're following regulations set by the CDC and WHO, and are providing end-to-end safety to all its customers.
Thus, by observing the strict action taken by travel companies, people soon regained their trust and confidence in travelling.
And so, given how the demand for travel has bounced back – with an increase in demand for workcations and domestic travel, the industry is on its path to catching on with its pre-COVID numbers.
"Demand is coming back – more for regional and domestic attractions."- Joy Ghose, VP, Partnerships, Headout
To Add to How the Travel Industry is Picking up, Here are Some Facts:
The issue at hand
The companies in the travel sector are constantly on their toes to provide prompt and accurate responses to customers' queries.
With the constant inquiries around the itineraries, booking information, or any other issues, it becomes difficult for the support team to manage these in a timely manner.
Not to forget that businesses are typically set for a 9-5 working environment. But when it comes to travelling, it's not necessary that the activities take place within an allotted time. The customer might come across an issue or might need more clarity on something at any given time.
Especially once the customer sets foot in a foreign land, it leads to tons of more questions. Or even when a booking is to be revised late at night. This is where promptness is greatly appreciated.
The solution to this is not overworking the employees and exhausting them. Doing so, would lead to an unhappy team and unnecessarily increase the support costs.
This is where a WhatsApp Chatbot for Travel steps in.
Solution – WhatsApp Chatbot for Travel
A WhatsApp Chatbot for Business would help automate a variety of tasks and make it easier for both – the customers and the employees.
A channel that can provide quick and precise responses. And a channel that has 24/7 availability, which is a huge boon to the companies.
Now let's see the top 7 use-cases for a Travel WhatsApp Bot:
Itinerary builder with a WhatsApp Chatbot for travel
Find the best flight
Rescheduling/Canceling the booking
Getting assistance on the WhatsApp Chatbot for travel
Passing the alerts and updates
Using WhatsApp to convey any travel guidelines
Collecting feedback

Use Cases:
1. Itinerary builder with a WhatsApp chatbot for travel
The majority of the time goes into making a tight-knit plan for a vacation. People usually spend hours making the perfect plan.
Thus, instead of heavy researching, why not ask the WhatsApp Chatbot for Travel for a perfect itinerary and save time?
Just feed a few details and the bot comes back with places to visit, activities to participate in, shows/restaurants to visit, etc.
2. Find the best seat
With a WhatsApp Chatbot for Travel, your customers can now search for the best flight/train/bus tickets that fit your requirements.
The bot being an expert shows the available flights, for example, as per the details entered.
Hence, allowing your customers to search for any availability and also get the best deal through the bot, on the go.
3. Rescheduling/Cancelling the booking
The need for rescheduling and cancelling the bookings became very important as soon as the lockdown struck the entire world.
Even otherwise, rescheduling and cancelling are very significant features in any travel industry.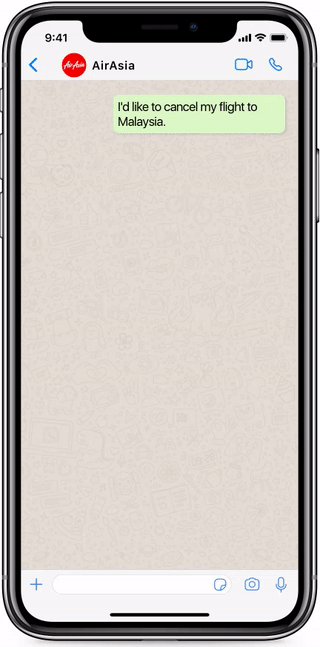 There's always a possibility for the travel plans, or bookings to get changed last minute.
Given the high uncertainty, having a platform that's widely used by many as a channel to modify the booking in one click, is a huge plus point.
4. Getting assistance on the WhatsApp Chatbot for travel
As we discussed earlier, in the travel sector, promptness and accuracy are the keys to happy customers. Plus, it's important to be available 24/7 for the customers.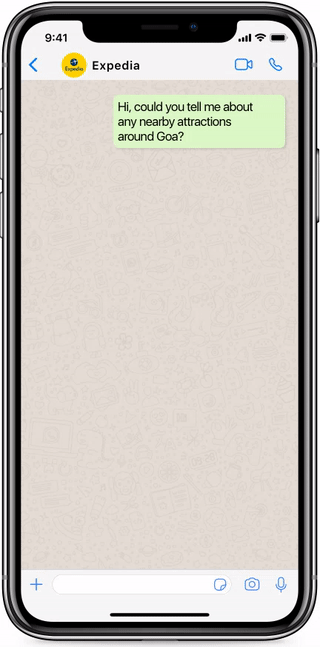 As, while travelling or even before the journey, a customer might have a set of questions that they'd like clarified or might need quick suggestions
We can see how an FAQ chatbot can help with some great suggestions on the spot!
Hence, leaving the heavy-duty questions to be dealt with by the human reps. This improves their productivity and reduces support costs.
5. Passing All the Alerts and Updates
We might be too caught up in our daily tasks that there might be a possibility of forgetting any booking or travel-related information. Hence, regular alerts from the company are super necessary.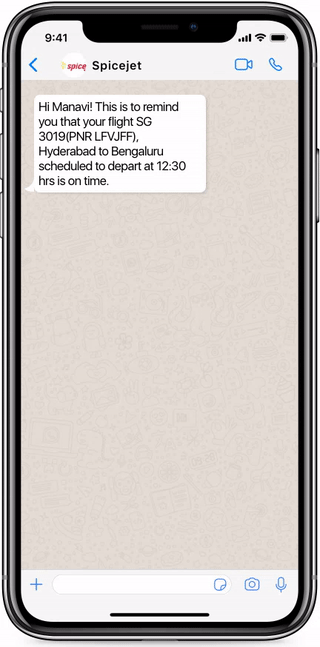 Alerts sent on our email or as an SMS are barely checked. They have low open and readability rates compared to WhatsApp.
WhatsApp chatbot allows you to send updates and alerts with Message templates. So using them becomes very fruitful as it's preferred by many and it marks a 99% open rate.

6. Using WhatsApp to convey any travel guidelines
With a handful of restrictions or guidelines to follow, it might get a bit overwhelming for the customer to keep track of all the rules for each location.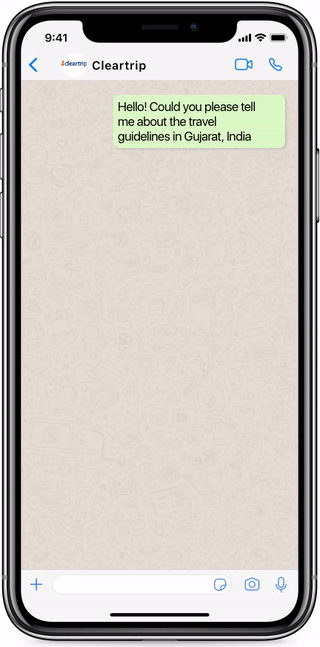 Thus, with a WhatsApp Chatbot for travel, customers can find out about any recent travel guidelines, virus hotspots, etc. before they make a booking.
This helps keep the customers in the loop and ensures that they're up to date with the latest regulations with just one tap.
7. Collecting regular feedback
Customer reviews matter a lot in the travel space, as they allow avid travellers to plan their holiday accordingly by understanding which company/service to pick.
And so, collecting CSAT and feedback post the trip becomes vital for any travel company.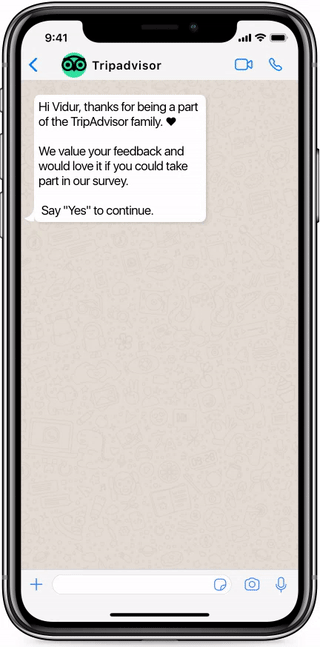 A WhatsApp Chatbot for Travel can be used in this case to collect a review immediately. Instead of filling out a boring long form on their email, customers would love to fill out a crisp and interactive feedback survey on WhatsApp. This would help the company and the future customers too!
Psst: Verloop.io has partnered with AeroCRS to Delight Customers on WhatsApp. Learn more here.
Time to Get a WhatsApp Chatbot for Travel
We can see how a WhatsApp Chatbot for Travel is not just a necessity in the COVID era but will also hold great importance post-COVID too.
Providing a platform to your customers that acts as their travel buddy by assisting them 24*7 is a trend that needs to be picked up by companies to see happy travellers, and employees.
Thus, a WhatsApp Chatbot for travel will allow you to:
Be present 24*7, and give your human reps a chance to focus on tasks/queries that are more significant.
Pass all the necessary information to your customers in time.
Reduce Support Costs.
Provide your customers a great customer experience and provide all the features/activities under one umbrella – i.e WhatsApp.
What are you waiting for?