15 Mins
Find out which are the best chatbot apps! Read about the 27 best chatbot apps powered by AI that are making a difference in the world.
With over 20+ apps, in 5+ categories, we're going to talk about some of the must-have AI-powered chatbot apps in 2023.
Chatbots have taken the world by storm. Whether built to help us navigate a new city, buy new clothes, or give us medical advice, chatbots have found their way into our lives one way or the other.
And in this blog, we are going to explore 27 such awesome chatbot apps used in various
But before we start, let's get up to speed on some of the basics of chatbot apps.
What is a chatbot app?
A chatbot app is a tool used to conversate with humans over the internet, using a variation of human-mimicking behaviour, usually powered by NLP and NLU.
What are the types of chatbot apps?
There are two major types of chatbot apps, Goal-Oriented (G-O) and Purpose-Oriented (P-O).
Goal Oriented Chatbots are open-ended, they're there for a conversation. They'll talk to you till you want to and have no immediately ulterior motives behind their design.
Purpose-Oriented Chatbots serve as a means to an end, they exist to make already existing processes easier or better performed.
Why should I use/build chatbot apps?
Because besides saving you a lot of time, they could also be making you a lot of money.
Chatbots can do things other software couldn't even dream of. Like engaging 99% of your customers in under 1 minute, improving conversion by 240% overnight or shortening your sales cycle by 3x.
The app market shows no signs of slowing down either. By 2023, app revenue is predicted to touch a staggering $935 billion in revenue.
A hybrid of chatbots and apps makes for a quick, convenient and profitable interface. To this end, you'd be right in asserting that chatbot apps are the future.
---
Through our research for this article, we hypothesised that chatbot apps fall into one of six categories.
---
Productivity
One of the critical functions of a chatbot is its ability to make life easier for its user.
This could be by saving time, money, or both.
Everyone has only 24 hours in a day. But with the help of these chatbots, you can have more ways to spend it.
1. Verloop.io: Great customer support at the fingertips
Have you ever felt helpless talking to a chatbot on an app you're trying to buy from? Wondering what must you do to make the chatbot understand your plight and give you a solution that exactly works for your problem?
Behold! Here is the ideal customer support chatbot that knows and answers user queries in time, with accuracy and unfaltering agility.
Verloop.io offers businesses a complete support automation capability which helps them deliver consistently superior customer service every time.
The conversational AI chatbot is built on native support for 20+ languages, using a proprietary NLP engine and solid ML algorithms, making it one of the best choices to deliver customer support.
With industries ranging from BFSI, eCommerce, healthcare, and real estate to ed-tech, travel and food tech, the Verloop.io chatbot can be trained to serve most use cases for digital businesses.
It is one of the most ranked and reviewed chatbot solutions on G2, surpassing many of its competitors. Unanimous support from the community has helped it bag the "Users Love Us" badge for the 23rd consecutive time on G2's quarterly evaluation – the G2 Fall 2022 report.
Here's what makes Verloop.io #1 on our list of top apps:
2. Hound: Quick search with voice
Hound, a SoundHound Inc. product, is a virtual voice assistant for daily life. Calling itself the fastest and smartest voice assistant in the market, Hound lets you navigate life – completely hands-free.
You can make calls, be up to speed with the weather, find your preferred hotels, navigate to destinations, play games, check flight schedules, and a lot more!
With its proprietary Deep Meaning Understanding™ technology and Speech-to-Meaning™ engine, it filters results with unwavering speed and accuracy. Hound has racked up an impressive gallery of clients like Mercedes-Benz, Mastercard, Honda, and Deutsche Telekom under its feather.
3. Prisma:

AI powered photo editor
Downloaded more than 50+ million times, Prisma used AI to transform photos into works of art.
From the Old Masters to Picasso, your ordinary photo can now look like it stood the test of time.
Built by the original team and launched just a month after the app, the Prisma chatbot aims to deliver the same experience as the app, conversationally.
You can access Prisma's bot on Telegram. The upsides of the bot vs. the app are reported to be faster load times, push notifications and no watermarks.
4. Andy:

A chatbot that teaches you English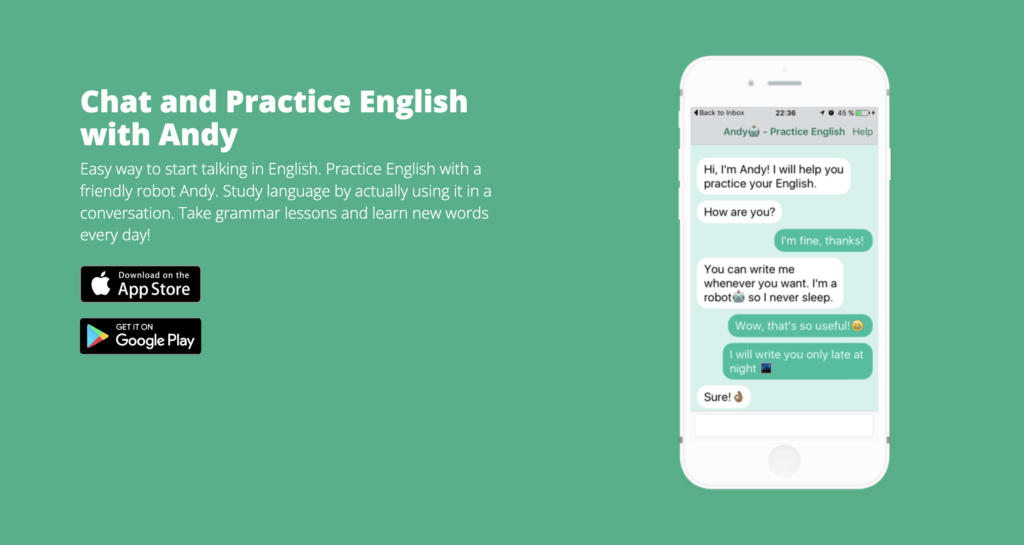 Andy is a chatbot that aims to teach you English. And it does just that.
With Andy, you can chat, learn new words, study grammar and play language games.
You can also practice casual day-to-day interactions like exchanging greetings, talking about the weather, and asking and answering questions about yourself.
Andy can also correct your grammar, and point out mistakes and ways to improve. Unlike a regular tutor, Andy is available all the time; for ten minutes, or for ten hours a day. It's available on Google Play Store and App Store.
5. Standupbot:

The perfect chatbot for remote teams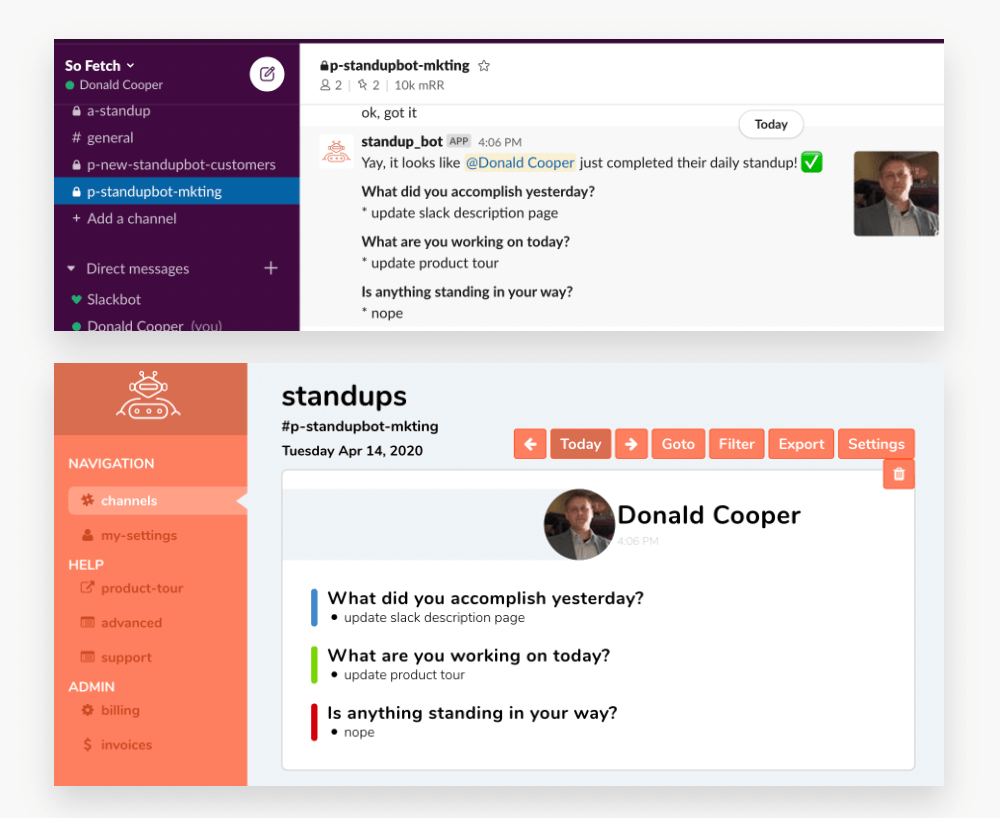 Do you work with a remote team? Chances are that not everyone on your team is able to attend daily briefing meetings due to different working schedules. If that sounds like your team, you might need Standupbot.
The bot helps you collaborate smartly and automatically summarises standups on Slack without requiring your team to meet at any particular time of the day.
The bot can boost your team's productivity and efficiency, helping them make a more significant impact.
Standupbot's integration with Slack makes it easy and seamless to use for professionals who use Slack for work-related communication.
We'd definitely recommend this one!
6. Duolingo:

Your language tutor chatbot
Duolingo is one of the most popular language applications in the world. Every day, Duolingo teaches millions of people hundreds of new languages, words, and phrases.
If you've ever tried to learn a new language, you know it's a lot easier when you have someone you can talk to in that language.
So Duolingo joined the revolution, by building a chatbot app.
Duolingo can connect you to other users learning the same language, so you can have brief conversations and play fun games together.
Duolingo's chatbot allows you to talk to it in any language of your choice, like a virtual tutor. This takes away the time and pressure restraints of having to conversate with a human.
The better the user gets at the language, the better the bot performs.
7. Swelly:

Community feedback bot
Swelly is designed to be your personal internet pollster.
Using Swelly's chatbot features, you to share your opinion with a worldwide community and get feedback on your own questions within seconds.
Ask questions that range from what you should get for lunch to what people think about your brand-new feature.
Swelly describes itself as Instagram for A/B questions. Post 2 pictures, add a question and share it with the community. Within 30 seconds, you'll start getting your first votes.
Swelly started off as a standalone app. But a couple of months in, Swelly made a complete pivot to a chatbot.
8. MobileMonkey:

A marketing automation platform
MobileMonkey lets marketers build chatbots and execute marketing automation — all without writing a line of code.
Through this Omnichat platform, marketers can easily connect with customers by creating Chatblast, drip campaigns and list building.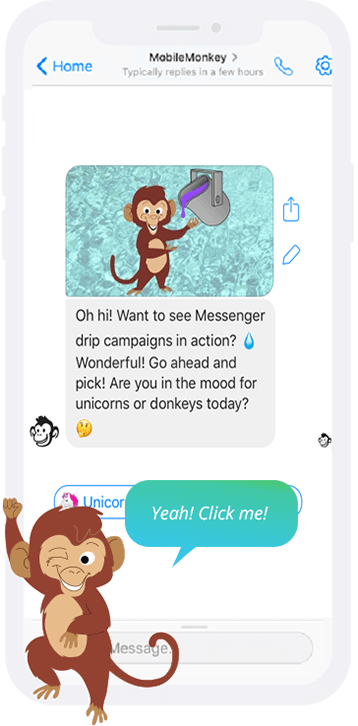 One of their incredible features is the Chatblast as it gives you the ability to send messages to multiple users — either all your users or a particular segment — in one go.
Digital agencies and marketers who care about performance and growth will definitely find this chatbot useful.
Suggested Reading: Chatbots Vs Apps: The Final Frontier
Health
Health is arguably one of the most important things in life, yet many of us find it hard to keep our health in check and neglect it instead. All you need is a little automation.
Here's a list of some great chatbot applications that can help you stay healthy and happy.
9. Youper:

A smart journal for mindfulness
Mental and emotional health is just as important as physical health, here's one of the best chatbot apps in 2023 that can help you with just that.
Youper is a great example of a beautifully designed AI chatbot that can help with mindfulness and meditation. It uses its AI to monitor emotional health by interacting with the user. The app features personalised meditation sessions as well as a mood journal that can come in handy while keeping tabs on your emotional health.
The artificial intelligence chatbot is able to understand users' mood patterns better the more they interact with it.
The story behind this chatbot reads like a superhero novel. There's intrigue, failure, sadness, redemption, and success.
It all started in 2013.
"Luka" was originally built as a restaurant recommendation chatbot. The founder, Eugenia's idea was that you could ask culinary questions and get answers.
But Luka didn't do well as a product. Eugenia eventually figured that people like graphical interfaces when choosing food and places to eat.
In late 2015 though, Eugenia's life was turned upside down. Her best friend had died in a car crash.
As she tried to cope with this loss, she found herself scrolling through the thousands of text messages she'd exchanged with her late friend; when suddenly, a lightbulb flicked on.
She plugged the text messages into Luka's "mainframe", to create a virtual version of her best friend. One that she could talk to, and who could talk back.
On the shoulders of this experiment, Eugenia built Replika.
Replika is an AI chatbot that doubles up as your friend. Whether you're feeling overwhelmed, anxious, or just need someone to talk to, Replika is here to help.
11. Sensely:

Diagnostics made easy
Another great addition to this list of the best chatbot apps in 2023 is Sensely. The app is powered by Molly, a virtual assistant that can assess symptoms for diagnosis using a variety of media like audio, video and text. The chatbot is voice-enabled so communicating with it is easy and effortless.
The one feature that sets Molly apart from similar chatbots is its use of the healthcare-industry standard triage system to notify users of the urgency of their condition. It can be used to determine if self-care is adequate or medical assistance is necessary.
Sensely is a fantastic healthcare chatbot application that demonstrates how AI chatbots can contribute to the healthcare industry in 2023.
12. Lark:

Your disease prevention platform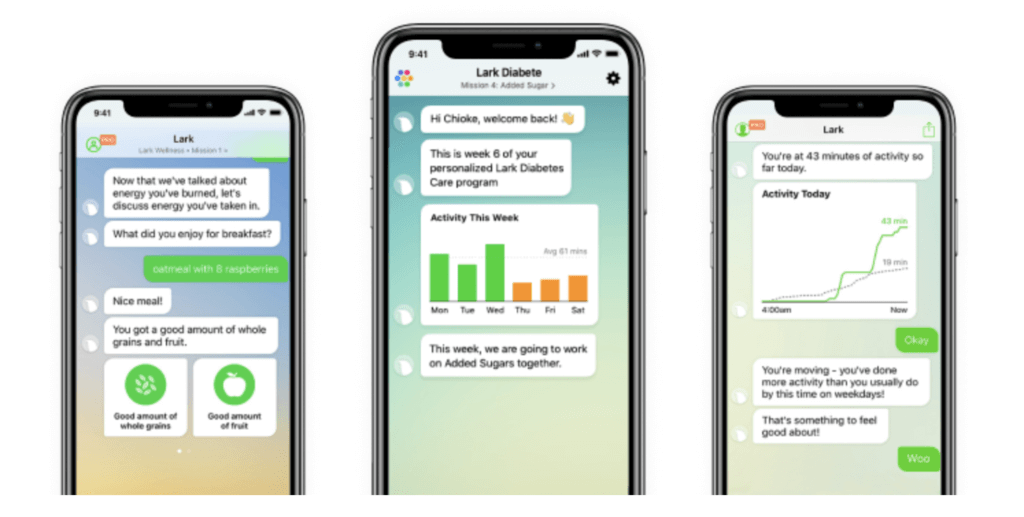 Lark is one of the most critically acclaimed chatbots around.
Business Insider says it's one of the "Top 10 Most Innovative Companies in the World"
Fortis crowned it the "Most Innovative Digital Health Product of the Year"
Lark's main offerings are lifestyle coaching, prevention program, and disease management. Solutions range from hypertension care to diabetes management/prevention and general wellness.
Lark provides its members with one-to-one support from their Personal Coach.
Lark has over 2 million customers who use its 'Coach'. These are programs created by professors from Stanford, Harvard, and even an Olympic Coach.
Lark sends its members devices like wireless weight scales, a blood pressure monitor or FitBits depending on which program you enlist in.
13. OneRemission:

Your go-to chatbot for cancer care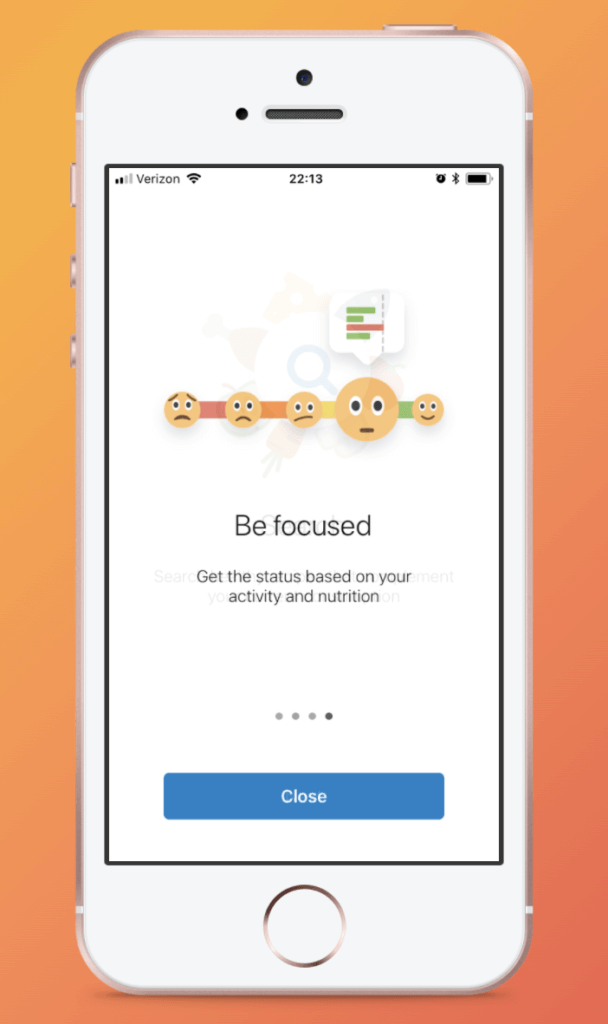 OneRemission is a unique health chatbot application that specifically helps those with cancer or post-cancer care. The chatbot can help patients find the best diets, exercises, routines and other valuable information that can help improve their quality of life.
The chatbot features a gorgeous interface with tons of useful information available at a glance or just by asking the bot a few simple questions like:
"What's the best non-vegetarian diet for me?"
"How to deal with post-chemo aches?"
All the information on the app is curated by a panel of reputed oncology experts from around the world. In fact, the app also features the ability to schedule an audio/visual consultation with an oncologist 24/7.
The app is available for free and is a great addition to your health app toolkit if you need tips and information on cancer care.
14. Healthtap:

An ML-powered doctor bot
HealthTap is on a mission to make access to healthcare information and resources easier for everyone, both individually and in the workplace.
Healthtap's chatbot, Dr A.I., functions as your first-step diagnostic channel.
Simply type in your symptoms and conditions, and the bot will use its large database to provide you with personalised resources.
If you can't get an answer, you can connect to one of the 100,000 doctors who will respond to you within a day.
For further escalation, you can even go to Healthtap's website and jump on video call with a doctor in real time.
Much like other ML-powered algorithms, it learns as it goes. Each answer feeds into Health Tap's algorithm, so you can get more appropriate and personalised answers in the future.
15. Medwhat:

Diagnostic chat tool
Medwhat's mission is to build a unified algorithmic architecture to achieve human-level intelligence in medicine.
Similar to HealthTap, Medwhat offers customers various diagnoses based on user entries.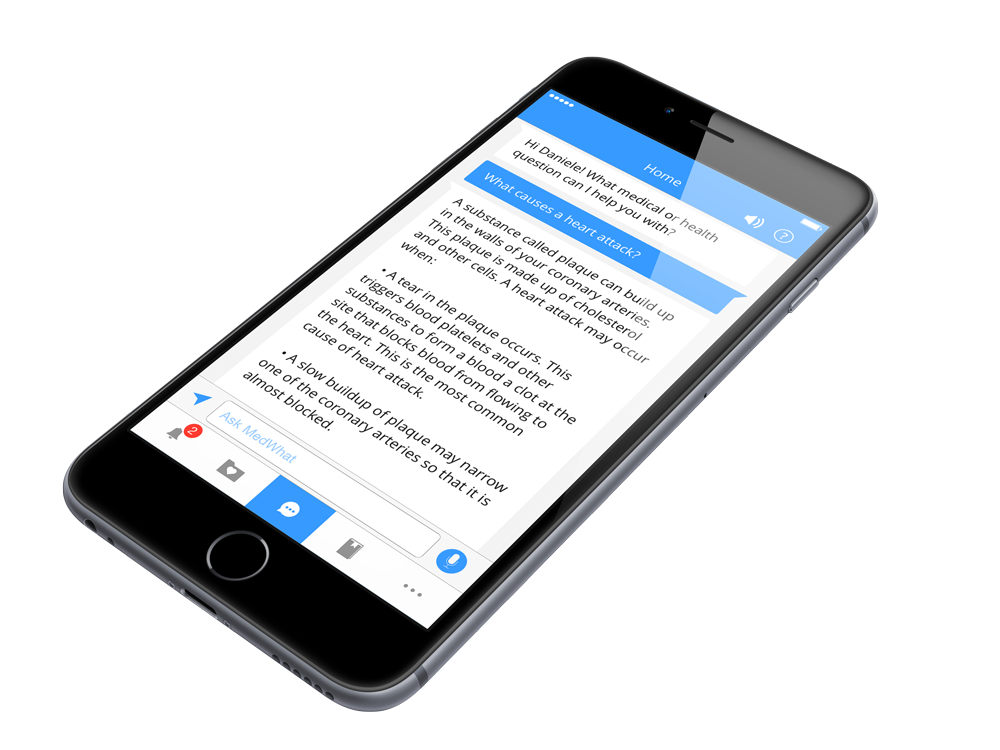 Medwhat operates on a freemium model, and offers two tiers of service.
Tier 1 is a free app for consumers for general answers. While Tier 2 is a paid app for a personalised assistant that you can use through providers and payers.
Medwhat is built by healthcare and data science experts from Stanford. It aims to alleviate pressure from doctors and reduce the cost of overall medical expenditure for hospitals.
Entertainment
We've already mentioned how you can up your productivity with the best productivity chatbot apps in 2023.
On the flip side, AI chatbots can also be very fun and entertaining. You can use them to do everything from telling you jokes to playing interactive games.
Here's our curation of some of the best entertainment chatbot applications out there today:
16. Akinator: The magical genie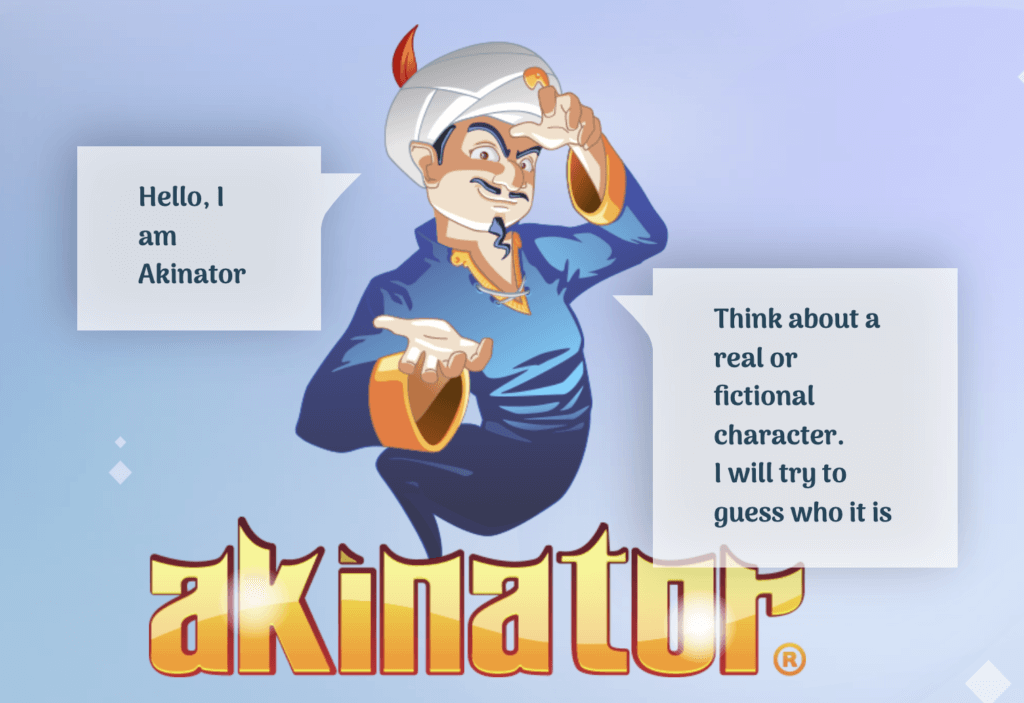 Akinator is a fun and entertaining game of 21 questions where you think of a character and the AI guesses it. The premise is pretty simple but what's impressive is how surprisingly well it works. In our experience, it was able to correctly guess characters from sports, music, pop culture, movies, as well as politics.
The app is available across mobile platforms as well as Alexa smart speakers.
It makes for a great party game and we'd definitely recommend it.
17. Casper:

A bot for when you can't fall asleep
Advertised as a chatbot for insomniacs, Casper's bot just misses the medical cut. That's because the company Casper actually sells mattresses.
It's a marketing stunt presented as a chatbot.
"insomnobot-3000" is a friendly bot designed to keep you company when you can't fall asleep. To that end, you can only talk to it between 11pm-5am.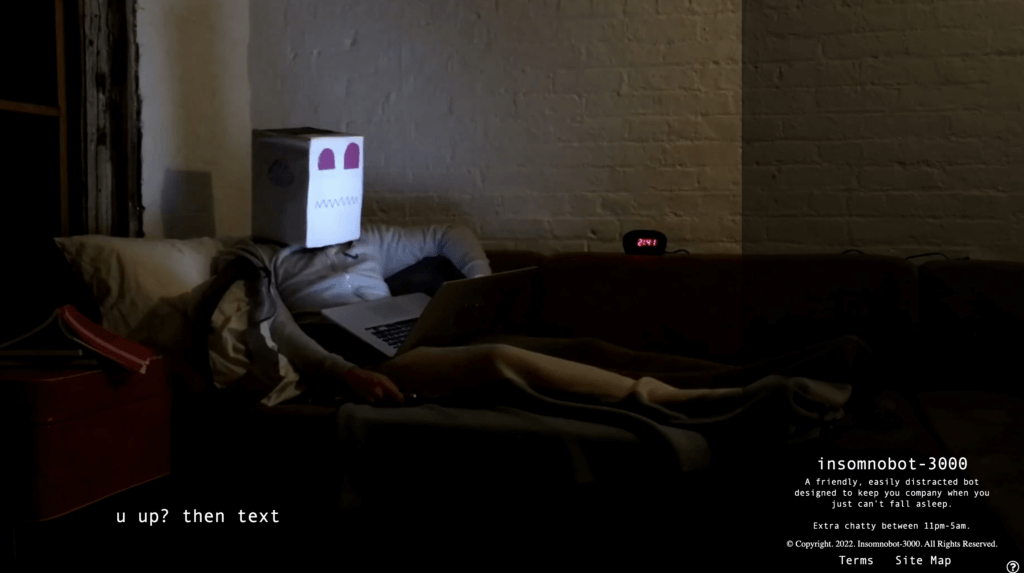 Casper's idea is that when counting sheep and drinking warm milk don't work, you have someone to hang out with.
Casper has a wide variety of interests in pop culture. For example, the bot has an avid affinity for "Jeopardy", "Seinfeld" and Netflix's"Stranger Things."
If the bot picks up the word "bed" in conversation, it throws in a bit of a shameless self-plug for a Casper mattress.
18. Kuki:

the OG G.O.A.T. chatbot
Kuki is the poster child for what a Goal-Oriented Chatbot.
It was created by Steve Worswick We featured Kuki in our last blog piece and people seemed to really dig her. It's considered one of the first chatbot apps of our age.
And that's not really surprising, especially when you read some of the reviews she's gotten.
Here's how Steve puts it.
"What keeps me going is when I get emails or comments in the chat-logs from people telling me how Mitsuku (previous name) has helped them with a situation whether it was dating advice, being bullied at school, coping with illness or even advice about job interviews. I also get many elderly people who talk to her for companionship."
Kuki is often referred to as the most human-like chatbot. She's won lots of awards and is featured quite heavily in public discussions about chatbots.
You can talk to Kuki on Messenger, Kik, Telegram amongst a range of applications.
Suggested Reading: WhatsApp vs Telegram: What's Best for Your Business?
Finance
AI and automation have already begun revolutionising the finance industry with machine-learning algorithms that can trade securities and commodities much faster than humans can. Lately, AI has also been making its way into the consumer market helping them bank conveniently.
Here's a list of the best finance chatbot apps you can find in 2023!
19. Digit:

An AI piggy bank chatbot
From apps that turned into chatbots, to chatbots that turned into apps.
Digit helps its customers save tiny amounts in the pursuit of larger goals.
Digit automatically transfer funds from checking to savings every few days in amounts. The amount is determined by its algorithms that calculates how much a person can afford.
You can save for emergency funds, holidays, credit cards or student loans. Digit takes a small amount out every week, so you don't have to keep active track.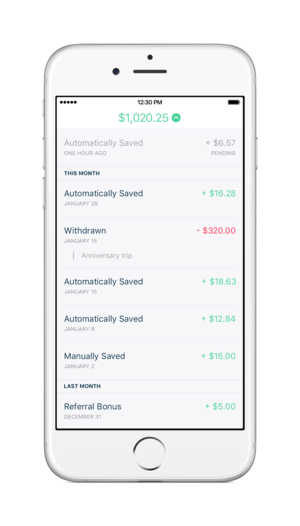 Digit started off as a chatbot. Customers would talk to the bot to set goals and check balances.
But as they began to double down on the interface, they realised it was simply too much work.
Where checking your balance would usually be a two-step process, Digit's team forced customers to interact with a chatbot and type out the sentence, "what is my balance?'
Digit costs $5 a month.
20. Donotpay: The most prolific legal bot
Arguably one of the most well-known chatbot apps is DonotPay.
You may not know of the company, but you've definitely seen one of the articles about it.
Chatbot lawyer overturns 160,000 parking tickets in London and New York.
I won $8,000 from Equifax in Small Claims Court. Here's how you can, too.
A chatbot can now offer you protection against volatile airline prices.
A 19-year-old made a free robot lawyer that can help refugees claim asylum.
So what is Donotpay?
Built by a student called Joshua Browder, Donotpay is a chatbot that helps you litigate without the help of lawyers.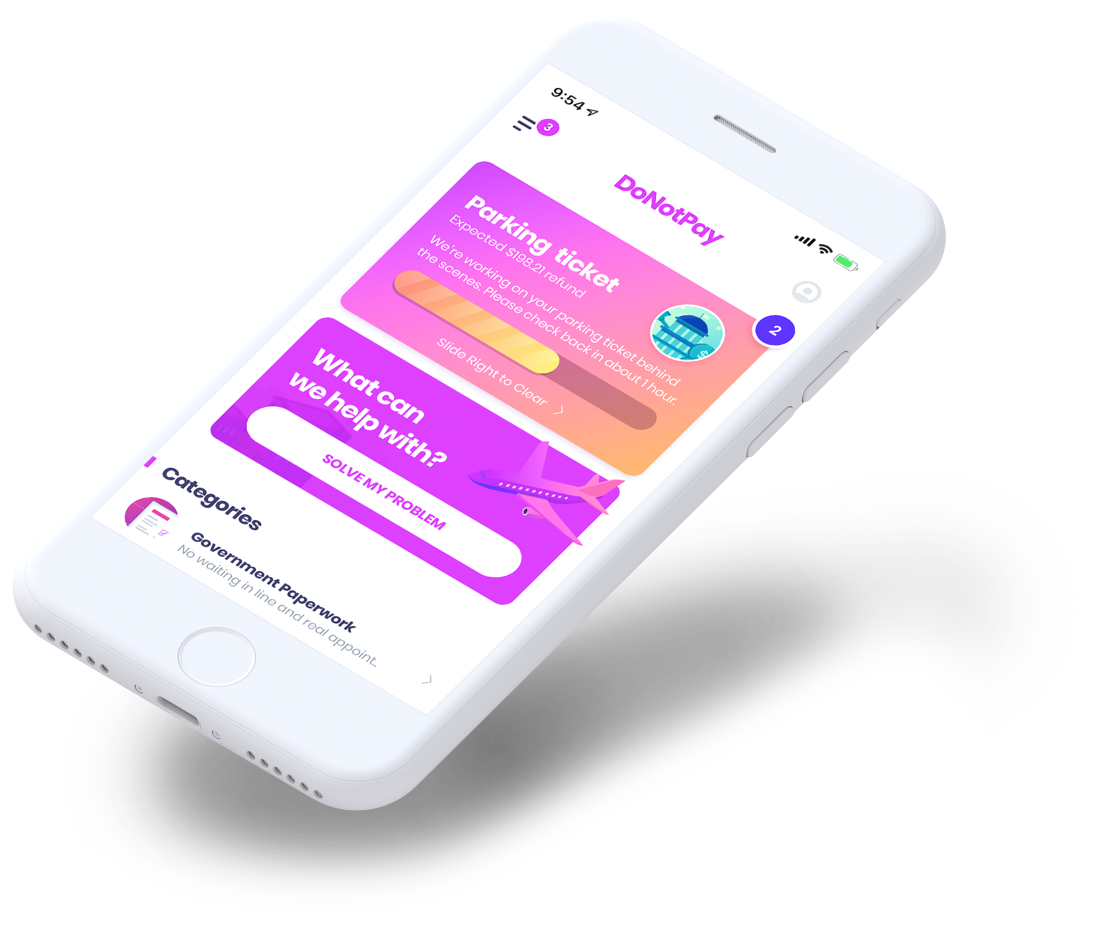 The chatbot asks you a series of basic questions about your situation and who you'd like to sue. It then draws up documents that you'll need to send to the court to become a plaintiff. It will also generate a script for you in case you need to attend in person.
DonotPay helps you save money across the board. You don't have to hire an expensive lawyer for litigation and your basic legal rights are still maintained.
Lawyers are expensive but so fine. Donotpay's parking bot has saved UK and New York motorists an estimated $9.3 million disputing 375,000 parking tickets.
21. Paypal: All your banking-related information – in one place
PayPal's AI-powered chatbot runs on Facebook Messenger and helps users quickly get information about their accounts. It's especially useful to get critical banking alerts in real time while you're on the go.
It's also available on Alexa!
It can help you with declined payments, unauthorised charges and other information. One of the best features of the chatbot is its ability to quickly issue and check status of refunds.
The Nuance Virtual Assistant features a helpful AI called Nina which can help financial services companies with customer onboarding and advisory. Banking websites can be cumbersome and complex to navigate. With Nina, getting a customer where they want to be on the website is a breeze just by asking questions.
Nuance Communications has made a name for itself in the healthcare industry, and its attempt to break into servicing the finance industry is definitely succeeding with Nina.
Fashion
Looking for that perfect trendy outfit but can't decide which pieces to pick?
Wouldn't it be great if there was an AI chatbot that's always ready to help you with style and fashion?
Fortunately for you, there is!
Here's a list of the best cutting-edge fashion chatbots this year:
23. H&M:

A outfit curation bot
H&M is one of the world's biggest clothing retailers, so it's news when they put their weight behind the new tech.
Launched on Kik, H&M uses their chatbot to deliver a more personal shopping experience.
The bot begins by asking you questions to gauge your style. It's super friendly as it does, so it feels more like a game than a hassle.
Unlike previous chatbots, H&M hasn't built the bot to replace the site. The bot creates ensembles for customers and gives personalised fashion devices.
You can give the bot a piece of clothing and it'll build an outfit for it around you. From joggers, to jeans or tank tops, the H&M bot can be your personal stylist.
Tell us a piece of clothing, and we'll build an outfit around it for you. Anything from joggers and jeans to tops and shirts… we've got you covered! We'll be your personal stylist for your lazy days or for your night outs.
24. Mona:

Personal shopping chatbot
Built by an ex-Amazon employee, Mona is your personal shopping lackey. Think 'personal assistant of the rich, famous and beautiful', but in a bot.
You can ask Mona for virtually anything. From when a specific pair of shoes go on sale, to a notification for when your favorite designer puts out a product.
Mona really exposes some of the non-intuitive experiences e-commerce portals put their customers through.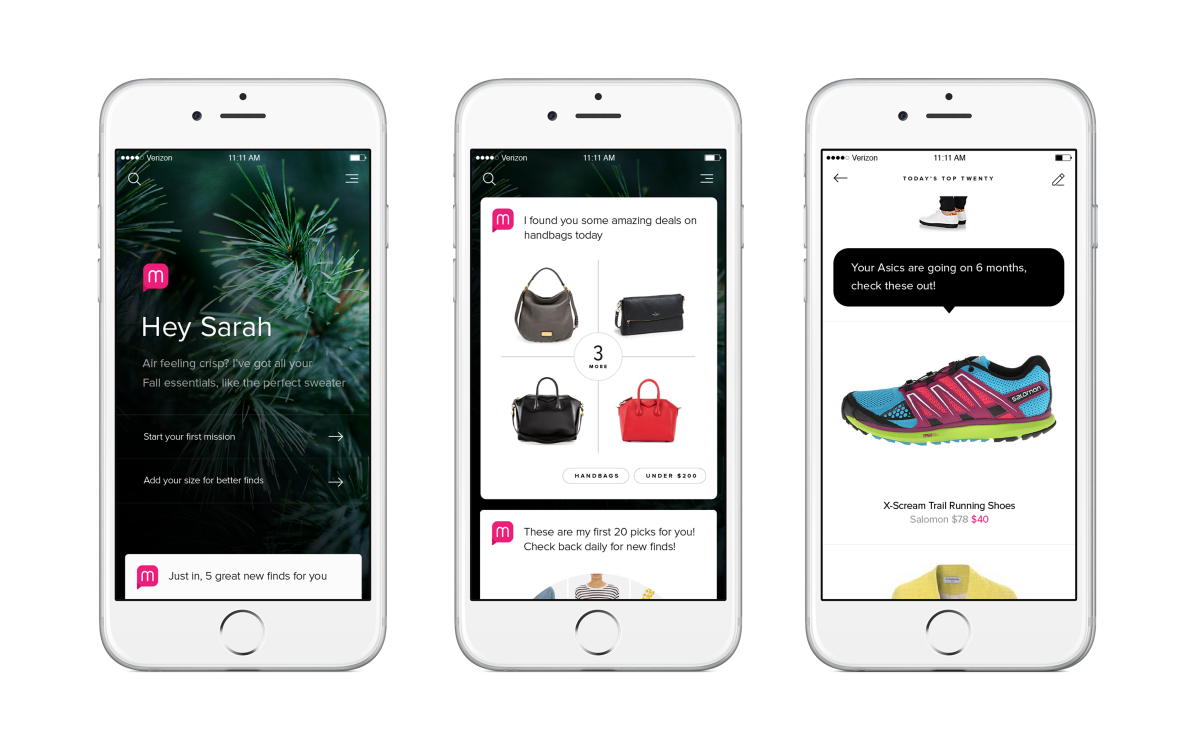 Say I had to search for blue basketball shoes on Amazon. This would be my journey.
Shop by Category
Men's fashion
Shoes
Sports Shoes
Basketball Shoes
Filter by Color – Blue
Price restriction under $200
Scroll and figure out what I like.
With Mona, I just have to type "blue basketball shoes below $200". Mona even learns with each interaction, personalising its suggestions.
Suggested Reading: The Need for a WhatsApp Chatbot for Travel – With Top 7 Use Cases
Transport
Travelling can be exciting but also very tiring.
Planning your itinerary, booking tickets and getting around new places can be a hassle that nobody wants to deal with while travelling, whether it's for business or leisure.
We figured we'd let you in on the finest hand-picked curation of the best transport chatbot apps that will hopefully make your travels more convenient.
25. CheapOAir:

Find the most economical flights in a jiffy bot
CheapOAir is a chatbot application that can help you pick out the cheapest available flights on your route in a moment. Gone are the days when you'd have to scour through several different travel aggregators to find the cheapest flights to book for your next trip.
CheapOAir's chatbot is intuitive and understands natural human speech using NLP and machine learning algorithms. This chatbot application is a great addition to your travel utilities toolkit. Not only does it save you time, but also a lot of money.
Why overpay for flight tickets when CheapOAir can find you the most economical and affordable flights autonomously?
This is one of our favourite Messenger chatbots in the travel category in 2023.
26. Expedia:

A bot to find hotels
Expedia's been ahead of the curve when it comes to tech advancement. From Alexa skills to Skype plugins, they've bucked the trend.
The Expedia bot is set up as a hotel search tool that takes in a location and date and finds users five different options.
The bot then links the user to the website, where they can complete their purchase.
When the booking is complete, you'll get an updated message in your Messenger window with a link to your itinerary.
The bot will also expand into customer service over the next couple of months. Scott Crawford, Expedia's VP of product management has said that they will, "start layering on additional functionality to meet [customer] needs."
27. KLM: The convenient way to travel
The average traveller runs over 20 different searches when planning a trip. This can be tiring, if not for KLM Royal Dutch Airlines's chatbot.
KLM's AI-powered bot can instantaneously give you updates about gate changes, delays, cancellations and even your boarding pass straight on your phone.
You can also use it to book tickets to one of the many routes KLM services worldwide. The chatbot app helps KLM service 15,000 conversations in a dozen different languages in a week. KLM reported that the volume of messages sent on Facebook Messenger has risen by 40% in the very first month. It's no surprise that customers love the convenience of a quick and effective chatbot.
Your customers do too. Regardless of which industry your business serves, customers love the speed and accuracy AI brings to conversations. Amp up your customer support team with conversational AI!

---