5 Mins
In a competitive market, banks are trying different strategies to acquire new customers, resulting in higher customer acquisition costs (CAC). There is also a shift in customer expectations during the pre-sale period. In this post, we answer how can we reduce the cost of customer acquisition for Bank's.
The banking industry has lately witnessed the rise of innovative models like neobanking and digital payments methods. Today, customers have too many options to choose from. Because of this, banks are spending excessively on their marketing and sales efforts to make the customers notice them.
For banks, acquiring a customer is not limited to just opening a new account. A new customer is also someone who signs-up for services such as loans, credit cards, etc. With the countless offerings at their disposal, getting customers to enrol for a service is not easy.
The evolution of banking has also driven a change in customer behaviour. Earlier, customers chose banks based on interest rates and the number of services they provided. But now, customers want more. They want good customer support and engagement along with suitable offers.
Both the banking methods and the ways customers shop for banking services have changed. Therefore, the methods and strategies used for customer acquisition in banking should also change.
Suggested Reading: Know Your Customer Acquisition Cost (CAC)
3 Customer Acquisition Strategies to Reduce Your Bank's CAC
Below, we've listed three simple actions you can take to improve your customer acquisition strategies that will help you can decrease your Bank's CAC: 
Remove Friction
Add Personalization
Be Present
Let's look at them in detail.
Remove Friction
Optimise experiences for the customers and think about how you can save their time and effort. Identify friction points and see where the customers are dropping out. Aim to minimise the number of steps it takes to complete a goal.
One of the challenges banks face is customers dropping-out from the final steps of engagement. According to a survey, 40% of consumers abandon a bank during the onboarding processes. The top three reasons for this are:
lengthy process
time-consuming authentication
difficulty in filling out forms
You can reduce this abandonment (and therefore, lower your bank's CAC) by making it easy for your customers to complete the process. You can:
Go digital with your processes and let the customers apply online. Let them open new accounts or start new services from the comfort of their homes or offices.
Use live chats to engage with customers and fill forms through conversations (instead of the conventional long, boring formats).
Speak to them in everyday language so they understand the concepts and know what they are getting in the offer. Using a lot of jargon leaves the customers confused and unlikely to convert.
Pre-fill customer details, especially if you are upselling to an existing customer and you already have their information.
Automate KYC and ID verification process. Let the customer upload their photos and ID proof from their laptops or mobile devices. Integrate facial recognition and fingerprint technology into your apps so it's easier and faster to verify customer identity.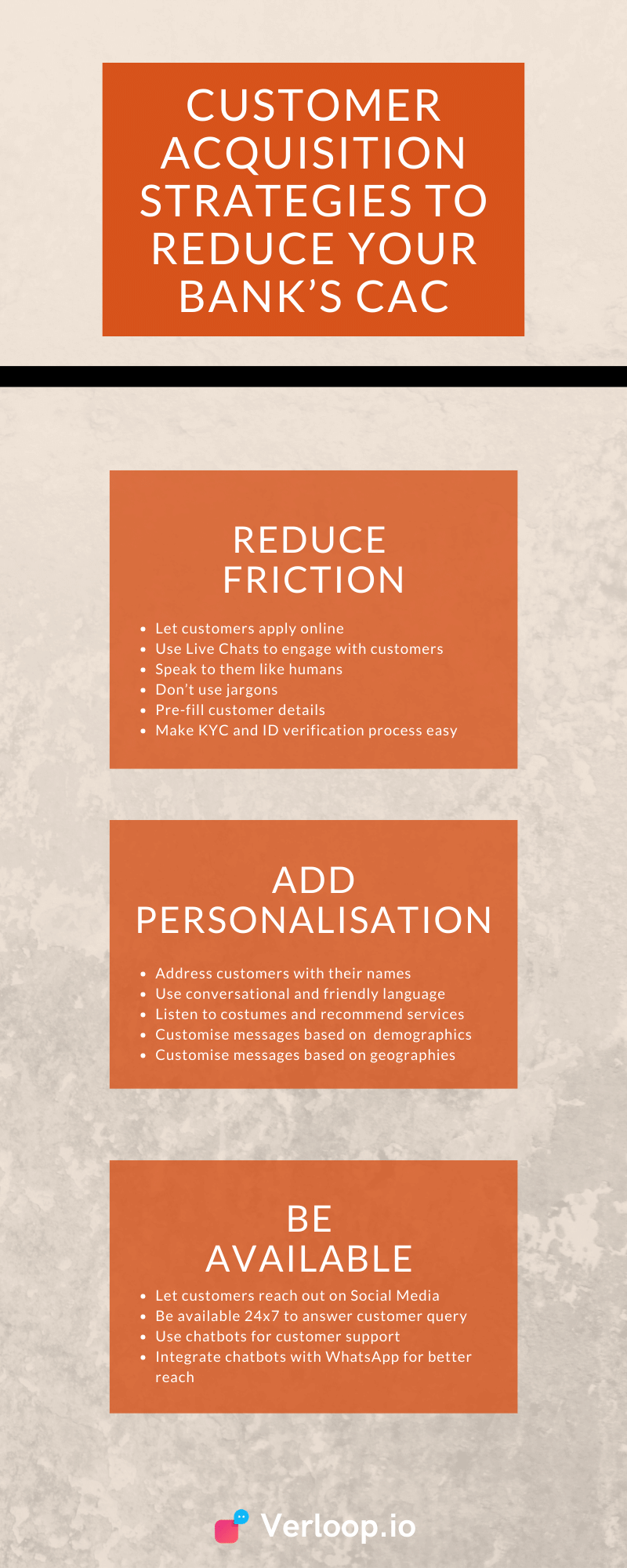 Add Personalisation
It is a truth universally acknowledged, that the more personalised and customised your sales pitch is, the more likely your prospective client is to close.
By personalising the customer's experience with your bank, it not only resonates well with them but it also demonstrates that you understand them. This helps in nurturing leads and building better relationships.
Below, we've listed ways you can add personalisation in your customer acquisition strategies to decrease CAC.
Address them with their names while communicating with them. Add a human touch to your conversations
Use a conversational tone instead of the confusing "bank talk". By using simple language and a friendly tone, you help customers understand the offers and increase adoption.
Listen to the customer's needs and recommend services that they require. This will help you build trust and set you on a lifelong relationship with your customers.
Segment your customers on demographics and target them with customised messages and ads.
Suggested Reading: 11 Ways To Automate Customer Support Without Losing Personalisation
Be Present
A prospective customer needs to be nurtured during the pre-sale period; they have many questions and would like to know more about the company and service being offered. One way to help them is being present to answer their questions, anytime and anywhere.
Currently, customers still talk to banks on email or phone calls. However, customer behaviour is changing. Millennials and Gen Z prefer messaging to phone calls. Banks that bridge this communication gap and introduce new messaging channels in their customer engagement will be able to reduce the CAC.
Below, we list a few things you can do to boost your customer acquisition strategy.
Have a social media presence. And one of the ways you can nurture leads is by letting them connect with you on the channels that they prefer.
Chatbots in banking are on the rise. By combining messaging with automation, you can scale customer support, both pre- and post-sale. This way, customers can reach out to you at a time convenient to them.
Support customer queries on more than one channel. Integrate live chat service with your social media pages and WhatsApp.
Better Customer Experience to Lower Bank's CAC
Happy customers are loyal customers. They reward you with word of mouth marketing. In banking, customer recommendations are powerful customer acquisition drivers. Referrals are easy to convert as they are already aware of your brand. Happy customers also leave good reviews which build your brand reputation and make it easy for you to acquire new customers.
Suggested Reading: How Chatbots In Banking Are Improving Customer Experience
Customers remember how you make them feel. By removing friction, personalising their experience and being there for them, you leave a good impression and build strong relationships.
So next time you are talking to your leads, remember these points. It will not only help you reduce the CAC involved, but also increase the customer's lifetime value.
If you want to read more about the potential use cases for chatbots in banking, we have just the article for you here.
Looking for a chabot for your banking business?
Let's talk.