5 Mins
back to main menu
Beyond Reactive: Proactive Messaging as the Key to Exceptional Customer Engagement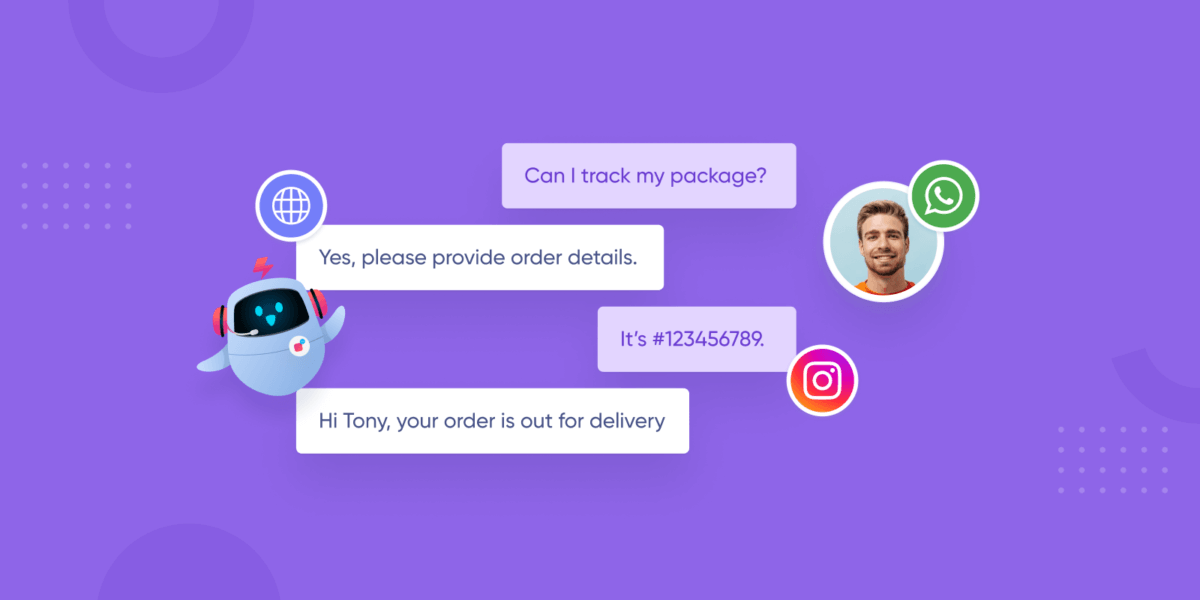 back to main menu
Beyond Reactive: Proactive Messaging as the Key to Exceptional Customer Engagement
A report from Achieving Customer Amazement claims that one in every four customers is ready to pay 10% more funds if they receive exemplary customer service.
Remember, just providing good customer service is not sufficient. It has to be EXCELLENT, like in the case of Zappos, which established an empire worth billions of dollars only through incredible customer service. After all, their purpose is "to live and deliver WOW".
Today, it is crucial as well as complicated to satisfy customers and meet their expectations. So, rather than waiting for customers to come with their issues, it creates an indelible brand impression if the brand reaches out to them proactively.
Going the extra mile and making the first move will prove your proactive understanding of your consumer's pain points. You must ensure that your business is quick enough to identify and resolve customers' issues for a solid experience. It can only be possible if you implement the essential technique of proactive messaging through essential AI tools.
Now, let us understand what proactive messaging is in some detail.
Suggest reading: Outreach For Proactive Communication
The Concept Of Proactive Messaging
When consumers get in touch with their queries, they demand immediate attention and support. This is where proactive messages come in handy to offer a personalised experience to customers on web and mobile pages. The idea is to recognise and anticipate potential issues even before the customer reaches out so that you can exceed their expectations.
The key focus of a proactive customer service strategy lies in considering your customer's priorities through customer-driver insights. Understanding when you should step into the customer journey to offer an answer is essential. Also, you have to figure out the channels for this strategy and estimate its impact on your business.
How Does Proactive Messaging Work?
A customer service team can proactively message customers through mobile app or web messenger notifications. It allows the choice of consumers to deliver the message(s) and when and where they can see them. In addition, you can also opt for proactive messaging with automation once a customer replies.
A successful proactive customer support strategy goes a long way in tackling customer problems and providing solutions. Here is how you can implement proactive messaging.
1. Live Chat
Research shows that the consumers who received quick responses are 82% more likely to place an order. Live chat helps in delivering proactive support based on demographic data. Betterment offers fast and personalised financial services through business chat live support to new clients.
2. AI-Based Automation Tools
You can use AI-based automation tools; you can help hold real-time conversations and increase customer engagement. A significant advantage is that such tools offer round-the-clock assistance even if the team is unavailable.
3. Knowledge Base
Several consumers feel they need to do more than mail or call customer service in case of doubts and queries. Statistics claim that around 51% of users refer to a knowledge base for solving problems independently.
4. Omnichannel Strategy
According to a Microsoft survey, about 59% of customers wish to receive responses to their queries using the omnichannel experience. Since customers use a variety of channels, such as Facebook and other social media, you have to improve your online customer service. Consider the example of Amazon, which informs customers in case of delivery delays via email.
5. Product Knowledge
If customers find it hard to answer their queries, they quit making the online purchase. To avoid this risk, a sophisticated team should be deployed to resolve user problems swiftly and effectively.
If you check out Debenham, a UK-based retailer, you will find that it has online buying guides. This clever tactic works wonders in decreasing its rate of returns and exchanges as well as saves costs and resources.
6. Consumer Feedback
Unless you understand what your customer exactly wants from the brand, you will not be able to match their expectations. Only then can you detect issues and rectify them in time.
One way of staying on the same page is to ask customers for feedback. Reviewing customer service tickets occasionally to analyse common queries and prepare responses will be helpful. You can also send online surveys to customers to have an idea about their preferences.
Deezer, a leading website that streams music, displays a good example of customer feedback. It drives customer engagement levels on an unprecedented scale through a community where people worldwide communicate about music.
7. Organised Internal Procedure
Leveraging internal processes among various teams is a fundamental aspect of proactive support. Frequent collaborations with the team to gain a robust understanding of the process will enhance the customer experience by leaps and bounds.
8. Recommendation Feature
With the introduction of a feature for recommendations, you can assist customers to search for suitable options and products. Chances are that they may even end up making additional purchases.
At times, firms employ particular algorithms for identifying previous purchase patterns. Again, specific consumer behaviour determines personalised recommendations.
Disney Hotstar focuses on an individualised approach offering a huge category of recommendations from shows, movies, documentaries, and TV programs. The reason behind its ever-increasing content consumption on this platform is the user's search preference and past history.
Benefits Of Proactive Messaging
Proactive messages are of paramount significance. Here's why.
High customer satisfaction and improved CSAT
Control over customer conversations
Reduced support tickets
Tailored messages
Increased returning visitors
What Is The Difference Between Proactive And Reactive Messaging?
The fully-automated messages that allow website visitors to engage in chats refer to proactive messaging. On the other hand, the practice of reactive messaging burdens consumers to reach out to the concerned people.
Unlike reactive messaging, proactive messages are scalable according to business requirements and save time for support agents and consumers. In short, proactive messaging is valuable in preventing minor issues from taking the shape of significant problems.
Upcoming Trends And Innovations In Proactive Messaging
AI customer services play a critical role in transforming support services into a more personal and convenient experience for consumers. Nowadays, generative AI can be employed to detect how to improve the conversation with a customer. AI can also predict if a client was interested during a chat and associated factors like the client's mood. Based on these data, the company can make appropriate changes.
What's more? AI analyses client conversations to suggest the next steps. Indeed, AI is useful in making customer engagement more proactive.
Experience Frictionless Communication
Proactive messaging holds immense potential to develop a frictionless conversational experience between a company and its consumers. Besides ensuring seamless customer support, it helps increase brand loyalty and revenue.
If you are not utilising business chat proactive messaging to earn your customer's trust, you are missing out on a lot! So, put your customer first with proactive messaging services such that they become your brand ambassadors.