5 Mins
back to main menu
Streamlining the Payment Process: Enhancing CX with WhatsApp's Native Payment Integration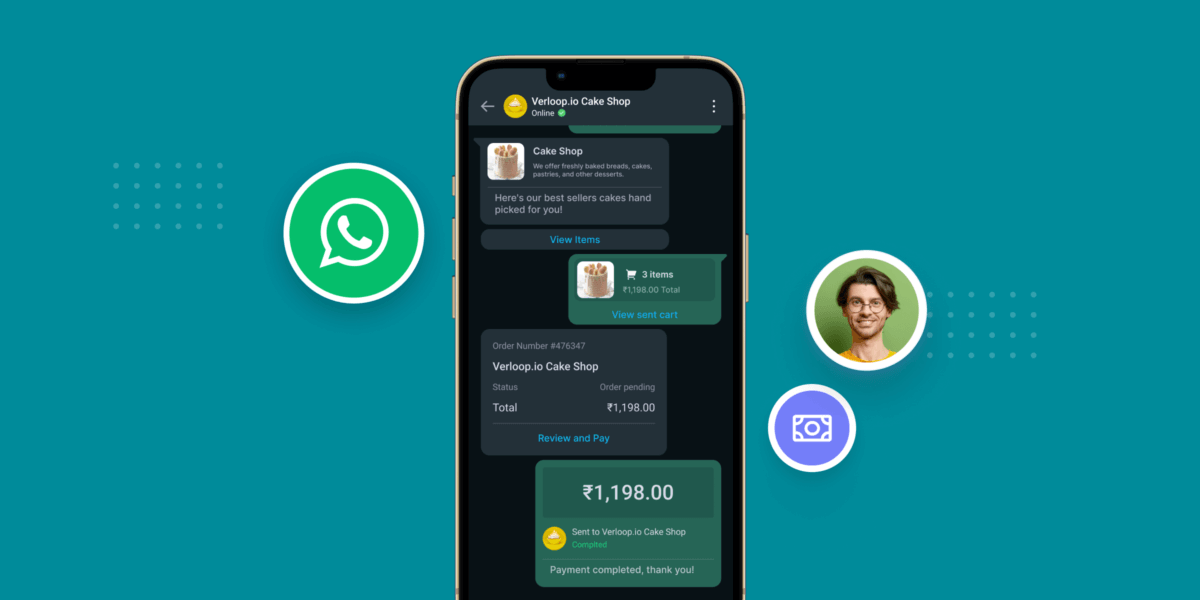 back to main menu
Streamlining the Payment Process: Enhancing CX with WhatsApp's Native Payment Integration
In today's rapidly evolving digital landscape, delivering a seamless and convenient customer experience is imperative for the success of any business. Streamlining the payment process is particularly crucial in minimising cart abandonment and ensuring customer satisfaction.
According to Barilliance, desktop eCommerce sessions exhibit an average cart abandonment rate of 73.07%, the lowest compared to abandoned carts on other devices. On the other hand, mobile users face the highest cart abandonment rate, with a staggering 85.65% of shoppers failing to complete their purchases.
Barilliance states, "The smaller the size of the screen, the more likely a customer is to not purchase."

This poses a significant challenge, especially considering that smartphones are now the preferred shopping platform, surpassing desktops for the first time in history.
A compact mode that bridges the gap between carts and payments becomes crucial to address this issue. By providing a streamlined and efficient payment experience, businesses can combat high cart abandonment rates associated with prolonged decision-making.
Fortunately, WhatsApp has revolutionised customer engagement by introducing native payment integration, thereby increasing customer convenience.
By partnering with Verloop.io, you can access this feature more easily and provide an anchored experience to your customers!
Delivering a Flawless Payment Journey
A crucial aspect of providing a secure and hassle-free payment experience lies in partnering with a dependable payment gateway. By enabling businesses to share order detail messages during conversations with customers, WhatsApp's native payment integration ensures a seamless and convenient payment process. With this collaborative approach, businesses can maximise the potential of WhatsApp's powerful features, ultimately delivering an enhanced and user-friendly payment experience to their valued customers.
Moreover, this integration eliminates the need for businesses to send separate invoice or order details messages to customers, as they can receive payment status updates via webhook notifications from their preferred payment gateway.
1. Track and Manage Payments on WhatsApp: Real-time Updates
Keeping customers informed about the progress of their orders and payment statuses is vital for customer satisfaction. With Verloop.io's integration, businesses can effortlessly track and manage payments directly on WhatsApp. Verloop.io enables businesses to monitor payment statuses and provides real-time updates to businesses and customers. By leveraging Verloop.io's interactive order_status messages, companies can relay payment updates and keep customers in the loop throughout the entire process.
Suggested Reading: Scale Effortless Support on WhatsApp with Verloop.io
2. Enabling WhatsApp Order Details Message Integration
Enabling the sharing of order detail messages through WhatsApp's native payment integration is straightforward. Let's break down the steps to integrate Verloop.io with WhatsApp. First, gather all the necessary order information, including the unique reference ID generated by the Payment Gateway for each order.

Next, using Verloop.io, construct an order_details message with components such as header, body, footer, and action, including all the necessary information for customers to complete the payment. Then, utilise Verloop.io to send the order_details message to customers, initiating the payment process seamlessly on WhatsApp.

Verloop.io will monitor payment or transaction status updates from the Payment Gateway and relay the information to customers through interactive order_status messages. Configure the Verloop.io integration to receive invoice updates via payment gateway webhooks and map transactions to consumer invoices using unique identifiers.

Finally, maintain transparency and customer satisfaction by reflecting the order confirmation and payment status in the order details message and order details view, keeping customers informed throughout their payment journey. With Verloop.io and WhatsApp's native payment integration, businesses can craft a seamless and delightful payment experience, reducing abandoned shopping carts and fostering customer satisfaction.
3. Purchase Flow in the WhatsApp App: A Seamless Experience
Upon completing the payment and receiving order status updates, businesses can leverage WhatsApp's native payment integration to optimise the customer journey.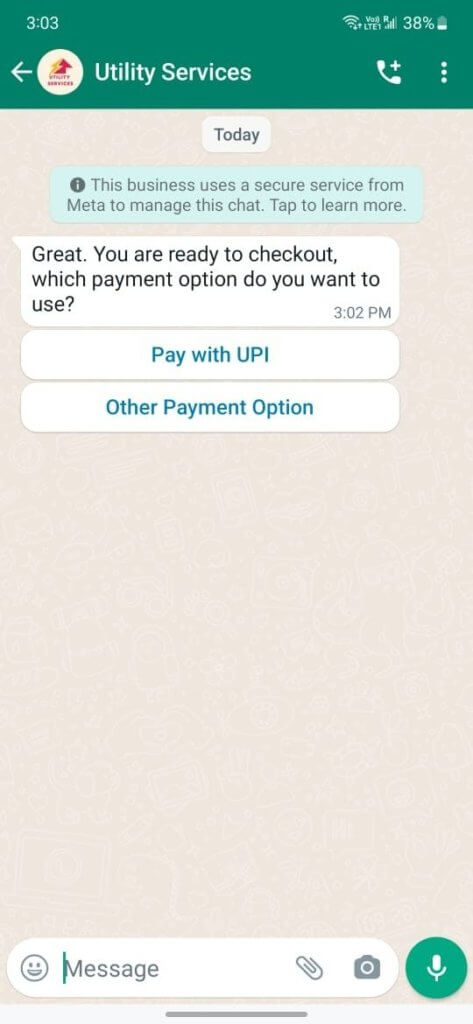 4. Enhancing Workflows with Payment Support
For businesses utilising AI tool-led workflows, incorporating payment support is easier with webhook blocks. By configuring webhook calls to compile and display order details, companies can provide a seamless payment experience to customers interacting with their messaging tools.
Streamline Payments and Boost CX with WhatsApp's Native Payment Integration + Verloop.io's Powerful Capabilities
WhatsApp's native payment integration, combined with Verloop.io's powerful capabilities, allows businesses to streamline the payment process, reduce cart abandonment, and enhance the overall customer experience. By following the steps outlined in this blog post and leveraging partnerships with trusted payment gateway providers like PayU, businesses can unlock the full potential of WhatsApp as a sales and customer engagement channel. Embracing this integration not only ensures smooth payment transactions but also strengthens customer satisfaction and loyalty, leading to long-term success in today's digital marketplace.