5 Mins
Agents are overburdened with a long list of tickets to resolve. This is why Conversational AI is a phenomenal, automated tool that can integrate an array of business workflows effectively saving both time and capital.
The foremost thing AI can do to lighten the agent's workload is
Automate the responses for repetitive queries.
Be available round the clock 24*7*365 to assist customers.
Enhance agents' responses through notifications, alerts, and knowledge centres.
Give recommendations and particulars of preceding queries to agents to solve customer issues effectively.
Create a consolidated view for the agents, thus facilitating efficient decision-making and a better customer experience.
When AI chatbots perform day-to-day common tasks while agents handle complex and exclusive queries, it is advantageous for everyone – agents, customers, and businesses.
What is Smart Routing?
Crucial technology in contact centres based on skillset routing is known as smart routing or intelligent routing. It's a system where all incoming client inquiries, either through phone calls, emails, chat, messages, or any other social or digital channel are routed to appropriate agents or correct solutions.
The conversational marketing and automated mechanism utilised through chatbots enable a business in catering to multifold leads and customers, promptly and in an individualised way, around the clock.
Notwithstanding the good work of AI, there are a few critical scenarios where assigning the interactions to individual agents is necessary or extremely beneficial. Some situations require a human touch for optimal results.
Here are 5 key frameworks where chat-to-live agent transfer should be contemplated.
1. Complexity
No matter how smartly we may have trained our chatbots, every once in a while they will encounter a task which will be too complicated for them and would demand an inventive problem-solving skill, inherent in humans alone. When our bots are trained to acknowledge their limit, then instead of making futile attempts to help the customer, they will accurately assess when to initiate bot-agent handover.
2. Urgency
Some scenarios require more urgency than others. In most cases, users are required to go through certain conversation channels & move through a sequence of interactions to reach an outcome. However, in some cases, these sequences can be fruitless and unsuccessful. A speedy handling of the issue, through the human takeover of the matter, can save the day.
3. Preference
Some customers are uncomfortable interacting with an artificial mechanism, they would rather share their information with a person. An ingenious way to launch your chatbot to your customers is by providing them with an option to choose between a chatbot and a human.
4. Positive Leads
Positive leads are potential customers who are willing to be converted. These positive leads are what every business strives for, conditioning your bot to start human handoff as soon as a user fits the criteria of a Hot/Positive Lead. As promptness of the response is critical in converting a lead, this will prevent any loss of time and bring down the loss of positive leads significantly.
5. Recurring Bot Fails
There can never be a 100% success rate when it comes to Chatbot performance.
The user queries with which the bot fails can be sent to the human teams for analysis for further course of action. Every failed attempt of the bot can be noted down and the bot can be retrained.
Suggested Reading: Conversational AI Chatbots: Good or Bad For Your Support Agents?
How to Transfer the Bot to Live Agents?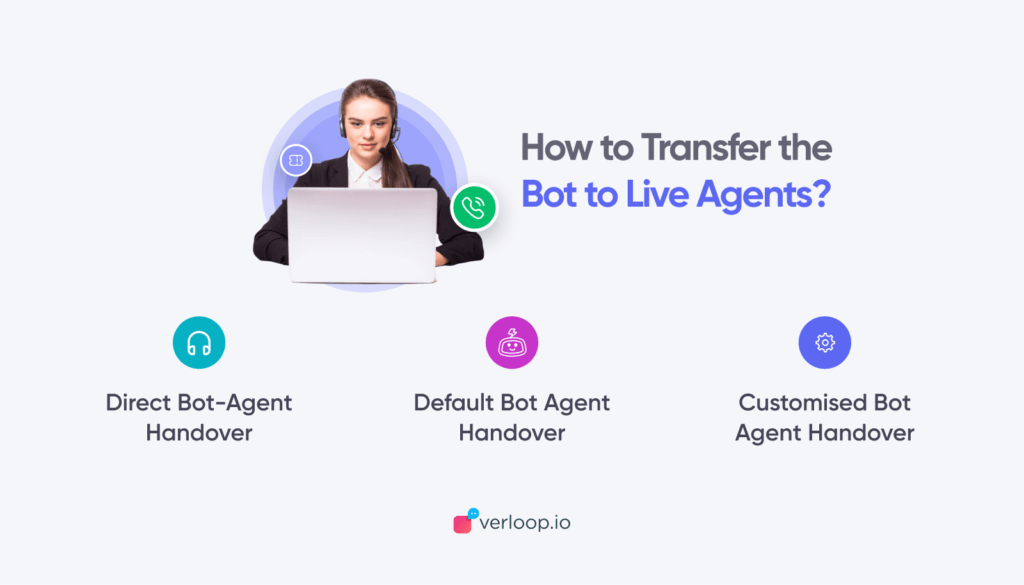 For a human takeover to work accurately, you need to champion both the When and How of the transition. There are multiple ways to establish an effortless bot-to-live agent transfer. Customise these handoffs per your needs.
Direct Bot-Agent Handover
When you are arranging the Human Takeover configuration bar, a question is asked 'Choose the assignation type'. The first option to appear is 'Simple Assignation', there is no elaborate procedure for this setup. The bot agent transfer will happen without any specific questions asked by the bot, and the human agent can intervene and carry on with the interaction.
Default Bot Agent Handover
The second option to appear in the configuration bar is 'Default Assignation'. When this type is selected, the Bot will enquire a series of default questions to the user before transferring the conversation to a human. The queries are based to apprehend the user's contact and resolve the issue at hand. When the transfer is initiated, a simple alert notification via email can be sent to the agent.
Customised Bot Agent Handover
This is the last option to appear in the configuration bar and you can individualise the handoff process in every chatbot. For example, the bot-to-agent live transfer in a lead generation team will be different from the bot-to-agent transfer in the customer support team. You can customise the features to be included- click buttons to renew the conversations, the transfer to be auto-assigned to human agents who are online, enquire about the reasons for contact, and ask for user email.
Handoff Mechanism
There are multiple ways in which the transition from bot to agent can be apprised to the respective teams and you.
1. Live Chat Alerts
You can manage and control the chats happening at various sites and apps through Chat managing interface. The appointed agents receive alerts when a human handoff is triggered. The chat manager displays all the previous and ongoing conversations on its interface, and you can edit any added information you collect.
2. Email Alerts
A simple email can enable notification of a bot-to-human takeover. You can personalise the contents of the email which can be sent to the customers and team members respectively.
3. Slack Alerts
If you and your business team are users of Slack, you can use this platform to configure a chatbot assimilation notification to send alerts for a bot-agent transfer trigger.
Choose Verloop.io for A Seamless and Transparent Handoff
Verloop.io is an efficient powerhouse of cutting-edge AI technology that accurately integrates with chatbots to smoothly manage the human transfer. It synthesises conversations from messaging applications making it a smooth connection with customers on their endorsed channels.
Our efficient ticketing mechanism ensures that every issue gets quick solutions. We reduce any conflicts between customer support through our seamless bot-agent transfer.
Schedule a demo with our experts today to learn more!