6 Mins
As an insurance company, processing claims can be tiring. An insurance chatbot can automate everything delivering top-notch CX at the same time.
Every valuable we own is most likely insured by some or the other insurance policy. Just like AI has simplified everything for other industries, insurance, too, seems to be reaping the benefits of AI automation with insurance chatbots. The artificial intelligence market in the insurance industry is set to clock at $4.5 billion by 2026 from $800 million in 2018.
People want to safeguard and have solid coverage for any potential future damages, whether medical or car insurance. While having an insurance policy gives peace of mind to the users, processing claims is a lot of work for a company too.
AI-charged chatbots can detangle complicated processes into simple easy-to-follow steps. A chatbot for insurance providers can be a worthwhile investment. It can save more time, reduce support costs, onboard more users, and handle more claims in the same hour.
Employing an AI insurance chatbot is a fairly simple process. Knowing about the different ways an insurance chatbot can augment your website can help you pin down the right one.
Suggested Reading: Insurance Chatbots in a COVID-19 World
Insurance chatbots: Functions and the impact
As long as the work gets done, consumers are quite accepting of the steeping trend of insurance chatbots. A report by Accenture suggests that 71% of the customers want the online chat/video insurance claim process to replace the traditional in-office claim process.
AI-powered chatbots are quite intuitive and complement insurance companies with efficiency and speed. So, which are the functions performed by chatbots in insurance?
A dedicated 24*7 customised customer support service
Non-repetitive and efficient process of onboarding and claims
Multi-channel approach that allows the customer to access the services seamlessly
Complete end-to-end integration for better support and resolutions
Personalised insights on customers and suggestions based on the analytics and past behaviour.
What is the impact?
Chatbots in insurance are rising in popularity among insurance and insurtech firms.
73% of retail banking and insurance executives estimate a more than 20% rise in the number of conversations handled by chatbots.
Brands are deploying AI chatbots for websites and witnessing results. For example, Bajaj Allianz General Insurance has used a chatbot on their insurance app "Farmitra".
"Our chatbot end-to-end handles 80% of all queries, leaving room for agents to handle the other 20% of important tickets", says Ankit Goenka, Head of Customer Experience, Bajaj Allianz General Insurance.
Numbers point towards the rapid adoption of AI by insurance companies. A study by Live Person in 2020 during the COVID period suggested that:
50% of consumers question about the medical and life insurance policies
75% said that they'd prefer to have a conversation before making a purchase
Around 75% suggested that the chatbots are trustworthy to provide insurance service
Now, let's dive deeper into the top chatbot use cases in the insurance space.
Suggested Reading: WhatsApp Chatbot for Insurance with Top 13 Use-Cases
Top 10 chatbot use cases in insurance
A sharp insurance chatbot can make your customer journeys uncomplicated for you and your users alike.
According to a Statista survey, 44% of customers are comfortable using chatbots to handle insurance claims, while 43% are happy using them to purchase insurance plans. They offer:
1. Enhanced customer support with quick resolutions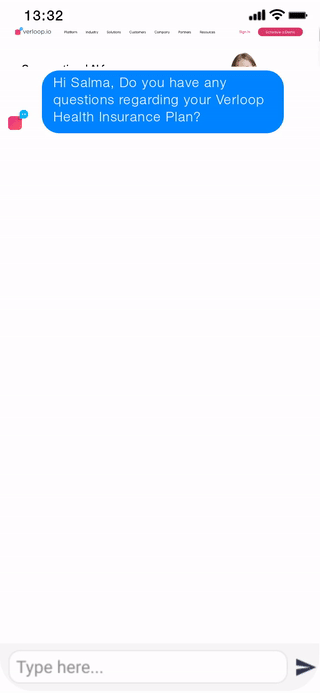 An insurance policy comes with many terms and conditions. Policyholders need to follow criteria to be able to buy or use their policy.
Unsurprisingly, it can get confusing for them. They might have queries and questions that need answers.
"What type of damages can I claim for?"
"When will I receive a copy of my policy document?"
"Is it mandatory to have [documents] while filing a claim?"
Most policyholders will have such commonly asked questions.
A chatbot can completely automate the resolution cycle for FAQs and common queries. It can assess the query using its intelligent algorithm and fetch appropriate solutions for users. Thereby, perpetually present to answer your users' questions 24×7.
2. Upgraded customer engagement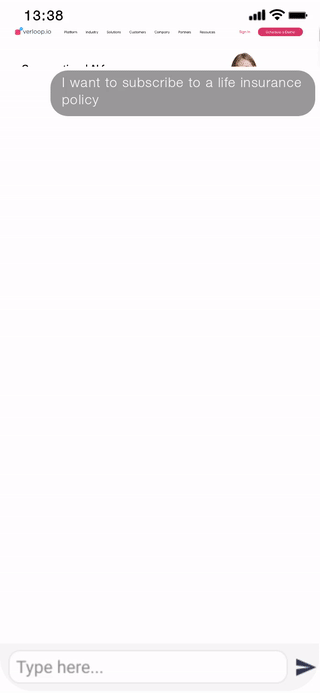 Insurance chatbots can initiate or continue conversations with your users in a candid way. Conversational AI chatbots for insurance can keep users gripped with smart and directed replies.
An intelligent chatbot can record and store customer's finances, expenses, personal details, properties, cars, health, etc. It can then recommend insurance products and provide the required steps to follow.
This can boost customer engagement and lower bounce rates.
3. Personalised CX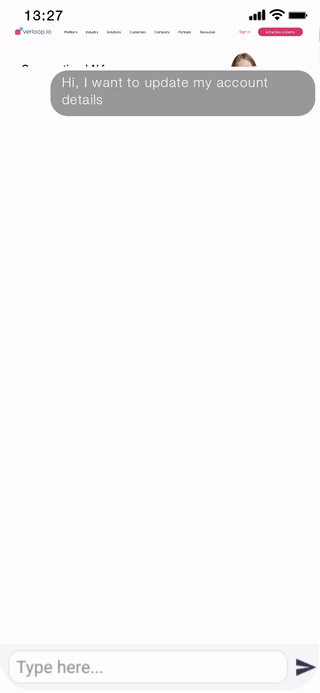 Every user is unique and a perceptive chatbot can identify gaps and differentiate user needs.
With the help of natural language processing and a dynamic algorithm, an insurance chatbot can decode various requirements.
It can pick up from previous conversations, send follow up messages to dropped leads, and even remind customers about pending application steps.
4. KYC management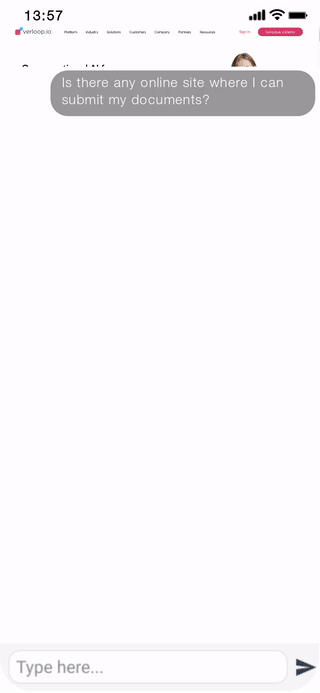 KYC management is one of the top chatbot use cases in insurance. Data privacy concerns run rampant in the insurance industry. Users are sceptical about providing important information to a third-party
However, a reliable insurance chatbot can straighten the process of KYC collection and management. It can safely record, store, and share documents needed for KYC verification for a policy.
5. Damage assessment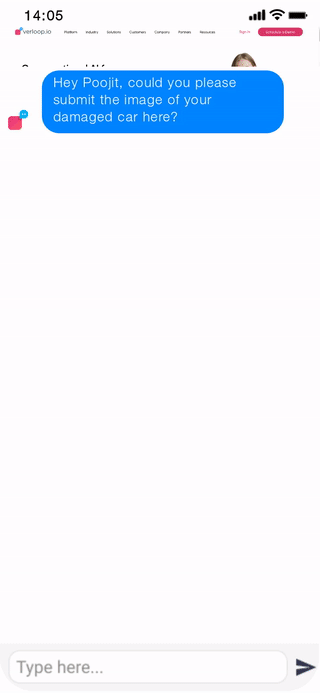 For some policies, insurance companies need physical proof of the damage for eligibility verification and further processing.
A chatbot can ask for proof of damage (say, in case of a car insurance claim) in the form of photos or videos. It can then either assess the damage using image recognition with AI/ML or connect the case to a human support agent. Your AI chatbot can verify the damage and gauge the liability taking the extra work off of your support team.
6. Claim management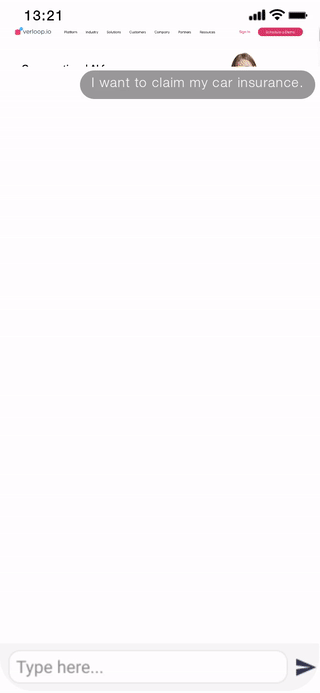 Users can easily file a claim through the website chatbot. Once the damage is verified and assessed, it can move onto claim processing. It can proactively inform policyholders of the authorised reimbursement and give them account updates.
7. Field operations optimisation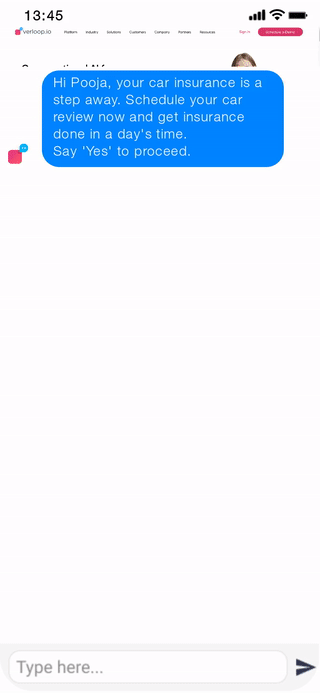 Field agents are responsible for offline collection and verification of documents. Traditionally, this process would require emails and a lot of phone calls.
But, insurance chatbots can yet again automate and cut down on time. It can optimise every aspect of field operations –
Schedule meetings between agents and users
Send reminders on the day of the meeting
Send document checklists and other important information to both agents and users
8. Customer re-engagement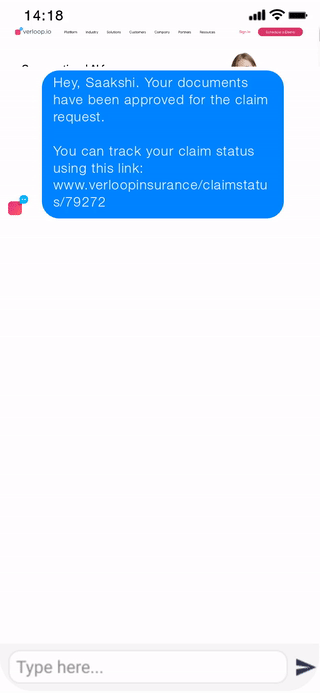 Customer engagement shouldn't be limited to the time your users are interacting with your chatbot.
The chatbot can re-engage and prompt action from policyholders. It can send insurance claim updates, premium receipts, premium payment tracking links, and fund management notifications on its preferred channel.
9. Feedback collection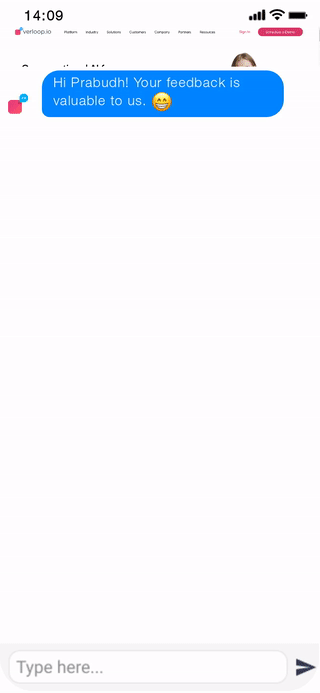 Once everything is done, your insurance chatbot can also collect feedback from users. After closing the support ticket, it can ask for a customer satisfaction score and collect feedback on the application process. Moreover, you can also use your chatbot as a marketing tool to promote offers.
Feedback can be a valuable lever to understand how well your insurance chatbot and business are performing.
10. Fraud detection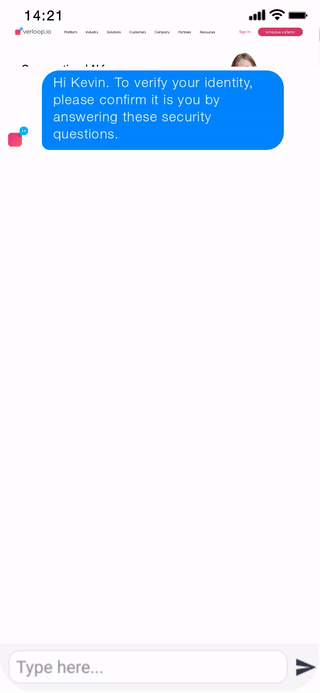 Not every insurance claim is genuine. The insurance industry deals with many fraud claims regularly. And to reduce that number, you might need to employ various layers of verification before processing a claim.
Voila! AI has a fix for this as well. Insurance chatbots can audit claims, verify policy and policymaker's details using a fraud detection algorithm before showing the green light.
You'd also like to know how voice tech is reimagining insurance: Voicebots Are Disrupting Communication In The Insurance Space
An AI-supercharged insurance chatbot can do this and a lot more
A smart AI insurance chatbot can fire up your website. It's a great investment that can enhance CX remarkably and bring in more conversions. A seamless connection between you and your users saves time and reduces unnecessary workload.
You can build your own insurance chatbot for website equipped with NLP and other advanced features to ensure smooth and lag-free conversations with your users using Verloop.io.
With our dynamic conversational AI algorithm, you can refine customer support to build stronger customer loyalty and advocacy.

Sign up with us today for a free demo.