10 Mins
Ask any HR professional what they work on, and it's likely they will pull out a list of several tasks they need to complete at a time. While hiring often takes centre stage, your HR team is responsible for a million other duties that directly influence your bottom line but aren't as visible.
Responsibilities like adhering to legal compliance systems, completing audits, resolving conflicts, creating policies, determining holiday entitlement and leave policies, developing leadership, training employees etc. are amongst a few activities that HR needs to resolve/undertake. Given their importance to the organisation, you'd want your HR team to be as proactive and future-forward as possible. But, this is often not the case. Not at least, when a team of few needs to manage it on its own.
The future is automation. The future is an HR chatbot.
In the past, HR functions couldn't be automated, simply because of how personalised each aspect of even largely similar assignments was. While salary, in essence, was one task, it had to be calculated differently for each employee and therefore required human supervision.
With time, HR chatbots have given HR teams more time and mental bandwidth to focus on more strategic and value-driven work like building leadership teams. You know, these are the kind of tasks that truly need the team's contribution to add to your company's growth.
What is an HR chatbot?
An HR chatbot is an artificially intelligent virtual assistant that helps employees and candidates keep speed with HR processes at every step of the way.
Many of these processes are tedious, repetitive tasks that add to a lot of wasted, unproductive time for your employees. Whether it's interview scheduling or sending updates through the selection process, a smart HR chatbot built on capable conversational AI can seamlessly automate most of the administrative burden to lower the department's overhead.
Over time, this can translate to huge cost savings and much more efficient processes that will help your company stay clear of human resource-related litigation.

Benefits of HR chatbots: Reasons why you need to invest in an AI-powered HR chatbot
Intelligent chatbots are turning out to be an indispensable tool in every HR department's arsenal. Here are some key benefits they offer:
1. Shoot up in team's productivity
Might sound too good to be true, but Deloitte reports that using a chatbot to automate recurring HR processes can boost your team's productivity by a whopping 99%. Employees were able to focus on challenging and valuable tasks instead of the general repetitive routine. They found that employees spent 50% less time doing administrative tasks.
2. Insightful data and analytics
Conversational AI chatbots can assist you in recording candidate responses in real-time. Automating your HR processes with a chatbot can give you important insights into the current health of your process. It can help you gauge the challenges they are facing during their time with you, highlighting hidden bottlenecks and gaps in your cadence that need fixing. What's more? You can even calculate your retention rate, and gain more insight into workforce morale and sentiments, headcount, attrition and payroll summary.
3. Quality of prospective candidates
Top talent knows their worth. They are cautious about the companies they are engaging with. And let's be true to ourselves – your inefficient HR processes might be throwing them off the grid. HR chatbot integration can help qualify the best talent for you. An efficient HR workflow builds a better brand image as an employer and consequently, attracts better talent to your company. Needless to say, hiring better talent can help you stand out from the competition.
4. Building meaningful employee experiences
A genuinely meaningful employee experience is something that most candidates are looking for, but cannot find. Your HR chatbot can make this a norm. It provides an easy and effective interface that lets the employee communicate what they feel about their workplace. Providing better opportunities for employees to express their satisfaction or dissatisfaction as the case may be. The collected feedback can then be used to improve upon aspects your employees may think need work.
5. High cost savings, low turnaround time to enjoy
The cost of recruitment and hiring can add up to be quite unsustainable as you expand and scale your operations. Not to forget the time it eats up from your daily routines. Traditionally, most HR work has been done by professionals manually due to the level of personalisation required for each individual candidate.
However, with the right training, HR chatbots can manage and automate many of these tasks. This leaves you with more human capital to deploy towards dealing with the complexity of core HR functions. It also saves your team tons of time – almost 80% in contract processing, and up to 12000 overall work hours. Ultimately, this translates into lower spending on human resources and payroll management with a better allocation of your productive hours.
6. Remote work made easy
Earlier whenever an employee had a question, they could just pop by the HR's desk and have it cleared.
Now, that remote work has become a staple in most employee-friendly companies, we don't enjoy the same liberty. An HR chatbot is available to answer questions every hour of the day. It levels any doubt and discrepancies as and when they arise, ensuring seamless communication between you, the employer and your employees.
HR chatbot use cases: What functions can you automate with an HR chatbot?
Conversational AI chatbots are cognitive. Built and trained to serve largely a majority of HR-related use cases, AI brings the ability to redefine these processes end-to-end.
1. The hiring process
Losing an employee can bill you twice as much as it takes you to retain them. For technical positions, this cost soars up to 100-150% of the employee's salary. These extremely high turnover costs come as a result of a poorly defined hiring process.
Your company probably attracts hundreds, if not thousands of prospective candidates; and deservedly so. HR managers often find themselves in a predicament where there are simply not enough hours in the day to do the hiring process justice. Especially as you scale up, the costs associated with hiring can become unsustainable. An HR chatbot, powered by natural language processing (NLP), can automate every step along your hiring process, right from interest generation, scheduling interviews, and comparing candidate profiles to background checks.

2. The onboarding process
Onboarding is very important for new hires. It helps introduce them to the work culture as well as give them basic training about how things work in your organisation. It's estimated that employees who attend a well-structured onboarding program are 69% more likely to remain at the company for three years or more.
Create better first days, with a truly kickass conversational onboarding chatbot. Replicate your CEO's quick wit or your company's team spirit, with a custom-made HR chatbot that interacts with your new recruits. Help them complete paperwork, introduce their teammates and answer company questions even before your new hire joins the company.
Related: Build Smooth User Onboarding Experiences With an AI Chatbot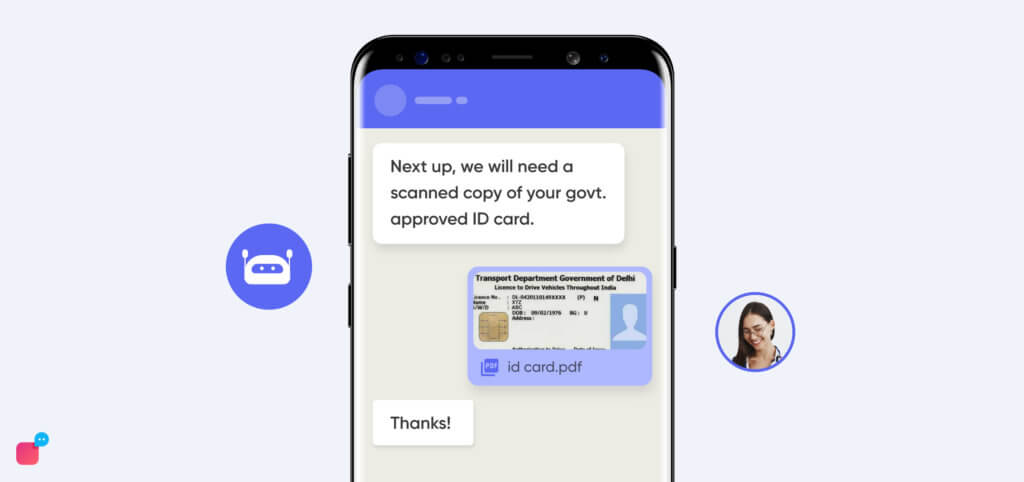 3. The employee training process
Following the onboarding process, it's important to equip new hires with the right tools and knowledge required to perform their best at the job. An extensive employee training process can help your employees be more productive and efficient.
These programs have been around for decades with little improvement. An HR chatbot provides a unique interactive learning experience that encourages curiosity and genuine learning.
Use an AI chatbot to augment your training process. As millennials enter the job market, use an interface they're familiar with to explain things they're not. Answer questions while engaging employees through interactive feedback loops, pepper it with gifs, accelerate team performance, and measure the impact of better learning through quizzes.

4. The HR survey process
Once employees have been selected, trained and onboarded, a key function of the HR department is to track and monitor the performance of employees. This is important to get insights into the reasons why employees might be underperforming and what can be done to stimulate better productivity.
Not just your customers and stakeholders, but your employees want to feel appreciated and listened to, as well. In fact, companies that are cognisant and actively work towards creating happy and engaged work environments see an insane 682% increase in revenue.
After all, it's a no-brainer to say that happy employees give in their best shot to drive more ROI for you.
An HR chatbot can make it easy to collect feedback and CSAT with a friendly conversational AI assistant. It asks questions, collects, compiles and feeds responses back into the system for better insight into what lacks in your HR function. With Verloop.io, you can use your HR chatbot to increase engagement, identify more accurate representations of employee performance, and identify opportunities to address problems immediately—instead of one year from now.

5. The FAQ process
A major function of the HR department is to provide employees with support in terms of access to resources and information that they might require from time to time. The HR department acts as a point of contact for any queries that the employee might have.
Unsure about the leave policy? What does the ESOP liquidity program look like? Are the maternity and paternity leave extensions subject to regulations?
Many of these queries are asked frequently, yet the HR team would have to manually reply to each of these emails. This works fine until the volume of emails becomes so drastic that a backlog ensues and the team can no longer deliver on time. Moreover, this is also when most of your candidate drop-offs occur during the hiring process.
This is where an FAQ chatbot adds value to your company – it can categorise frequently asked questions and respond with a contextually-relevant answer filtered by NLP. This frees up your HR personnel from the unnecessary workload and human capital that can be used more efficiently.
Read how to build an efficient FAQ chatbot here.

Examples of HR chatbots: How are companies making employee-employer collaboration a breeze?
If you thought HR chatbots are new in the market, you might not be accurate. Conversational AI chatbots have been delivering results to ones who saw the value in the investment. Only to be proven right. Take a look at some of the finest HR chatbot examples from around the space.
1. Jacques Raud Consulting
Jacques Raud Consulting is a French recruitment firm specialising in the IT sector. Their objective was to increase the number of applications they receive through their company's website. The need to increase their website conversion rate was palpable.
And the only way it was possible was through a unique and innovative way to engage with applicants.
They implemented an AI-based chatbot that could converse with potential candidates in a friendly and attention-grabbing way. Especially using media types like GIFs to make conversations more engaging. They also chose to use fewer questions. The result was an astonishing 130% increase in the number of applications just a few months after installing the chatbot.
2. Tesco
Tesco is a large retail establishment with hundreds of locations and thousands of employees. To train the workforce and equip them with the right skill set to perform their best, the company's Product L&D team help their team members with training materials.
However, it became increasingly harder to provide 1:1 guidance for every employee who needed it, when they needed it. This led to Tesco building an HR chatbot that would answer every employee's questions immediately and give them the right resources for their query, no matter the time of the day. The bot can now autonomously handle over 150 FAQs and also supports NLP so employees don't have to think twice before shooting their questions to the bot.
FAQs on HR chatbot
Looking for answers as quickly as you can on HR chatbots? Read below.
1. What are the benefits of an HR chatbot?
Chatbots can help your HR department achieve more with existing resources! Some of the benefits are a sharp increase in employee productivity, building a more meaningful employee experience, building a better image as an employer and attracting better talent to your company.
2. Does AI power HR chatbots?
Yes, AI and NLP play an important part in delivering the seamless experience that comes with employing an HR chatbot. This allows the chatbot to answer complex questions phrased in natural conversational language. AI-powered algorithms are designed to be self-learning, which means they become more natural with their responses with every interaction.
3. Which industries can use HR chatbots?
You can use an HR chatbot to streamline workforce processes in any industry. Today, they're employed in HR scenarios in healthcare, retail, e-commerce, banking and finance, IT services and many more industries.
4. Which processes can HR chatbots automate?
HR chatbots can automate your hiring, onboarding, employee training, HR surveys and FAQ processes. Your employees can dedicate more time to more pressing tasks while the chatbot automates all functions that do not need oversight.
A sample of an HR bot using Verloop.io
Employees are often reduced to reading through hundreds of pages of company handbooks to answer a range of questions. An HR chatbot can do this within seconds.
With a Verloop.io bot, you can use artificial intelligence and predictive analytics to make sure your employees are more satisfied.
Artificial Intelligence has helped improve all facets of business, be it Marketing, Finance or Operations. It's only time that the revolution comes to HR.
CLICK HERE TO BUILD YOUR OWN HR CHATBOT IN UNDER 5 MINUTES FOR FREE!