5 Mins
In previous posts, we've spoken about WhatsApp Chatbots; specific to why and how to build them. In this WhatsApp auto reply blog post, we'll discuss how to set up an auto-reply feature for WhatsApp.
If you are looking for how to set auto reply in WhatsApp business and WhatsApp auto reply message sample, you are at the right place. In this post, we'll help you understand the nitty-gritty of WhatsApp Chatbots. To start off with, let's talk about how auto-response for WhatsApp works.
There are two ways to set up auto-replies for your business –
Using WhatsApp Business

: The WhatsApp Business App allows you to connect with your customers, deliver important notifications, and collect timely feedback from them. It works like a live chat tool, that allows you to set up away messages to communicate to your customers that you're away and will reach out to them shortly.

Using WhatsApp's Business APIs

: WhatsApp Business APIs allow you to automate your conversations and send timely messages. With a WhatsApp Chatbot, you can automate the responses to your FAQs and stay connected with your customers 24/7, round the clock.
Suggested Reading: WhatsApp Business Vs WhatsApp Business API
WhatsApp Auto-reply Feature through WhatsApp Business
WhatsApp Business is a platform meant for small- and medium-sized businesses. It allows you to set up "away messages" for when you're not available or online.
In this article, we'll talk about the process of deploying automatic reply away messages for your WhatsApp business. WhatsApp auto reply feature comes in handy for business owners who want to actively engage with their audience.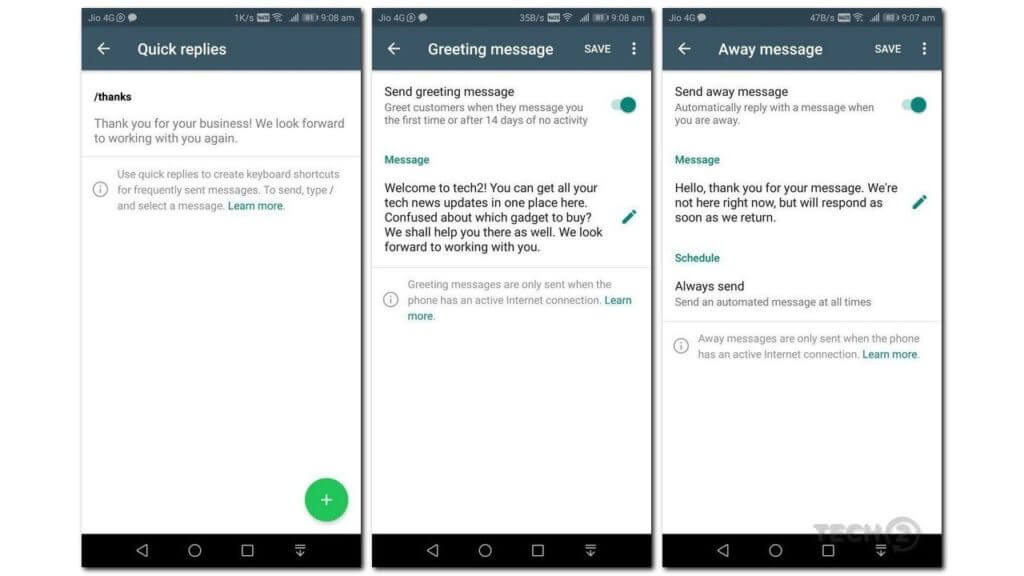 Most businesses work 8-12 hours a day. So while you may only be available from nine-to-five, your customers will interact with businesses based on their convenience.
Thus, these customers are lost revenue-generating opportunities. A business that only interacts with its customers eight hours a day loses more than 2/3rds of its potential revenue.
Suggested Reading: SMS Vs WhatsApp – The Final Frontier
A WhatsApp away message allows you to tell your customers that you're away and encourages them to move within the sales funnel with more ease.
Using WhatsApp Business, you can set automated WhatsApp replies and schedule them as per your desired timings.
The first step to doing this is to decide who gets what away message. You can decide if a single away message is sent to all your customers or if it's just being sent to specific customers.
The second step is to schedule the auto-reply away message to a specific function at a specific time. The recommended trigger time is during the hours that your business is closed.
If a customer reaches out to you during these "away" hours, auto-reply messages will be sent out based on your preferences.
Suggested Reading: Are you looking to build a WhatsApp Chatbot for your e-commerce business? We're ranked #1 by Google for that very question.
Steps To Set-up Auto-reply for WhatsApp: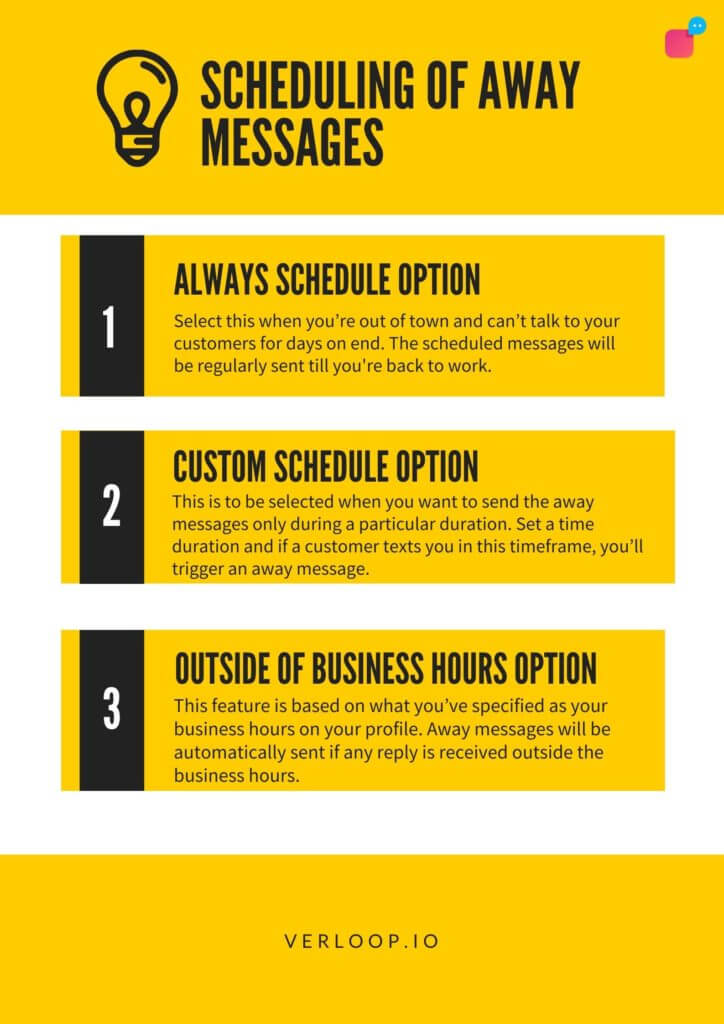 Tap on the three vertical dots on the top right of your WhatsApp application. From there, click on Settings, followed by Business Settings, and lastly on Away message.
Now, turn on the "Send away message" toggle button.
Next, enter the "away" message or tap on it to edit the message which will be sent to your customers accordingly.
After you edit your message, select the type of schedule for understanding when to program your messages to be deployed.
Next, select the recipients to whom you want to send the message.
Scheduling of Away Messages :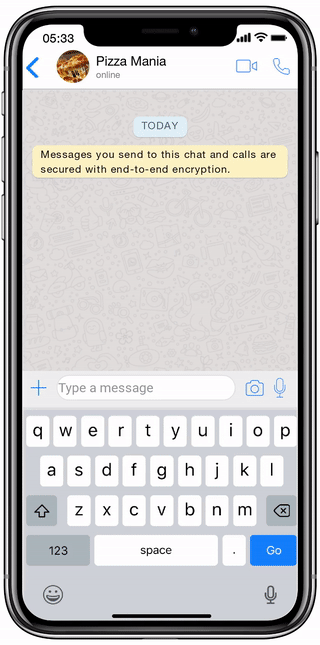 Always schedule: Select this when you're away from work and can't talk to your customers for days.
Custom schedule: Select this when you want to send the automated away messages only during a particular time-frame. If a customer texts you within this timeframe, they'll immediately get the automated message.
Outside of business hours: This feature works on the basis of your business hours mentioned on your profile. Depending on that, automatic away messages will be triggered and sent if any reply is received post business hours.
Suggested Reading: Ultimate Guide: WhatsApp Click-to-Chat link. Now get more customers to talk to you on WhatsApp.
How to Select the Recipients:
Everyone: The automated message will be sent to anyone who messages after business hours.
People not in the address book: The message will be sent to the numbers that aren't in your address book.
Everyone except a few: The automated numbers will be sent to all numbers except the ones selected.
All selected: The auto-reply message will only be sent to the ones who are selected from the list.
It's important to note two things:
1. Make sure to save all of your changes.
2. Keep in mind that your auto-response away messages will only be sent when you have an active internet connection.
Suggested Reading: Empower your Conversations with WhatsApp Pay
There are certain disadvantages of Auto-Reply for WhatsApp Business. Here are a few of them:
WhatsApp Business is meant for small businesses.
It cannot help you generate leads or provide support.
WhatsApp Business can't use different templates.
It always needs an active internet connection.
WhatsApp Business is not customizable.
WhatsApp Business doesn't give you a Verified Business tag.
Only works during predefined off-hours.
What are some of the UI challenges to consider when setting up auto-reply for WhatsApp?
For a more powerful auto-responder WhatsApp solution, you can use WhatsApp's Business APIs.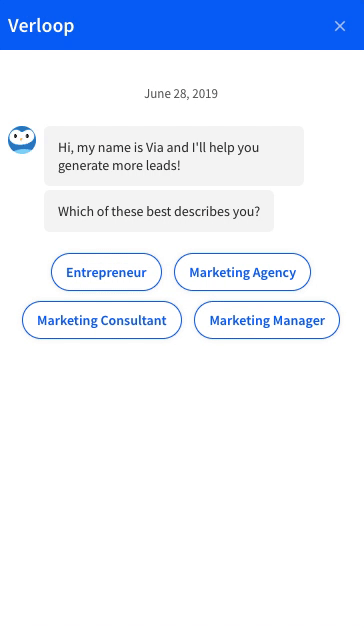 This is a WhatsApp Chatbot. WhatsApp's Business APIs power WhatsApp Chatbots.
Suggested Reading: WhatsApp Chatbots – Use-Cases, Applications, and Templates
Auto-reply for WhatsApp Chatbot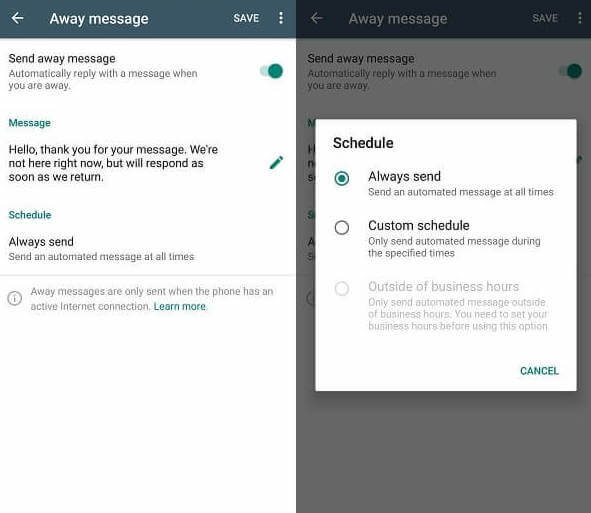 A chatbot is an automated conversation platform. They replicate human interaction but use software instead of teeth and bones. They can help you support and sell to your customers, in real-time, around the clock.
Customers can visit your website, app, or Facebook page at any time and talk to your chatbot, which can replicate your best salesperson.
WhatsApp Business can only tell an inquisitive customer that you're not available at the moment. But using WhatsApp Business APIs you can answer that customer's question.
For example, a customer texts you on WhatsApp telling you he'd like to buy a shirt but has questions about size. Using WhatsApp's Business' auto-reply, you can text him that your store is closed, but she can drop you a message in the morning.
But with a WhatsApp Chatbot powered by WhatsApp's Business APIs, your customer can have a full conversation with a customer; answering queries and completing sales.
The Chatbot can handle a variety of low-level FAQs. In the event where you are available and the bot can't handle a question, the chat can be transferred to a human agent.
Thus, a WhatsApp Chatbot allows customers in any corner of the world to communicate with your company, regardless of time-zone or availability. It is the ultimate auto-reply for WhatsApp.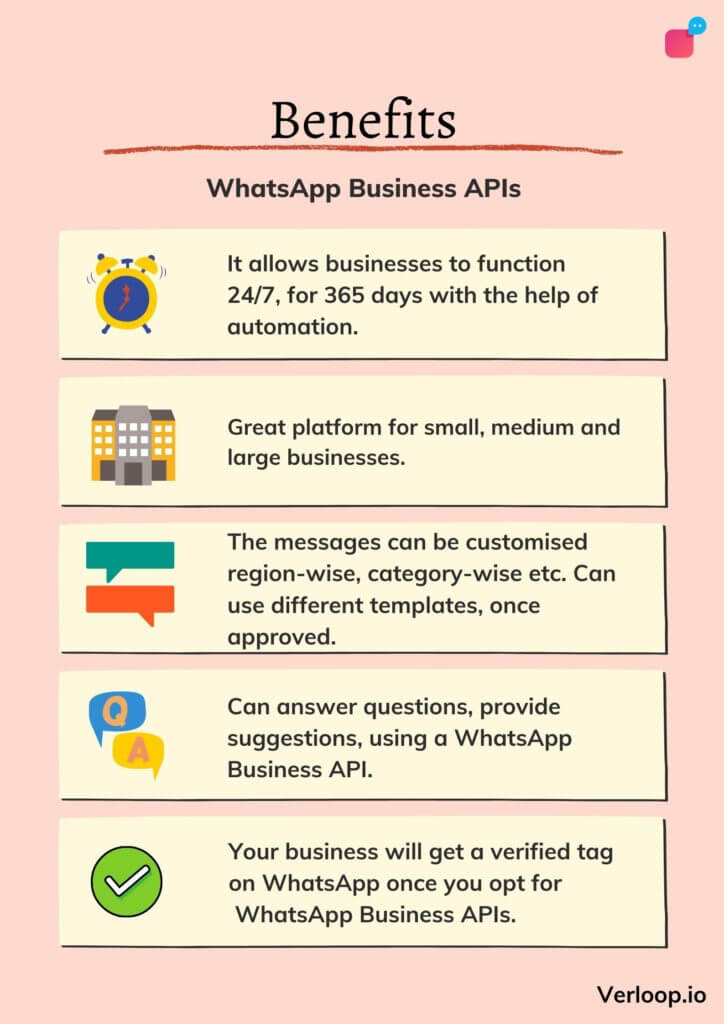 How to Automate Your Messages in WhatsApp Chatbots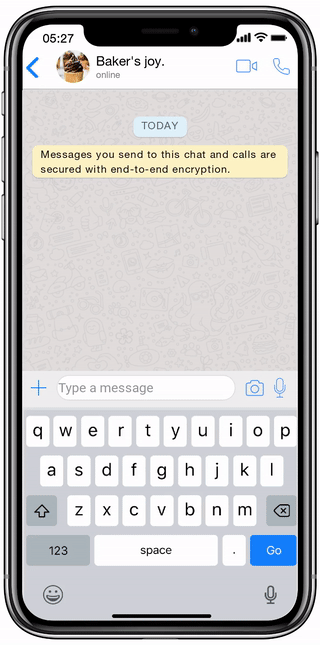 Say, "Hello!"
The first step to build a WhatsApp bot is to reach out to a company that can help you. To say hello to Verloop.io, simply hit the chat icon at the bottom right of the screen. 🙂
Suggested Reading: 10 Reasons Your Company Needs a WhatsApp Business Chatbot Today!
Tell Me About Yourself.
A big determinant of the ease of acquiring WhatsApp's APIs is whether your business has a WhatsApp Business License. Lots of providers only service companies that have an existing license.
Verloop.io is a one-stop solutions platform. We have partners that will get your Business Account rolling in no time.
Businesses are asked several questions to determine API qualification during the application process. Applications for certain sectors are restricted – like porn, government entities, and healthcare.
Industry-wide – the questions are largely standard.
Name
Company Name
Company URL
Country Location
Email ID
Use Case*
Suggested Reading: WhatsApp Business Policy Change: All You Need to Know
We'll Do The Heavy Lifting
After this, simply sit back and let us do all the difficult work. Once your application has been processed, the real work begins. Businesses using WhatsApp's APIs follow strict guidelines. These cover everything from the content used by the bot to the use-case in question.
Failure to comply leads to a ban from the platform.
Verloop.io guides you through possible use-cases, assists you with compliance, and provides, proofreads and develops acceptable templates for your business. This way, we ensure that you not only have WhatsApp APIs but also that you continue to keep them.
Suggested Reading: The Best Open Source Chatbot Platforms in 2020.
Congratulations – You Have a Chatbot for WhatsApp!
Now that you've built the skeleton for your WhatsApp bot, it's time to add the muscle and brains.
The features that you receive while building your Chatbot for WhatsApp depend on your provider. Verloop.io is an all-in-one chatbot platform for WhatsApp solutions stack. From integrating your CRM to including WhatsApp queries, encrypting and decrypting messages, and providing a single dashboard for all your customer touchpoints.