10 Mins
An inescapable truth of customer support is facing angry and difficult customers. In this post, we discuss 10 tips on how to deal with angry customers with the right bent of mind.
Every business once in a while faces a situation where they come across a difficult customer. While handling content and satisfied customers is easy, the time and energy that a business needs to handle an angry customer is relatively more.
The cause of dissatisfaction is not always easy to identify. It can range from a lapse in service, fault in the product, or even lack of after-sale service.
Handling difficult or angry customers is not simple.
As the person handling the situation is also a human, there is a chance that the case will turn out to be frustrating and even more irritating for both parties involved.
If handled correctly, an agent can convert a bad customer experience into a long-lasting customer relationship.
Additionally, when an angry customer is satisfied, the feedback offered is of higher value as it provides pointers to improve the product or service. When focused and analysed thoroughly, such feedback can provide great insights that can add value to customer service.
And if you notice, most business' success stories are based on how they can turn an angry, negative customer into an optimistic and loyal customer.
Creating an exceptional customer experience can move a customer from angry to delighted.
In one of its reports, RightNow suggested that 82% of customers stop visiting a brand after having a single negative customer service experience.
Another statistic by Glance suggests that even if there is an angry customer or unhappy customer, a business can expect 70% retention if the problems are resolved satisfactorily.
So, the question that arises here is "how to deal with angry customers?"
Before we understand this, it is equally important to identify common reasons why customers get angry. Once you know the reason, it's easier to offer an appropriate solution.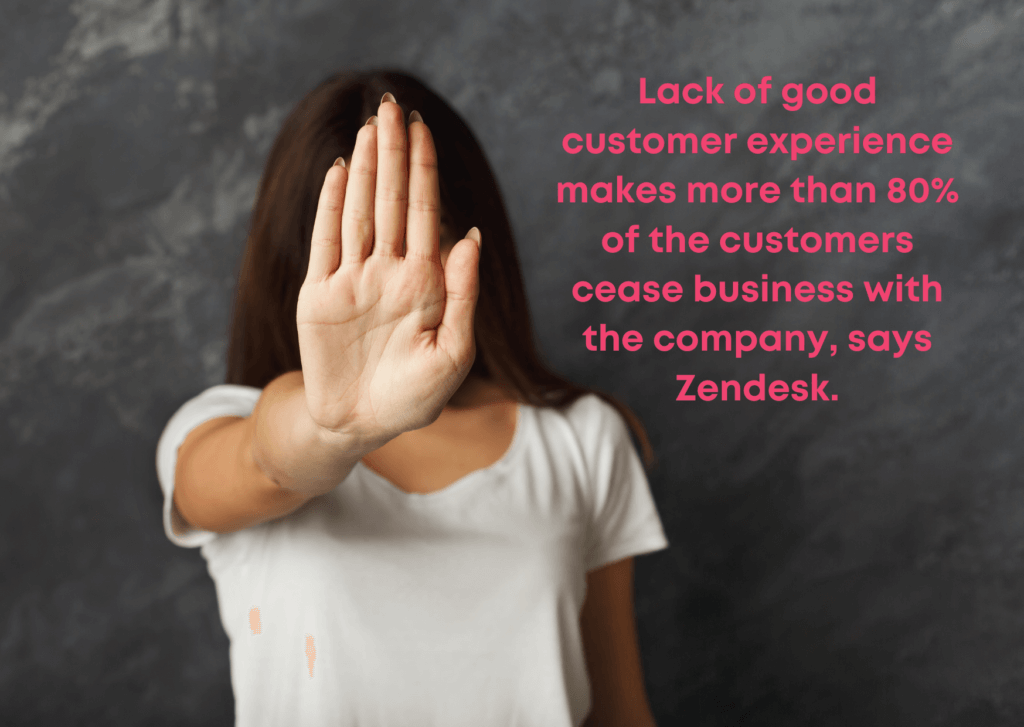 Common reasons your customer are angry
There are an array of reasons for a customer to get angry.
To offer the right assistance to an angry customer, it is essential to know why the customer got angry in the first place.
A report by Zendesk suggests that 72% of customers feel that inefficient customer support emphasises them to explain their issues multiple times. We've all been there, and it's not fun.
Below, we list some of the top reasons why customers get angry.
Not keeping up with commitments regarding the service or product.
Delayed and inappropriate quality of product or service.
Transferring queries from one agent to another, makes the customer feel unwanted and ignored.
Unhelpful and untrained staff who cannot give relevant answers to a customer.
When a customer moves from one channel to another, a loss of context makes the customer repeat the query multiple times.
Support agents lack proper listening skills, hindering the customer from sharing full information about an issue.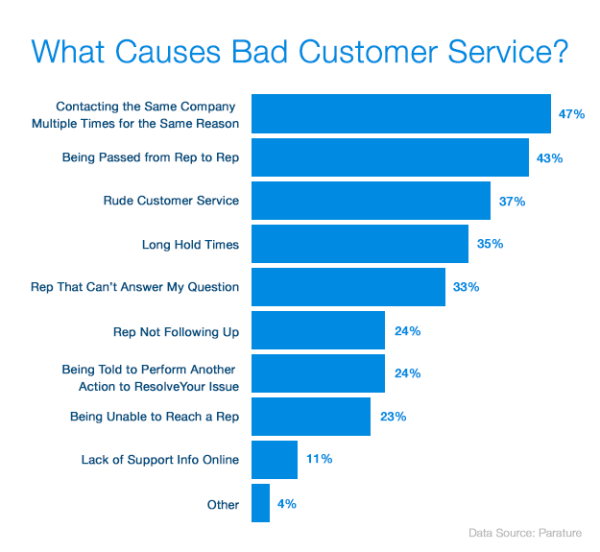 If the customer experience isn't good, more than 80% of the customers cease business with the company.
This is where training your customer-facing teams becomes important. Using the below tips, you can upskill your agents to improve your customer's experience.
Now, let's look at the ways you can address angry (or difficult) customers.
Tips on how to deal with angry customers
By successfully identifying the reason for the customer's anger or dissatisfaction, one can efficiently resolve the complaint.
Understanding the reason behind a customer's anger offers the customer support executive the leverage to know the seriousness of the customer's situation and expectations. This will help ensure the best service delivery.
But what's the cost of a bad customer experience?
A single angry customer can lead to negative branding as they share their experience on public platforms, where your potential customers are looking for reviews.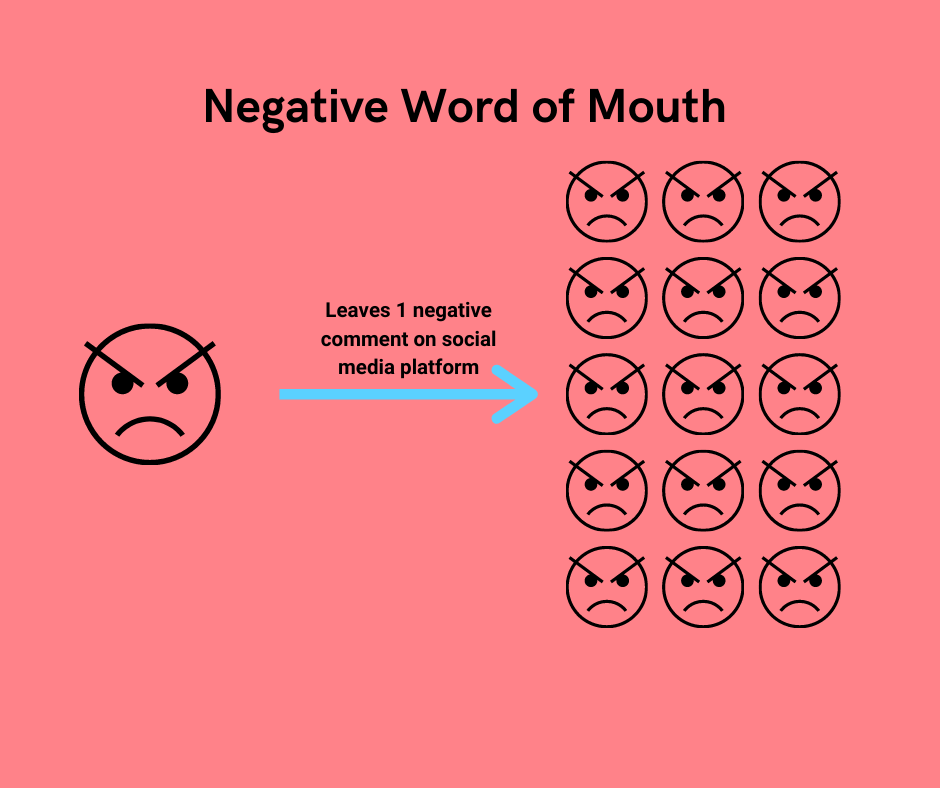 When the right tactics and tips are applied, your business can navigate the customer from a negative situation to a positive situation and use the opportunity to secure a long-term loyal relationship.
Some effective tips that one can follow in dealing with an angry customer are:
1. Active listening is a must
Listening to the customer patiently and understanding all the concern points makes it easier to identify the most appropriate solution to offer.
Interrupting an angry customer while they are speaking can aggravate the situation. For this reason, the agent should first listen to every minute detail before offering any suggestions.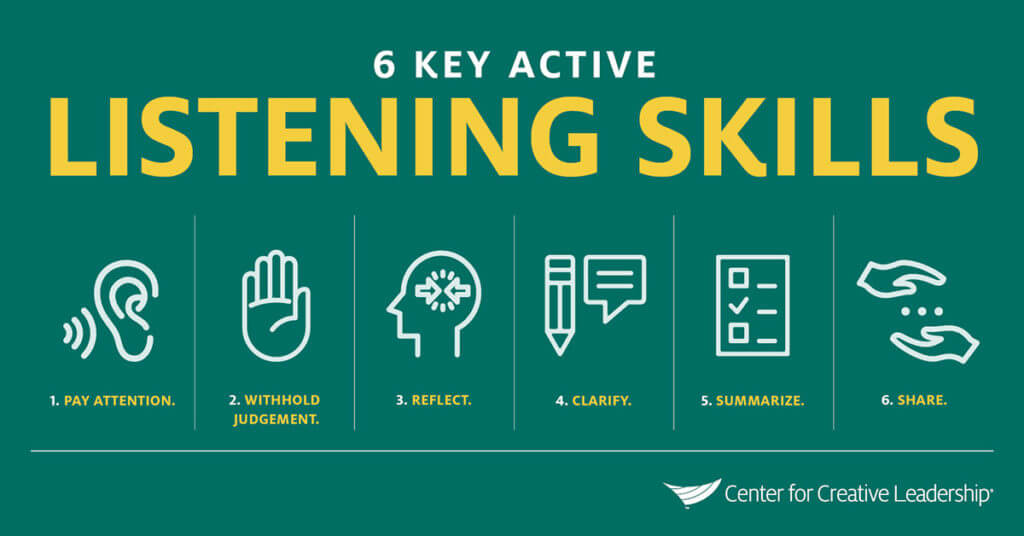 Active listening is the key to handling most negative situations effectively and calming the customer.
Tip 1 on How to Deal with Angry Customers: Give full attention and deliver your undivided concentration to the angry customer.
2. Real-time support is appreciated
When handling an angry customer, it is essential to ensure reverting most quickly. A delay in reply makes the angry customer escalate the issue.
We mean that putting the customer on hold for a long duration or avoiding them can increase their anger and cause damage to the brand's image.
This is where the business can use chatbots. A survey by IBM suggests that chatbots can answer almost 80% of the routine questions and reduce customer support time, thus helping angry customers with standard questions.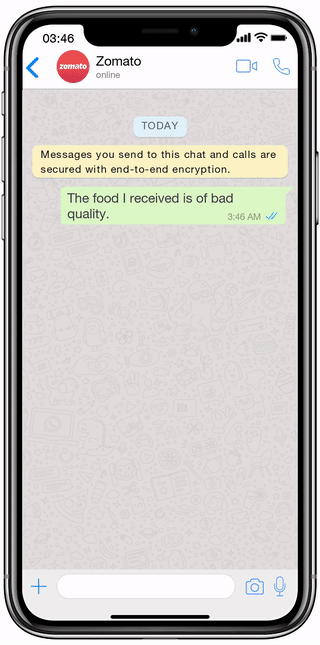 Tip 2 on How to Deal with Angry Customers: Address customer complaints instantly before they escalate them on Social Media.
3. Empathy creates a good rapport
An important quality that every customer-facing role should cultivate is empathy. The idea is to put yourself in the situation of the other and think accordingly.
Usually, when a customer is angry and seeks help, try to be empathetic. It makes the customer feel that you genuinely understand their problem and are eager to solve it.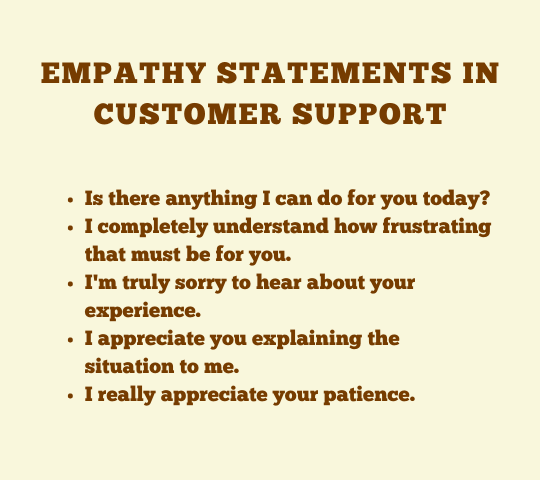 Acknowledging the concern by offering positive statements and assurance that you understand the customer's problem and trying to help them in the best possible manner can calm the angry customer to a great extent.
Also, the tone at this point is fundamental. A calm and soothing tone will make customers feel listened to and cared for. Avoid using jargon and slang during such a situation.
Tip 3 on How to Deal with Angry Customers: Empathise with angry customers and use a soothing tone while talking to them.
4. Avoid taking things personally
Customer service agents often face the wrath of angry customers. It's important to understand the customer is not angry with the agent.
While talking with the representative, the irate customer might speak in a harsh and loud manner. There are chances that it might reflect the disappointment he has towards the product or service in communicating.
By keeping this in mind, the customer support agent can keep their cool and handle the situation better.
Tip 4 on How to Deal with Angry Customers: Customers are angry with the situation they are in and not with the agent. Don't take things personally and handle the situation calmly.
5. Try to reach the root cause
Root cause analysis is critical to offer the angry customer an informed and perfect solution.
The main objective of root cause analysis (RCA) is to understand what the actual problem is. Collecting all the details related to the problem, and measuring them correctly is vital to knowing the root cause.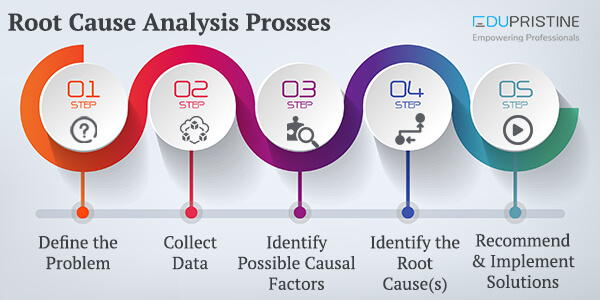 As a company, you need to do this research. Sometimes the customer might not be able to explain the exact reason that's getting them angry. Probing questions is the key that can help to reach the root cause. Once the problem's root cause is identified, your agents can offer the solution.
But just offering the solution is not enough.
The proper implementation, monitoring, and feedback from the customer are important too.
Tip 5 on How to Deal with Angry Customers: Understand the underneath issue behind a customer's issue to resolve the query as efficiently as possible.
6. Be transparent about the next steps
Letting customers know of the next steps will assure them that you are taking them seriously.
Spell out the steps you are going to take and give them a timeline. It doesn't matter if the process is simple or complex; knowing the process will mellow down their anger and make them feel at ease.
If you follow through on the steps and timeline, angry customers will be satisfied with how you handled the situation. This can turn angry customers into loyal customers.
Tip 6 on How to Deal with Angry Customers: When talking to an angry customer, be transparent about the next steps and stick to your words.
7. Never hesitate to apologise
While in the service industry (or, in that case, any business offering products), make sure to apologise if required.
Seeking an apology has immense power. When the apology is made most appropriately, it can turn an angry customer into a satisfied and happy customer.
While apologising, the customer service representative should not hesitate or feel that it might affect him. Rather, making an apology can calm the customer down and help you to offer the solution easily.
Tip 7 on How to Deal with Angry Customers: A little humility goes a long way. Many angry customers can be calmed by apologising to them. So, don't hesitate.
8. Thank them for raising the issue
A simple positive gesture can change the mood drastically. When a customer complains about a product or service, thank them for raising the issue and voicing their concern.
This small step will help your customer support agent build rapport with the customer.
And it's true too. While the customer has faced a difficult situation because of your product or service, they have also taken time out of their busy schedule to bring it to your attention.
Acknowledging this will help you to work with the customer to solve the issue.
Tip 8 on How to Deal with Angry Customers: Acknowledge and thank the angry customer for taking the time to raise a complaint.
9. Ensure to commit to what can be fulfilled
Not one can solve all the problems on the call. Various problems require analysis, time, and understanding from the customer service end.
In any situation, when you are interacting with an angry customer, ensure that you commit the timeline to solve the problem.
A business that never breaks a promise and goes beyond to solve the customer problem is more appreciated than others.
Tip 9 on How to Deal with Angry Customers: Based on the business's actual capacity, commit to a deadline to resolve the issue.
10. A follow-up with angry customers builds confidence
It is related to the after-sale service in the most common terms. Follow-up service is crucial to know whether the customer is satisfied with the service or not.
It will also help the customer service provider know whether the resolution is appropriate and is working positively.
Following up after the resolution of an issue will make the customer even more happy and satisfied.
Tip 10 on How to Deal with Angry Customers: Once you've resolved an issue, follow up with the customer and ask them if they are still facing the issue or not.
Also find out: Best Practices to Future Proof Your Customer Support with AI
Things to avoid while dealing with angry customers
Now you know the reasons that can make the customer angry and the tips on dealing with angry customers.
Now, let's talk about a few points that one needs to avoid. Some of the most common things to avoid while dealing the angry customer are:
Avoid using negative language like "let me be clear," "for your information," and "actually."
Upsetting terms like "I'm sorry that you're freaking out", "Please don't flip out", "you are [all] bent out of shape" should be avoided.
Avoid overusing "you" as it can provoke even more hostile and angry reactions.
Using "calm down" repeatedly can come off as combative and will make things worse.
Even when you know that the situation occurred due to a customer's mistake, avoid pointing it out to worsen the situation.
Final thoughts
Handling customers is one of the most crucial tasks that the business needs to undertake. While one can resolve a lot by going for training, many customer complaints can be resolved by adopting customer support chatbots.
In their study, MIT Technology Review depicted that by using the chatbots and technological support in collaboration with human support, 80% of respondents reported measurable improvements in customer satisfaction, service delivery, and contact centre performance.
Managing angry customers will differ from case to case. But with the help of a proper understanding of the underlying issue and following the above tips, one can handle an angry customer efficiently.
Conversational AI can reduce the number of angry customers in the long run.
Offering a memorable and valued experience to the customer can help to build a better and more strategic relationship for the long term.