5 Mins
In this blog post, you will learn how to create a WhatsApp Business account.
Before we begin, did you know that you can now use WhatsApp to build chatbots, serve as customer support and promote your products or services?
You heard it right!
WhatsApp has introduced a productive platform called 'WhatsApp Business'.
With this platform, you can perform all the functions we've mentioned above, such as connecting with your customers and marketing your product or services.
This is hugely beneficial for companies ranging from small to large-scale industries. As a result, businesses can connect with their customers instantly to deliver important notifications or interact with them.
Furthermore, you can even automate WhatsApp Business with the help of APIs. It lets you automate messages, respond to queries, showcase catalog and integrate with other automation tools.
Suggested Reading: Meta Opens WhatsApp Cloud API to All Businesses
Steps to create a WhatsApp Business Account
WhatsApp Business app is completely free. You can download it from Apple and Android stores. Make a WhatsApp Business account in these easy steps mentioned below:
1. Download WhatsApp Business App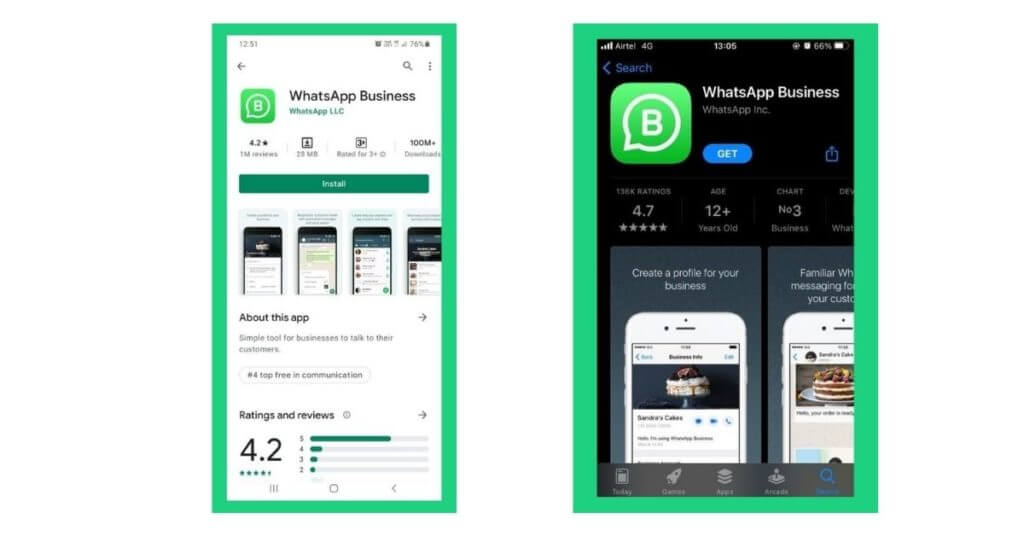 You can conveniently find the WhatsApp Business application on the Apple store and Android store. Download it on your device. There is a very small visual difference between WhatsApp and WhatsApp Business logos. After downloading the app, you need to launch it.
2. Agree to Terms of Service and Press Continue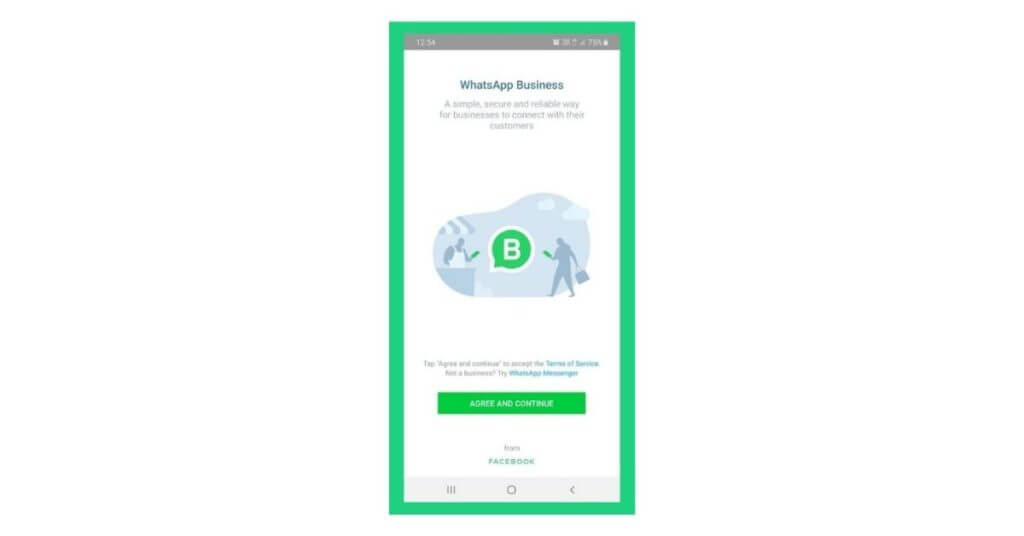 With the new WhatsApp Business policy update, you may want to read the Terms of Service. Later you need to accept it and proceed further by clicking Continue.
3. Make a WhatsApp Business Account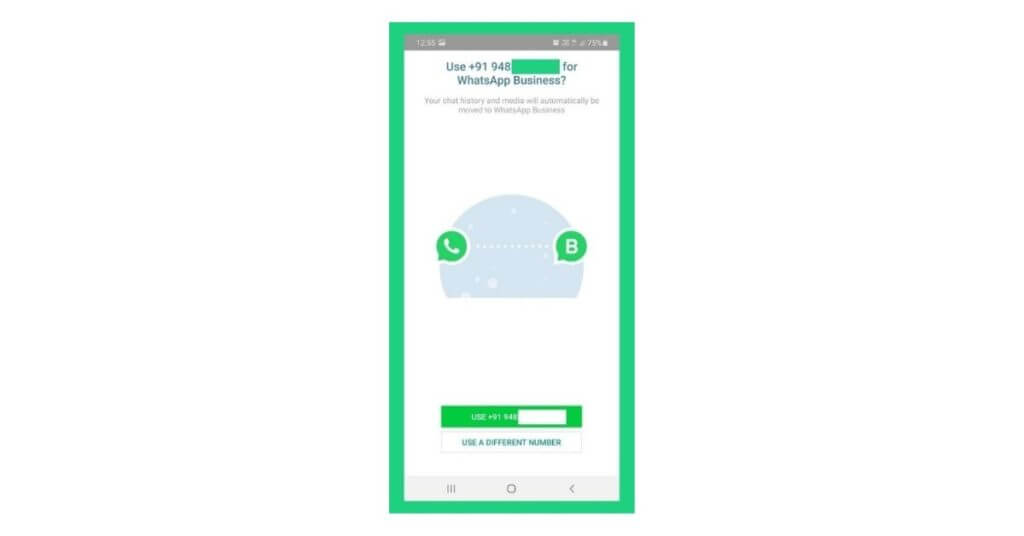 There are two ways of making a WhatsApp Business Account. Either by using your number and converting it for business purposes or taking a new number that is dedicated for WhatsApp Business. We recommend using a new number.
You will be prompted to select the phone number you'd like to create your WhatsApp Business account with. You'll be given an option such as default phone number (current) or use a different number. You can choose the number accordingly. Note that only one number is dedicated per WhatsApp Business Account.
After performing this step, you need to verify your phone number.
4. Verify WhatsApp Business Phone Number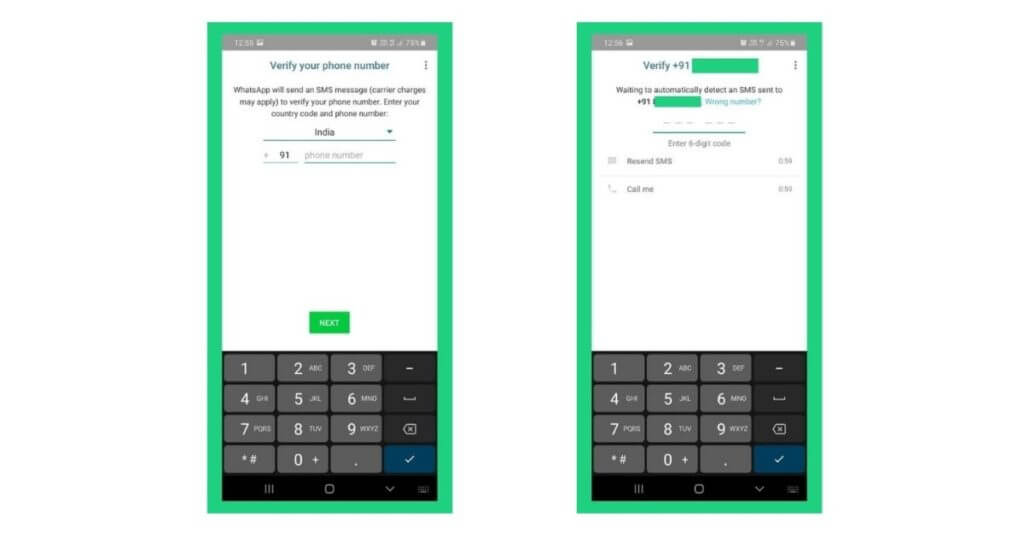 Enter the phone number that you'd want to associate with your WhatsApp Business app. Verification of phone number is done via SMS or Call.
You will receive a six-digit code sent through SMS which is automatically captured by WhatsApp Business for verification. In case you are using the number elsewhere (not on the current device), you'll need to enter it manually.
If you don't receive an SMS, you can verify it via call.
5. Convert WhatsApp to WhatsApp Business (Applicable for Users Who are Using Personal WhatsApp)
If you are using your personal WhatsApp number, you need to move all your personal data to WhatsApp Business. Data like images, videos, chat messages, and contact numbers will be passed on to WhatsApp Business account.
Moreover, you have to give permission to WhatsApp to proceed. If you have enabled two-factor authentication, enter the code. After doing this, all the information will be transmitted to the WhatsApp Business profile. This process may take some time depending on the media size.
6. Grant Permissions for WhatsApp Business to Access Files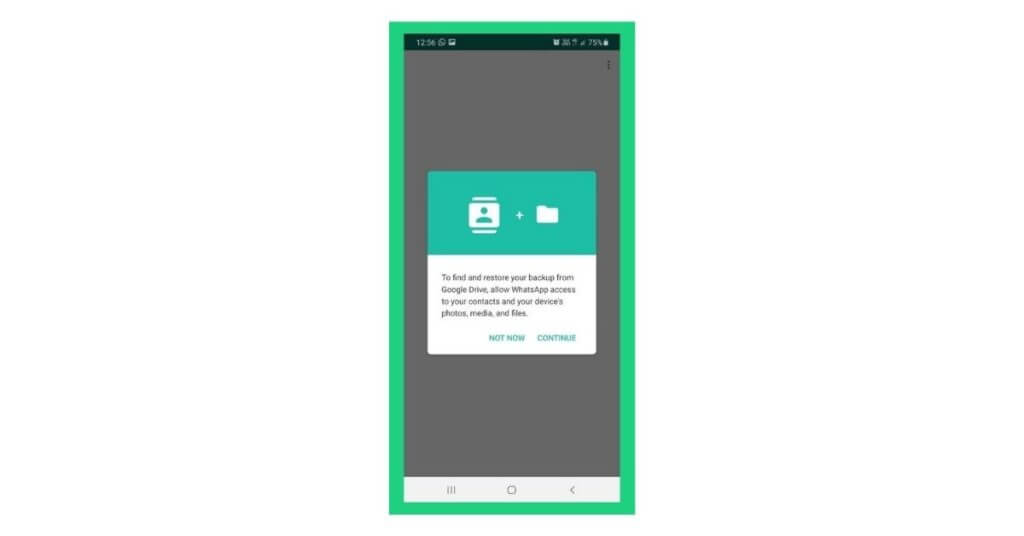 To deliver better performance, you have to allow WhatsApp Business to access your contacts and media files. This will help in connecting with your customers and sharing files respectively.
7. Setup WhatsApp Business Profile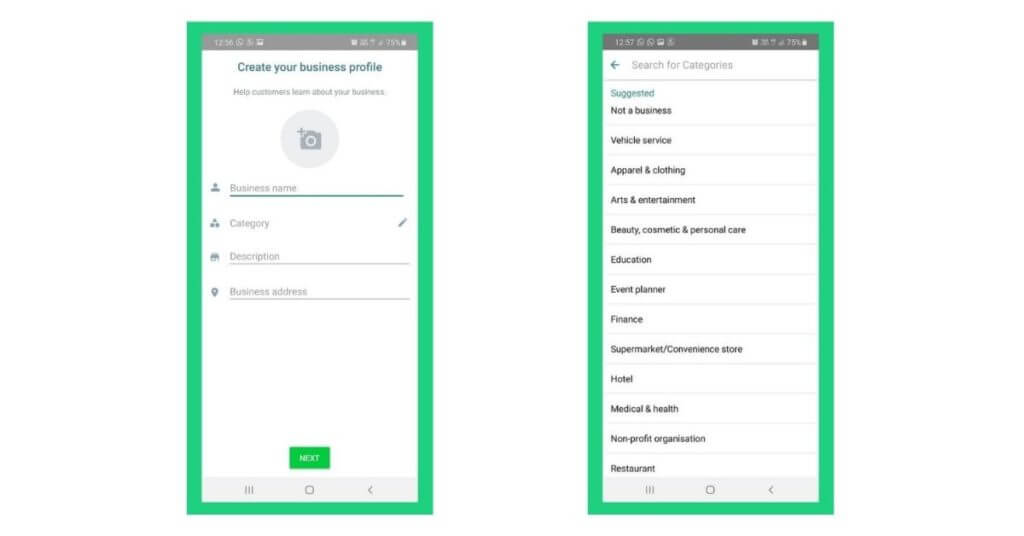 When you have successfully completed all the above steps, this will be the last step in creating a WhatsApp Business account. In this window, you will be prompted with the following attributes on the requirement of business details.
Business Name: Insert your official business name that is used to engage with your audience.
Profile Picture: This can be the logo of your business.
Category: Select the relevant category of your business from the dropdown list.
Description: Explain what your business does in 256 characters.
Business Address: Put the official corresponding address of your company.
After this step is completed, you can fill in additional details on the explore business tools window or skip now and fill them in later.
Additional fields –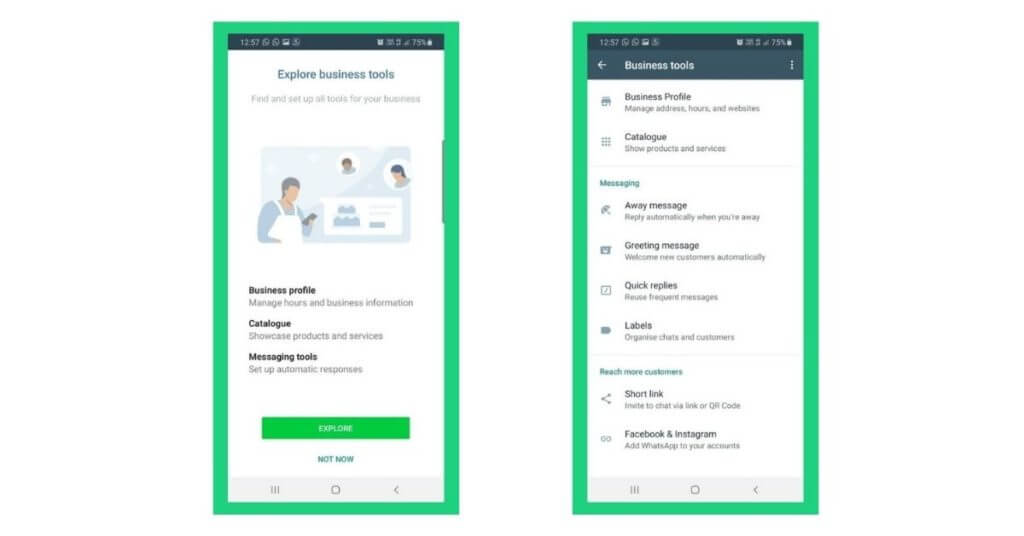 Business profile: You can enter the work hours of your operations, Email, and Website address.
Catalogue: You can showcase a list of products and services offered by your company.
Messaging tools: You can set up automated responses which is a convenient mode of communication.
It's better to fill in all the required details to boost the brand visibility of your business. This will help in the credibility of your business and you can connect with your customers without any concerns.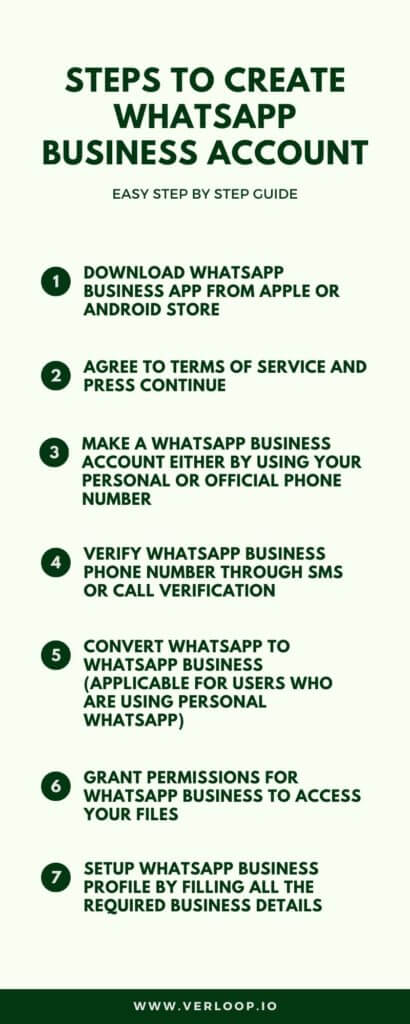 Suggested Reading: Set-by-step Guide to Create and Verify Facebook Business Manager Account
Be mindful of…
Spamming the account: Ensure that only prioritised notifications are being utilised through this medium. For instance, if you over-promote to your customers and they mark you as spam, there are high chances of your WhatsApp Business account getting penalised.
Migrating the account: In case of using your personal phone number for business purposes, you can move chat history and media files to the WhatsApp Business account instantly.
Moving the chat history: If you change your mind to shift from a WhatsApp Business account to WhatsApp Personal account, hence you will not be able to move chat history.
Managing accounts simultaneously: WhatsApp Business and WhatsApp Personal accounts can be operated simultaneously on the same phone. However, you need to use two different phone numbers.
Suggested read: How to Use WhatsApp Web for Business?
WhatsApp Business Account Messaging Automation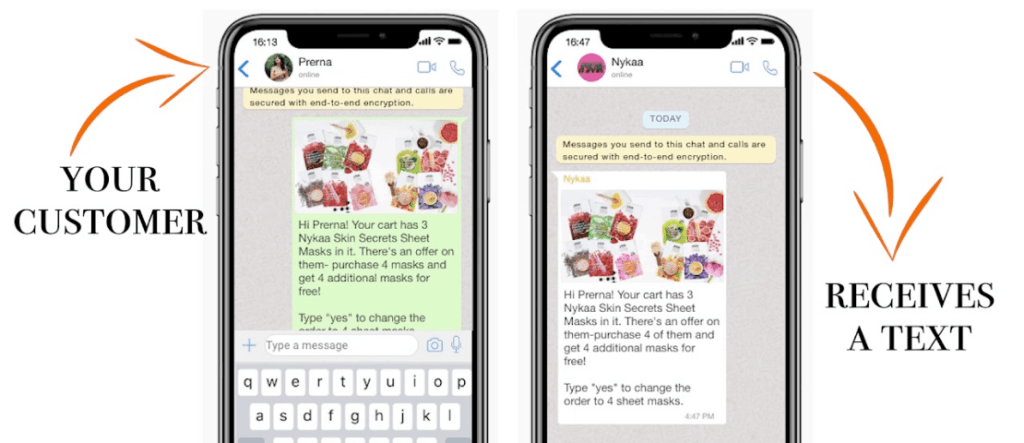 WhatsApp Business account and WhatsApp Business APIs are completely two different entities. Through WhatsApp Business APIs, you can take WhatsApp automation to a whole new level. You will be able to build WhatsApp chatbots, connect to a CRM, and much more!
Messaging automation is a unique feature that helps you to communicate better with your customers. With features such as WhatsApp auto reply (away message), greeting messages, and quick replies. There are endless use cases of using WhatsApp for your business.
Each messaging automation can be customised with business messenger templates. These customisable WhatsApp templates can be used for inbound and outbound marketing activities.
Verifying your WhatsApp business account will give a major boost in branding and increase the credibility of your account.
Suggested reading: How to migrate your phone number to a different WhatsApp Business account?
Final Word
WhatsApp Business is a versatile platform for companies who wish to automate their customer support. However, there is a huge scope of opportunities for a company to nurture, engage and interact with their customers by providing exceptional customer service.
Let us know about your experience with WhatsApp Business in the comment section below.