9 Mins
We know that manually tackling high call volume can be a nightmare. If this sounds like it's the same for your team, conversational AI may just be your dream come true.
A business deals with hundreds of customers daily. But during the high-traffic seasons, such as during festivities or peak hours of the day, call volumes can increase dramatically. High call volume can be a hassle for agents and may prevent them from providing effective customer support.
Mounting call volume may cause delays in service and leave customers feeling dissatisfied.
Then it becomes important for you to adopt proper strategies to handle high call volumes. One way to combat this is by using conversational AI chatbots. According to a report by IBM, conversational chatbots can answer 80% of generic questions leaving room for your agents to dedicate their hours to what is important.
But before we look at the benefits of using conversational AI or chatbots for high-call-volume call centres, let us look at what high call volume is.
What is High Call Volume?
Picture this: It's the festive season and a big time for Glow, an online beauty brand. Their website sees a drastic spike in oncoming traffic during these weeks as people rush to buy their favourite beauty products. Sounds well for the brand? Maybe not. Increased footfall directly translates to a higher number of people seeking support too.
A high inflow of customer queries and an inability to attend to them can have your users switch sides – buy from where they are heard and responded to. Not managing high call volume can cost Glow a number of its customers.
Let's take another example: For a food service company, high call volume will be at certain times of the day. They see peak hours before and during meal times. That is breakfast, lunch, snack and dinner time. During these hours, the support representatives are overburdened with calls and support. Rest of the day, they have nothing much to do.
The term "high call volume" simply refers to a call centre receiving more calls than it is prepared to manage. The impact of high call volume varies depending on the scenario and the company.
Some surges will result in a significant rise in call volume, while others will just result in a minor increase. Even an average rise can lead to high call volume for relatively smaller businesses, which might not be the same for larger firms.
But what causes high call volume? Understanding this can help establish better solutions in managing high call volume.
Suggested Reading: Holiday Season Support: Optimising for Speed and Surge in Demand
Cause And Effect: What Brings High Call Volume?
A high call volume is usually a time-specific event. Is it the holiday season? Is it the weekend? Or is it payday? Traffic hikes and call surges typically follow a direct correlation – the more people rushing onto your website, the more the call volume. However, there can be many more reasons why you see people blowing up your contact centre:
People calling for the wrong reasons.
Customers are demanding solutions to basic queries addressed in the FAQ section.
The inefficiency of other departments places a burden on the call centre.
Holidays or festive seasons may lead to more purchases and, therefore, a higher number of related queries.
A fault with the system causes distress and bottlenecks in call forwarding.
Now that you've understood what high call volume is, let's take a deep dive into how to deal with high volumes of calls daily.
Conversational AI Comes to Save: Managing High Call Volume with AI
Time is of the essence when it comes to customer service. To ensure high customer satisfaction, it is essential to resolve customer queries on time. Managing high call volumes can be quite a task, but conversational AI can make it quite a cakewalk. Here are some of the most effective ways conversational AI can deal with high call volumes.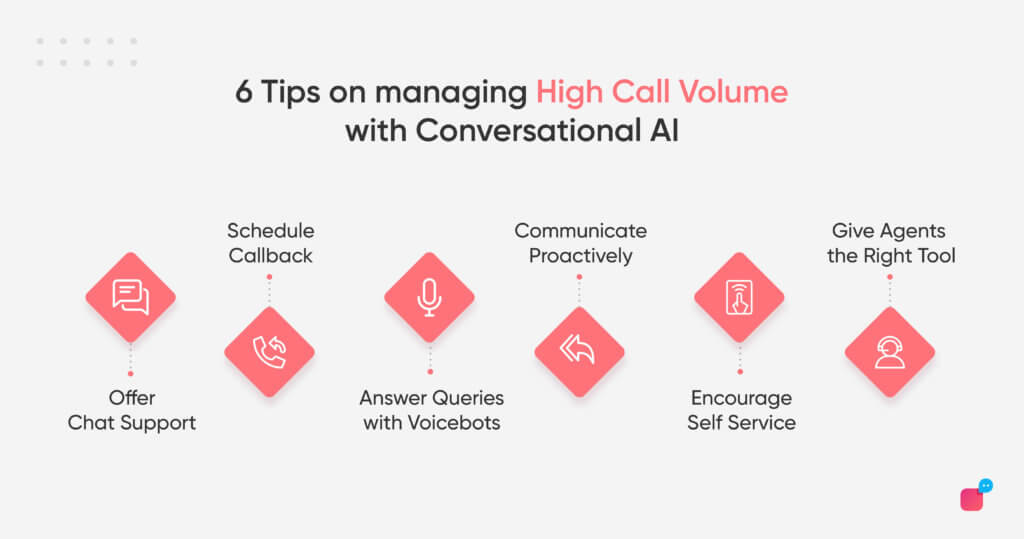 1. Chat Support
Many of these high-volume queries are elemental. This means that you don't really require a live agent to answer them in real-time – a problem high call volume brings. It's unrealistic to expect your agents to speak and resolve queries for every single one of your callers.
In fact, a report by Salesforce suggests that around 69% of consumers prefer to use chatbots to communicate with brands. Offering chatbot support integrated with the option to transfer to live agent support as required can help businesses manage calls efficiently. It also reduces the waiting period which can help improve overall customer satisfaction.
2. Voicebots
With voicebots supporting your contact centre, you can free up your agents and avoid customers being in the queue. Voice chatbots can answer each call immediately and engage customers in human-like conversations, thereby boosting your CSAT score.
Voice AI helps your call centre scale by automating queries and hence ensuring your agents are never overburdened with high call volume. All this is in voice format, something that your customers prefer and are familiar with.
Suggested Reading: Voice AI: The Ultimate Guide
3. Schedule Callbacks
During high call volume, the AI can offer to schedule a callback for customers so that they don't have to wait in the queue. You can integrate a form within the chatbot to request the customer's basic details and queries. Additionally, it can provide an option to schedule a callback that will allow staff to arrange calls as soon as call volumes are under control.
4. Communicate Proactively
Another way conversational AI can help you manage call high volumes during peak support times is with proactive communication. You can use your chatbot to relay important or urgent information as notifications or outreach messages. Your support team is less likely to be overburdened with high call volumes when your customers are in the know and customer support can be optimised.
5. Give Agents the Right Tool
Conversational AI is smart enough to know when to transfer the queries to agents and when it's the right time to. While your agents are only required to answer when absolutely necessary, they need the right tools to handle the overflow of tickets during peak support time. These features are designed to support agents during support conversations so that the response speed and effectiveness remain unimpeded. They include:
Canned replies for quick response times
Third-party plugins like CRM and Google Maps pull data in real-time
Feature to prompt customers to circle back to finish the chat
Complete customer view
Suggested Reading: 5 Ways Conversational AI Makes Your Agent's Life Easier
6. Work With A Self-Service Menu
Your customers want to be self-reliant and quickly receive help, preferably on their own. The time taken to resolve a query accurately is usually what your customers prefer – not through whom they do it. This is exactly what a self-service menu strives to achieve.
A self-service menu is designed to help the customer get around the website easily and quickly find answers to most simple questions using keywords. A conversational chatbot is a way to let your users self-help and resolve queries themselves.
If you are thinking "how do I lower the call volume even more?", the answer lies with conversational AI. Here are some of the benefits conversational AI offers that can help your brand overcome high call volumes.
What Benefits Do You Reap from Conversational AI?
1. More Productive Team, Happier Agents
Implementing a conversational AI can help make your customer support team more productive. It takes away the need of attending to simple queries from dedicated customer support and answers them by itself. This results in lower call volumes to handle, allowing customer support agents to attend to the highest priority support tickets at the earliest.
AbhiBus is a great example of a business that has strived to achieve high standards of customer service. As they scaled their business across the country, they experienced a significant rise in call volumes. AbhiBus used to tend to each query with a live agent until they implemented conversational AI. Turns out, the chatbot deflected 96% of their queries and helped their customer support team become 33% more productive.
Suggested Reading: To improve CX, start with an improved agent experience
2. No Wait Time, Lightning Fast Resolutions
While managing high call volume, the biggest challenge is reducing wait time. Most customers would prefer an instant form of communication rather than the dated system of calling in. With conversational AI tackling most of these queries, the wait time is significantly reduced. And equipped with the right tools, the agents can respond quickly to customers too.
Nykaa, an online beauty store offers a range of cosmetics, skincare and wellness products for a wide range of demographics. As a popular online brand, Nykaa regularly saw spikes in its call volumes. Conversational AI, yet again, did wonders! The results were commendable – the AI engaged with 99.7% of customers within a minute and boosted the overall engagement to over 2.2x.
3. Customer Satisfaction on Top
Conversational AI takes a customer-first approach when in action. Whether it's responding quickly or avoiding queues, it strives to streamline customer journeys and boost satisfaction.
Say, Asha is a festive shopper on your website and has run into a problem while placing her order. She calls the customer support helpline only to find that call volumes are high and that it will take several more minutes to get in touch with an agent. Seemingly frustrated, she hops onto a competing website and buys the product from there.
This is a common scene to see in an online market rife with many options. So what sets you apart? How well are your customers satisfied with the service you provide – the CSAT score.
Doing it IRL: MediBuddy struggled to respond to flooding tickets manually. As a healthcare service provider, MediBuddy saw many of its customers had important queries concerning technical bits like policy terms and health checkups.
With conversational AI, the company was able to flatten almost every roadblock they faced with customer support – lengthy resolution cycles, inconsistent support standards, costs due to human error, etc. And guess what? With conversational AI, MediBuddy saw a phenomenal shoot-up in the CSAT – now at over 90%!
4. Value-Driven Data and Numbers for Sharp Insights
Conversational AI can help identify bottlenecks that may be slowing down your customer support team. You can live monitor conversations happening in real time and use the data collected to market your products, understand your customer base as well as for internal training purposes.
To effectively work during peak support time, you need to know what your peak periods are. An analytical dashboard can also help you find out the times when your team receives the most number of queries – your busiest hours. You can filter this information on a daily, weekly, or monthly basis.
Knowing when exactly you'll see the rush pouring in can help you prepare to take the load beforehand to ensure everything runs smoothly when hour zero strikes.
Conversational AI: A Perfect Solution to High Call Volume
Whether a festive season or just a weekend haul, handling overflowing calls is a hassle. While the rush takes a toll on your agents, the subsequent delays leave your customers angry and second-guessing. Conversational AI can not only speed up this cycle for your customers but also makes lives easier for you as a team.Verloop.io is creating an impact in the customer support space with its powerful NLP-trained conversational AI that's ready to take on any challenge you may face with your company's support function. How? Schedule a demo with us to know.