5 Mins
Healthcare is a sensitive industry. It's racing against time, data breaches, improper diagnosis, delayed treatments, and human errors, just to name a few.
However, the rapid development of AI has helped fix many of these potholes. One such solution is healthcare voicebots. These voicebots can answer patient questions, schedule appointments, and address broader health issues.
AI-powered voicebots have made mobility one less thing to worry about for patients. They have improved healthcare for the ones who need to access health records, prescription lists, and dietary and exercise recommendations without visiting an in-house facility.
And not just pertaining to physical health, voicebots are helping build a cohesive online space for healthcare. For instance, during the pandemic, not only did traditional consultations,l health professionals took their practice digital with help of mental health chatbots.
Going a step up, today voice AI is helping track patient information, automate operations, and reduce paperwork. Voicebots are flexible enough to be adjusted on the fly to deal with seasonal variations in patient traffic and public health crises or disease outbreaks.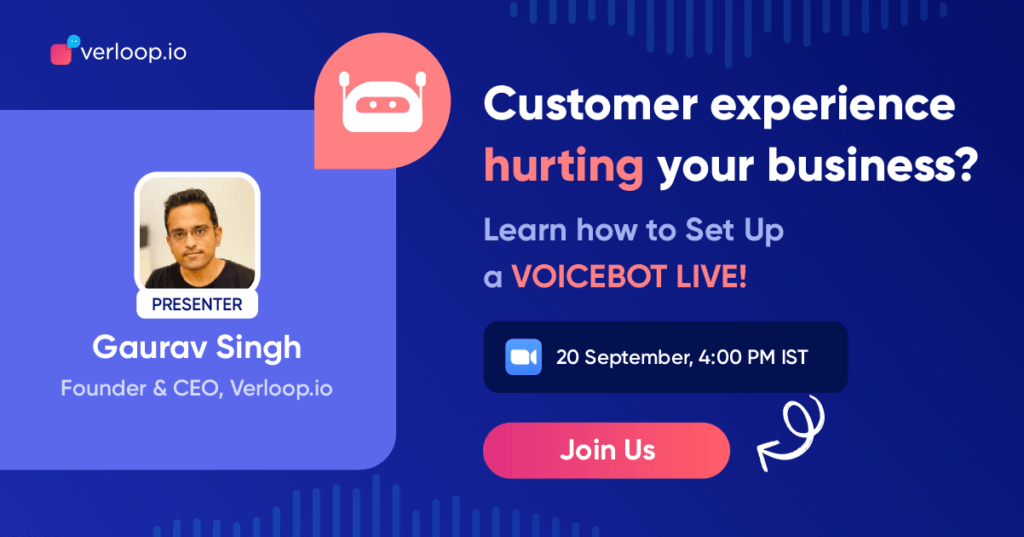 The utility of voicebots is self-explanatory. But what kind of issues do users face that made their adoption a necessity? Let's talk about them.
Customer experience challenges in healthcare: What makes your users unhappy?
People assume medical advice is set in stone. As it's relayed, so shall be followed.
This is why it's important for the right information to reach the intended audience with no mishaps or loss of data. In a perpetually busy industry like healthcare, customer experience can sometimes take a nosedive.
In fact, Forrester says that healthcare organisations (HCOs) that make use of consumer insights are up to 5x more profitable than those that don't. So, you see, poor user experiences can be particularly detrimental for HCOs looking to scale up. Here are the top problems your users want you to address!
1. Huge call volume, low capacity management
Healthcare as industry operates 24×7. Whether it's a 3 AM emergency room chaos or a 2 PM ultrasound, HCOs are always on the go. Users are always pouring in and so are their queries, doubts and questions. An independently functioning manned support team at a call centre or the reception desk can only tackle so many tickets at once. Their availability becomes a hold up, which leads to heavy delays and ticket pile-ups.
2. Lack of organisation leaves everything scattered
Only a logical consequence of the first point – When your agents and helpdesks scramble around to get a hold of increasing support queries, human error is bound to occur. Just as it's important to diagnose accurately, so is clearing any initial or follow-up doubts about the consultation. Stressed-out agents end up communicating wrong information, which in a few cases can cost you a fortune.
3. Your omni-absence is doing you more harm than good
Are your customers only able to reach out to you from one point of contact? And is it just call or email support? In 2022, this one-way support approach is highly inadequate.
There are two reasons why having conventional support is bad.
If the call volume is high, users are often put on hold for extended periods of time.
The response times on email support on average is 2 days!
But what if the user needs help in real-time, in mere seconds? Single support channels don't only plummet the CX you deliver, but can also potentially turn a delay in response into something more medically dangerous for the user in need.
Go omnichannel. People are always available on chat apps and social channels. Your support needs to be too.
In this blog, we will talk about some of the most compelling healthcare voicebot use cases.
FAQ resolution
Appointment management
Medical history collection
Paperwork automation
Timely reminder
Payment processing
Feedback collection
Top use-cases of voicebots in healthcare
Voicebots are increasingly being used to automate customer service and healthcare interactions. Here are some of the top use cases of voice recognition technology in healthcare.
1. FAQ resolution
A healthcare voicebot can be used to automate and resolve common FAQs. It provides a 24/7 support line for patients and their families and helps to streamline the process of obtaining medical information.
Is my prescription ready? When is Dr Maya available next? Which medical insurance plans do you accept? A voicebot trained to tackle your FAQs can do so self-sufficiently. It offers your users the self-service to address common problems on their own. Let's understand the impact of automating FAQs.
Patients get access to answers to common questions regarding their cases faster and easier.
Enhance patient experiences with low waiting times and on-time attention
Help agents and helpdesks resolve urgent and high-priority complaints.
Reduce the time patients spend on the phone waiting for assistance.
Allow users to access help themselves through a self-servicing voicebot
2. Appointment management
Consultations are the first step to happier health and healthcare voicebots can be used to manage these appointments without human involvement. This is helpful in managing the hospital's activities, be it a doctor's calendar, lab's availability, etc. Here's how voicebots assist in managing your appointments: 
Automate appointment booking to make consultations accessible during rush hours
Reschedule appointments to suit your and the patient's times better
Allow timely cancellations to avail slots to people-in-waiting
Automate follow-up booking to ensure your patients stay on top of their treatment  
3. Patient medical history collection
Collecting patient medical history using voicebot technology is more efficient and accurate than traditional ways. Earlier, an HCO would require the patient to recite the information to an agent or to a helpdesk on call – this would make accurate safekeeping dodgy. Accuracy is something AI does not budge on. An AI-powered voicebot technology can record (not manually jot down) information correctly and in real time. What can a voicebot do to keep track of crucial user data?
Automate collecting elementary information like patient name, age, gender, address, contact numbers
Record complex data like patient's current medication and dosage, surgery history, etc.
Monitor patient's symptoms with an accurate medical history as a point of reference
4. Paperwork collection and processing
As healthcare businesses continue to evolve, they are beginning to use automation as a holistic way to offer medical services. A simple way to include AI automation in your healthcare business is using voice AI with chatbot support. These hybrid automation solutions can mitigate the workload that comes with extensive medical documentation like pathology reports, x-rays, and scans. Here's how voicebot simplifies redundant paperwork:
Reduce time spent on manual data entry for paperwork for in-house hospitalisation like govt. approved IDs, next-of-kin information, etc.
Ensure more productivity for agents and receptionists by automating insurance claims
Automate out-patient paperwork like invoicing, procedure/treatment history, discharge papers etc.
5. Timely reminder calls for follow-ups, medication, and insurance
On a typical day, your staff probably spends a chunk of time scheduling through your calendar to ensure your day is appropriately packed with enough consultations. Moreover, they probably spend like 30 minutes a day to manually remind patients of their upcoming appointments.
Your patients are humans too. And the most common reason they give for no-shows is that they forgot about it. Such no shows directly cost you money and time. Automation can help you streamline this process. Need to send a reminder? Now you no longer need to put one for yourself to send one! Here's what all you can send reminders for:
Set up notifications for upcoming consultations at specific dates and times.
Remind patients to follow up with their pharmacist, or other healthcare providers.
Remind them when to renew their insurance, get a checkup, or take medication.
6. Payment processing
Digital health is no longer a stranger to the 2022 user. According to a recent report, the global healthcare industry is expected to grow from $2.8 trillion in 2020 to $5.1 trillion in 2025. And as the healthcare industry grows, so does the need for payment processing solutions.
Process payments via voicebots integrated with chatbots:
Hospitals and other healthcare organisations can process payments with help of payment links sent via chatbots. This allows hospitals to reduce their processing time and costs, and it also helps to improve customer service. This also helps to keep patients happy and grow loyal customers.
7. Feedback collection
A voicebot can ask patients for feedback at the end of every call as part of a quality improvement strategy. Constructive feedback on the consultations, service standards, and payments and help you identify process gaps to be filled.
Every healthcare provider has at least some type of patient feedback system. Collecting patient feedback is evident – without it, healthcare organisations will struggle to meet quality assurance targets. How does routine feedback collection help you build stronger processes?
Detect broken processes and service gaps that need to be addressed through feedback
Inculcate customer feedback and feature suggestions into your future product roadmap,
Optimise your conversion journey with feedback that helps you prevent funnel leaks
Why does the healthcare industry need a voicebot?
Healthcare voice technology is not a one-off investment. It's a digital change that is proactively helping providers operate efficiently and users make better health decisions. The impact is not tangential. It's prevalent and reflects positively on customer satisfaction.
Some of the benefits of using a voicebot in healthcare include:
Time-saving
Updating patient information, sending reminder calls, rescheduling consultations make up an agent's majority of daily tasks. They often follow a certain protocol. And where there's a routine, there's scope for automation!
Voicebots can automate such recurrent tasks in real-time and save your precious productive hours. This can let you focus on more critical tasks, improving patient care.
Efficiency
By automating specific often recurring tasks, voicebots can improve efficiency. With healthcare voice tech, you can communicate faster and in real-time, answer your most common questions instantly and do so round the clock!
AI also ensures that your support tickets are assigned to an agent with relevant expertise in the right department, reducing the number of transferred tickets. A powerful voicebot solution also equips you with accessible customer data at all times during support interaction. So whether it's AI or an agent, relevant user data is always at arm's reach. It's simple, efficient and helps you reduce unnecessary overheads. Read: Can voicebots really help you save money?
Improved communication
By communicating with patients, voicebots can improve communication between patients and healthcare providers. Along with 24×7 availability, voicebots are capable of communicating proactively. With a dashboard dedicated to availing user data at a moment's notice, voicebots stay relevant and moored to the problem at hand. This way, voice technology in healthcare can lead to a better understanding of the patient's condition and improved care. Read: Happy health is just a text away on WhatsApp
Healthcare made effortless with AI-powered voicebots
Healthcare voicebots can provide personalised information, reminders, and support in a conversational interface. If you are looking for a new way to improve your patient experience, you might want to try voice tech in healthcare. This can be very helpful for self-service scenarios where a simple question can connect them to a live agent. A healthcare voicebot is faster and more effective at engaging with customers. This can revolutionise patient experiences by providing them with engaging and personalised conversations.