6 Mins
Chatbots are a great resource to help you to engage with your audience and generate interest. We look at the top 8 benefits you stand to gain from generating leads using chatbots.
When it comes to running a business, proper promotion of its various aspects is a necessity. If your business doesn't get an adequate and targeted promotion, it is tough to ensure its survival in the sea of competition. Generating leads for business is an efficient way of giving your business the push it needs.
You can generate leads online using various forums and ways. Chatbots are one of the best ways to generate leads.
Know how: Verloop.io Integrates with LeadSquared to Capture and Nurture Leads

What are chatbots?
Chatbots are software applications used for online chat conversations via text or text-to-voice message conversions with a human agent on the other end.
This software can automate your conversations and help you interact with people via various messaging platforms. This automated program will let you converse with your customers efficiently, just like one would do in person.
Chatbots are vital in generating online leads. Are you facing a scarcity of prospects in your business venture? Are you searching for ways to generate online leads?
With chatbots, you can generate leads without cold calling and ensure that you generate online leads rapidly and help your business reach newer heights.
Read on to know how to a lead generation chatbot can help. Below are some of the benefits of these applications.
Navigate the ways below:
1. Helps in understanding your prospective audience:

When it comes to targeting your prospective audience, it is essential to figure out the population's mindsets. You must understand the needs and perceptions of your customers and accordingly engage with them. It can easily do with the help of chatbots. They help you understand your audience's psyche.
A lead generation chatbot boosts sales by asking questions and conducting various surveys and quizzes. It is the best way to understand your best-selling and least-performing products. A real-estate business, for example, can implement the usage of chatbots to generate leads for the business.
Suggested Reading: Marathon Realty Boasts A 55% Lead Conversion Rate With Verloop.Io's WhatsApp Chatbot For Real Estate
2. Articulating the audience as segments:

Segmenting your audience plays a massive role in keeping your content relevant on a mass platform. It provides an impetus to your strategy to generate sales leads online. Your lead generation chatbot classifies your prospective customers and segments them based on demography, age, gender, interests, hobbies, etc.
It assists you in nurturing leads, and the customers are in different segments. Every segment has a set of solutions attached to it. Therefore, if a customer has specific problems, the solution is readily available in the segment.
3. Building relationships
Any business survives on goodwill and trust. A chatbot assists you in this aspect by ensuring regular communication with your customers. Furthermore, it keeps subscribers loyal to your offerings by providing them with instant support round-the-clock. Moreover, it increases the trust among the users about the company's reliability.
As chatbots become more personalised and friendly, they can help generate leads for the business. The idea of customer support gets clarity as you get to know their problems and provide solutions accordingly.
The various lead generation strategies that verloop.io provides for chatbots ensures that you build long-lasting relationships with your customers.
4. Removing the usage of forms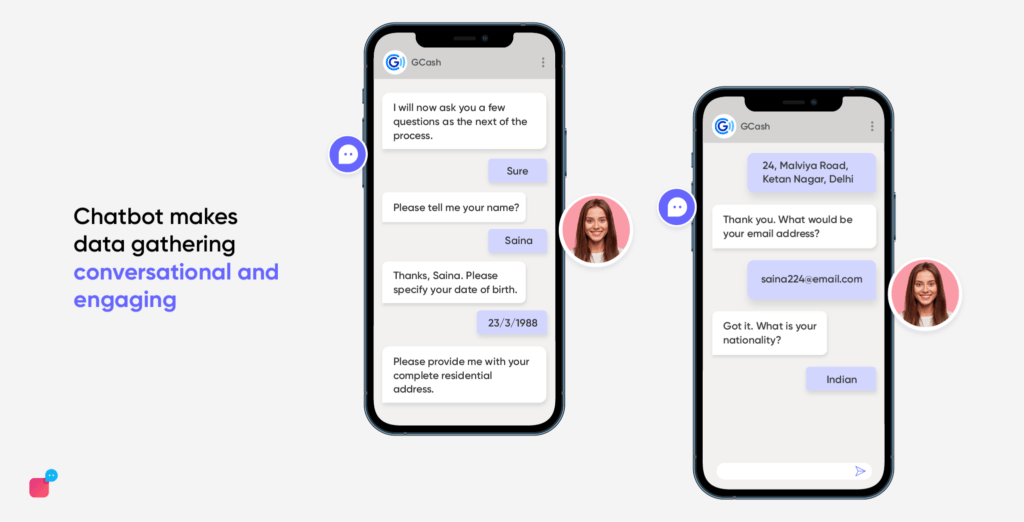 Filling forms these days is a brainstorming and cumbersome task. It is no more engaging. A lead generation chatbot helps you remove these forms efficiently and provide an impetus to your lead generation. They seek the details of your customers through a continuous flow of communication, thus making it frictionless. It streamlines the process of collecting data.
It is effortless for a user to answer questions. Chatbots facilitate this aspect and ensure that customers do not face boredom. It would be best to use a chatbot that asks for customer details, including name, email, phone number, address, etc. Additionally, an autofill option will ease the task for your users and ensure the swift generation of information.
Suggested Reading: AcadGild Replaces Forms with Live Chat to Increase its Overall Conversion Rates By 240%
5. Educating your audience
Educating customers is one of the most important pillars that helps to generate online leads. Without adequate knowledge about the product, customers will never push themselves to buy it. Chatbots facilitate this.
They inform the audience about the concerned product and its usage. It engages individuals with information and gradually turns them into regular subscribers. Among other things, blog reading becomes more accessible with the help of chatbots. For example, in our chatbot on the bottom right corner of this screen, we suggest blogs to our visitors. Your customers can easily find the information by searching for blog related to the product.
6. Integration of chatbot with your CRM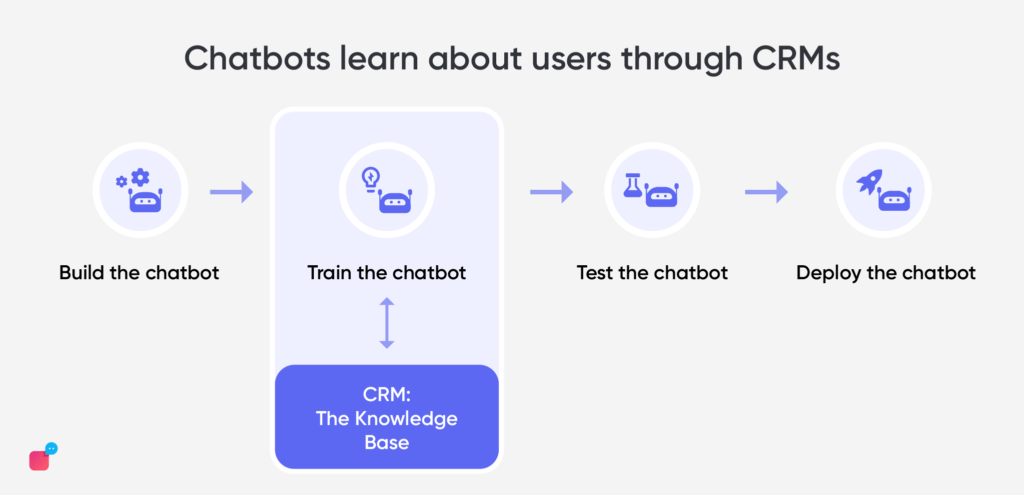 You should be aware of your customer's stage in the sales cycle if you want to nurture your leads generation process. If you integrate a chatbot with your CRM, it will track your customer's journey. It also helps in streamlining your chatbot strategies for generating leads.
It stores your customer's data in your CRM (such as Salesforce, HubSpot etc.) and helps you track ways to push your prospects to the next level. If your customer makes progress, your CRM will identify it. Therefore, a chatbot adds to the fluency of your lead management. Your sales team can contact the customer, or your sales bot can help them with suggestions.
7. Setting a scoring mechanism for your leads

A lead generation chatbot helps you to distinguish the different kinds of leads based on their characteristics. It allows you to assign scores to your leads based on their practical functionality. If any of your leads are ready for buying into the business, you can assign a good score, thereby making them a 'hot lead.'
Recommending products to high-potential leads can increase your sales. If a lead doesn't score well, you must increase your understanding of that lead and be careful with their needs.
8. Using chatbots on social media: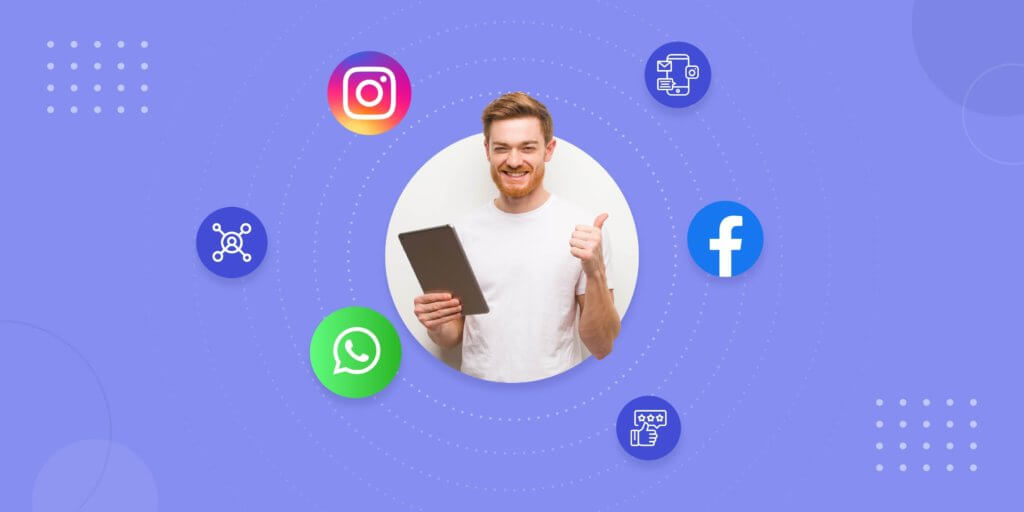 We are living in the age of social media, and it can be the most lucrative of all ways to generate leads for sales. You can use your chatbot on various social media apps such as Facebook or Instagram or messaging apps such as WhatsApp.
It helps you engage with more considerable traffic as it makes it convenient for the user to know about your products and services on channels they spend the most time on.
Suggested Reading: Kaarva Uses A WhatsApp Chatbot To Generate, Qualify And Support Over 100,000 Customers
Future of lead generation
In conclusion, it's safe to say chatbots are the mechanisms for a brighter future for online commercial platforms. If you want to provide an impetus to your business and ensure its continuous growth, you have to use chatbots.
You can go for the usual methods to generate leads, but using chatbots will help you generate online leads effectively. After all, effective online leads will provide you with transacting customers.
People prefer chats while engaging with the company. Recent surveys have observed that more and more people prefer chatbot-based conversations when interacting with a company for the first time. Companies can generate business leads, and customers can be at ease.
The best way to generate leads is through chatbots now. Therefore, if you do not have an effective lead generation chatbot, you will be missing out on a lot of opportunities and customers.
Now you know what you need to give your business the boost it needs. Moreover, chatbots will help you to generate leads without cold calling. So, what are you waiting for? Use a chatbot with Verloop.io and propel your business to greater heights.