3 Mins
Verloop.io, the world's leading conversational AI provider for customer support, has been named Leader and High Performer in G2's Winter 2022 Report. This time in five categories: Live Chat, Chatbot, Bot Platform, Conversation Support and Social Customer Service (new).
We are elated with this news and want to shout out a "THANK YOU!!" to our customers for using us and reviewing us as the top-rated customer support and automation solution in the industry. They are the reason we have achieved this feat once again.
Verloop.io is a leader in the Bot Platform, Chatbot and Live Chat categories in the market
Emulating Fall 2021's results, Verloop.io has been listed in 26 reports and has been called out for high satisfaction scores and net promoter scores (NPS). Based on users' reviews, G2 rated Verloop.io better than its competitors in the market on
the quality of support,
ease of use, setup, doing business with,
product direction, and
user requirements.
We have been named 'Leaders' in the Bot Platform, Chatbot and Live Chat categories. In addition to this, we have also been recognised as 'High Performers' in Conversational Support and a new category for us, Social Customer Service (software that allows companies to connect with users on social media outlets such as Facebook and Instagram).
G2 ranks products on customer satisfaction (user reviews) and market presence (market share, seller size and social impact). Based on the points collected, products are then placed into four categories in the grid. These categories include:

G2 score and reviews
With a total of 141 reviews (and this number keeps growing every day), Verloop.io has a score of 4.7 out of 5 stars. You can read reviews from our customers here.
In this G2 Winter 2022 Report, Verloop.io also received 31 badges in 5 categories, including our all-time favourite: Users Love Us.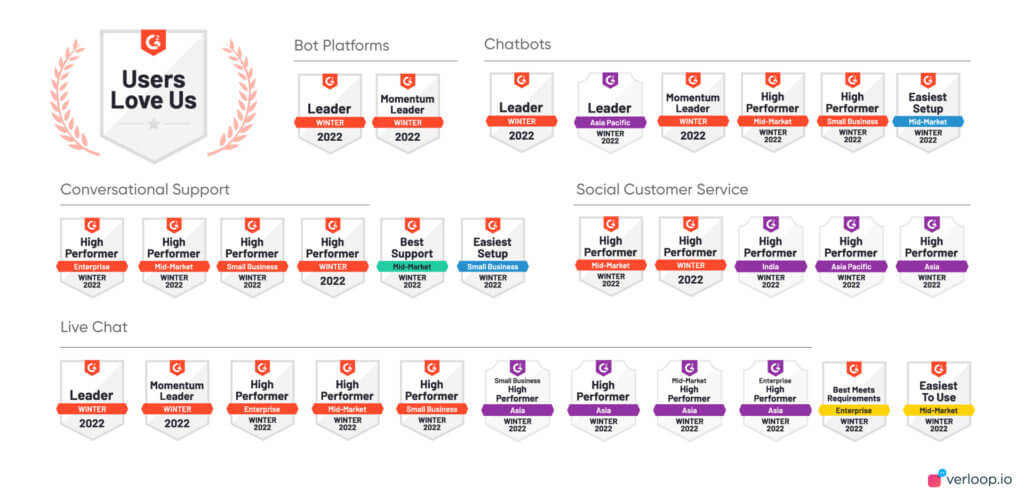 We are proud to be awarded in 5 impactful categories in the conversational AI and customer service industry. The report also recognised us for serving enterprise, mid-market, small businesses in India and Asia-Pacific regions. We see it as evidence of serving our customers to the best of our ability and distancing ourselves from other competitors in this space.
"We are thrilled to be a leader in G2 Crowd's Winter 2022 Report. We thank our customers for trusting us and being with us on this journey. This recognition reinforces our passion and hunger to help our customers deliver delightful support. In 2022, our customers can look forward to advances in our AI and product to get more personalised and collaborative experiences." said Gaurav Singh, Founder of Verloop.io.
Where Verloop.io Stands Out
Verloop.io outshines its competitors in many categories, especially in bot platform, conversational support and live chat software categories. G2 handed us over 31 badges (9 more than the Fall 2021 report last quarter). Here are a few areas where we outperform our competition.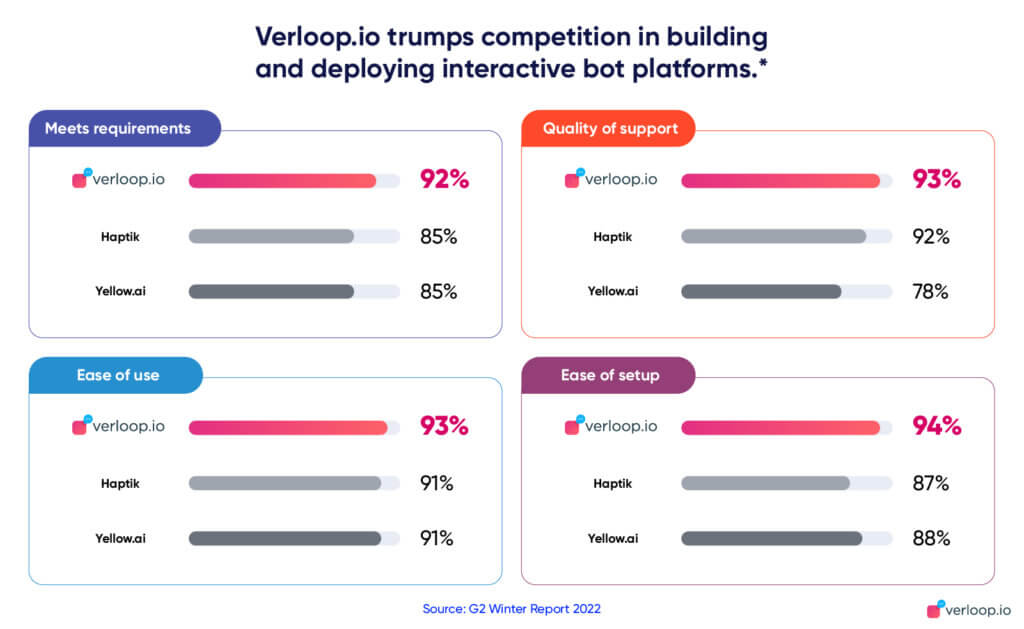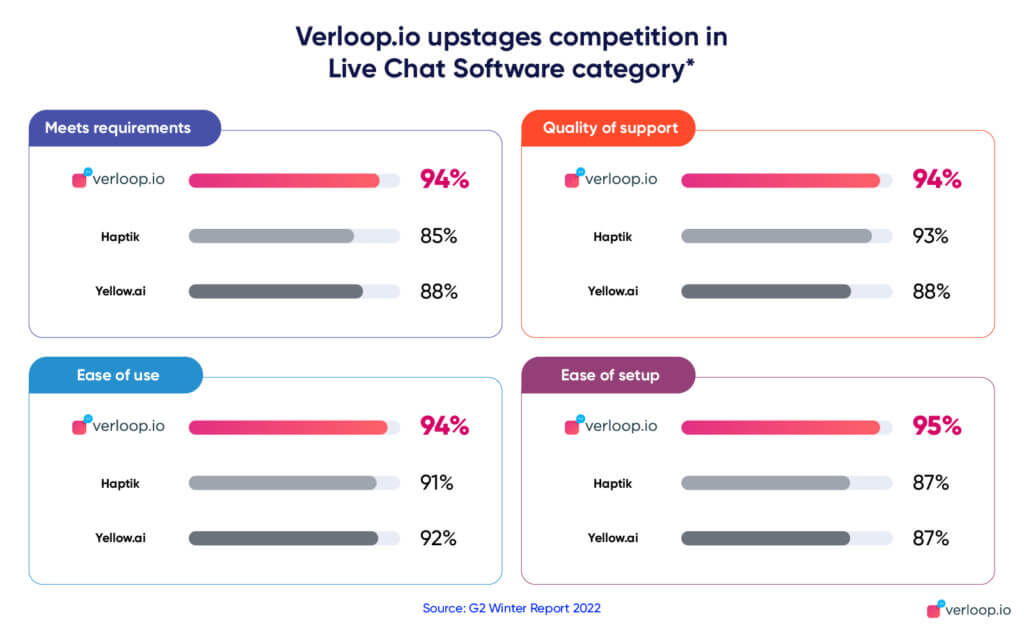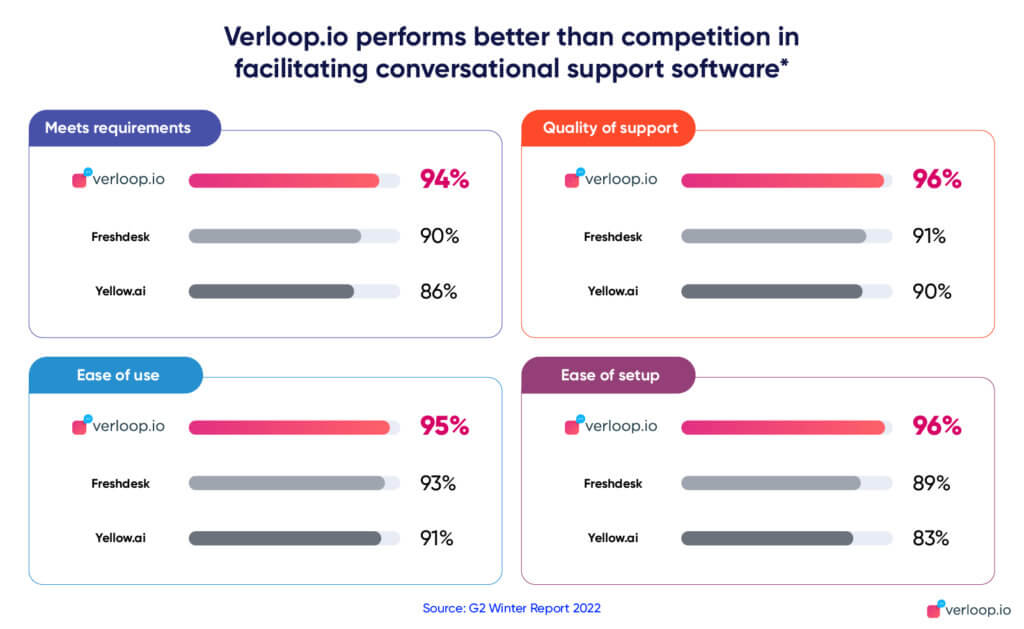 Verloop.io also ranked #8 at the latest 2022 G2 Best Software Awards in AI and Analytics category!
Find out why Verloop.io is the leader in conversational support
Verloop.io is on the mission to be the operating system for customer support. We help businesses deliver delightful support experiences to their customers and run a 24×7 support function across channels like WhatsApp, web, in-app, Instagram and Facebook Messenger, in the language of their choice.
Used by 5000+ brands globally across verticals such as eCommerce, retail, BFSI, Fintech, Edtech, logistics, real estate and travel, some of our key customers include Abu Dhabi Islamic Bank, Adani Capital, Cleartrip, Dar Al Arkan, Decathlon, DSP Mutual Fund, Kanmo Group, Livpure, Nykaa, Rentomojo, Scripbox, Watanai, etc.
G2 is known to showcase powerful product capabilities and maintain transparency for healthy competition. The user reviews assure prospects of unbiased and up to date information to help them make the best business-fit decisions.
To get a first-hand experience of a truly AI-powered platform, talk to our team and get a demo. See for yourself why our customers love us.