3 Mins
The G2 Winter 2023 Report has been released, and we're thrilled to announce that Verloop.io has been breaking records and appearing glorious on multiple fronts yet again!
Verloop.io has been anointed with the Leader Badge in Bot Platforms, Live Chat, and the most prestigious badge of all, "Users Love Us."  
We have also emerged with flying colours by receiving 59 badges in the following categories!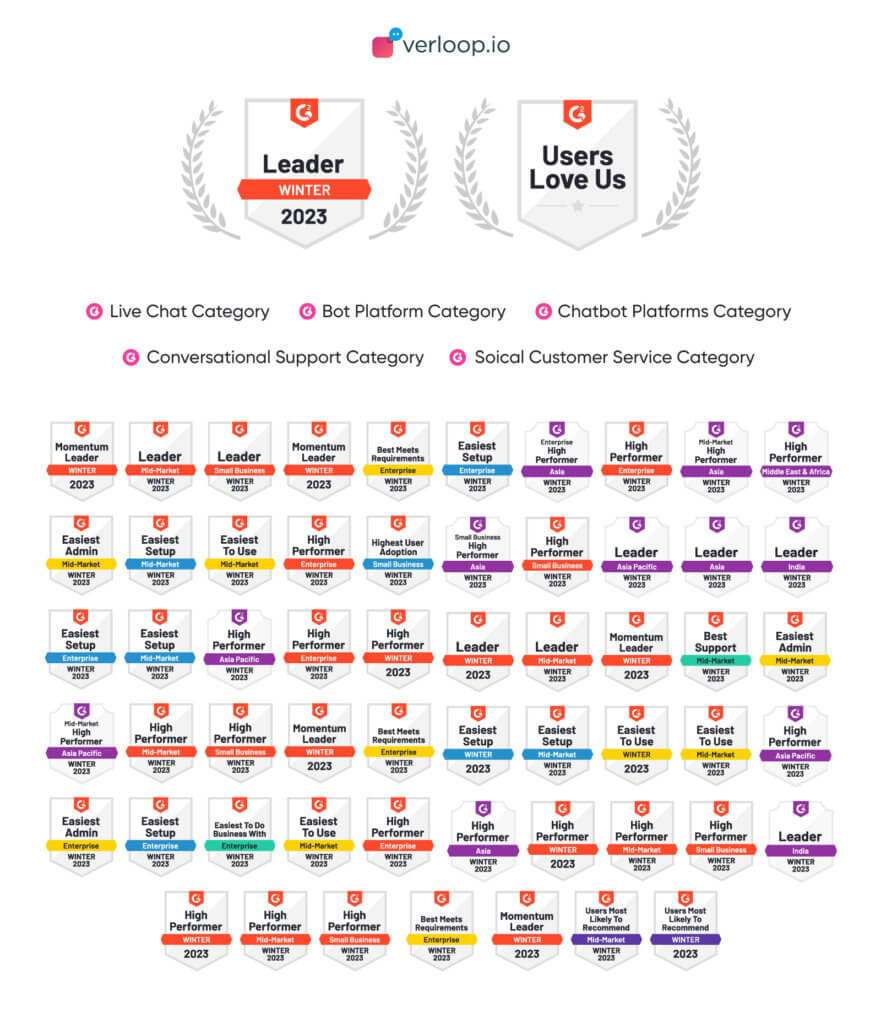 Best Meets Business Requirements for large enterprises.
Best Support in mid enterprises
Easiest Admin product of mid and large enterprises
Easiest to Set Up for small, mid and large enterprises
Easiest To Do Business With for large enterprises
High Performer in mid and large enterprises
Highest User Adoption in Small-Business
Most Likely Recommended by our Users!
These badges indicate that Verloop.io has been bridging the gap and stepping closer to building unfaltering support and delighting customers with a flawless service experience.
In addition, we won the coveted "Users Love Us" Badge for the 24th time in a row! We thank our amazing customers for trusting us with their various customer support needs and folks working hard at Verloop.io for making it possible!
If you wish to get the inside scoop on what makes our users love us – this is where you need to go!
We have once again surpassed expectations, according to G2's Winter 2022 scorecard!
Verloop.io helps businesses transcend the limitations of traditional support. Combine this with our commitment to customers that drives all that we do!
As a result, we take customer feedback into keen consideration and implement practices in place to improve their overall experience on our platform. Such as scaling the number of tickets generated, prompt 24-hour response, providing a multi-platform and omnichannel experience and empowering agents with helpful AI tools. We also offer a versatile dashboard for evaluating the performance of bots and agents and learning more in-depth about customer behaviour.
What is G2?
G2 is a place for impartial and trusted software reviews.
Users use the G2 website to explore and analyse products and technologies. Based on user feedback and social media data, G2 showcases the finest solutions at the end of every quarter.
The G2 Leader Award honours businesses that consistently receive positive customer reviews.
The reports' estimates of the CSAT and industry presence scores are based on objective, verified user reviews and information compiled from company profiles.
Back up your support strategy with an all-in-one solution!
Verloop.io is an all-in-one, versatile solution for everything you require to support customers and empower agents.
Uncertain about data security and privacy?
You can relax knowing that our conversational AI adheres to GDPR and PII.
Changing apps in the middle of a conversation?
No more! Merge all of your tools and integrate them into a single view.
Need help structuring your live agent's tasks?
A great ally can be our Agent Assist feature to streamline this thoroughly!
Lacking the expertise to build a chatbot flow design?
Utilise our convenient tool to quickly create various user journeys and curate bot recipes within the UI.
Tired of answering redundant queries and attempting to automate FAQs?
Get quick answers to your most common customer queries using our incredible FAQ bot builder.

Take a glance to understand why customers adore us! Schedule a demo and speak with our experts to witness what a platform with true AI capability in action looks like!