2 Mins
Our quarterly score card by G2 is here and least to say, we have outdone ourselves for the 22nd time in a row!
This time, Verloop.io has emerged as The Leader in Support Automation on the G2 Summer Report 2022 – bagging 50 shiny badges across 5 categories. Here are this season's new ones –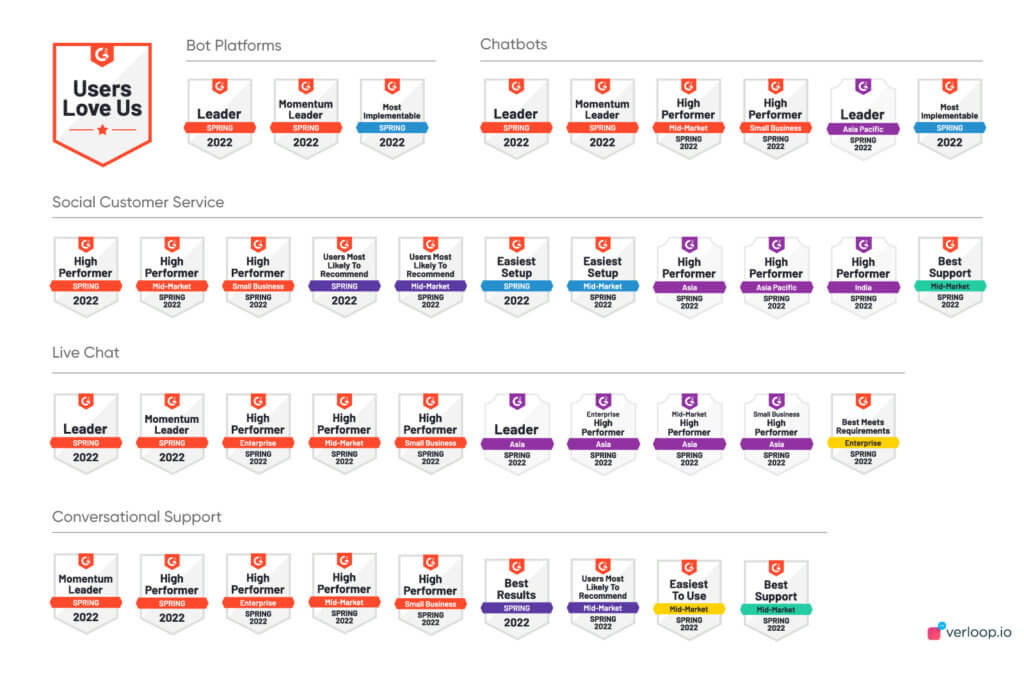 This season we are ruling under…
Conversational Support – Our conversational AI for customer support roars loud in the crowd
Bot Platforms – Whether it's voice AI or chat, Verloop.io is armour-clad with proprietary AI/ML
Chatbots – Because well, nobody does chatbot automation better than us!
Live Chat – We offer the best-in-class live chat solution to make your agents work their finest
Social Customer Service – We are there to attend to your customers wherever they socialise
Each passing day, Verloop.io inches a step closer to transforming customer support for brands everywhere – simply because your users deserve delightful experiences. Every time they connect with you.
We have worked day and night to make our AI automation solutions an easy fit for your business – whether you are small, mid-market, or a large enterprise.
We are also…
Most implementable voice and chat AI solution for mid-market business
Best meet the business requirements for large enterprises
Easiest to set up for both mid and large businesses
Easiest to do business with for social customer support
Most likely recommended by our users!
Moreover, we bagged the sought-after "Users Love Us" Badge for the 22nd time consecutively! We want to extend our deepest gratitude to our amazing customers who have supported us to achieve this milestone. 
If you wish to get the inside scoop on what really makes our users rate us 4.7/5 on G2 – This is where you need to go.
G2 is the one-stop-destination to discover, review, and compare the best tech tools available for businesses to achieve their goals. G2 records, assesses, and ranks the best software tools available in the market based on veritable and authentic reviews and ratings across the board.
Verloop.io is on the mission to be the operating system for customer support. We help businesses deliver delightful support experiences to their customers and run a 24×7 support function across channels like WhatsApp, web, in-app, Instagram, Facebook Messenger, Viber and more, in the language of their choice.
Used by 5000+ brands globally across verticals such as e-commerce, retail, BFSI, ed-tech, logistics, real estate and travel, Verloop.io has bagged some of the key names in the market, including Abu Dhabi Islamic Bank, Cleartrip, Decathlon, DSP Mutual Fund, Kanmo Group, Nykaa, Rentomojo, Scripbox, Watanai, etc.
We'd love to lead you to a better way of delivering customer support with the power of conversational automation here at Verloop.io. Schedule a demo with us to explore how!