2 Mins
Verloop.io outshines its competitors again, this time on the latest G2 Spring 2022 Report. With 40 badges in 5 categories, Verloop.io is leaving no stone unturned in revolutionising the customer support space.
G2 is back with its renowned seasonal lists, this time – G2 Spring 2022 Report. And we have yet again made waves in the market with our phenomenal rankings!
Verloop.io has been recognised as a leader and high performer in five G2 categories –
Live chat,
Social Customer Service,
Bot Platforms,
Chatbot,
Conversational Support.
High up on the charts: G2 awards Verloop.io with new badges
Unwavering customer support is paramount to us. In our journey to build the support tool you confidently rely on, Verloop.io has continuously evolved to solve for you and your users.
Our achievement wall is shining bright with 40 badges, including a few new ones for the following aspects –
Most Implementable
Best Results
Best Meets Requirements
Users Most Likely to Recommend
Verloop.io's conversational AI works great for businesses of any size. G2 has recognised our work by awarding us badges for enterprise-level, mid-market, and small businesses.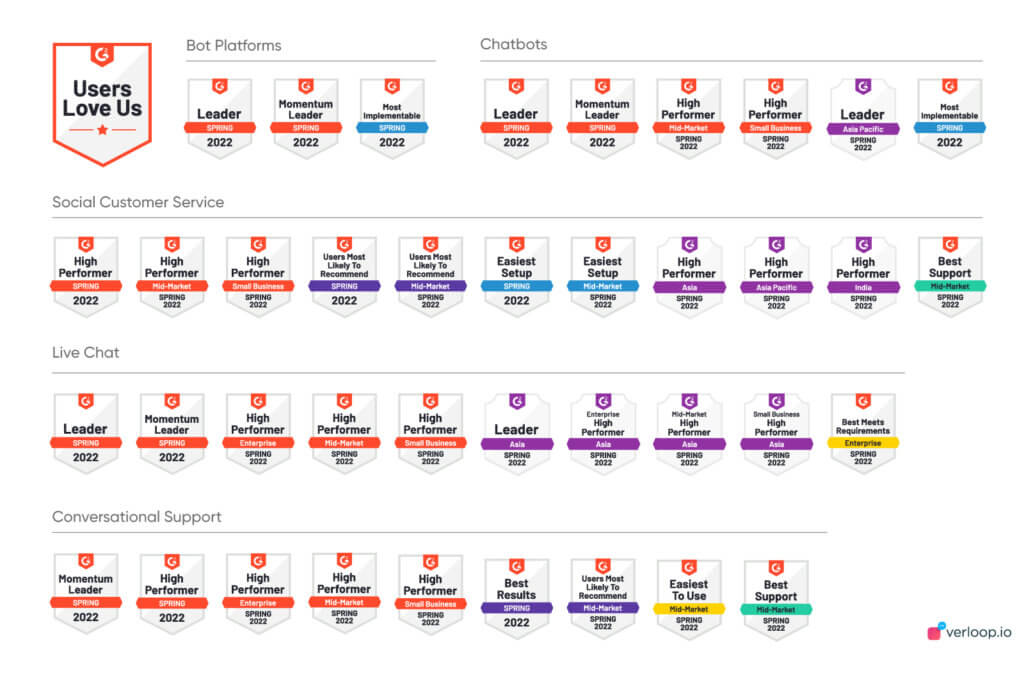 G2 is the one-stop-destination to discover, review, and compare the best tech tools available for businesses to achieve their goals. G2 rankings are credible as the best performers are shortlisted on their CSAT scores and market presence scores. These scores are compiled based on authentic and veritable reviews submitted by legitimate users.
Verloop.io has consistently displayed value users derive from our conversational automation ecosystem. We have invariably placed high on G2's past reports and lists. Verloop.io won 22 badges across 4 categories on G2 2021 Fall Report. We caused a stir yet again in December last year when G2 released its Winter 2022 Report awarding Verloop.io with 31 badges this time. We outclassed our competitors in every way – here's what went down.
Our happy customers are quite vocal about why they love Verloop.io. This is why we are also thrilled to receive the "Our Users Love Us" badge from G2 this time as well! 4th time in a row!
Wondering why we say that? Here's what 199 real people from real businesses have to say about their experience with Verloop.io.
Verloop.io – The state-of-art OS for customer support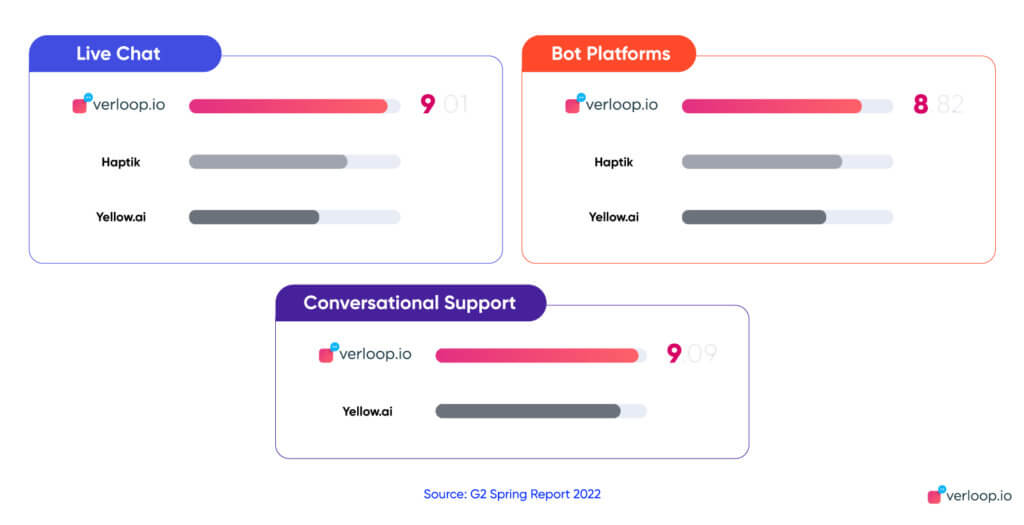 Keeping customer centricity in mind, we have ensured our conversational tool is ergonomic. We pay attention to your automation requirements to chart out the lowest TAT for implementing your conversational AI. For this, we have been awarded on G2's Implementation Index for greater ease of set up, low implementation time and higher user adoption.
Verloop.io stays vigilant with keeping up with what your business needs. Our tech team is steadfast with timely feature updates to solve your present and future support woes. And that's just how we ensure we best meet your requirements (and get awarded for it too)!
Not just talk. Our solution actually works. And so, G2 has also bestowed us with the award for driving the best results! Automating your customer support with Verloop.io can help you shift up to 98% of the ticket burden to your conversational bot and reduce your First Response Times (FRT) by up to 40%!
Here's how we achieved these numbers for brands worldwide.
Verloop.io is on the mission to be the operating system for customer support. We help businesses deliver delightful support experiences to their customers and run a 24×7 support function across channels like WhatsApp, web, in-app, Instagram, Facebook Messenger, Viber and more, in the language of their choice.
Used by 5000+ brands globally across verticals such as e-commerce, retail, BFSI, ed-tech, logistics, real estate and travel, Verloop.io has bagged some of the key names in the market, including Abu Dhabi Islamic Bank, Cleartrip, Decathlon, DSP Mutual Fund, Kanmo Group, Nykaa, Rentomojo, Scripbox, Watanai, etc.
We'd love to lead you to a better way of delivering customer support with the power of conversational automation here at Verloop.io. Schedule a demo with us to explore how!