4 Mins
We've done it once again!
Verloop.io has been named in the recently rolled out G2's 2023 Best Software Awards. We have been ranked in the Top 50 Analytics & AI Products in Conversational Support and Top 50 Best Customer Service Products of 2023!
Every decision we've ever made at Verloop.io has been centred around our customers.
They have repeatedly trusted our platform to provide nothing less than the best customer service. And for that, we want to thank everyone who uses Verloop.io.
What Does This Award Signify?
G2 publishes its Best Software Products Lists every year. Top contenders are carefully evaluated using authentic, timely reviews from real users and objective scoring algorithms. The user reviews considered were written and published between January 1st, 2022 and December 31st, 2022.
We Made an Impact Last Year, Too!
G2 has previously recognised Verloop.io for its efforts to improve customer service experiences.
We also marched stronger to be included in G2's Winter 2023 Report. Verloop.io was anointed with a Leader Badge in Bot Platforms, Live Chat, and the most prestigious badge of all, "Users Love Us."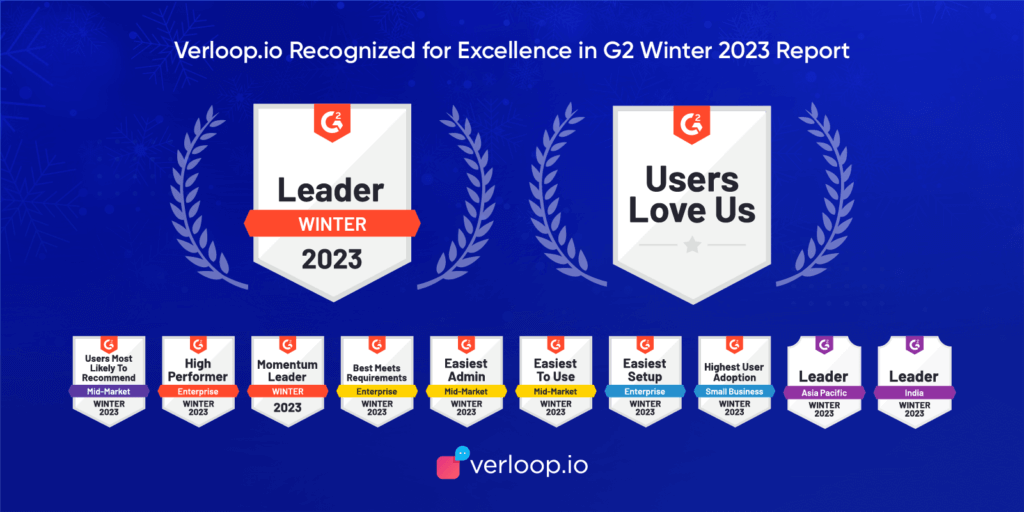 Our Loopers, Our Pride
Building a product that solves a pressing business problem takes time and effort.
And we can thank our Verloop.io team for that! We would not have achieved this feat had it not been for all the Loopers. Our people have worked tirelessly day in and day out to create a product that users adore, and that is consistently recognised for the value it provides.
Need to Re-Engage Your Customers? We Become Your Magnet.
Our mission is not to surrender until customer service is quick, easy, and accessible to all.
Our conversational voice and chat AI platform is available 24 hours a day, seven days a week, to provide exceptional support experiences in multiple languages via WhatsApp, web, in-app, Instagram, Facebook Messenger, and Viber.
Don't know how to design a chatbot flow?
Create several user journeys using our quick tool for curating bot recipes directly within the interface.
Use our incredible FAQ builder to get your most frequently asked questions answered in a flash.
Need help streamlining your live agent's work?
Our Agent Assist features will become your agent's extra pair of hands!
Get a Holistic and Happier Way of Providing Support!
Every day, Verloop.io creates a groundbreaking impact for its users of 200 million unique users, 5000+ Brands and 4 Billion Queries.
Our clientele spans oceans – India, the Middle East, and Southeast Asia. It includes market players like Nykaa, Abu Dhabi Islamic Bank (ADIB), Decathlon, Livpure, Cleartrip, and DSP Mutual Fund, to name a few.
G2 is a leading destination for users to evaluate software products through verifiable reviews and current capabilities to make informed business decisions.
We'd love to lead you to a better way of delivering customer support with the power of conversational automation here at Verloop.io.
Schedule a demo with us to learn more!