3 Mins
We stepped into this quarter with some great news: Verloop.io received the "Users Love Us" title and a few other badges under G2 Crowd's Fall Report for 2020.
It's true, that customer love is the best form of appreciation for any business.
From starting as a small business a few years back with a small customer base to holding the title of providing world-class customer support, we've scaled massively.
Today, we are charged with high spirits and have the utmost gratitude for all our well-wishers who helped us mould Verloop.io into the highly demanded customer support automation platform that it is today. ❤️
What is G2?
G2 Crowd is the world's leading business solution review platform where people can discover, review, and manage other businesses. Today, more than 3 million people visit G2.com to read and write authentic reviews about thousands of software products and professional services. Therefore, it is a platform with the highest credibility.
G2 Crowd's scoring methodology mixes data from user reviews and the company's market presence. Thus, taking into account their social impact and market share, to generate the results.
In terms of customer support automation, Verloop.io is recognized as a High Performer and holds a 4.5/5 star rating. The title "High Performer" is received when a product does well in terms of customer satisfaction.
Meaning, it has received a healthy number of pleasant + positive reviews.
Plus, it also means that our customers are highly satisfied with Verloop.io's features and are content with the offerings.
These are the badges that Verloop.io was awarded, this fall-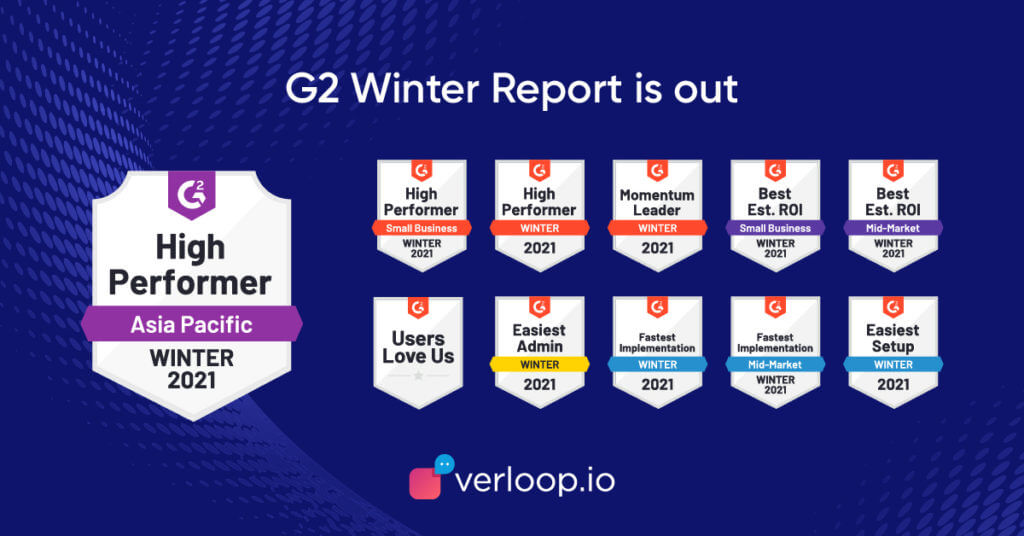 Suggested Reading: Journey Towards Building a Product That Users Love
And here are a few of the G2 crowd indexes that Verloop.io was added in-

1. Momentum Grid® Report for Conversational Marketing | Fall 2020
2. Grid® Report for Live Chat | Fall 2020
3. Asia Regional Satisfaction Index for Live Chat | Fall 2020
4. Implementation Index for Chatbots | Fall 2020
5. Usability Index for Chatbots | Fall 2020
6. Usability Index for Conversational Marketing | Fall 2020
7.Grid® Report for Conversational Marketing | Fall 2020
8.Small-Business Results Index for Live Chat | Fall 2020
*To note, that you can view the below reports only once you've logged into G2.
Hear from our users
We are grateful to our users for the positive reviews and appreciation. Sharing some of the user love here:
"Verloop.io's WhatsApp Bot solution has helped us streamline the workflow of almost 20 community managers we have to manage our 30k creator's community. Everybody can work now in their time slot. And, we can assist our community 24*7 now. Using Verloop, we were able to set up the right workflow for triggering our creators around certain events to engage in our mobile app. It has increased our retention by 30% in just a couple of weeks."
– Misbah, Marsplay
"The feature of Livechat for Whatsapp, Facebook, and other channels can be managed in one place. Plus, the user-friendly interface helps in creating flows and capturing communications data in master data. Moreover, we are able to solve the problem of qualifying the leads at scale, manage the pre-purchase apprehensions through WhatsApp chats, and handle post-purchase support".
-Urmit , Atomberg
"The Verloop setup experience has been great. The service provided by the support team has been excellent. It's been a seamless transition from our previous chat tool."
– Deepak, Marathon Realty
"Verloop has a Great team with extremely quick turnaround time and flexibility to add features/updates to the product. I would definitely recommend Verloop to others based on my experience with them."
–Samuel Gier, Milkbasket.
If you'd like to read more reviews or leave a review, you can visit here.
How Verloop.io will help your business
Verloop.io's motto is to provide delightful support experiences to its customers, across channels. Hence, with the focus on providing world-class customer support and helping companies enhance their current customer experience, here are a few of its main features:
With seamless support being the need of the hour, Verloop.io's conversational AI platform is purely focused on providing exceptional automatized support – tailored to each business.
The team has ample experience and knowledge with respect to the industries that we currently cater to. Hence, it becomes easier to assess what does and doesn't work for a given industry and design the flow accordingly.
Verloop.io's ML-powered bots drive automation with top of the line NLU, NLP, and NLG. Therefore, boasting an NLP and NLU accuracy of 93% in English, 85% in regional languages, Verloop.io's bots ensure accurate, personalized, human-like support at scale.
Acquire, engage, support, and retain your customers on various platforms such as WhatsApp, FB messenger, your app, or even through your website.
Get hold of detailed metrics such as the quality of a conversation, customer intent, etc. Furthermore, measure the performance of your automated support platform daily and understand where and how you can improve your customer experience.
Verloop.io's conversational AI platform is designed to assist and help the employees in every way possible in order to enhance the existing customer support model. Thus, helping the employees be more productive and taking away all the monotonous and repetitive tasks off their plate.
Suggested Reading: Customer Support Automation and Its Importance