4 Mins
A quick guide to creating and verifying your Facebook Business Manager Account in a few minutes.
In this blog post, we will be covering the following topics:
Facebook (Now Meta) launched the Facebook Business Manager as a free tool to let businesses manage multiple pages, administer ad accounts, etc. from one place.
This ensures that the above data is not tied to one single person's personal Facebook account.  Thus, it can be operated by multiple people from the company. That is, without surrendering their personal log-in details to others. Since Meta launched Facebook Business Suite Manager in 2014, it has regularly updated its requirements for smoother creation/verification in Facebook page manager and Ads manager. However, the essence of the process remains unchanged.
It's important that you verify your business on FB Business Manager account, as Meta uses this to validate the real identity of your business. Even to begin with your WhatsApp Business API account, you need to verify your Facebook Business Manager account.
Before that, let's see how to create a Business Manager Account.
Create a Facebook business manager account
1. First, go to the site business.facebook.com to create your Facebook Business Manager account.
2. Now, click on "create account", present on the top right corner of the page.
3. Post that, you will come across a form in which you'll have to fill in your name, business name, and email ID. ↓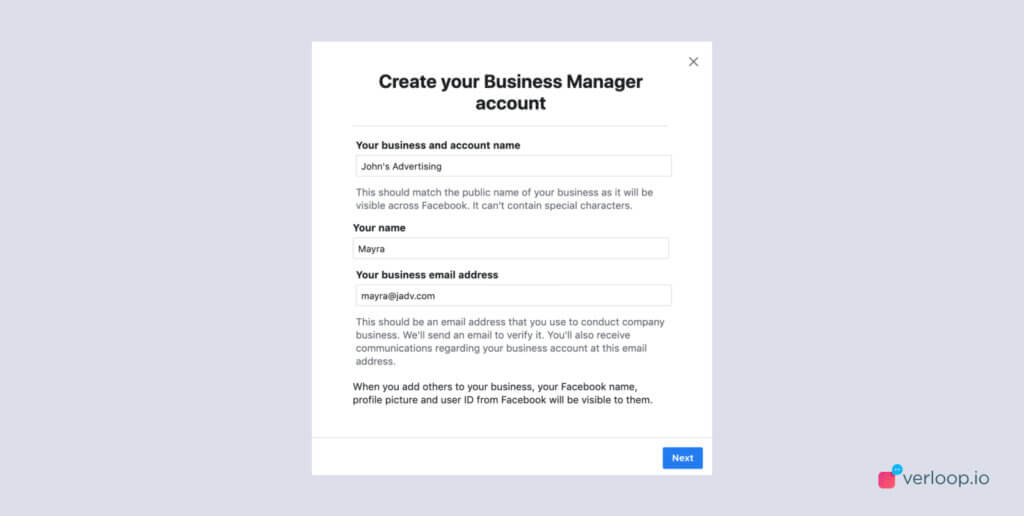 4. Next, you'll have to feed in your business details revolving around your workplace address.
5. After you're done with the above. You should see a pop-up as given below. Head to your mail to get full access to your newly created Facebook Business Manager account.
6. This is what your home page will look like now. Make sure that you verify your email address, to start using your business manager account immediately. To begin with verification, you'd want to head to the "Business Settings" tab, as shown below.
Facebook business verification process
You're only one segment away from verifying your Facebook Business Manager account now.
1. On Security Centre, you'll have to fill 4 sections of details pertaining to your business:

a. Business name and address.
b.Select your business.
c. Verify your legal business name – You can upload either of the documents: Certificate of Incorporation; Business License; Tax/VAT Registration Certificate.
d. Verify your business address or phone number – You can upload either of these documents: Utility bill; Bank statement with address; Business Licence with address/phone number.
2. And finally, enter your business email address to complete the verification of your Facebook Business Manager account.
P.S. You may be verified faster if you use an email address associated with your website's domain.
This is what it'll look like.
And Voila! You're done. You just created and verified your Facebook Business Manager Account.
Facebook Business Verification: What is it exactly Facebook is looking out for?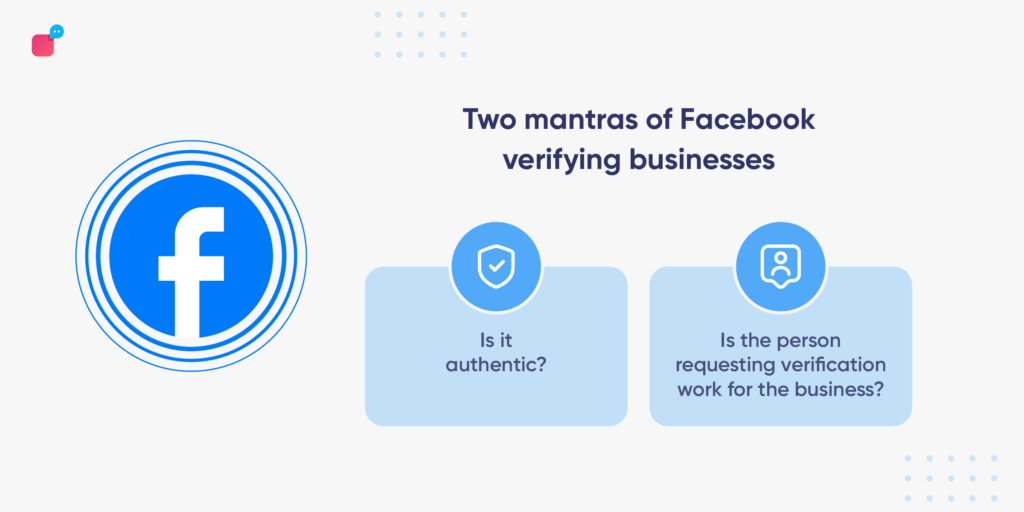 Verifying your business is important for your business to use the Business Manager across Meta's app families. Verification establishes that your business is legitimate and genuine. To narrow it down, Facebook is specifically looking for two things during the verification process.
The authenticity of the business
Are you an actual business or just a made-up entity? Before Facebook verifies your business, it will check if your business is represented as legally registered at a state or national level.
Facebook does this in two ways:
Auto-approval: It verifies the information provided by the business through third-party databases like official records of the business and social proof.
Manual verification: If the auto-approval doesn't come through, Facebook will initiate a manual verification of submitted documents by a dedicated team.
Association of the person requesting verification
Another crucial checkpoint a business needs to look into is – Who is requesting the business verification and is this person employed or working for the business? To ensure the business verification is authentic, Facebook verifies the association of the said person. Again, Facebook verifies the identity and association in two ways:
OTP verification: Facebook will attempt to verify the association through the person's phone number (it can be voice or SMS) or via the relevant person's corporate email address.
Domain verification: You can also try to verify the person's identity through a special code the webmaster places on your website. This is only accessible by someone authorised by your business.
Why did my business not get approved by Facebook?
As stringent as Facebook is with verifying information and keeping the authentication an intact process, you might not make the cut the first go. There can be several reasons for it. We explore some common ones below:
1. Business and the content on the provided website
It's imperative for Facebook to confirm that you own the website you use during email verification. The business name you provide to Facebook should also match the legal business name with which your business is registered to authorities.
For example, the business name you use every day is "Fresh Grocers" but the legally registered name of your business is "Freshco Foods Pvt. Ltd.". See the problem?
What to do?
You must ensure that your legal business name is available in the footer of your website. It should also be an exact match to the document you have submitted as proof of legal name.
2. Business and your email domain don't match
By now you know that Facebook can also verify your business through email verification. But sometimes, a business name might not be the same as the domain name used by the business. And so, Facebook fails to verify that your business actually owns the said domain.
What to do?
There are two ways to go about it. You can either:
Use domain verification process instead of email.
Submit the Domain Name System (DNS) record or the invoice of the email domain, either of which clearly states the legal business name as the owner of the said domain.
3. Varying legal name and address: Submitted documents are not acceptable or are a mismatch
In this case, it's simply a problem with the document you have given to Facebook for verification purposes. Facebook can deem it to be insufficient on the below grounds:
An absence of the legal name
It is unsigned
The document is not viewable
It seems to have been tampered with
The address given in Facebook Business Manager is not the same as the one in the document
What to do?
A few ways to rectify this are:
Submit the document in which the legal business name and address are mentioned clearly and precisely.
Ensure the submitted document has a signature and/or the official business seal. Self-signed documents are unacceptable.
Submit a high-resolution file.
Ensure that there is no overwriting or modification of any kind like handwritten annotations, strikethroughs, text printed over white, or any such similar discrepancies.
FB Business Verification: Post-submission support
Once all is said and done, you can wait for the verification to come through. It can take anywhere between 48 hours to 45 days. Sometimes, the reviewing team at Facebook might need additional information to accelerate the process for your end client. In this case, Facebook will follow through with specific instructions via your end-client's Facebook Business Manager.
The end client can fulfil the relevant requirements or continue to ask for additional help on the same thread of communication.
In case, there is no response from Facebook, your Business Solution Provider (BSP) can be of help. Facebook also allows the BSP to contact Facebook's Direct Support to check the status of the process on behalf of the end client.