5 Mins
WhatsApp Pay is finally live in India. This will have a positive impact on digital payments. As a business, you can now empower your customers and transact directly with them on WhatsApp.
India has seen unprecedented growth in UPI (Unified Payments Interface) transactions. The volume of UPI transactions stood at 2,071.62 million for October 2020 (NPCI Statistics), which is a 15% increase month-on-month.
WhatsApp, a behemoth user messaging app, is delivering 100 billion messages a day (as of October 2020). This makes India the biggest WhatsApp market in the world.
Eventually, the two had to cross paths at some point. On November 6, 2020, National Payments Corporation of India (NPCI) gave the go-ahead to the Facebook-owned WhatsApp to go live with WhatsApp Pay in a phased manner. WhatsApp designed the payments feature in partnership with the NPCI using the UPI, an India-first, a real-time payment system that enables transactions with over 160 supported banks.
What Does this Mean?
Through the WhatsApp Pay In-App feature, WhatsApp users will be able to send (and receive) secured payments to (and from) their contacts just as easily as sending a message.
"We believe that if we get this right, it will accelerate financial inclusion and bring value for people in India's fast-growing digital economy," – Will Cathcart, Global Head of WhatsApp
This announcement will have a huge impact on India's digital payment space. This is not limited to just P2P transactions but also extends to businesses. With WhatsApp Business API, businesses could instantly address customers' queries at scale and increase brand reach. However, until now, to complete transactions, they had to share a payment link with customers on the conversational AI WhatsApp chatbots. With WhatsApp Pay, customers can now make the payment while chatting with the business and don't have to leave the app anymore to complete the order.
With WhatsApp Pay, businesses can:
leverage the combined power of WhatsApp & UPI.
expect end-to-end Security with zero Compliance Risk as storing virtual addresses does not need Payment Card Industry (PCI) compliance (for instance storing card details).
Building a payment mechanism on the largest, user-friendly chat application is a win-win for both customers and businesses.
How to use WhatsApp Pay?
WhatsApp users can tap on the share file icon and select 'payment' to send money directly through chat. It's that simple. Likewise, users can use QR code to send money to people who are not in their contact list.
Unfortunately, WhatsApp Pay has a go-ahead only for personal accounts and is not yet available on the WhatsApp Business Account (WABA) APIs.
Suggested Reading: Announcing CSAT on WhatsApp and Facebook
However, you can still make use of WhatsApp Pay with Verloop.io.
Here's how:
Step 1: Register for Merchant-KYC and align your business on the settlement process with Razorpay.
Step 2: Generate UPI Payment Link on Razorpay. 
Step 3: Send the UPI Payment link to Customer on WhatsApp chat.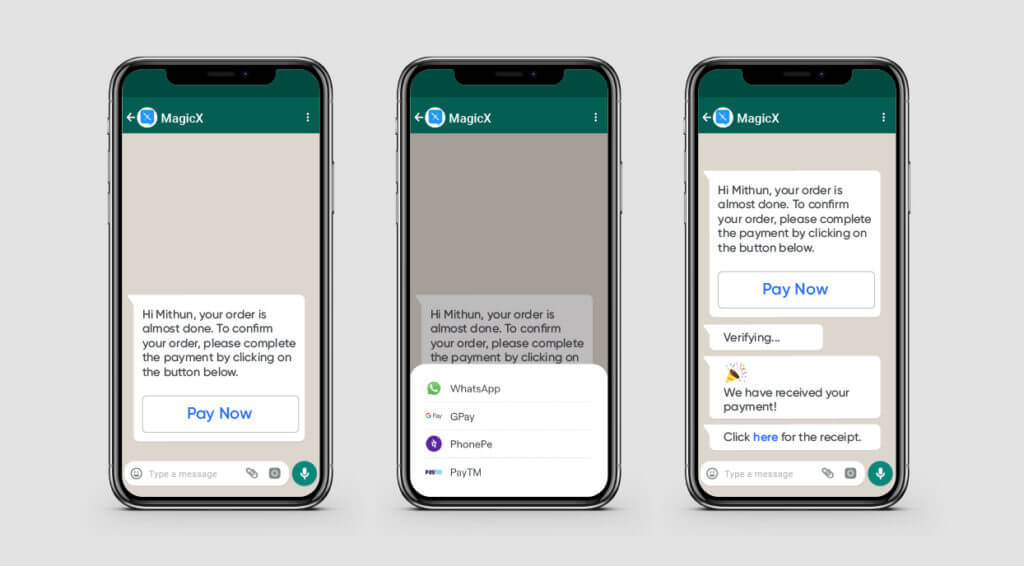 Step 4: When a customer clicks on the link, they are presented with the option to pay from the various UPI apps installed on the customer mobile including WhatsApp Pay.
Step 5: Customer makes the payment using WhatsApp Pay or other preferred payment option.
Step 6: Bot completes the transaction.
So what are you waiting for? Follow these easy steps to enable your customers to transact with you on WhatsApp today.