5 Mins
Economic crisis is looming over the world. Here's how your customer support can keep up and rise unscathed with the right tips and action.
In the aftermath of a raging pandemic that wreaked havoc globally, the world faces a harsh economic downturn. Whether it's the ongoing Ukraine-Russia conflict or the resurgence of infectious diseases, the effect on worldwide commerce and trade is grave. From healthcare to tech, industries across the board are facing a slowdown unlike anything seen in years.
Let us be honest – Not a lot of customers are actively spending on new things. This is when it becomes crucial that you ensure your existing clientele stays loyal to you.
They say a 5% retention of existing customers can boost your revenue by up to 80%. But did you also know that over 8 in 10 businesses find it cheaper to retain than acquiring?
One sure-shot way to do this is simply by upgrading your customer service to deliver CX that is over and above their expectations. This is to keep in mind that uncertainty brews questions in the minds of your customers.
While you're at it, here's a reminder that every dark night turns into day, just like how every storm runs out of rain. You need to be sure that your OpEx doesn't run out of budget and that the high volume of queries doesn't leave your agents physically and mentally exhausted.
Ways to provide good customer support in economic downturn
A few changes in how you view customer support can help you mitigate the risks and ride the downturn with minimal damage. This is where automation, and most importantly, a powerful AI should be your chalk horse.
Conversational AI can help you ride this wave of economic slowdown by streamlining your existing support process and improving CX – all the while reducing your operational expenses and retaining your current users.
Here are a few examples of how to provide customer support during the regression:
1. Customer-company transparency will keep you afloat
In these times, building trust among your users should take precedence over anything else.
"Transparency is the only way to build trust. To make sure that our clients are communicated well on updates and timelines. And I think, you know, that's the ideal core factor of customer support anyway.", emphasises Dinesh Pai from Zerodha, India's leading online trade broker.
When your user asks a question – you answer it right away. Since it's not possible for your agents to do that at all times, a trained AI can be very helpful.
Your AI voicebot or chatbot ensures this with 24×7 availability and real-time resolutions.
For example, if delays in deliveries are likely due to challenges with logistics and inventory, you can train your AI to answer all incoming related queries with speed.
2. Don't let your users scavenge for information
Your customers are on high alert during any economic crisis.
They aren't sure of how it impacts them as your user, and if it does, to what extent. In times like these, worry sets in. User anxiety is prevalent. And as a business, your job is to make access to information as painless as possible.
For example, a user who has invested in crypto on an exchange platform might be unsure about the safety of their funds – it's when you calm their nerves by making answers easily accessible to them.
Now arrives conversational AI.
Make your conversational AI voicebot and chatbots central points of communication for your users. Automate relaying relevant information to an AI so you and your team can prioritise complex cases to prevent losing customers due to any delay or non-availability.
Read: Automate Your L1 Queries With an FAQ Chatbot
3. Their choice of channel, your omnichannel availability
Do not expect your users to reach out to you for support on a single channel.
Since we've already established just how important it is for you to attend to every query, you need to ensure you're there whenever it comes, wherever it comes from.
While staying omnichannel is ideal, it is not feasible to do it with only a team of support agents who are already expending their most to keep your business afloat during the crisis.
Conversational AI is omnichannel and independent in its action.
It is always on time to attend to each one of them with the same consistency, accuracy, and energy – even when there are fifty different questions pouring in the same minute from five different channels.
Related reading:
4. Get proactive and moving, before they even need to
Take a moment to put yourself in your clients' shoes. An economic recession can be harsh on your customers too.
If you were them, wouldn't you want a business you trust and transact with reach out to you before you even need to?
This idea goes along with the context of building trust through transparency. You may not know this, but as many as 7 out of 10 of your users will build a positive recall and perception of your business simply because your customer support is proactive.
For example, if you're an eCommerce business with several orders under processing, let your users know of the status before agitation creeps in, and they start questioning your credibility. A simple AI automated message like "Hi, we know you've been waiting on your order. Please stay assured your order is in transit and will safely reach you before [date]. We apologise for the delay!" can go a long way in keeping faith and patience while you figure things out at the back-end.
It's the time you get to display that you are just as concerned about their money as they are and are doing everything in your capacity to resolve backlogs. While empathy was once thought to be exclusive to humans, today your AI chatbot can also simulate empathetic, caring and genuine conversations with users to some extent.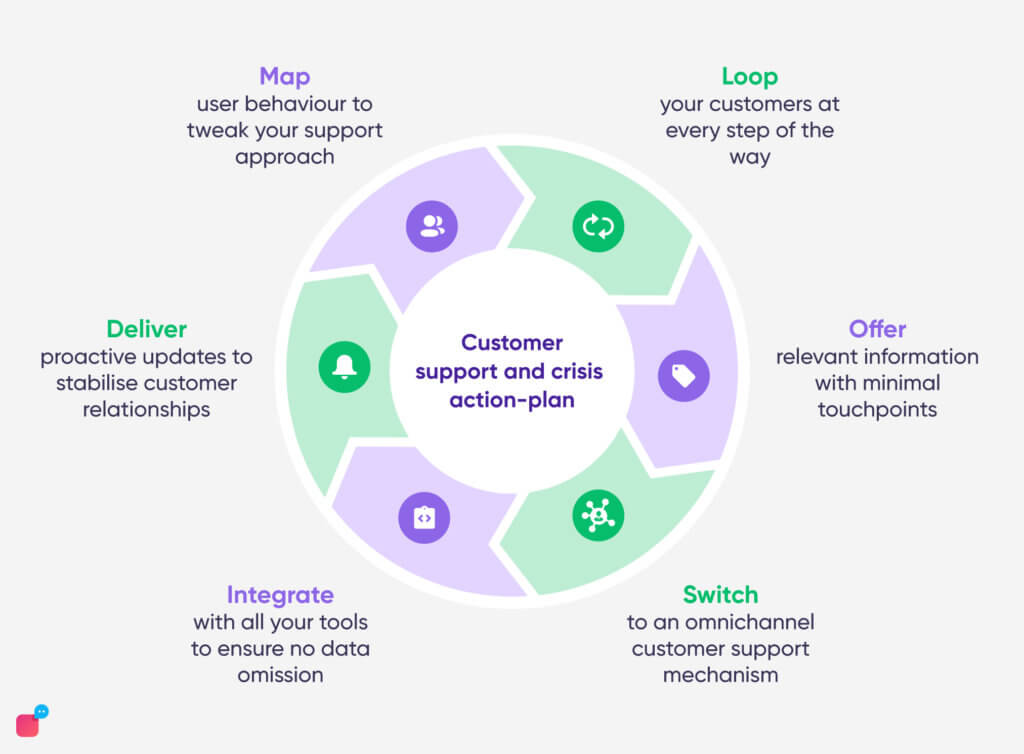 5. Watertight and sound processes avoid delays in action
Not all AI-built customer support is the same. One way to make sure your conversational AI is tethered is through extensive integrations and succinct workflows.
There are two aspects to consider here:
Customers need to have their queries answered in completion – inclusive of all data points
Agents need to stay aware of everything pertaining to a case to ensure no data omission and absolutely no delay in action
While your conversational AI can smoothly resolve most of your users' doubts, it also ensures your support team is equipped with the right information at the right time. For example, your CRM and marketing tools bring quite an insight into who your users are. Such on-screen integrations equip your agents with any and every chunk of information at arm's reach. Conversational AI automatically updates this data as and when a user relays them.
This not only streamlines your support cycles but also reduces errors by a large margin – which is probably non-negotiable for your users in times of distress.
Related reads:
6. Futureproofing works when you know who your customers are
What are your customers' top 5 concerns? What bothers them the most? What brings them satisfaction and what doesn't?
You best know the answers to these.
Because no strategy works better than the one built by studying your target market. Mapping user behaviour ensures that you and your customers are on the same page about the prevalent points of concern. This is truly what will help you tailor make your communication to ensure better retention.
And yet again, a conversational AI solution will be of your service. While it can attend to users when you are not around, it also works to accumulate an excellent repository of user information under a Unified Customer Profile. An all-rounder conversational AI works on drawing meaningful user insights from data it records over time, which can then be used by you to work up your future course of action.
Take a breath of fresh air with conversational AI to support your users at an all-time low
Economic slowdowns can be harsh on everyone in an organisation, right from executive staff to support teams. Being mindful of what resources your team needs to better deal with the situation should be a priority for businesses. Support teams can face fatigue and exhaustion from answering multiple repetitive queries in a high-volume situation.
This could make them lose sight of their goal to assist customers diligently, empathetically and efficiently. With conversational AI, you at least have one less thing to worry about when you're in the middle of managing your cashflows, P&L accounts and balance sheets.
We, at Verloop.io, are making customer support one less thing for you to worry about. Our team has spent years perfecting a conversational AI solution built for customer support teams of today – no matter what come may!