5 Mins
Buying a home is often the most expensive investment a customer will undertake in their lifetime. And so for good real estate companies, the deal is only done when money is in the bank and the keys are in their hands. But for the great companies, that's when real estate retention just begins.
For the highest-grossing agents and companies, the end of a sale is just the beginning of a new one. And that's for two key reasons:
Retaining clients is the most essential part of growing a real estate business. One part of retention is referrals, which is how 61% of customers choose the company or person they buy from.
The second part is retention; being able to keep a customer. The cost of acquiring a new customer is 25 times more than selling to an existing one.
Being the first thing that comes to a customers' mind when they're thinking of investing in a second home, selling their current one or referring a new one to family and friends is key.
More often than not, these will be the easiest sales you'll ever make.
So how do you go about ensuring that you give your customers the right mix of support + engagement?
Personalize Everything
Send Thank You Letters
When real estate companies send new customers thank you letters after a sale or after a customer has moved in, it shows that the company cares. Some companies leave house warming gifts or goodie baskets – segmented by predefined buyer personas.
It's also important to remember, while a gift does go that extra mile in showing your gratitude, you don't need to buy the clients' loyalty.
Sending these letters and baskets is more than just a polite gesture, it's the first step in building a more lasting relationship with a customer.
In a world of DMs and texts, a handwritten letter goes a long way in letting a customer know that it's not just business, it's personal.
Reach Out For Special Occasions
As you get to know your customers, you'll find out a lot of things about them. Birthdays, anniversaries, graduations, holidays and more.
Encourage your team to proactively make a note of these dates and feed them into a database. Nothing says, "I'm a part of this family" like a well-timed well-wisher.
While holidays are a little overdone in terms of celebrations, personal events like birthdays or anniversaries are considered personal and thoughtful.
These letters communicate a level of familiarity and fondness that goes beyond the average company-customer relationship.
Suggested Reading: 11 Ways To Automate Customer Support Without Losing Personalisation
Economies of Scale
As a company, you intimately know what customers are looking for in a home. You also know what they wanted, but could not get/afford.
As a business, you have the ability to leverage economies of scale and by allowing customers to incrementally update their houses or interiors, you keep them loyal.
Clearly communicate these business processes to establish trust and ensure you are on the same page as your customers. Ask them to discuss their expectations and concerns upfront to show them that you have their best interests at heart. Check-in with the very first email by asking what they're looking for and outline some of the ways they can expect a great experience with you.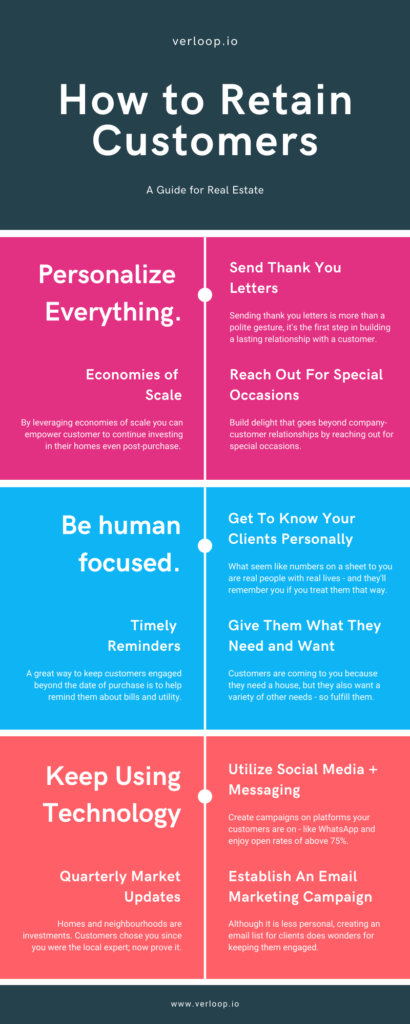 Treat Customers Like Humans, not Numbers
Get To Know Your Clients Personally
Build a relationship with a customer that doesn't constantly orient around financials. Your ability to retain your clients is determined by the relationship that you establish with them from day one.
Customers want to feel that they're part of a large family, which is why frequent communication is a must. It's harder to keep in touch post-deal if you're not actively communicating through the sales and pre-sales process.
Get to know your customers by asking them about their families, future plans and interests. Remember, most people stay in a house for an average of seven years.
Give Them What They Need and Want
As a real estate company, you need to respond to not just your customers expressed needs, but also their unexpressed needs.
But be patient with clients. They don't always know what they want. When a customer doesn't know what they want, try to help them figure out by asking leading questions.
If they like getting updated by phone, do that. If they prefer emailing back and forth, do that. More often than not, customers want to talk to companies on platforms they're already on, like WhatsApp. Clients will appreciate your efforts.
Keep Them Engaged
As a business, your job is helping customers solve problems.
Running a home is difficult and any help a company provides makes an impact.
Tie up with third party providers and offer discounted deep cleaning services, painting, pest control or furniture rental to keep customers hooked.
This builds trust and lets customers know that you have their best interests in mind, even at a cost.
This will make their post-sales experience more seamless.
Suggested Reading: Your Guide to Building Customer Relationships That Last
Use Technology
Utilize Social Media + Messaging
For companies that have typically had several hundred or thousands of customers, social media is a great way to keep in touch while advertising your services. Using these platforms to cultivate and preserve relationships with clients has become even easier.
It isn't even that you have to post frequently or tag them in posts. By connecting with clients, you can keep up with their lives and share in their experiences.
Create campaigns that put your customers first and let them share it organically. Create campaigns on platforms your customers are already on – like WhatsApp. Send them outbounds that see open rates of above 75% and offer hyper-personal post-sales support and engagement.
Establish an Email Marketing Campaign
Although it is less personal, creating an email list for clients does wonders for keeping them engaged. Through email marketing, you can regularly remind former customers about your services and provide them with useful content that piques their interest and helps them navigate the world of homeownership.
The best part of email marketing is that it can all be automated, so you can stay in touch with all of your clients at the same time. With a good email service provider, like Mailchimp or Hubspot, you can create quality newsletters and streamline your communication, giving you time to close more deals and focus on the more challenging aspects of your business.
Split your time between trying to find new business and concentrating on the connections you've already made for maximum efficiency. By keeping up with clients after the sale, you'll demonstrate that you're a company that cares.
Quarterly Market Update
Homes and neighbourhoods are investments, much like any other purchases. Your customers chose you because you were the local expert; now you get a chance to prove it. The best way to encourage customers to make further investments is to keep them informed about the state of the market. The way to do that is by quarterly or biannual market updates.
Separate your email lists in groups by neighbourhood, and aim to send out an information email once a month/quarter about the particular community.
Make a list of local news resources or in-house research, and pull stories accordingly based on your customers' area. It doesn't require a lot of effort, but it can give significant results as the emails will continue to position you as the local expert.
Incentivize Preferred Behaviour
Ask for Referrals
A lot of companies or sales reps shy away from asking for referrals because they perceive it to be rude or unsightly.
But don't forget that your customers' friends, neighbours and family members are potential leads, too. Several enthusiastic, satisfied customers living in the same region are way more likely to call again, even years later, if they hear about your recent activities.
People talk and will often respond warmly if you ask them to put a good word in for you, especially if you follow up and thank them!
Communicate Investment Opportunities
Did a real estate tax law just change? Was there a new property that just entered the market?
One way to empower clients is to help them help themselves. Offering classes on financial literacy to explain to clients what options are available to them works well. So, doing things like having knowledgeable speakers address critical topics in real estates, such as the outlook on the housing market or workshops on short sales can position your company to convert potential clients into customers.
Offer Attractive Sales Opportunities
You want to be the first thing customers think of when they sell their house.
So build that into your brand. Explain to them how you offer resale or brokerage services that will help them get the best bang for their buck.
Provide case studies showcasing previous success stories and the advantages of choosing them instead of a third party.
So What Are You Waiting For?
Want to deliver excellent customer support that drives retention? Invest in a customer support automation platform that's used by real estate giants across the world.