4 Mins
India's crypto boom changed the way financial investment works today. Here's how a cryptocurrency chatbot can help your customer support!
2021 was a record year for the cryptocurrency industry. Once a fleeting catchword, cryptocurrency has now become a household name. In fact, last year in November, the crypto market broke over $3 TRILLION in evaluation. This puts into perspective the big potential cryptocurrency holds, doesn't it?
India notably saw a boom in its adoption.
The Indian fintech market has anyway been consistently growing ever since 2016's demonetisation. How does it still have an impact? A typical Indian consumer is growing digital-money friendly with each passing day from making bill payments to trading digitally.
With no defined regulations in the country, many cryptocurrency exchanges rose in India. While many savvy users were already investing in the decentralised currency, these crypto exchanges made buying, storing, and selling crypto a lot easier for the common man. And who doesn't love to make money faster!
By letting people buy bitcoin for as low as ₹100, crypto exchanges have racked up an impressive user base. However, a roaring market can also make delivering accurate and real-time user support a lot harder if done manually. Here's where a powerful cryptocurrency chatbot can be your trustworthy comrade if you wish to deliver nothing short of top-notch customer support.
Crypto's all the rage: The upcoming regulation in India
Redefined crypto accessibility had a solid enough effect on the fintech industry for the Government of India to make a couple of important announcements recently.
While presenting the Union Budget of 2022, Indian finance minister Nirmala Sitharaman spoke about implementing a new bill to regulate the usage of crypto in India – Cryptocurrency and Regulation of Official Digital Currency Bill. Moreover, she also spoke about launching an RBI-backed cryptocurrency "Digital Rupee" and levying a 30% tax on "any income from transfer of any virtual digital asset".
The impending law will modify how crypto functions in India. As a result, more users reaching out to crypto exchanges will more frequently ask about the trading price, taxation laws, trading limits, information on selling and buying units, operational issues, transaction-related queries. With a more streamlined framework in place, crypto exchanges can look into strengthening their customer pool and scaling up along the way while automating the support queries to repetitive questions using Voice and Chat AI.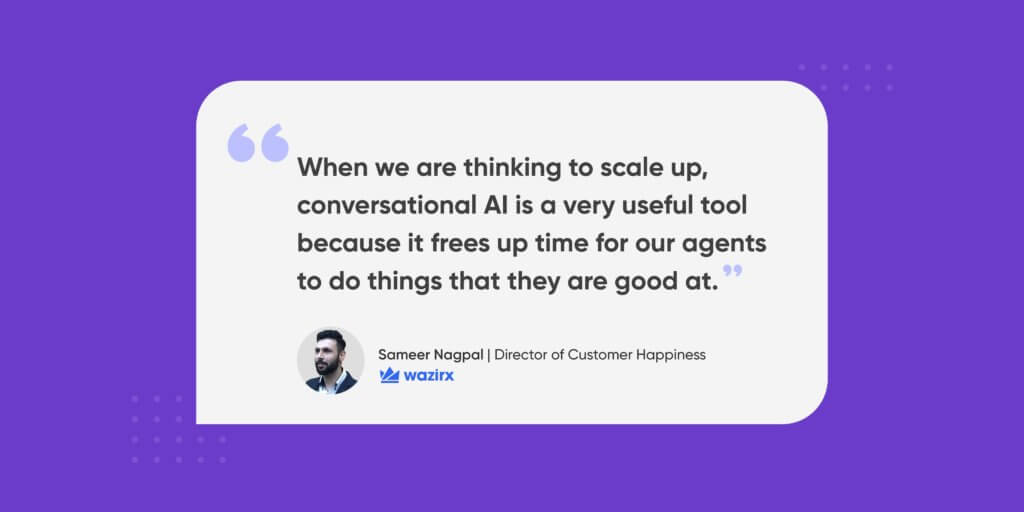 Conversational AI for crypto exchanges: Top reasons to use a cryptocurrency chatbot
Trivia time! India is one of the fastest-growing crypto markets – Around 20 million Indians hopped onto the crypto trend in 2021. Individual exchanges are reporting phenomenal numbers too. CoinSwitch Kuber reported a 14x growth in 2021, with the user base soaring from 1M at the beginning of the year to 14M by the end of it.
While these numbers seem to be steadily growing each day, the level of awareness is quite low among rookie investors.
The cryptocurrency market is highly volatile. With frequent changes in the value of cryptocurrencies, your customer support needs to be strong enough to respond to every user who has a question. "Because of how rapidly changing the crypto space tends to be, education tends to play a significant part in the support experience in itself", notes Darshan Bathija, Co-founder and CEO of the crypto exchange Vauld.
Check out the cool 20-minute talk we had with Darshan on our Podcast "The Twenty Minute Moat" where we explored how customer support works at a cryptocurrency exchange.
But the real question is, "Are you ready?"
How ready is your cryptocurrency exchange platform to take on the wave? Do you have the tools that take your customer service a notch up? Here's what conversational AI can do for you.
1. Define user journeys and answer every question, at any hour
How do I create an account?
How do I deposit money in my crypto wallet?
Where does the BTC index stand today?
How can I liquify crypto to cash?
My trading status is not updated yet after my last transaction, what should I do?
Conversational AI crypto chatbots are present to attend to every query even when you are not. During peak times or off-business hours, a crypto chatbot is at your user's disposal at any time. "We receive over 250K interactions from our users every month. Handling the traffic after the Indian crypto boom became a task for us," Sameer Nagpal talks about the roadblock in attending to multiple users in real-time.
2. Act fast on urgent issues
Like in the rest of the fintech space, crypto users can face problems that need immediate attention – like being locked out of their accounts or getting hacked.
A chatbot that is tailor-made for cryptocurrency can smoothly guide a user through such situations, skillfully verify, and take necessary steps (like suspending transactions/blocking accounts) to mitigate the risk in real-time.
3. Provide omnichannel support on every platform
A user scrolling through your Instagram and has a question? Your Instagram chatbot will take care of it.
Made a transaction and didn't get a notification? Your in-app and WhatsApp chatbot are in action to answer ASAP.
People have different preferred modes of seeking support. And so, an omnichannel cryptocurrency chatbot ensures your users are in the loop, wherever they go.
Here's what Sameer Nagpal had to say on Why the Future of Customer Support is Omnichannel.
4. Keep users unerringly updated with powerful NLP
"I am not sure why but my crypto wallet did not get updated even when I completed the transaction which was apparently successful, what do I do?"
People talk naturally like this. A cryptocurrency chatbot powered by strong Natural Language Processing (NLP) can identify multiple intents and figure out what the user is exactly saying. It can decode natural language to conclude the user intent accurately.
Here, the chatbot will quickly pick up on "crypto wallet did not get updated" and "completed the transaction" to assess user intent to provide the next steps of action.
Conversational AI chatbot is the next big thing for the crypto space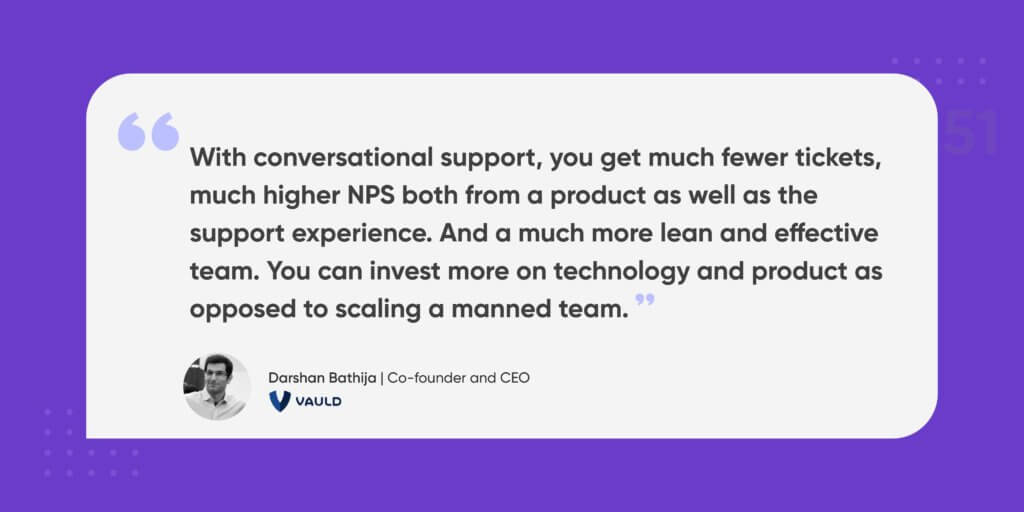 And we cannot agree less!
Verloop.io can help you navigate the crypto boom with speed and precision. You can manage real-time conversations from different platforms, all from a single-view dashboard. With multiple integrations, you can even bring all your tech tools into one place. If your crypto exchange needs a power booster, that would be a Conversational AI for Customer Support!
Let's ride the crypto wave together! Schedule a demo with us.