5 Mins
According to a study, more than 12,000+ consumers have used either voice or chat assistant, or both.
We're now in an age where we're surrounded by conversational artificial intelligence interfaces. Consumers rely on conversational AI to control their systems at home, cook different cuisines, or purchase their favourite products.
Suggested Reading: The Timeline Of Artificial Intelligence – From The 1940s
These platforms not only enhance the experience for the customers but also help companies improve their relationship with them. Plus it allows companies to expand their operations at scale.
Studies show how self-service platforms are in huge demand as over 40% of the respondents prefer it over human contact.
Conversational AI is the best propeller of self-service platforms. It allows customers to get answers, suggestions, or advice within a few minutes, rather than waiting on the agents to come back and respond.
Suggested Reading: Ultimate Guide to Conversational AI: How it Works, Use Cases, Examples
There is a need to deliver delightful customer experiences in order to retain customers and keep them satisfied. And conversational artificial intelligence helps to do just that.
Voice-assistants are Catching-on
According to research, half of all adults have used voice search, with 33% using voice search monthly in early 2019.
The market for voice assistants is slowly progressing. A lot of us are familiar with the sound that Siri makes once it's activated. Or even with depending on assistants like Alexa for asking queries like- "Alexa, tell me how can I make Creamy Mushroom Pasta?"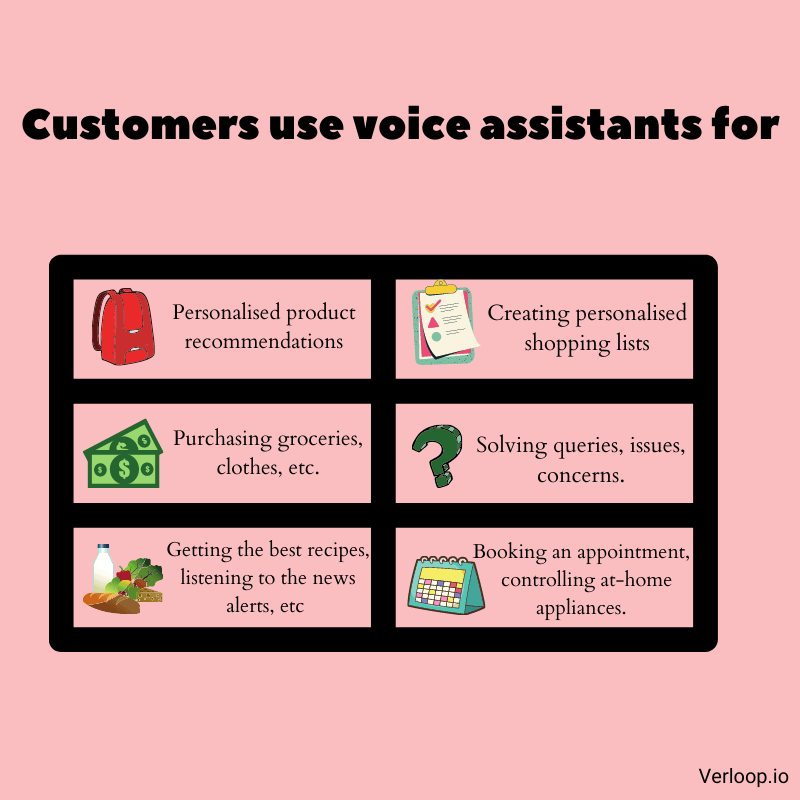 Suggested Reading: 11 Ways To Automate Customer Support Without Losing Personalisation
Studies show that people prefer using voice-based searches to the usual text-based searches as they are inching towards hands-free conversations. Voice assistants allow consumers to multi-task and they help deliver a great customer experience at the same time.
Consumers are using voice-based assistants to create shopping lists, play music, book a cab, learn about any topic, etc.
With voice chatbot now helping in delivering the most satisfying experience, companies are now finding ways in which they can include voice into a lot of their activities.
We can see that Automotive, Retail, and Banking are the top-most industries that have deployed a voice assistant onto their platform for a fabulous customer experience.
Example: Volvo Cars use a voice assistant that acts as the central interface for operating a ton of activities such as adjusting temperatures, navigation, music, or even sending messages.
Suggested Reading: Faster, Smarter, Better – AI is improving Customer Service
Conversational AI and Chatbots
Chatbots help in uplifting the existing support experience as they are masters in handling repetitive queries. Thus, reducing the burden off of the employees and making it easier for the customer to get their answers in a few minutes, or seconds even.
69% of consumers prefer to use chatbots for the speed at which they can communicate with a brand – Salesforce.
Chatbots are a great conversational AI interface as they allow businesses to deliver real-time responses and be available 24/7. Plus, this further allows businesses to cut down their support costs and divert the agents to problems that actually need a human touch.
Suggested Reading: How Verloop.io helped Flyin see great results after implementing a chatbot.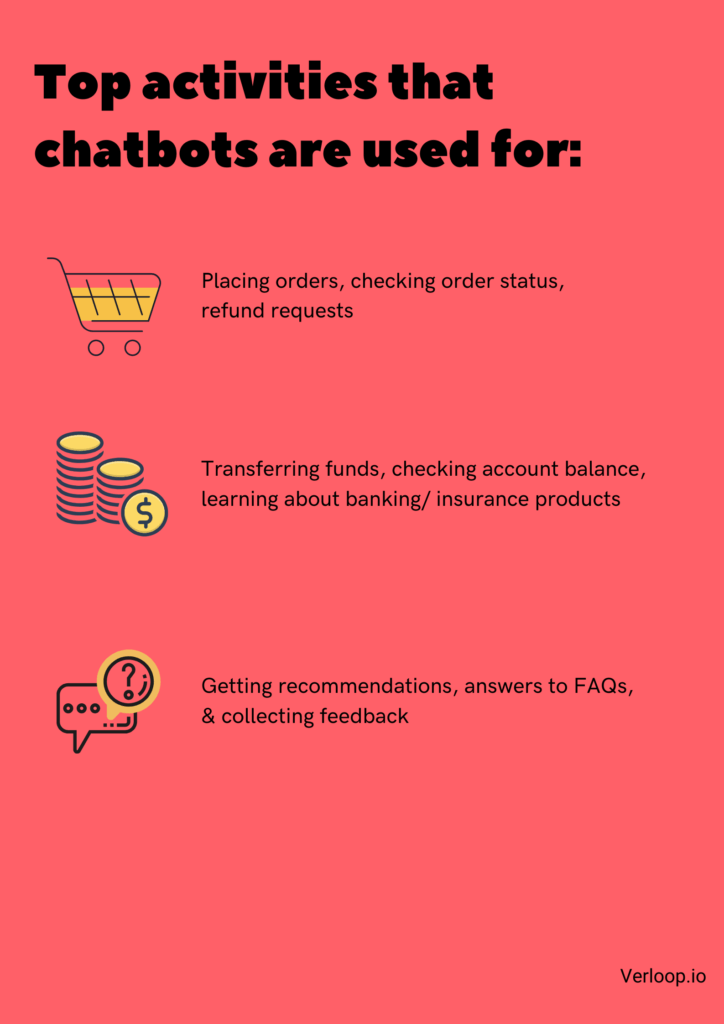 Example: Verloop.io helps in automating a majority of the repetitive queries based on the industry and the companies specifications. Further increasing the resolution rate, turn-around time, and NPS and CSAT scores.
Chatbots are skilled at creating a good amount of engagement and act as an excellent replacement for the boring old forms. As, they help collect information such as name, email ID, phone number, etc. Conversational Chatbots are known to keep the conversations interactive, bubbly, and human-like.
Suggested Reading: Customer Support Automation: Benefits and Results
Why We Need Conversational AI
Research predicts that the conversational AI market size should grow from $4.2 billion in 2019 to $15.7 billion by 2024.
Conversational assistants have shaped our daily lives immensely. They have reshaped the current support interactions and have successfully made them more lively, responsive, and swift.

As consumers prefer this more than the traditional support, companies must also make a move towards these platforms as quickly as possible.
Since this trend is slowly catching on, it's important to invest in one before companies lose out on their customers due to lack of innovation.
Want to catch-on with the trend?