5 Mins
Wondering how to deploy conversational AI in your business? Here are top 7 researched factors you MUST consider when devising a conversational AI strategy.
Have you ever wondered what is that ONE thing that your customers want and value the most from you?
It's convenience. The convenience of access, buying, reaching out, looking for answers, and seeking support.
How convenient are your customer journeys across all these functions? Your customers are looking for A+ experiences at each touchpoint. This is where conversational AI can be your skilful sidekick.
What do the numbers say?
Delivering great experiences with AI becomes more important in 2022, now that almost every step of a buying journey is digital. In fact, International Data Corporation (IDC) reported an 18.8% jump in the AI market in 2021 which is now well on its way to breaking the $500 billion mark by 2024!
This comes as no surprise since conversational AI seems to benefit support teams remarkably. As many as 64% of agents report being able to focus on important tasks at hand with the help of conversational AI, a Salesforce survey conducted on 3500 customer service professionals suggests.
Conversational voice AI goes a step further to create seamless journeys with hands-free real-time support. Capgemini reports that as many as 70% of consumers will start using voice to shop online instead of going to brick and mortar stores. This is no surprise since voice AI is faster, easier, and simply more convenient than offline shopping.
Once upcoming buzzwords, conversational voice and chat AI are now becoming a necessity for many brands looking to thrive online.
Suggested Reading: 9 Definitive AI Chatbot Trends and Predictions for 2022
Here are the tips for you to devise a conquering conversational AI strategy in 2022
Whether it's just getting better at selling to your customers or realising better customer experiences, AI is here to turn your customer interactions a notch up. So, how can you harness conversational AI? We lay down the game plan for you.
1. Audit your existing support channels and harness targeted ones
Today, people are online and scrolling through different platforms daily. You might be spending time and resources on channels that might not efficiently cater to your users. And so, it's imperative for you to identify the channels that are most popular, ideal for, and preferred by your users.
Moreover, each of these channels will have its proprietary features to serve your customers better. Try to be thorough with how you can use them to your benefit.
For example, the WhatsApp Business app doesn't allow automating chats with conversational AI, but WhatsApp API does!
Say you conduct online classes through Instagram, then you'd want to deploy a conversational AI on the same channel!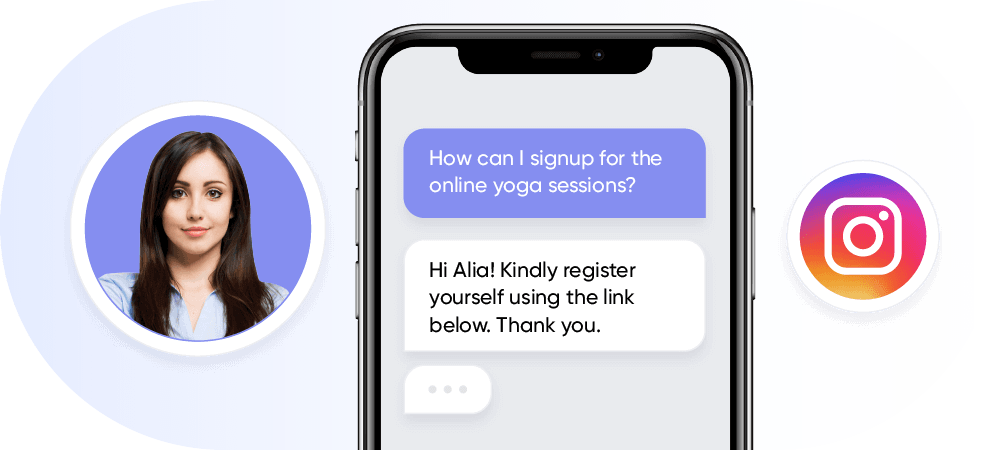 2. Determine and carefully plan your user journeys
Your users, if stuck or doubtful, want to quickly find resolutions or clarifications. They are usually in a hurry to resolve and move on to the next step. And so, increasing the touchpoints and interactions on the interface can backfire for you.
Your users can either lose interest or get annoyed and end up hopping onto a much faster alternative. Limit your user journeys and focus on arriving at answers in as few iterations as possible.
This is how you can use quick reply buttons in your chatbot flow to make arriving at resolution easier and faster.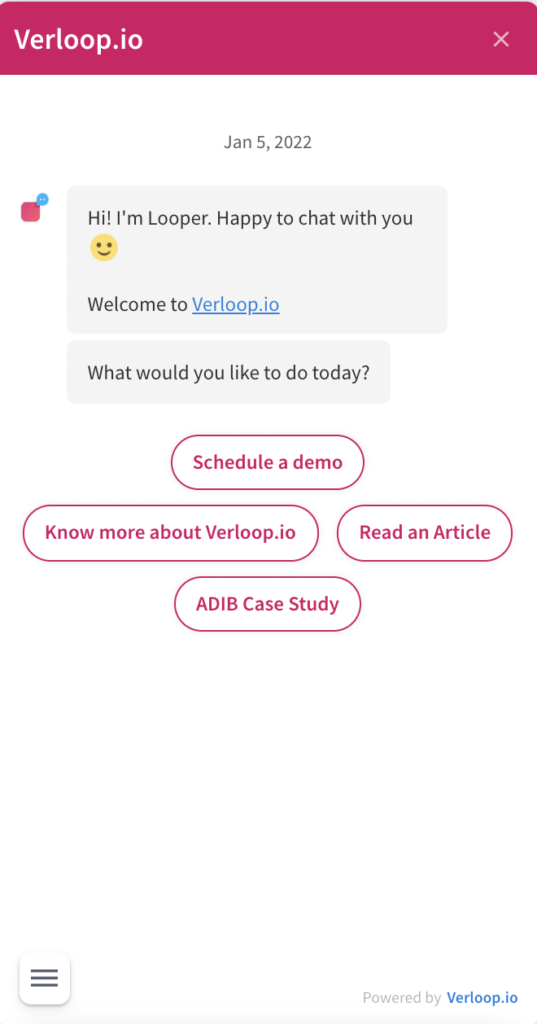 3. Train your AI to constantly evolve and learn
User preferences, behaviour, and expectations are all transitional. A sturdy conversational AI strategy will factor in the need to train your AI friend with solid training datasets.
Pro-tip: One way to effectively train your conversational AI is to take your already existing chat and call data your support team has gathered over time. Your AI can analyse and identify patterns and know exactly how to tackle several use cases!
4. Go multilingual and stay mindful of language dialects
Not all of your users would be fluent in one particular language. A powerful conversational AI strategy would be inclusive of the dynamic nature of language. People speak in different accents, dialects, and tones – which your conversational AI chat or voicebot should be trained and equipped to recognise and respond to. Here's how you can scale overseas using a multilingual voice and chat AI.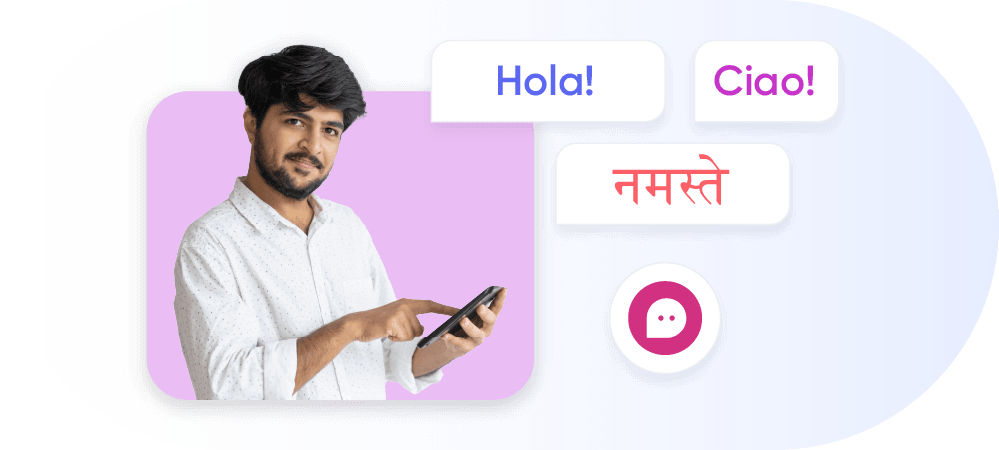 How a bank fortified its support team with a multilingual chatbot: ADIB, one of the Middle East's leading banks, deployed a multilingual chatbot fluent in 17+ dialects of Arabic and English. Least to say, the consequent numbers were a breakthrough for ADIB.
Piques your interest? Here is the complete read on how multilingual AI changed the game for ADIB.
5. Stay ahead of the integration capabilities your business can harness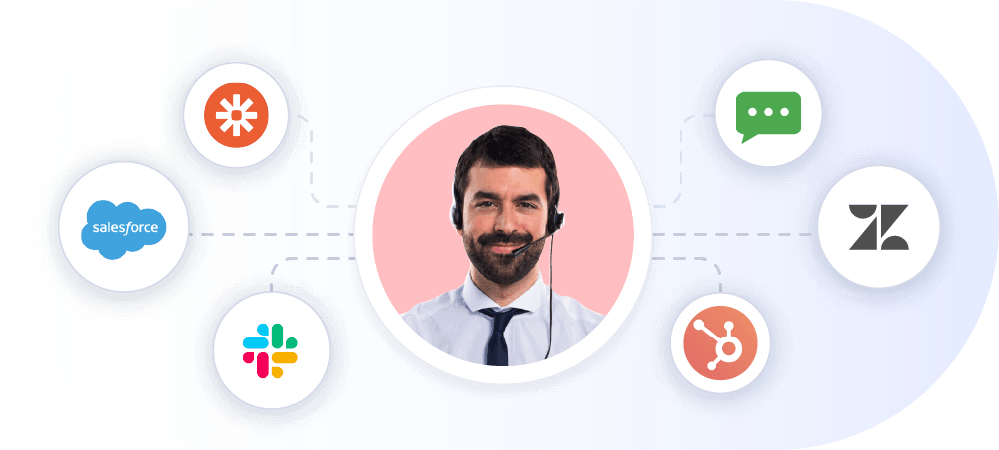 One support conversation can require your agents to switch between multiple platforms to gather relevant and oftentimes urgent data. This is when you wouldn't want your user to have a sub-par experience, or worse yet, end up losing them to competition – all because of a delay in providing accurate and personalised resolution.
Strengthen your conversational AI strategy with an AI that supports multiple integrations – your marketing automation tools, CRMs, payment gateways, etc, and bring them all into one place. Conversational AI can blend all the ingredients needed for a successful customer interaction into one wok!
Read more: Level-up CX by Integrating Payment Gateways with Chatbots
6. Your bot chat flows should be short, structured, helpful
The last thing your users want to get entangled in is ambiguity. The #1 priority for a sturdy conversational AI would be arriving at an effective solution, in as little time as possible.
This is why you need to ensure that your chatbot and voicebot templates are designed to deliver adequate resolutions in time. Your conversational AI strategy must account for well-curated orderly chat recipes for a voicebot or a chatbot that answers with logic and stays time-optimised. You'd love to know: 10 Tips to Write Chatbot Templates With Examples
Here's an example of an articulate chatbot template: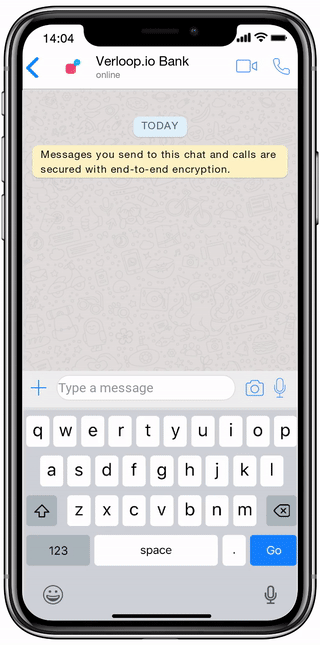 7. Factor in your agents, as much as you do your customers
To reach peak efficiency, you not only need to take care of your customers but your internal stakeholders as well – your support agents.
An ideal conversational AI strategy would include features and tools that help your agents put their best foot forward, in every support conversation. This includes augmenting your voice chat or chatbot to smoothly transfer priority or complex tickets to agents when needed. Other assisting features can help agents –
seamlessly pull data through integrations,
note crucial information relayed in real-time,
reduce response time through canned responses, and
remind idle users to circle back to chats to lower ART
Here are 5 ways conversational AI makes your agents' lives easier.
Verloop.io – The only conversational AI that strikes off every box from the above checklist
As we march into the new year, every brand's top priority is to keep its customers centre stage. Your website and your social presence are the keys to a happier customer pool that doesn't shy from positive word of mouth.
We know that AI can highly enhance the way you connect and click with your customers today.
The only thing that remains then is to get your conversational AI framework right.
Our team, here at Verloop.io, would love to show you how. Let's curate your ideal conversational AI strategy to bring you closer to your customers this new year, shall we?

.