42 Mins
If you run an eCommerce store, you're probably spinning a lot of plates right now. It's a hard job, but with the right eCommerce tools or eCommerce platforms, you can launch, grow and scale with ease.
However, there are thousands of e-commerce tools in the market. It'd be expensive and time-consuming to figure which was the right eCommerce tools for your business.
We built the best eCommerce tools list to solve your problem
Created through exhaustive research and personal testing, we've divided the list into two categories to keep it simple. In it, you will find over 100+ rigorously tested eCommerce tools and eCommerce platforms so you can spend less time searching, and more time working.
These eCommerce tools are classified into free, freemium, paid and personally certified.
Launch
If you're just starting off with your e-commerce store, you need your eCommerce tools to be cost-effective, easy-to-use and functional. But even before that, you need someplace to build your store.
Choosing an eCommerce platform is a difficult decision. It's a long-term commitment and there are many factors to take into consideration.
Factors like SEO, mobile-friendliness, scalability, and your technical skills play a part in the ultimate decision. We should also point out that we make no money through these referrals; everything you read is an objective analysis of the platforms.
Review scores, where available, were taken from ecommerceguide.com
The Best eCommerce Platforms to Build an eCommerce Store.
Arguably one of the most well-known eCommerce platforms, Shopify has become synonymous with success. It truly is one of the most complete platforms around.
Shopify allows you to sell just about anything: goods, services or experiences.
With easy product organization, store customization, payment handling, and order tracking – all fully integrated into Shopify's interface it is your one-stop-shop for an e-commerce store.
With a good idea and a few key additions, you could make millions using Shopify.
Design
Shopify has 100 inbuilt store designs, you can build a beautiful store without any designers or design skills. Their intuitive interface allows you to build a functional e-commerce store in a matter of minutes.
A testament to this easy-to-use interface is that Shopify powers over 600,000 (2018) online stores in over 175 different countries. Merchants using Shopify have processed over $55 billion in sales.
Pricing
All of this excellence comes at a cost though – Shopify has no free plan.
While there is a 14-day free trial period, you immediately start paying $29 (paid monthly) for their most basic plan. There's a $79 monthly plan simply called 'Shopify', and the most complete plan, 'Shopify Advanced', is $299.
You get 10% and 20% discounts if you sign up for annual or biennial plans, but it is still one of the more expensive platforms in this list.
Magento is another big-gun in the world of eCommerce platforms. Used by companies like Samsung, Christian Louboutin, Nike, and the Ford Motor Company, Magento certainly has the right pedigree.
But, don't be fooled. Magento isn't just for enterprise elites, it is an exceptional platform for small businesses too. Estimates suggest that Magento currently powers over 20% of all e-commerce sites online.
Like Shopify, Magento is about as complete as a platform could get. It features everything you need and almost anything you could want.
8/10 – freemium – ideal for established business models
Design
Magento eCommerce tools are open-source and can be downloaded and installed on your own servers. They also have additional plans that offer hosted cloud versions.
And if these words scare you, there's a good reason for it.
Magento is a fairly advanced piece of software engineering. One that is almost impossible to set up if you have no web development experience. Magento (the parent company) doesn't offer any custom designs for stores either, so you'll have to shop for templates.
Pricing
Magento has two primary pricing options, free and paid.
Their Community Version (which is really powerful in its own right) is absolutely free. Download it from the main website, install it on your web server and you're off.
Their Enterprise option, built for thousands of products and tons of traffic is quite expensive. All quotes have to be requested for, but reports suggest that it ranges from $15,000 to even $50,000 a year.
As we've talked about before, WordPress is one of the most powerful eCommerce tools in the internet era.
For close to free, anyone can build almost any type of website on WordPress. However, you can't really build an e-commerce store. With the right plugin though, this changes completely.
And that's where WooCommerce comes into play. A hyper-popular plugin, WooCommerce gives you almost every feature you could need from an e-commerce store.
Design
If you're a regular WordPress user, WooCommerce will be as easy as pie. Even if you're not, it's incredibly easy to build and design.
WooCommerce is one of the most refined and comprehensive eCommerce platforms around. Installation takes a matter of minutes, it has a wide swathe of features and a very helpful community.
The setup wizard guides you through your stores' basic configuration and then gives you the room to explore.
Pricing
How much does WooCommerce eCommerce tools cost? It doesn't.
Assuming you already have a WordPress site set up, the plugin is absolutely free. You could enable some moderately-priced extensions, but the core product costs nothing.
The extensions are easy to use too, they're as easy to enable as a regular WordPress plugin. Google Analytics, MailChimp and Freshdesk are just some of the available options.
As good as the previous platforms have been, BigCommerce makes its mark by being even better.
Bigcommerce brands itself as an "all-in-one hosted eCommerce platforms". All you have to do is signup through bigcommerce.com and you can get straight to business.
BigCommerce even comes complete with blogging tools, web pages, SSL payment, and impressive internal security.
Design
BigCommerce has one of the most comprehensive UI's around.
It has excellent features when it comes to handling orders, products, and customers. It has a built-in CRM, alongside several marketing tools, analytics dashboards, and free themes.
Construction and design might confuse the non-tech friendly. But they have an excellent 24/7 customer support to help with that.
Like WooCommerce, BigCommerce has its own tour/tutor system that introduces you to the useful features, which we highly recommend.
Pricing
While it has a free 15-day trial, BigCommerce is paid-only eCommerce platform.
It has three plans, the cheapest of which starts from a very reasonable $29.95 a month. For that, you get unlimited products, unlimited storage, and unlimited bandwidth.
The only downside for this plan is a 1.5% per-order transaction fee. If you'd rather not pay the fee, you'll need to upgrade to their $79.95 plan. Their largest plan costs $249.95.
You can also choose to buy additional custom themes if you'd like. These typically range from $125-250.
If you've ever across a website that has visually blown your mind, there's a very real chance it was built using Squarespace. This is one of the most engaging eCommerce tools.
Squarespace is one the most aesthetically impressive platforms around. It lives up to the company's mission: To make 'beautiful products to help people with creative ideas succeed'.
Squarespace is a drag and drop platform that began with a focus on making visually appealing websites. With time, they released new features that enabled companies to build e-commerce stores.
Design
Squarespace allows you to build impactful and chic websites with an intuitive interface that anyone can use. Squarespace's usual customers include designers, photographers, artists, bloggers.
This makes Squarespace your go-to eCommerce platforms if you want to make your site look capital-intensive and custom-built. To this end, it can be overwhelming for some to use.
Squarespace struggles when it comes to features. It has limited payment options, lacks important options for scaling business and is limited from a coding POV.
Pricing
Squarespace is a paid-only eCommerce platform. It has a 14-day free trial, after which you'll need to upgrade to a paid plan.
Their plans are relatively cheap, starting at just $26 a month. For that, you'll get your 3% transaction fees waived, a free custom domain, powerful website analytics, and unlimited data, products, and storage.
Their largest plan costs $40. This provides customers with additional features like abandoned cart auto recovery, advanced shipping, and flexible discounts.
---
The Best Free Tools for Stock Content
Everyone knows that content is king, but certain content is more regal than others. On most social media like Twitter, LinkedIn, or Facebook, content with images tend to outperform content with just text.
Human beings are visual animals, so this makes sense.
When information is parlayed through just text, people only remember 10% of the information after three days. When the information is paired with a relevant image, they remember 65%.
But this presents companies with a problem. How do you get free access to the thousands of professional images you need? Enter, Reshot.
Reshot allows you to find tons of handpicked, non-stocky images. Pictures from Reshot are yours to use as you wish. They're free for commercial use. Attribution is not required but it's encouraged. We use Reshot all the time.
What's harder than getting high-quality images?
Getting high-quality sounds. Regardless of whether it's for a video or a website, royalty free audio is impossible to get a hand on. But that all changed when Fugue arrived.
If you're looking to add audio to the visuals in your e-commerce content, look no further than Fugue. Fugue is one of the top eCommerce tools for AV content.
Fugue is a massive collection of stock music, all of which is free. All they ask in exchange for it is a link. You get access to thousands of tracks by professional musicians, collected and categorized for you for no cost.
If the links get too much, you can purchase their all-access plan for $19.90 per month. For that, they'll throw in free stock photos, icons, and a Windows/Mac app too.
As a Marketer, I can attest to the limitless power of Photoshop.
However, I can also tell you that it's unbelievably difficult to wrap your head around as a novice. And that it's really expensive.
For these reasons, e-commerce companies on the come-up often struggle to create high-quality content. This leads to decreased engagement, worse pitches, and rather shabby looking marketing efforts.
This is where Canva knocks it out of the park.
Canva is a template-based design tool that's free and easy to use. With Canva you can create infographics, presentations, posters, flyers, and even webpages.
We use Canva all the time in the office for our social media and content needs. I'm fairly adept at Photoshop, but the templates in Canva just save so much more time and effort.
Even the free version comes with a massive library of stock photos, icons, and designs; more than enough for any e-commerce needs. If you'd like to upgrade, prices start at $12.95 a month.
If you want to access around 10,000 + templates, free of cost, then Design Wizard is the way to go. With about 1.2 million images in their database, Design Wizard allows you to make designs just the way you imagined them to be.
What's more interesting is how it ensures that every video and image has been licensed which further protects you from any copyright complication. This is one of the productive eCommerce tools that one can get.
Now you can easily resize your designs, access to about 120 fonts, download transparent images and perform various other amusing features that will entice you.
You can reach here to understand the flexible pricing and how you can implement Design Wizard into your business fold right away.
One of the challenges of working with a diverse team is the exchange of information.
While it is easy to send files back and forth between team members, it isn't as easy as it could be. Neither is it free. Or quick.
WeTransfer helps you with all three. WeTransfer is a cloud-based platform that allows users to store, manage, and share files online.
WT makes it quick and easy to send large files to your colleagues and clients. Simply enter your recipients' email, your email, upload your files and you're good to go.
The interface couldn't be any easier if you tried. And for absolutely free, you can send files up to 2GB back and forth all day.
Their paid plan (WeTransfer Plus) costs $12 a month. For that, you can send files up to 20GB at once, store and password protect files up to 100 GB and customize emails, profile, and pages.
Suggested Reading: Create a Chatbot: Why Your eCommerce Platform Needs a AI Chatbot
It's no secret that I use Slack. In fact, I go out of my way to advertise that I use Slack.
In any workspace that I enter, nonprofit or otherwise, my first move is to get everyone on Slack. It just makes sense.
If you don't have/use/know about Slack, I urge you to download it right now. It'll make your life so much easier. It offers multiple messaging and organization tools to help your team stay aligned and productive.
Slack is filled with features that balance out simplicity with convenience. It is immeasurably better than any other workspace communication tool I've ever used. Whatsapp, Emails and phone calls don't hold a candle to it.
The best part? It's free.
Slack's pricing begins at $8 per user, per month and it's the largest plan is $15. This may be costly as you begin to scale, but we work in a team of 20 employees and Slack Free works just fine.
As we've mentioned, information is best absorbed when represented pictorially. Draw.io joins the eCommerce tools list.
Given the massive influx and complexity of modern business processes, companies need a better way to present this information. Ideally, for free.
Draw.io is probably the best tool in the diagram market right now. The use cases are almost endless.
You're a programmer? UML diagrams to document all aspects of your projects. Both behavioral and structural.
You're the Chief Strategy Officer? Enjoy SWOT diagrams to present an overview when planning for future business or projects.
You're own an e-commerce store? Build tree diagrams to illustrate customer journeys and intent flows.
Free to use and free-to-license, Draw.io allows you to build almost any complex business processes and workflows.
When Google decided to make the switch from HTTP to HTTPS, everyone rejoiced. HTTPS represented a new age of encrypted security. Bitly has been the most popular amongst eCommerce tools for its usability.
Everyone except one small community; the marketers who used Google Analytics.
HTTPS vastly reduced the amount of extractable data that marketers derived from GA. By virtue of every end to end network being encrypted, there was no way to understand where your customers were coming from.
To efficiently bifurcate your traffic, you can use GA's tool – Campaign URL Builder.
You can attach metadata to each link that you feature externally. This allows you to determine the source, medium, name, and content each individual link that leads to your website.
When you're running an e-commerce store, there's nothing called "enough data".
Everything can be tracked. Nothing should be left unmonitored. And when you're just launching your store, it should ideally be free.
Neatly.io helps bring all of your data together under one roof.
To aid in this endeavor, Neatly integrates with 50 of the best eCommerce tools, like Shopify, MailChimp, QuickBooks, PayPal, and Google Analytics. All of this data is displayed on a beautiful dashboard that you can create to monitor the most important metrics.
You can set goals and define targets like increasing online revenue or improving cost per acquisition. Neatly thereafter tracks these KPI's and updates you about your performance about each.
Neatly delivers personal insights, so your dashboard feels like it's made just for you.
Neatly.io is entirely free. No setup fees, no monthly payments, nothing. There's a FUP, like there is with any free services, but Neatly.io is undoubtedly a game changer.
One of the first things you're taught as a graduate is to always send your interviewer a thank you email after your interview. CircleUp joins the eCommerce tools list for being such a productive tool.
So why did we stop doing it for everyone else?
CircleUp makes sending personalized thank-you notes to participants of meetings, dinners, and get-togethers easy.
CircleUp links with your calendar and auto-pushes out custom notes after each event. It also gives you daily breakdowns and summaries so you can stay ahead of the game.
CircleUp has a special beta offer right now, where you purchase their service for $5 a month.
Growth
You've launched your store and you're ready to go. Now it's time to strap a couple of turbochargers to get that boost you need. And we have just the tools for you.
Below you'll find a list of tools that you can use to largen your digital footprint. They'll help you stay agile and respond quickly to opportunities and threats alike.
The tools listed are freemium, favoring on free. You don't want to get tied down to a service you don't like, but you can double down on what works for you.
The first step to making your mark is to let other people know about it.
In the world of social shopping, making the right splashes in the right ponds can make all the difference.
Today, there's a social media platform for almost every interest, and companies are expected to be on all of them. Manually scheduling content from each platform is almost impossible.
That's where Buffer makes a mark for itself and reaches us to the eCommerce tools list.
With Buffer, you can create up to 10 posts in an automatic posting queue. You can also access tools for video/gif uploading, image creation, and optimal timing using their free version. Buffer also has an inbuilt analytics feature so you can gauge what platform is doing well.
Buffer has extensions for browsers that allow you to schedule content you discover. (Like this one, get Buffer and look at the top right of your browser. Go ahead, share it!)
You can also upgrade to their paid plan ($15 a month) for 100 posts on 8 accounts if you need to scale.
17. Startup HR Toolkit
It's always appreciated when we can find a tool that minimizes or abolishes the trivial tasks which are heavily time-consuming.
We all know that the HR process is very elaborate and to draft a document for every stage is a very tedious task and eats up a lot of your time. With a spectacular tool like StartupHR Toolkit, you can use ready-to-use HR templates which are curated for different stages of the HR process.
This tool is specifically built for small companies with a small workforce.
Herein, you can easily get 200+ ready-to-use HR documents in one binding toolkit.
The toolkit has been created by SutraHR based on their tremendous experience in HR with relation to start-ups and well-established firms. You can easily customize the template as per your companies needs.
You can get a hold of the employee compensation template, exit process template, employee policy templates, TDS calculation template, and various others so that you can easily focus on the vital tasks instead.
You can click here to check the price of the toolkit and to get a glimpse of the companies who have optimized the Startup HR toolkit.
One of the worst self-service tools companies use is FAQ pages, which is much needed amongst the eCommerce tools you possess.
They're slow, annoying and operate under the assumption that you know what the customer wants better than they do. When was the last time you enjoyed scrolling through 40+ pages of FAQ's?
But it's a necessary evil. Customers need extensive documentation for when they need help.
Loom disagrees with that assertion. And frankly, after using Loom, we agree.
Loom is a video capturing software helps you get your message across through instantly shareable videos. You can download it as an app and turn whatever is on your screen into a feature film.
For every 10 seconds of video you record, it's equivalent to 81 seconds of typing. We use Loom all the time for our marketing and customer support.
Loom is absolutely free right now. They are going to launch Loom Pro, but I don't see that being a detriment to an already great tool.
One of the fallacies e-commerce companies fall into as they grow is the constant chase of new customers. Mailchimp helps to resolve this problem and is one of the best eCommerce tools.
They usually do this at the expense of their existing customers. Big money flows into marketing, sales, and customer acquisition.
Even though winning a new customer costs 6 times more than retaining an existing one.
Even when the probability of selling to an existing customer is up to 14 times higher than the probability of selling to a new customer.
Even as research shows that an increase in customer retention rates by 5% increases profits by anywhere between 25% to 95%.
Money that would have been better spent on customer retention, delight, and support.
MailChimp helps tackle this predicament. MailChimp is a marketing automation platform that helps you share email and ad campaigns with clients.
Send your customers emails based on triggers like abandoned carts, birthdays, product recommendations and order notifications.
MailChimp is incredibly liberal with their pricing. Their free plan gives you access to 12,000 emails and 2,000 subscribers.
If that isn't enough, for just $10 a month you can send unlimited emails to unlimited subscribers with their "Grow" package.
Also, you can read this comparison table to understand which email marketing tool is best in the game and the features of each.
The best way to know what you're doing right is by understanding all the ways you're going wrong.
Many eCommerce tools don't start taking feedback from their customers until after they've plateaued. This is when they're looking for new ways to reinvent themselves, by which point it's often too late.
User testing and data collection are among the most useful areas of commerce, and also the most costly.
123ContactForms aims to make surveys easier.
123 can do the basics well, but it also excels at the extraordinary. Create forms with SSL, captcha, and password-protection.
Use them for event registrations, polls, feedback, email registration, and quizzes. Using 123 you can even connect web forms to other online services to streamline data collection.
The service is capped at 100 replies a month. This isn't a lot but is good enough for a core sample size of customers.
Related: WhatsApp Chatbot for eCommerce Platforms with 11 Use-Cases
One of the most important facets, when you're growing your e-commerce business, is to make sure your finances are in order. It is one of the best accounting and invoicing eCommerce tools.
This usually involves business owners throwing themselves under stacks of paper at the end of every quarter. The alternatives are hiring expensive accountants or buying even more expensive accounting software.
Enter Wave, a fast-growing accounting and invoicing platform for small and online businesses. It's also free, unlike its competitors Xero and Zoho books.
Wave allows you to handle the big picture problems like tracking income and expenses. It also auto-creates helpful infographics and reports.
It features a beautiful UI that keeps you up to date on your businesses expenses.
Additional features include direct depositing, payroll, yearly record keeping, invoicing, tax calculations, tax deductions, and receipts management.
You may need other software as you scale, but this is a substantial app for e-commerce stores who're growing quickly.
The introduction of various products/services, features, and offers are constantly done to entice the audience. For that, a proper plan is drafted, setting a goal of the percentage of target audience you'd wish to convert into prospects.
You can only do so if you're able to reach out to the interested customers effectively. Emails are the most convenient method to do so, with a response rate higher than that of messages sent on LinkedIn.
Contact Out allows you to get the contact details in the form of phone numbers or emails that you can use to reach out to the interested customers. Contact Out gives a satisfactory 97% accuracy to the contact information generated.
Used by the biggest of companies such as Nestle, Pwc, Microsoft, etc., Contact Out is highly recommended so that you don't have to worry much about the means of reaching out to your prospective customers. You can use their ready-to-use templates and send bulk emails in one go.
Moreover, you can organize the customers you've reached out to on the basis of their response. This can be shared with other team members so that you can measure the effectivity of an email.
You can click here to register.
One of the most basic metrics in email marketing is knowing if your emails are being read.
A lot of email platforms provide you with this option as a default, but you may not have the capital to invest in the Hubspot's or Salesforce's of the world.
Mailtrack is a free and unlimited tool that you can use to track whether your emails were read. It is one of the most popular eCommerce tools in the market.
Mailtrack works a lot like Whatsapp's "Read receipts". It uses ticks to determine the status of your emails.
(✓) means that your email has been sent, but not opened.
(✓✓) mean that your email has been opened.
You can download MailTracker as a Chrome Extension to trace emails for free forever.
Additional features include Full Email Metrics, Email & phone support, Real-time Notifications, Activity Dashboard, Click Tracking, Daily Report, Reminders.
A number of people visit your website, some leave their contact details and some don't. The number of customers would multiply if you were able to reach out to the people who have accessed your company website.
Albacross allows you to reach out to the people who have visited your website. You can take a look at all the potential clients that are interested in your business.
You just need to install a tracking code that will allow you to capture B2B leads from your inbound traffic. To get better clarity on your target market, you can select certain filters and narrow down on the potential customers.
Albacross has integrated its network with various other CRM tools that allow businesses to easily reach out to other companies/customers.
A lot of customers don't generally leave their email addresses or even their contact details on the website, thereby, it becomes easy for you to reach out to them by tracking whomsoever has visited your company website.
Albacross has three kinds of packages available, namely, premium, business, and enterprise, wherein you get domain access, user access, required integrations, certain company leads per month, as per the respective plan you choose and various other facilities. You can click here to get more insight into the pricing modules of Albacross.
Google Analytics is one of the most powerful free eCommerce tools tools you can get, period.
The only reason I didn't recommend GA isn't something you might try as you launch is that there's a steep learning curve to it. It takes time, energy and a lot of head bashing.
Google Analytics is unprecedented in its capabilities. The insights you can derive from GA are unrivaled in depth and usability.
Google Analytics is a must-have for any eCommerce platforms.
Understand your site and app users to better evaluate the performance of your marketing, content, and products. Process and share your data quickly with an easy-to-use interface and shareable reports.
Google Analytics also has a massive community of users. So if even if it is hard to wrap your head around, there's a very helpful resource-pool to tap into.
This combined with Google's own training videos allows you to be confident and experiment to see what works best for you.
It's heartbreaking to write quality content and have it not rank well on Google. This should be the must-have eCommerce tools on your list.
While shooting in the dark might get you a few hits, it isn't sustainable. You need to know exactly what to write about, and what keywords to use to maximize traffic.
Keyword research is the underpinning of good e-commerce marketers.
There are various tools in the market for keyword research. You've probably heard of Moz, SEMrush, Ahrefs. They're great.
But I think KWfinder is better still.
KWfinder is one of the newest keyword research tools on the block.
An easy to use UI, competitive pricing and its comprehensive ranking algorithms, also makes it one of the most complete tools around.
KWfinder has a free version that is limited in its purview. The paid version will cost $29 a month and is worth every penny. For content writers, SEO specialists, SEO companies and marketers, KWfinder is the way to go.
Expansion
Life is never as easy as it could be. There's always something that could be done quicker, easier or with less friction. Zapier has been a popular eCommerce tools that are integrated with several apps.
This is the spirit with which Zapier was built.
Zapier is an online automation tool that connects your favorite apps.
Connect any of the 1000+ available apps to automate repetitive tasks, allowing you to move data between your tools automatically.
For example, you can add a Zap between your CRM tool and Google Sheets to build automatic spreadsheets.
Save any attachments you get through Gmail to your Dropbox account without having to manually download them.
Stay in touch with prospects by adding form respondents from Typeform to your mailing list in MailChimp
Not only do we use Zapier inside Verloop's product offerings, we use it in our daily lives too.
The world's professionals all have one place they call home: LikedIn.
LinkedIn is often one of the most underrated tools for marketing professionals. But LinkedIn's bread and butter is actually Sales.
Sales Navigator is one of the most powerful tools you will ever get your hands on.
If you have an effective and replicable sales pitch, Sales Navigator is the channel for that message.
Lead suggestions, enhanced searching, and monitoring activity will help you find the real decision makers in your target market.
At $65 a month, SN is one of the more expensive tools on this list. It has a free plan that runs for one month, but after that, you have to buy 'credits'.
For a lot of marketers, heatmaps and session playbacks are data-point gold. It's the closest you can come to look over your customer's shoulder. Every Digital Marketer can include this on their eCommerce tools list.
And InspectLet is about as good as it gets when you're starting out.
Inspectlet helps you gain a deeper understanding of what visitors by observing their actions.
See every mouse movement, scrolling, clicks, and typing on your site. You can also run A/B tests, form analytics, and error logging.
InspectLet has a free plan that will give you access to 10,000 page views a month. Inspectlet is also designed to work alongside Google Analytics.
Social selling is all the rage. And it works.
Customers don't want to buy from businesses, they want to buy from people.
It helps companies validate that other people have bought from them and have seen real gains.
Imagine harnessing this power, all the time, for every customer.
FOMO.com does just that, in real time. Using unobtrusive notifications, it helps you increase sales and conversions.
By promoting a prospect currently in the sales flow about a customer who's just bought a product, you incentivize the former to be like the latter.
FOMO is a paid tool. For $39 a month, you get 50,000 notifications to send out to your customers.
Related: Conversational Commerce: Redefining eCommerce
For e-commerce companies of any size, sourcing materials tend to be a challenge. Sourcify is one of the leading eCommerce tools that helps to ease your operational costs.
Factories rarely talk directly to customers and middlemen are difficult to track down.
This makes sourcing a considerable drain of time, resources and money. And it only gets worse with scale.
Sourcify is an all-in-one sourcing management platform that helps companies tackle this problem. Search for 100's of manufacturers from Vietnam, India, China, and the Philippines.
From project submission to pre-production and even negotiating with suppliers, Sourcify sends your needs directly to factories, saving up to 32% on
Pricing is decided on a case-by-case basis, so we don't know how much it'd cost you. But in a TechCrunch article, it mentions a $500 upfront fee and between 1-10% of the total order cost.
You've established yourself as a fully fledged e-commerce store. But this scale comes with its own non-production issues, like e-commerce law.
And at some point, you will need help. And that's where UpCounsel has you covered.
Upcounsel brands itself as the modern way to get legal work done. It acts as a liaison between companies and over 5000+ lawyers.
Be it agreements, patents, immigration, trademarks or general counsel, you can find legal help for marginal prices.
Work can be billed as a fixed fee or on an hourly basis depending on your needs. Pricing varies on a case by case basis.
As you scale, you enter into bigger contracts with more companies. And with HelloSign, you can reduce your turnaround time (by up to 93%).
HelloSign is the easiest way to send, receive and manage legally binding signatures for your business of any size.
Complete your business related paperwork online through a user-friendly experience.
HS also integrates seamlessly with business apps like Slack, SalesForce, and Hubspot.
It has a free plan, but realistically you're going to need the $13 a month deal to get work done.
34. Thankbot
When was the last time you threw out a handwritten letter? This is an creative eCommerce tools that let's your customers feel special.
That's the principle based on which Thankbot was built. Thankbot aims to reinvent direct mail advertising through handwritten letters.
This is basically how it works – You pay a flat fare per letter (you pay less the more you buy). For that amount, Thankbot will send a handwritten letter to a customer of your choice, including stationery, handwriting services, and postage.
The letters aim to improve loyalty, drive more referrals, increase revenues & boost your word-of-mouth marketing.
If I'm being honest, it isn't the cheapest thing in the world. Their cheapest plan is $30 for 5 notes, pegged at $6 per note. But the great idea puts them in this list.
If you're expanding your online store, chances are you're selling your products on multiple eCommerce platforms.
Keeping track of these stores from a centralized platform is a challenge.
Using QuickBooks extensive integrations, you can record your sales from nearly any channel. Regardless of whether it's your own store, Amazon, eBay etc.
QuickBooks will help you track your inventory, keep track of your bills and even capture any expense by taking a picture of the receipt.
While there might be a bit of a learning curve, Quickbooks is ideal for a company at scale.
Prices start from $10 a month and go up to $30 a month. You can add advanced features like full-service payroll for an additional amount.
Beeketing is one of the most purpose-built tools for eCommerce tools.
It starts following your customers the second they visit your online store. And tracks them till they leave.
Using this data, BeeKeting generates relevant, personalized product recommendations and email marketing campaigns.
The product of all this is that Beeketing can increase in-store sales by up to 50%.
Beekeeting has 13 different apps to increase conversions, revenue and customer engagement.
And 9 of them are free, making it the deal of the century. Beeketing's most expensive app of the four costs $30 a month.
Snov.io's Email Tracker is great for those people hung up on email marketing and who care about what happens to the emails after they're sent out.
Snov.io's Email Tracker is a free browser extension that works inside your G-Suite and/or Gmail account. Snov.io can track if the email was opened, if the link inside your email was clicked, and how many times both those actions were undertaken.
It doesn't even add a signature in your email, so the recipient doesn't know they're being tracked.
Snov.io has a full suite of marketing automation that you can pay for. Their offerings include an Email Verifier, Drip Campaign creators, and Technology creator.
All of this is yours for only $29 a month.
Maturity
Regardless of whether you have the words "Project Manager" in your job title, you handle projects on a day-to-day basis.
Different people handle the challenge of task-management differently.
Some people have walls and desks filled with sticky notes.
Others use extensive diaries to keep a track of their responsibilities.
Complex Excel spreadsheets and multi-colored Google Calenders for the modern man.
But as your e-commerce store grows larger, responsibilities pile on and work becomes more collaborative.
With Asana, you can organize all your team's work (like goals, calendars, files, notes, and more) in one place.
We use Asana to manage everything from marketing campaigns and product launches to work requests and team goals.
Asana is a paid only app. It costs $9.99 per user, per month when billed annually.
Photoshop is one of the most iconic applications in the world. It is synonymous with excellence in design and professional photography.
So why is it one of the least prolific tools in most workspaces?
Two reasons. One, as we mentioned earlier, Photoshop is quite expensive. It also has a steep learning curve that even tech-friendly folk would find difficult.
So while I can attest to its complexity, I can also tell you it is hands-down the best photo editing software on the planet.
If you have a full-time Marketing or Design employee, invest in a Photoshop license for them. If they know how to use it, you'll see instantaneous results.
Since Adobe dropped their one-time purchase pricing plan, Photoshop now operates using a subscription basis. Depending on where you live, you can get Photoshop for $10 a month, or the entire suite for $50.
Inventory Management is one of the core challenges of running any retail store. An e-commerce store makes that more difficult.
Designed for high-growth e-commerce brands, Tradegecko helps distributors and manufacturers automate their operational processes.
TradeGecko has a lot of helpful features to help you run your business.
You can tackle issues like demand forecasting, order fulfillment, accounting, and sales reporting. TradeGecko also has a built-in CRM service.
TradeGecko integrates with platforms like Amazon, Shopify, Bigcommerce, Magento and WooCommerce. Access it anywhere using their plethora of apps and widgets.
TradeGecko is paid only, available as a monthly subscription. Prices range from $79 a month to $799.
While you can utilize a pool of analytics tools to understand your users' behavior, what is your sales team using?
With over 200 million contacts with verified details, Clearbit is one of the most powerful sales tools today.
Using ClearBit, you can gain access to sales records with accurate, verified company and contact data. smarter scoring, better routing, and more revenue won.
Consider a common occurrence in most businesses – You have a target company you need to reach out to. You go to their LinkedIn page and try to find the right person to reach out to. Next you try and find their contact details. After scouring for hours, you find their email. You carefully draft your pitch, only to receive a "500 no such user" error.
When you give Clearbit a domain name also gives you the registered company's name, funding raised, the position and number of employees, and market categories.
All this deeply personal data comes at a price though. Like $12,000 a year sort-of-a price.
Data Scientists are some of the highest paid professionals right now, and their work is immeasurably important to tech companies.
But if getting a Ph.D. or Master's seems like a lot of work, MixPanel is probably the next best thing.
MixPanel has over 20,000 customers worldwide, and over 30% of the Fortune 100 use it. So what does it do?
MixPanel measures and analyzes the actions or steps taken by people who enter your system or application.
This deep insight allows your team to make smarter decisions, faster.
MixPanel's simple dashboard doesn't require you to have a degree in engineering either. You can track acquisition, activation, retention, revenue and referral.
MixPanel has two pricing plans. While the free plan can keep a lot of people happy, their paid plan costs $999 a year.
When it comes to an all-in-one analytics package, SearchSpring gives you a lot of bang.
SearchSpring is an enterprise-level site search and merchandising platform.
SearchSpring's Search function is powered by NLP i.e., it analyzes the semantic construction of every search query.
It can also personalize the ways by which online shoppers search and navigate through product category listings and pages, tailoring them to their own preferences and personal tastes.
As a merchandising solution, the platform permits users to set up search and category landing pages.
Using SearchSpring, stores can control the ranking and relevance of their products. They can adjust product rankings to display products that are capable of promoting their business goals.
SearchSpring can gather data related to the activities and behaviors of online shoppers.
With all these tools in question, it's easy to lose track of all the data you're tracking.
From API integrations to multiple dashboards, it's hard to manually keep track of all your tools.
Segment makes it simple to capture data from hundreds of apps, for any touchpoints.
Using Segment, you can send that data to any tool without having to learn, test, or implement a new API every time.
More than 15,000 companies big and small choose Segment to get more from their data. They process over 115 billion API calls every month
Test your implementation, review the data you're collecting, and easily control where your data flow with tools for debugging and data management.
Segment has a free plan that includes 1,000 MTU from 2 sources. For $120 per month, you can up it to 10,000 MTU from unlimited sources.
If you're looking for a solution to integrate with shopping platforms easily, faster and cheaper, then you should take a look at API2Cart.
The service offers a unified API to work with 35+ shopping carts and marketplaces such as Magento, PrestaShop, Bigcommerce, Shopify, OpenCart, Amazon, Volusion, etc. It allows to connect with stores based on any of the supported platforms, and retrieve, add, update, delete and sync all the necessary store data for further processing.
API2Cart is the best option for all sorts of e-сommerce B2B services, like mobile commerce, e-mail marketing, multi-channel software, shipping, order or inventory management systems, and others.
It has 5 pricing plans to fit the needs and budget of different size businesses.
In the digital age, brands and customers are online on every social media channel. Providing fast and friendly support, no matter the channel, has become the default expectation. In fact, 47% of customers say they'll stop buying from a company if they have a poor experience. To meet your customer's high expectations, you need an omnichannel support inbox like DelightChat.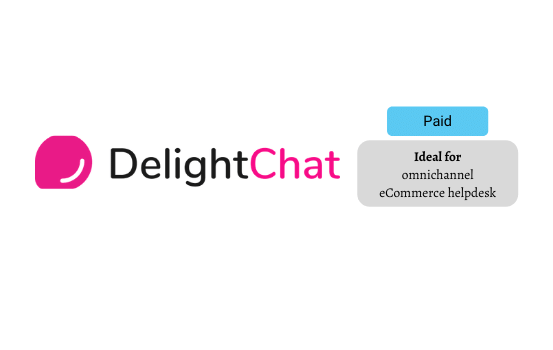 DelightChat lets you answer customer queries from every channel – Instagram post & ad comments, Facebook Messenger, Facebook post & ad comments, Email, WhatsApp and Live Chat – from one place. No more switching back and forth between browser tabs just to see your latest customer messages!
With an easy-to-use interface, powerful features to manage your customer support and affordable pricing, DelightChat is the best choice for modern eCommerce & DTC brands to deliver delightful support experiences.
If you are looking to automate your customer support and gain huge ROI, explore our product.
Ready to enhance my customer support?