6 Mins
A complete guide to understanding the benefits of using a WhatsApp Business account and WhatsApp Business API.
WhatsApp has always been a convenient tool of communication. Most notably with its simple UI, Ad-free platform, faster-messaging capabilities, and use of audio-visual elements make it a must-have communication app.
With over 2 billion WhatsApp users globally, more than 60 billion messages being exchanged each day, thus a massive scope of opportunities.
Despite having competition in the local market – globally, it has managed to stay afloat! For example, the Japanese prefer Line, the Chinese use WeChat or Weixin and the Indian government has recently launched Sandes. However, nothing is stopping WhatsApp from achieving growth.
What is the WhatsApp Business app?
WhatsApp has introduced WhatsApp Business to help business owners facilitate customer support and promote products and service offerings.
Since its inception, the WhatsApp Business app has recorded more than 5 million users within a year.
The best thing about the WhatsApp Business app is it's completely free of cost! As a result, it has created a huge potential for companies to connect with their customers.
With the new Facebook-WhatsApp Business policy update, companies can engage better with their audience.
Related: WhatsApp Business Vs Facebook Messenger: Detailed Comparison
Types of WhatsApp Business account and their benefits
To further diversify the app, there are two types of platform, WhatsApp Business account and WhatsApp Business API account. Depending upon the size of the business, each platform has its own functionality and capabilities.
1. WhatsApp Business account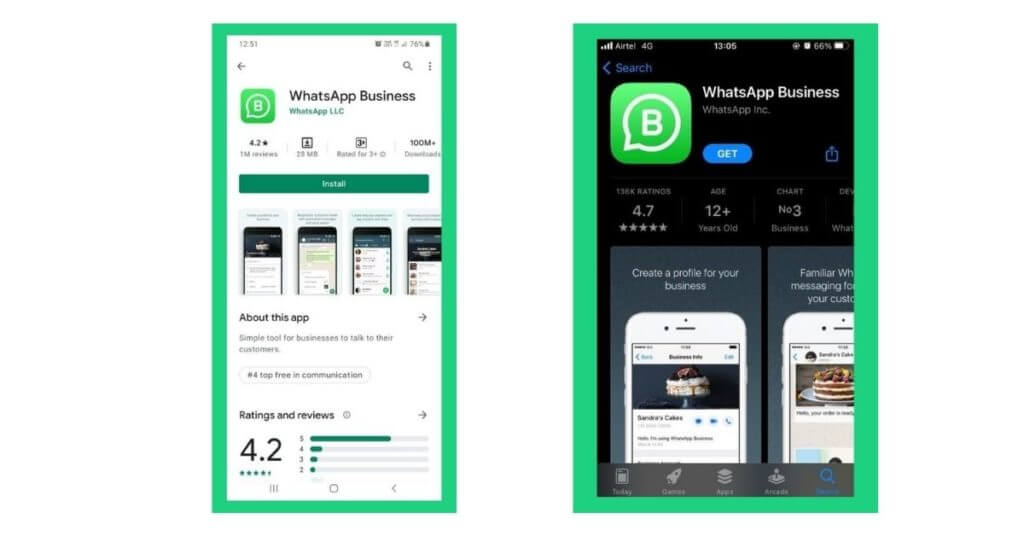 WhatsApp Business account is a general freeware app introduced by WhatsApp. Moreover, it has limited free functionalities compared to WhatsApp Business API account.
There are a set of in-app features that you can perform within the app. You don't have to pay any amount to create or use the WhatsApp Business account's in-app functions.
Suggested reading: Learn to create a WhatsApp Business Account
Benefits of using WhatsApp Business account:
A. Unlimited messages
Business owners can send unlimited messages to their customers. Messages can be of any sort – audio, image, and video-based messages. Although, there is a limit to sending messages for unique customers.
Tier 1: You can send messages to 1,000 unique customers in a rolling 24-hour period.
Tier 2: You can send messages to 10,000 unique customers in a rolling 24-hour period.
Tier 3: You can send messages to 100,000 unique customers in a rolling 24-hour period.
When you create a new WhatsApp Business account, your business starts from Tier-1. Consequently, your account will automatically upgrade to the next level based on the quality score.
Read more: Message – Limits, Quality scores, and Other factors
B. Automate messages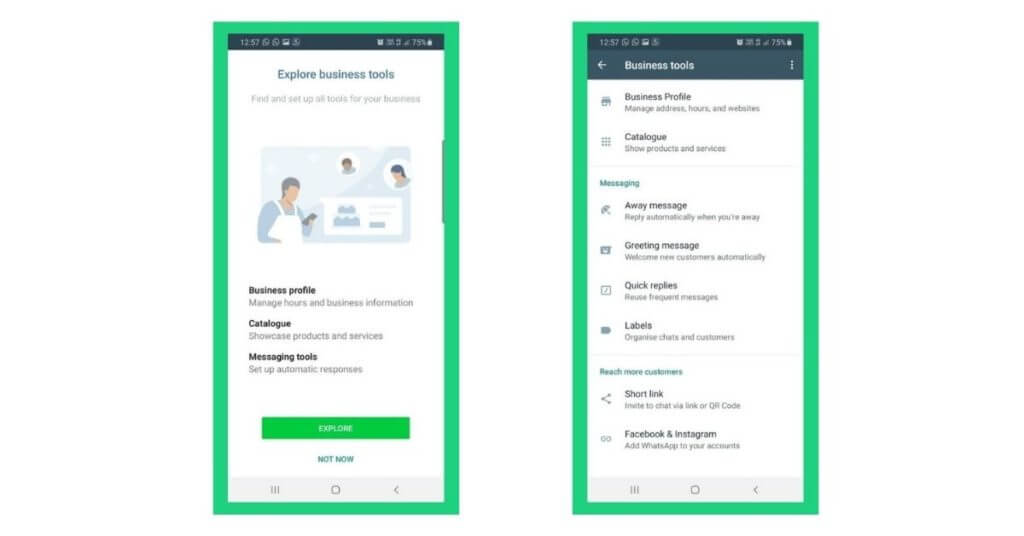 There are a set of message functions that you can automate on WhatsApp Business.
WhatsApp Quick Reply: You can enable this function with the help of buttons. Instead of typing long questions, you can display them through interactive buttons, which give out answers for common queries raised by the customer.
WhatsApp Greeting Messages: This function allows you to greet your customers whenever they want to chat. Furthermore, you can customise the greeting messages to meet your brand requirements.
WhatsApp Away Messages: Through WhatsApp auto-reply, you can set automated WhatsApp replies and schedule them as per your desired timings. Undoubtedly, the scheduling feature is one of the popularly-used benefits of the WhatsApp Business account.
Related: Download WhatsApp Business API Message Templates
C. Broadcast messages and create larger groups
In one go, you can broadcast a message to 256 people. The maximum number of people you can add to a WhatsApp Business group is also 256.
Pro tip: You can create multiple groups of 256 members each.
Suggested Reading: WhatsApp Group vs Broadcast
D. Promote catalog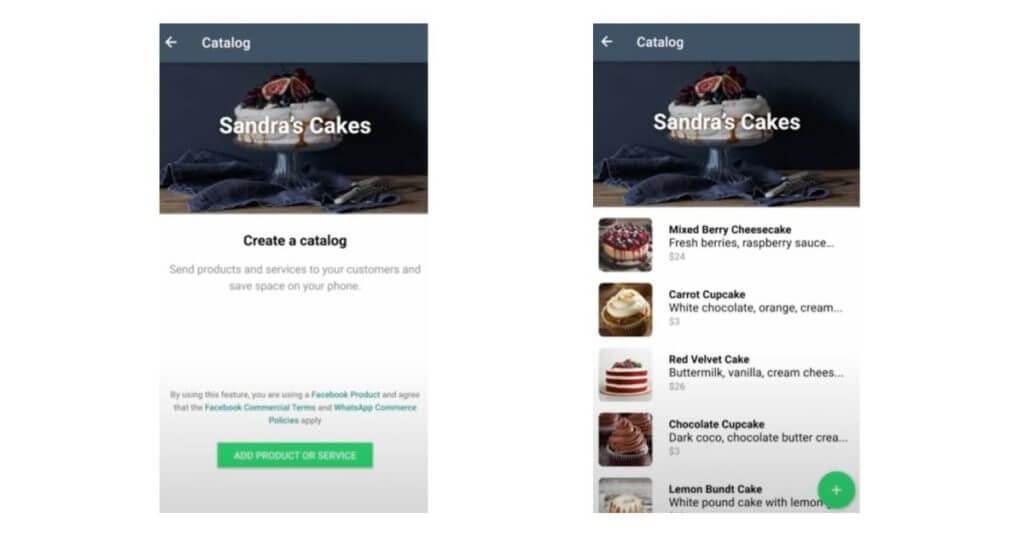 There is an in-app section called 'Catlog' in which you can add your company's products or services. Specifically, you can showcase each product or service with its name, price, description and web page link.
Note that there is a limit of 500 products or services that you can add to the WhatsApp Business catalog.
E. Update business details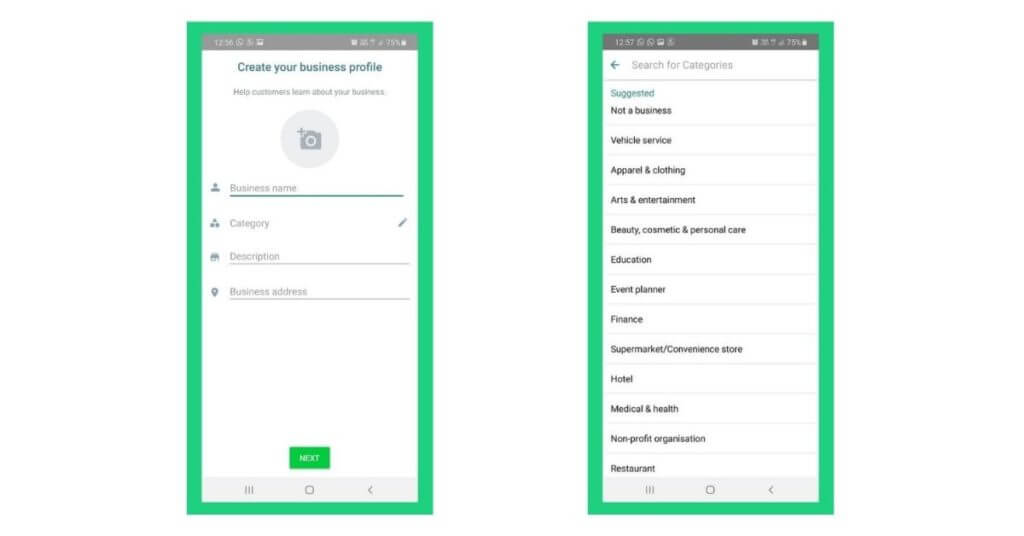 You can insert all the required business details to boost your company profile. Accordingly, you can add details such as logo, cover photo, description, working hours, location and a website link. Entering these details will help in branding and increases credibility while engaging with your customers.
Suggested read: Guidelines to communicate on WhatsApp Business Account
2. WhatsApp Business API account

Through WhatsApp Business APIs, you can take your WhatsApp Business account to the next level. However, WhatsApp Business API benefits companies that have a large customer database.
When you have huge numbers of customers engaging with your business daily, it's hard to manually respond to their queries and even promote your offerings. Despite, Automation is a key element that distinguishes between WhatsApp Business and WhatsApp Business API.
WhatsApp Business API account lets you build WhatsApp Chatbots. In contrast, there are endless possibilities that a WhatsApp Chatbot can do. We will be discussing each of its benefits below.
Benefits of using WhatsApp Business API:
A. Automate FAQs
You can easily automate the FAQs of your business. Consequently, there are a set of common queries that customers might have in their mind. Instead of manually clarifying to every customer, you can completely automate popularly searched for Q&A.
Automating FAQ can save time and cost as well. Despite this, FAQ automation has proven success in increasing conversion rates and decreasing support tickets handled by an agent. It should be noted that this is one of the most popular benefits of using WhatsApp Business API.
B. Generate leads for your business
WhatsApp chatbot can generate leads for your business in many ways. For example, whenever someone clicks WhatsApp click-to-chat link from your Ad campaign or through your product/service landing page, they can start a conversation with your brand. Therefore, WhatsApp chatbot will engage with your customers and capture all the required details like name, phone number, and much more.
However, Chatbots on WhatsApp can be completely customised as per your requirement. Before capturing any lead, you need to know all about WhatsApp Business opt-ins so that your business account doesn't get blocked.
C. Collect feedback
By utilising this platform, business owners can collect feedback from their customers and get the metrics right on their dashboard. As a result, this makes it a perfect medium for companies to bridge the gaps between customer's expectations and what is delivered.
Achieving the best CSAT and NPS score are the end goals of many companies. Getting feedback from Emails and survey form links was challenging, but collecting feedback through WhatsApp is convenient.
Suggested reading: – The ultimate guide to CSAT score
D. Order/Service details
Chatbot for WhatsApp can help in assisting your customers in generating order or service details. Details such as payment, refund and order status. Likewise, it can even help in the buying process and can be a key player in your sales funnel.
In addition to that, you can use the chatbot for reminders about payments, book appointments, document submission and so on. 
E. Update customer details
The only thing that remains constant is change. This is obvious and bound to happen. As a result, WhatsApp chatbots work seamlessly whenever a customer wants to update their details.
With deep integration, the user can submit their details like email or phone number to be updated in the company's records. For that reason, WhatsApp API benefits by eliminating time-consuming tasks.
Suggested reading: WhatsApp Business Vs WhatsApp Business API – What are the differences (with infographics!)
In short…
WhatsApp Business account and WhatsApp Business API have their own unique benefits. WhatsApp Business account is targeted at companies with smaller customer data, thus, WhatsApp Business API targets companies who have a large customer database.