17 Mins
AI in call centres makes your agent's life easier and improves customer experiences with context understanding, predictive routing, and analytics.
Whether big or small, optimum efficiency is one benchmark every business with a growth-mindset aim to achieve. AI is emerging as the upcoming disruptive technology to change the way businesses work today, and your call centre is no exception.
Slow response and resolution times are major deterrents to what users consider would make up a great customer experience. In India alone, AI has shown remarkable numbers for support agents – reducing FRTs by 74.19% in 2021 when compared to 2020. Last year was also defining in the way AI handled incoming tickets from beginning to end – with a stellar deflection rate of 90.5%.
AI in call centres is making a tangible impact, improving user satisfaction and customer experiences by multitudes.
Indeed, AI-based call and contact centres bring synergy, flexibility and an opportunity to collaborate and serve users a lot more efficiently.
In this blog, we will talk about everything contact centre AI, how it works, and why you need it to streamline your support function now and in the future.
—
Navigate this page below
The only way forward is happy customers, studies say
AI in call centres is trailblazing Customer Support 2.0
Will AI replace call centre agents? Will AI take our jobs?
Contact centre AI benefits: Why does AI in call centre make a solid case?
–
Breaking news: Happiness is the only way to win over customers
Today, experience is everything. Your customers are more aware and cognizant of what matters the most to them. And trust me, it's not just your product. The experience your call centres render can truly make or break a deal for you. Plenty of research supports this.
1 in 3 customers are not shy to switch to another brand (your competitors) simply after one single bad experience with a business. Almost 73% of all customers think customer experience strongly affects their decision to buy from a business or not. Whereas, 43% are willing to pay more for greater convenience, and 42% will spend more for a welcoming and friendly experience. What does this tell us?
It's clear: Customers know what they want, and these expectations must coincide with what your call and contact centres are delivering to them.
What users expect from brands is highly liquid today. And since how your call centre functions are the true representation of the quality standard you maintain, you must make the grade to acquire and retain customers.
Evolving call centre AI trends only seem to support the idea. A KPMG study across 27 markets gave a decisive conclusion: In 17 of these markets, personalisation of products and services is the strongest monolith to drive customer loyalty.
Personalisation of anything becomes a challenge when it needs to be hand-built. This is why AI automation in call centres has recently gained momentum and popularity among providers who refuse to compromise on contact centre experiences.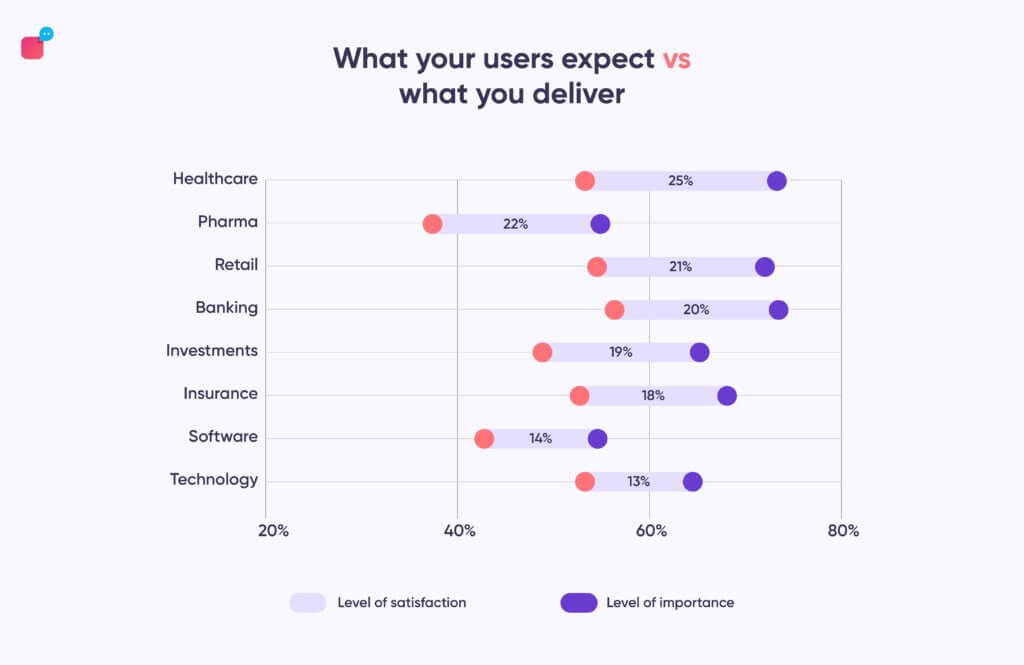 What is AI in call centre?
AI in call centre or contact centre AI is an artificial intelligence-based solution that helps contact centre teams in answering customer queries and giving appropriate resolutions on time, with relevance, and direction.
Call centres are feeling challenged today. They are pervasive but can't seem to serve the purpose. As demand grows day by day, so does the load on the agents. Call centre agents are expected to handle everything by themselves, from tending to the most basic of questions that just need 10 seconds to the toughest of tickets that sometimes take days to resolve. This overload of work eventually trickles down to result in a poor experience your precious end-users end up facing.
TL;DR: More work means more frustrated agents who are only able to offer the service that ends in frowns or shouts or both.
Contact centre AI platforms, on the other hand, are solving this problem embracively. In the next section, we are going to dive deeper into the ways call centre AI solutions give the customer support arm of your company wings.
AI in call centres is trailblazing Customer Support 2.0
From a commercial standpoint, call centres are turning out to be cost centres. When it comes to running a customer support function, most companies end up facing a trade-off between operational efficiency and great customer experience. Earlier, user journeys were pretty linear and mostly revolved around channels like IVR and email.
Today, customers begin their journeys from a social media post to interact with the website chatbot, finally seeking support on a chat app, like say, WhatsApp and only speak to live agents when it's too complex for the bot to resolve. These journeys are diverse and multi-branched.
But the users still want you to render one single consistent well-integrated experience, no matter when, where, and how THEY choose to reach out. The keyword here is They.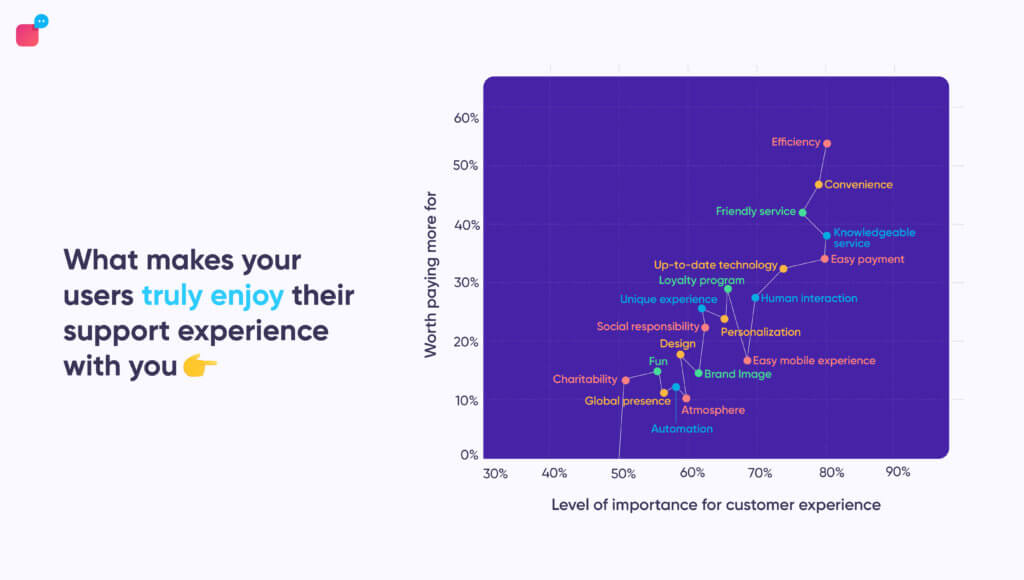 Contact centre AI companies identify this gap. There's room for improvement. Let's see how AI in call centres exactly works to create modern, adequate experiences users want.
We divide the AI workings into 3 distinct categories.
Pre-call: Understanding the context and intent
During call: Agent Assist
After call: Data analysis and insights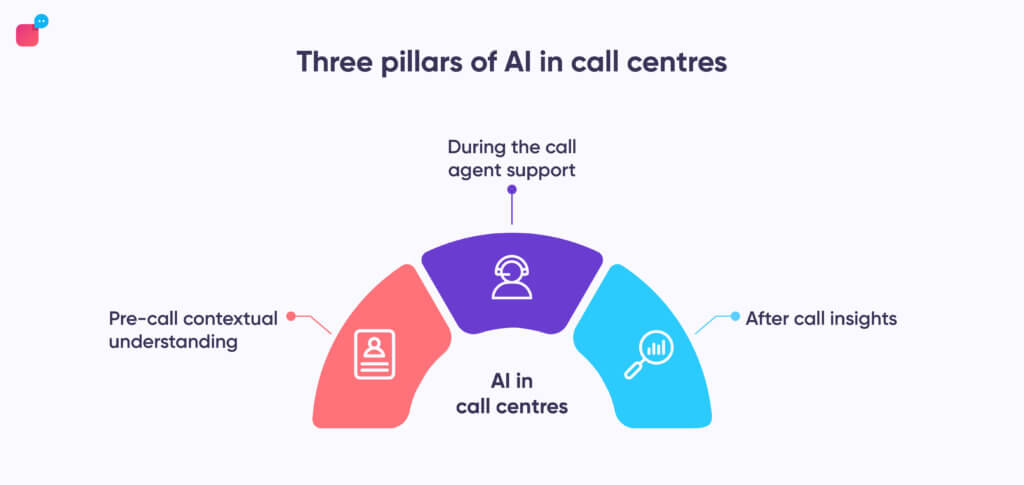 1. Pre-call: Understanding the user and the context
AI can be your agent's best buddy when it comes to doing the initial groundwork. The role of a virtual assistant here is to either:
Resolve the customer's query right there and then
Gather enough data and use intelligent routing
The three main call centre ai use cases in the pre-call phase are.
1. Behind-the-scene groundwork: Discovering intent and context
Let's further understand this. Conversational AI today is a concoction of several cutting edge digital technologies built to thread the most ideal call centre experience.
With Natural Language Processing (NLP) and Natural Language Understanding (NLU), AI brings meaning to the user's input. NLP/NLU fragments the natural language into subsets to analyse the grammatical formations and figure out the relationships between specific words in a particular context.
While NLP works the best on textual input, AI also employs Automatic Speech Recognition (ASR) and Speech-to-text (STT) to convert the user's analogue vocals into a digitised sequence of words. These converted waves of sounds into a string of natural language enable real-time transcription of data.
With an amalgamation and application of these techniques, conversational AI fortifies itself to pull out the meaning, relevant context, and level of importance of a particular query.
2. Taking the matter into its own hands: Independent ticket resolution
AI can structure unstructured natural language info into comprehensible data points. It then attempts to resolve the user query by itself before it is handed off to an available agent. Along with NLP/ASR, AI is smart enough to assess the tone, emotion, and urgency in the user's input using sentiment analysis before it attempts to give a response.
These advanced virtual agents are able to serve the users round-the-clock, thereby reducing wait times, ticket backlog, and eventually avoiding angry customers. This is what happens when the call centre AI is able to attend and resolve tickets by itself. And in case it's not able to…
3. …it brings predictive call routing into action
In the simplest of words, intelligent routing is the AI's ability to assess the nature of the query and assign it to the next best-qualified and available live agent.
Sometimes, the questions are too complex for the virtual agent to handle. The virtual agent's scope of knowledge is sometimes limited. This doesn't mean that your user has to stay stuck at a dead end. AI in call centres is equipped to know EXACTLY when human intervention is required before any further frustration builds up in the user.
—–
I will now try to explain each stage of the call centre AI with a descriptive example.
Let's weave this into a story: Sana wants to book an appointment with a hospital that has a centralised customer support network. She calls up the customer care number to be greeted by the virtual agent on the other end.
Sana: Hi I need to book an appointment for my mother
VA: Hi, welcome to ABC hospitals! Sure, may I please have your name?
Sana: Sana
VA: Alright Sana. May I know what's this regarding?
Sana: My 75-year-old mother has chronic appendix pain
VA: Got it. One of our best gastroenterologists can assist you in this matter. May I please know your preferred location, date and time of appointment?
Sana: Delhi, 25th May, 11 AM
VA: Done, Sana! Your appointment is confirmed with Dr. Rastogi at our Delhi branch for 25th May, 11 AM.
The virtual agent was able to attend to and resolve this query by itself. Onto the next step…
VA: Is there anything else I can help you with?
Sana: Yes. How can I avail health insurance if it needs surgery?
VA: We accept health insurance from A, B, and C. May I know which one you have?
Sana: B.
VA: Great, may I please know when is the insurance valid?
Sana: Till 25th May, but this is an urgent case
VA: I see! I believe the validity gets over on the day of your appointment. Please let me transfer your call to our available agent so we can help you even faster…
—-
As you can see, the AI was able to assist Sana with her basic query of booking an appointment. It was able to figure out the complexity of the case when she inquired about insurance validity and had predictive routing in action.
In the next section, we will dig deeper into how AI assists agents when a call is routed to them.
2. During call: Agent Assist
AI in call centres empowers agents. With data. With context. And with relevance.
Your customers want to explain their problems to you. But they do NOT want to do it twice.
1. Research says, your users do not like repetition
And it is in fact, one of the most frustrating reasons why your users probably end up dropping the call or simply switching to an alternative with a smoother support experience. More than half of the users in a Salesforce survey said they need to recount their query over and over again.
And over 33% find it very annoying to do so. The gap between user expectations and business delivery is apparent. AI keeps a record of all fresh real-time information relayed and communicates the same to the agent, so there is no repetition of information from the user's end.
2. Unified customer view: Users crave highly integrated contact centre experiences
AI enables highly integrated omnichannel experiences simply because it's flexible and compatible with many channels and devices – your users receive less siloed, more consistent experiences at any given touchpoint of their user journey. A whopping majority of 71% expect agents to be in the loop with the user's conversational history with the brand before being spoken to.
And this may come as a surprise but as many as 46% of your users may even abandon your services if your agents aren't already aware of the issue at hand.
AI works excellently at looping the agents into the conversation with all crucial user data points it collects over the course of the first step. Before a call is even routed to an agent, the AI also structures customer data through CRM integration, relevant information of the particular ticket, past conversations, and history of user behaviour – all into a unified customer profile. This gives the agent a striking bird's eye view of everything they need to know about the user from one point.
What does this do?
Gives users a breather now that they know they don't need to recite everything from scratch all over again
Reduces the Average Handling Time (AHT) since the agent is already aware of the specifics of the case and doesn't need to jump from one app to another to scavenge for information
Prevents frustration, anger, and impatience from the user improving your overall customer satisfaction
Let's continue our conversation from before.
—-
(The call is routed to the right agent with the right expertise at the right time who is already briefed on the case with the help of AI)
Agent: Hi Sana! This is Arjun from Insurance Escalations at ABC hospitals. I hope your mother is doing fine today.
Sana: Yes, I had a query about health insurance.
Agent: Yes Sana. I see you've sent an email about the eligibility for medical insurance in case of an appendectomy. Am I right?
Sana: Yes!
Agent: Sana, I can see your insurance is only valid till the day of the appointment. Your preferred consultation time is 11 AM. Dr Rastogi is available from 8 AM onwards, and I believe an early morning appointment will be best for the doctor to assess the condition to conclude if your mother needs the surgery or not – at the earliest.
Sana: Okay…
Agent: I understand how surgeries can be stressful when it involves the elderly. But fret not Sana. We will process your health insurance the same day as the appointment. You can choose to book your surgery within 7 days of the consultation and your insurance will be taken into account.
Sana: That will be great! Thank you so much!
Agent: Happy to hear that Sana. Would you like to reschedule your appointment to an earlier time, say 8:30 AM? Would that work for you?
Sana: Yes, please!
Agent: Done!
—-
Do you see how the call was so smooth for the user and the agent?
No repetitions. The agent knows everything about the case. It's a quick and flawless support interaction with no unnecessary tab-switching or confusion of any sort. That is the power Agent Assist yields to your agents.
3. The more, the merrier: Additional Agent Assist features
While a unified customer view helps faster interactions on calls, you can equip your agents with more tools to ensure seamlessness. You can enable:
Canned responses to quickly answer with frequently used phrases
Nudge to notify and bring your users back to the conversation
Notes to take down information in real-time to ensure no loss of data
All in all, AI in call centres remarkably improves employee satisfaction and agent productivity. Now, the agent no longer feels lost when faced with a customer who probably expects a resolution within a minute of routing (They receive it too!). It's a win-win.
3. After call: Data analysis and insights
Your agent-user interaction is a goldmine.
Once everything is said and done, there's more room for efficiency. AI in call centres is structured and analytical in its approach. Companies have been churning out high amounts of data every day from multiple frontline conversations. This data harbours untapped utility.
1. Your strategic partner: Data collection
AI keeps a lean record of every data shared at any point from all conversations your bots and agents, both have with your customers. This first-party data repository delivers a high impact on your future conversations. It sheds light on:
The top reasons why users are contacting you
Different types of customer intents and sentiments
The kind of hindrances they face while interacting with your virtual agent
Call quality KPIs like call durations, intelligent routing patterns, escalation trails
Call success rates with bots and agents
Bot and agent performance metrics
These quantified data points serve a greater strategic purpose the conventional way fails to do. It can be used to understand varying consumer behavioural patterns and train the AI for more sophistication.
2. Industry experts believe data gives direction and purpose
"Among a billion calls that happen, only 5% of the calls are ever audited for any of the KPIs that we look at." says, Nitin Somalaraju, Conversational AI expert at Tech Mahindra, a leading Indian IT and consulting firm. "That means 95% of callers' views are not being heard of. Now that's a huge gap in terms of what the customer is expecting versus what is actually being delivered to them." he aptly adds.
For example, when Sana had a question about the insurance validity, it served as a key data point for the company to look into. Insurance eligibility is one of the top concerns for people who need urgent, yet expensive treatment but aren't sure if they can afford it. A suggestive point of improvement could be training the virtual agent to handle any future queries around insurance validity before it absolutely needs to transfer the call to an available representative.
"Where is the exact problem that the company needs to work on, right?", Nitin continues.
"It [AI] is to be able to get that 100% automated audit processes, where we try and understand what are the different intents of customers, or what's the varying sentiment across different type of product lineups.", he emphasises the need for actionable data in getting to the fundamentals of improvement.
Psst: If you are interested in listening more to the interesting conversation we had with Nitin, tune into our podcast – The Twenty Minute Moat with Nitin Somalraju, as we explore why hyper-personalisation and omnichannel support is the future of better customer experiences.
AI-driven analytical insights are a treasure of answers to many unsolved call centre questions. With contact centre AI, recording, reading, assessing, and implementing data-backed decisions becomes painless.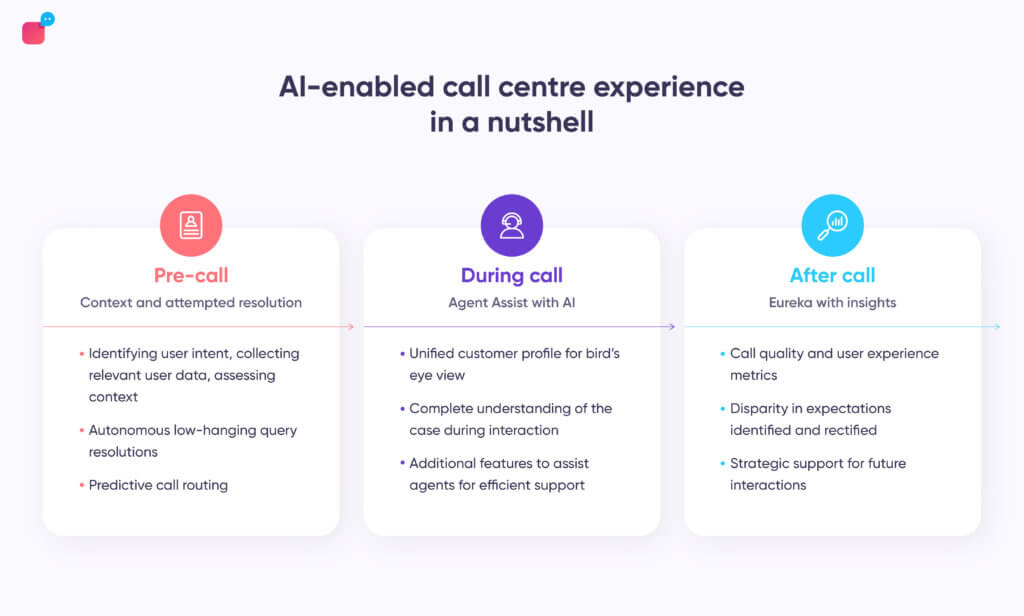 Will AI replace call centre agents? Will AI take our jobs?
This fear is largely fed by the Hollywood portrayal of artificial intelligence. However, in essence, it's important to note that AI as a technology is not nearly as developed as we fear it to be.
While it is capable of automating repetitive tasks and drawing insights from training datasets, AI in fact is a useful sidekick for agents. It is the sword your agents need to perform their very best on the battlefield. We will be talking more about why we say so, in the following sections.
We also wrote a separate piece breaking down the pros and cons of using AI and its effect on your support agents: Conversational AI: Friend or a foe for your agents?
Benefits of contact centre AI: Why AI in call centre makes a solid case?
Rigidity must be countered with fluidity if your call centre wants to keep up with the moving world. It's physically and mentally demanding on everyone involved in an inflexible support cycle.
If you already have been looking into newer tech solutions, chances are you are already seeing the tangible effect slow support processes have on your revenue, your customers, and your agents.
By now you already know the business value AI in call centres drive. But here are more contact centre AI benefits if you are still not convinced:
1. Higher P, lower L in your P&L: Operational cost saving
Call centres generally incur high costs in settings up the infrastructure with available resources. AI makes your support ecosystem lean and nimble. Autonomy allows AI to resolve a majority of your incoming tickets, making space for your agents to stay more productive with their time. With periodic testing, AI also reduces the time and tools needed to keep your support team dextrous. In the long run, it brings down your overall costs and boosts efficiency. Less is more!
2. Hands down, no contest: Users prefer and demand self-service
"71% [of users] want the ability to solve most customer issues on their own", Mahendra Mane, Customer Solutions Lead at Vonage, quantifies users' need for speed. The agility and quickness a well-defined self-service resource such as an AI-powered contact centre brings is unparalleled. Mahendra brings a more invaluable insight on why it's important for you to help your customers help themselves with AI – Check it out!
Or you can also…
3. Plating your users with the dishes they want
Personalisation has never been easier. CRM integrations bring the invaluable insights your virtual and live agents had no easy access to.
For example, a timely CRM record would show that the user was previously looking for a home loan but dropped off due to a high-interest rate. With the knowledge of prior interactions, a live agent can devise a personalised solution that solves their problem proactively. Imagine receiving exactly the solution you want, without having to recount it!
3. This channel, that channel, which channel? All of them!
Ever since the pandemic struck, companies investing in omnichannel experiences shot up from 20% to 80%. Call centre AI complements this change. Your agent dashboard gives your agents a deep view into the various channels your users are interacting from. This makes managing conversations from an omnichannel perspective simple for your agents. Manage voice and chat conversations with a robust contact centre AI solution.
4. Airtight data storage and targeted insights to leverage
If information is relayed by the user, no matter how big or small, you best assume your call centre AI has done a great job at storing it. The business value contact centre AI drives is by pulling out laser-sharp actionable insights for a more coherent, unfragmented approach to customer support.
The time is now. Evolve as your customers do.
Verloop.io has built a comprehensive suite of what contact centres of today need. Our robust conversational AI platform is built on a solid foundation of proprietary ML algorithms and NLP/ASR technologies that bring great call centre experiences to life.
With a real-time analytical dashboard, multiple integrations, and Agent Assist – we are here for your call centre's rescue.