3 Mins
2021 is a fresh year for modern e-commerce users, especially in Southeast Asia. The region is on its way to an internet-led e-commerce revolution, with almost 80% of total consumers to go digital by the end of this year. Now, that's a big jump for the Southeast Asian e-commerce space!
Next-gen e-commerce users expect a lot more from online brands today. In our recent webinar titled "The Role of AI Chatbots for Next-Generation E-commerce Users", we held an elaborate discussion with Justin Joseph, Head of Marketing, Landmark Group and Gaurav Singh, Founder and CEO, Verloop.io, who shared their views on the upcoming role of conversational AI in e-commerce today.
You can also watch the full-length webinar here.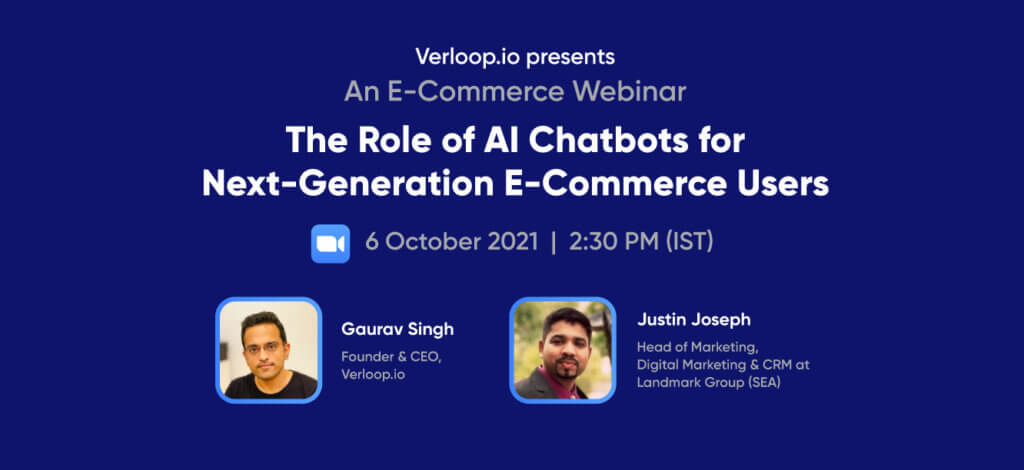 If you're curious, we have given a quick summary of the discussion below.
Personalising communication – but on a larger scale
Before everything went online, businesses were able to maintain one-on-one personal relationships with their customers. This brewed a sense of mutual trust on both ends. Customer loyalty and retention was a much easier concept to realise than it is now.
However, relevant customer support is capable of bringing this shared understanding to the digital space. Consumers, as human beings, expect meaningful exchanges with brands they love. Businesses armed with the right consumer data and insights are better equipped to effectively communicate.
Conversational AI to the rescue
Above anything else, consumers want brands to deliver relevant experiences each time they interact. Conversational AI helps maintain that consistency. "It goes above and beyond, and helps create a positive user experience with natural language processing", notes Justin.
AI-enabled smart chatbots can understand natural, free-flowing conversational language. They can gather, store, access, and implement relevant customer data to personalise responses that answer specific user queries. "This is why conversational AI becomes more important than traditional bots that are rule-based.", he adds.
Omnichannel, multilingual support create amplified brand experiences
Today, consumers expect brands to be available wherever they are. "They think brand first, NOT channel first.", Justin affirms. Whether it's on WhatsApp or Instagram, on mobile or desktop, customer support should be consistent and uniform and equally delightful for the customers. Businesses need to veer away from focusing on single-channel communication and aim to offer seamless support experiences everywhere their users go.
Whether it's a complaint, a query, or they need help processing a payment, your customers want to be able to effortlessly connect with you. This is notably important for brands operating in Southeast Asia. Not all of your customers in the SEA speak English or are comfortable conversing in it. Now, your customer support team should be prepared to cater to non-English speaking users in Bahasa, Malay, and other regional languages. Deploying a smart conversational AI chatbot can skillfully understand, converse, and provide solutions to users in their language.
Know how to: Integrate Verloop.io With Magento To Magnify Your Customer Pool
Conversational AI chatbots can accelerate e-commerce brands
The e-commerce landscape has a lot more to see in future. The Internet is now becoming the first brand touchpoint for many new users today. Conversational automation can lend a hand to online retailers looking to tackle the perpetual rise in the incoming traffic with minimal effort.
Landmark Group SEA is a Verloop.io client that has recorded quantified impact on its customer support using conversational AI. Know how you can use Verloop.io to speak to your customers the way they want to be spoken to using conversational AI – book a free demo.