4 Mins
Voice AI assistants have taken convenience in customer communication a level up. Your users want and love better customer service with ease of access and quick answers. Read more to know why you need to start using Voice AI for your business!
Imagine you're using a product and you have a problem that the customer service team can resolve for you. How would you go about it?
A long wait in the IVR contact centre queue to connect to a live agent, OR
Connecting and resolving the query in real-time with a voice AI assistant?
I am sure all of us value speed and efficiency when it comes to dealing with customer service. A voice AI assistant does the same work, but more accurately and quickly.
Voice AI is set to streamline online transactions remarkably in a coming couple of years. Voice AI was responsible for $4.3 billion in online transactions in 2020. Now, this number is set to grow to $19.4 billion by 2023.
This is a whopping 320% growth in online transactions handled by voice AI!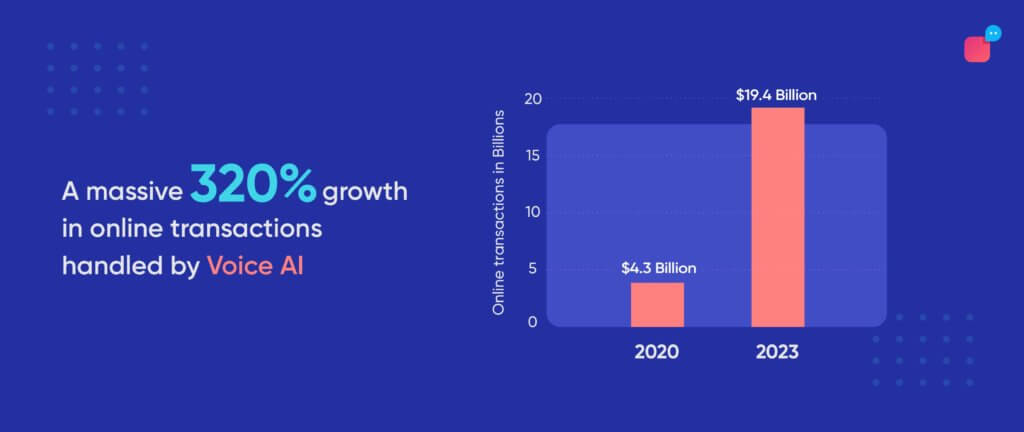 Voice technology has diversified customer connectivity for businesses with artificial intelligence at its forefront.
So why does your business need to adopt voice AI to scale and offer better customer support?
Suggested Reading: If You have a Customer Support Team, You Need Voice Chat
5 reasons to prioritise voice AI assistants
To say the least, voice technology is redefining customer support experiences with efficiency and quicker communication.
Here are the top benefits of having an AI-powered voicebot:
1. Faster than text
Voice search is 3.7x faster than typing and takes lesser energy too. With a voice AI assistant, your users are able to explain an issue in detail, which helps to assess the problem at hand better.
Unlike text, voice AI bot understands emotions and intents to ensure transparent communication with the user.
2. Multitasking with hands-free support
Your customer prefers frictionless and smooth customer service. Voice AI makes this possible. Interacting and getting support through a voice AI assistant is hands-free. All your users need to do is speak to the assistant and get their queries answered effortlessly.
Voice AI also lets your customers multi-task. Since they don't really need to hold a device to contact customer support, users can focus on other tasks and save time.
Speed, precision, and convenience are key aspects users look for in customer support – which voice technology fulfils.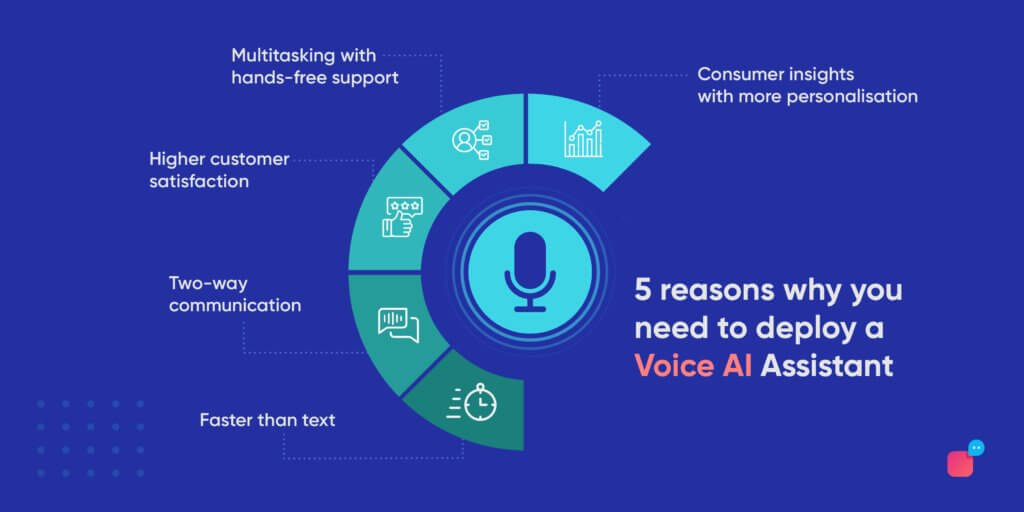 3. Higher customer satisfaction
The kind of ease and simplicity voice AI brings makes it quite popular among people. On average, 80% of people who shop using a voice AI assistant are satisfied with their experience.
Voice AI runs with a powerful smooth NLP-enabled algorithm that quickly understands what the user is talking about to give real-time responses. With no frustration because of long waiting queues, your users can easily make purchases.
A voice AI assistant can also give them speedy resolutions if they are stuck somewhere during the process. Subsequently, this leads to lower cart abandonment rates and improved customer satisfaction – which looks great to your untapped market!
4. Two-way communication
More often than not, conventional communication with emails and call centre IVRs leaves consumers impatient and dissatisfied. This is because there is no natural flow or consistency in conversations between a business and the customer.
However, voice technology is built on the cornerstones of promptness, clarity, and precision. A voice AI assistant works together with the customer to arrive at accurate and speedy results. It encourages a two-way conversation, which lets the user clearly state their queries and get instant answers and resolutions.
5. Consumer insights with more personalisation
Voice AI technology is sharp. It keeps a track and record of any important data provided by customers on your platform during the interaction.
Your voice AI assistant can store and utilize this information and the previously entered data to offer accurate and relevant suggestions. Where humans are prone to forget things, voice technology-based chatbots have a record of minute details.
No loss in data also equips you with better consumer insights. Voice AI makes it easier for you to assess, understand, and tailor your products and services according to different cohorts.
Suggested Reading: 7 Best Practices To Design and Scale Voice AI
It's time to choose voice AI assistants for customer support in your business
Deployed on sharp ML algorithms, voice AI assistants can streamline not only user journeys for your customers, but also customer support.
With seamless connectivity and personalisation, voice technology propels user experiences to new heights with speed and efficiency.
Verloop.io offers a powerful AI stack to design chatbots and assistants that can augment your business with engaged, converted and happier customers.