8 Mins
Chatbots will be a driving force for businesses in 2023. Companies digitised many processes due to the COVID-19 pandemic, and customers embraced these processes with open arms. This path led to the widespread use of efficient tools like chatbots for customer support, lead generation, and sales.
Therefore, we bring you the 100 Best Chatbot Statistics for 2023.
For easy consumption, we've divided the list into 8 different segments. With 100 chatbot statistics, once you reach the end of this blog, you too can be a Chatbot expert!
The segments are as follows:
Market chatbot statistics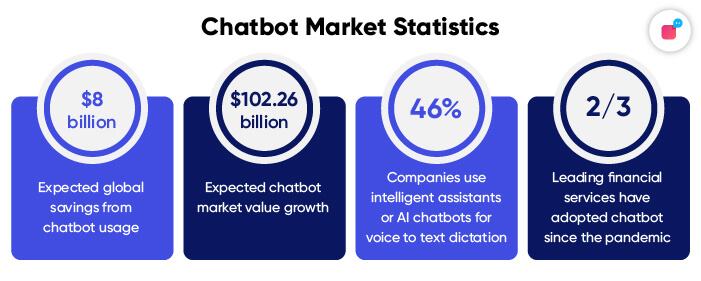 Chatbot trends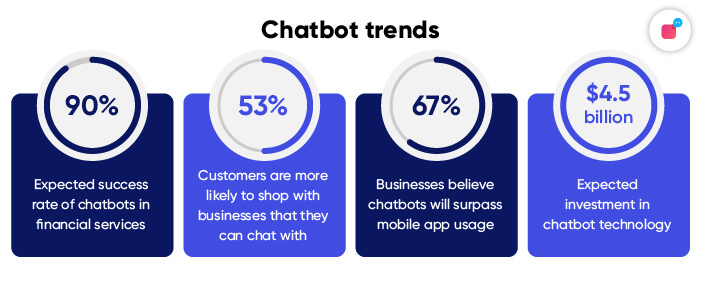 According to Google Trends, interest in voice AI has increased almost 3 times over a period of 5 years (Google Trends).
17. 85% of customer support interactions will be performed by a chatbot (Gartner)
80% of organisations looking to implement chatbots. (CCW Digital)
53% of customers are more likely to shop with businesses they can message and chat with. (Outgrow)
The willingness to use chatbots for purchases rose from 17.1% to 41.3% from 2019 to 2020, and is growing steadily. (Drift)
Chatbots are most commonly used for sales (41%), customer support (37%), and marketing (17%). (Intercom)
67% of businesses believe that by 2025, chatbots will surpass mobile apps usage. (Honeybot)
77% of customers say chatbots will change their expectations from brands by 2025. (Salesforce)
In 2019, 40% of companies with more than 500 employees will use AI or chatbots on company-owned devices (Spiceworks)
Countries with the most chatbot users are the US (36%), India (11%), and Germany (4%)
Shopping through chatbots will touch $112 billion by 2023. (Juniper Research) Users in Asia-Pacific and Europe are similar regarding the maturity chatbot usage mix. (Cognizant)
Chatbot trends on customer demand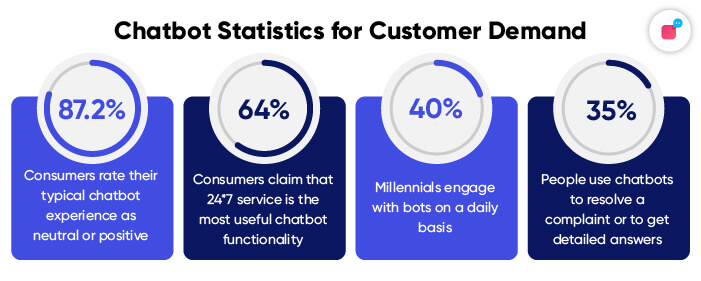 35% of people use chatbots to resolve a complaint or problem or to get detailed answers (Drift)
Chatbot statistics on company supply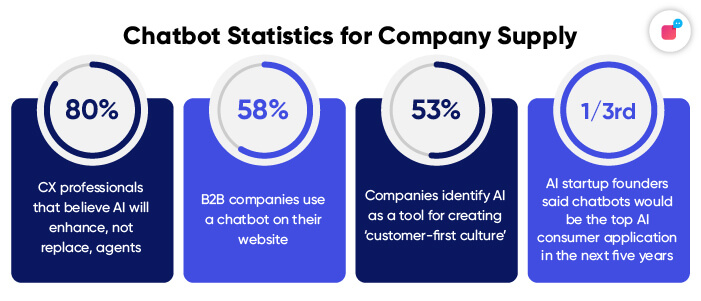 88% of CX professionals believe AI will enhance, not replace, agents – (CCW Digital)
90% of businesses report that chatbots greatly improve the time taken to resolve queries. (MIT Technology Review)
65.1% of businesses who have implemented chatbots are involved in software (Relay)
58% of B2B companies use a chatbot on their website, as compared to 42% on B2C websites (Relay)
53% of companies identify AI as a tool for creating a 'customer-first culture' (CX Network)
IT is the department that uses chatbot technology the most – at 53% of organisations (Spiceworks)
47% of organisations are expected to implement chatbots for customer support services, and 40% are expected to adopt virtual assistants
47% of organisations are expected to implement chatbots for customer support services, and 40% are expected to adopt virtual assistants (Gartner)
By 2023 chatbots will save healthcare, retail and banking up to $1.2 billion globally. (Business Insider)
A third of AI startup founders said chatbots would be the top AI consumer application by 2024-2025. (Emerj)
Chatbot statistics on challenges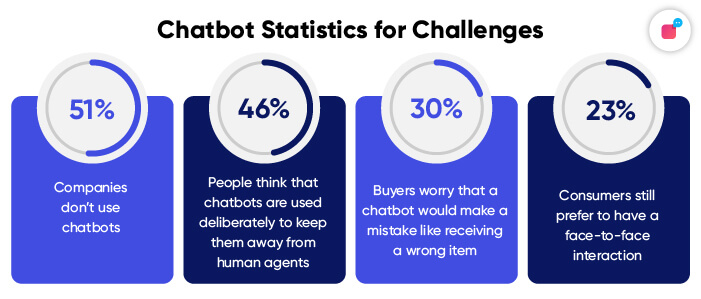 45-46% of surveyed people said they don't trust voice assistants to correctly process the order or make payments (PwC)
Chatbot numbers for customer acquisition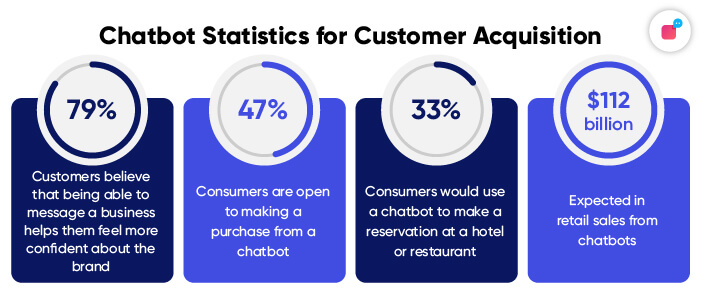 Suggested Reading: How to Calculate Customer Acquisition Cost (CAC) and Improve It?
Chatbot statistics for customer support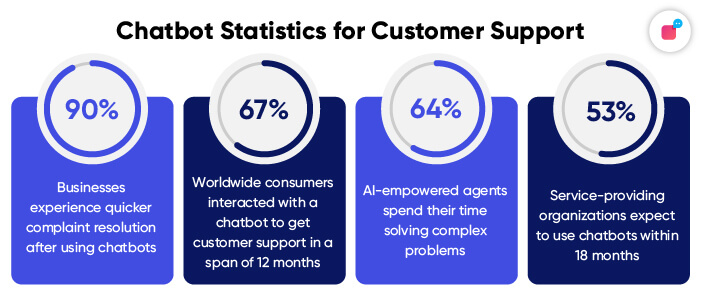 74% of the survey participants said they prefer to use voice technology when performing search queries. [Campaign Monitor]
Chatbot numbers by the revenue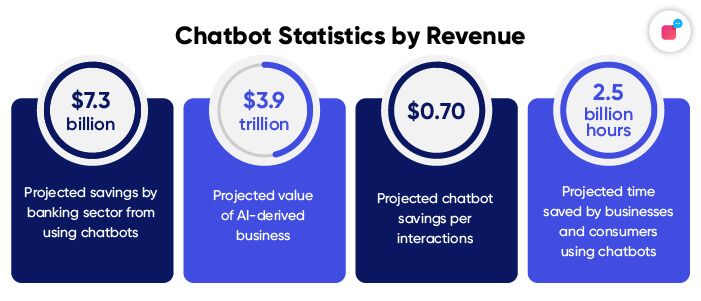 65% of consumers with smart speakers say they are comfortable making purchases with a smart speaker. [Just-ai]