back to main menu
07 Jun | 3:30 PM IST
[Demo Day: Free Webinar] Unlock Delightful Support Experiences in 45 Minutes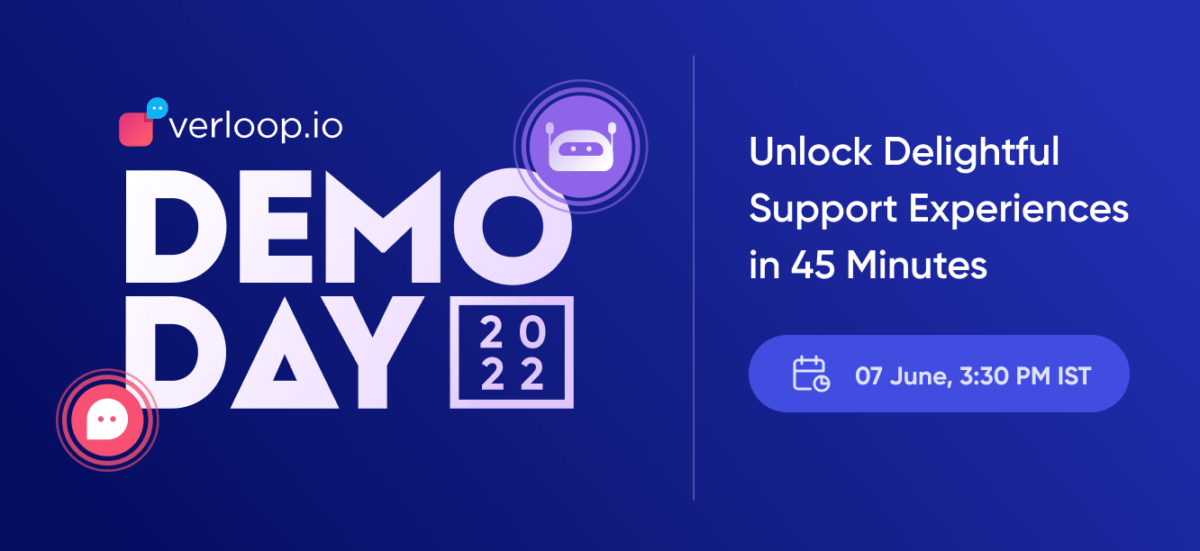 Learn how to make an AI chatbot for YOUR business
With Conversational AI being the catalyst behind the seismic change in the support industry, you can't overlook the need for a tailor-made chatbot to drive growth, grow at scale and reduce operational costs.
But how do you choose the right chatbot, in a market that is filled with chatbot solutions that come in all shapes and sizes?
Try answering a few of these questions:

How to make a chatbot?
We've got you covered!, With this chatbot demo day, we want to make this decision-making process more streamlined and easier for you. Learn how to create a bot with:
No code chatbot flow builder
AI-powered FAQ Builder
Data-driven analytics on Dashboard
Join us at the upcoming experiential event, where we take you through how to make your custom AI chatbot to:

Register now and see you on June 07. The future of support awaits you!
---
FAQs
Demo Day is Verloop.io's online experiential event where users will be given an in-depth look at the Verloop.io platform and how to make a chatbot.
How is demo day structured?
Demo Day will take you through an overview of the Verloop.io platform. We will show you:
How to make a chatbot
How the chatbot builder works
How to use the Verloop.io dashboard
Will I get to see how to make a chatbot?
Yes, you will be taken through an in-depth demo on how to make a chatbot, the way the chatbot flow builder works and how to get actionable insights and analytics from the dashboard.
Why should I register for demo day? What are the benefits?
Verloop.io's demo day will show you how to build a chatbot from scratch and in turn create delightful experiences for your customers. The biggest benefits of having the right chatbot solution include being able to make your brand stand out from the competition, reduce operational costs and enhance the customer/employee experience.
I can't make the demo day at the scheduled time. Can I view it at a later time?
Yes, you can register for the event and in case you aren't able to join the live demo day session, we will be more than happy to send you a recording of the same.