80.9%
Decrease in Average First Response Time
43.2%
Increase in Recurring Users
57.7%
Conversations Handled by Bots
Headquarters
Dubai, United Arab Emirates
Use Cases
pre-sales and post-sales support;
place order,
cancel order,
repeat order,
check order status,
return order,
refund status
The uncertainty in the tourism industry regarding time-sensitive information, delays, and new developments usually require a force to stay connected with customers 24 hours a day, seven days a week. And, in the aftermath of the pandemic, there has never been a greater need for self-service chatbots to stay connected to resources at all times.
The tourism industry is constantly dealing with the lingering element of uncertainty and, in turn, being plagued by repetitive queries. AI Chatbots bring high engagement and improved customer experience to the tourism industry by answering repetitive queries in real-time without human dependency. This factor contributes to automation and conversational AI's dominance in tourism.
About Thrillark
Providing a vacation experience like no other!
Thrillark is a leading company operating in the tourism space. They are problem solvers that ease travel to far-off lands by compiling every single travel component to a customer's digital screen.
They offer dynamic travel experiences to customers across the Middle East, like carefully curated attraction tickets, local affairs, and services to tourists worldwide through their in-destination tours, activities, and experiences booking platform.
Channels Added
Website/Whatsapp/Facebook/Instagram
The Challenge

Delays, cancellations, and new developments are a part of every traveller's journey at some point. Thrillark wanted to minimize these hurdles and bring convenience at its finest to all their customers.
But how to achieve this without increasing the number of calls?
Before Verloop.io, Thrillark received an average of 100 calls daily, and they had multiple support agents to tackle the increasing call volumes. This impacted their agents' overall productivity and customer support experience.
On the other hand, customers also needed output to register their concerns to receive quick resolutions.
This situation required a concrete, long-term solution for the better.
The Solution

When you have the power of Conversational AI up your sleeve, be prepared to witness the transformation of your customer support strategy within a blink of an eye!
After welcoming Verloop.io's Conversational AI-Driven solution to their website and social media channels like Instagram, Facebook and WhatsApp, Thrillark received marvellous outcomes.
Their call volume reduced from a staggering 100s to just 20 in a day despite the number of sales being between 100,000 – 200,000 per day. Now, upon being empowered with automation and only a handful of agents, Thrillark serves their customers every step of the way seamlessly.
All the credit goes to the chatbot's FAQ feature, which resolved most of their queries and attended to every customer, whether they were on Thrillark's website, still planning their trip – or at the airport, awaiting the departure of their flight!
The Result
Less Stressed Agents, More Customer Engagements, Skyrocketing Numbers!
Along with quickly resolved FAQs with a chatbot and easily resolved tickets, Thrillark received positive customer engagement on their website and across all platforms. Upon integrating a chatbot on Instagram and WhatsApp Messenger, Thrillark noted higher bonding experiences with customers and, in turn, higher conversion rates!
However, the numbers truly speak for themselves. So here are a few that show how effective chatbots by Verloop.io are!
Thrillark received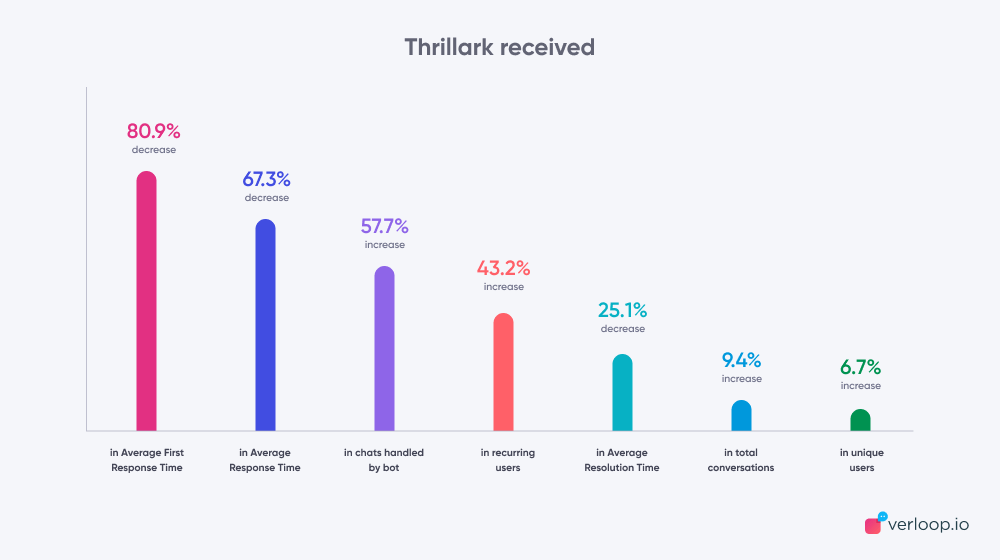 ---