back to main menu
Empowering Support: Taxmann's Resounding Success with Generative AI Features – Resolving 14% More Queries Effortlessly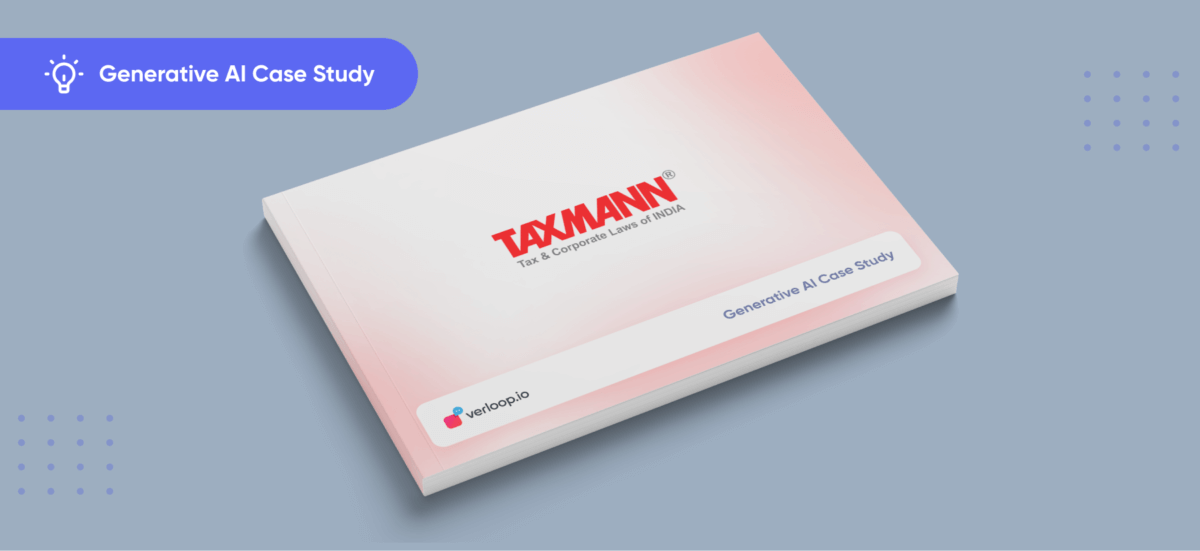 Use Cases
WhatsApp Business API FAQ Builder WhatsApp Outreach Instagram chatbot Facebook Chatbot Website Chatbot Conversational Commerce Solution
The entire industry is undergoing a transformation, encompassing the way content is selected, created, shared, and the methods through which businesses interact with customers. These changes are primarily motivated by the evolving demands of customers and the adoption of the AI era. Everything from household cleaning products to residential air conditioning systems is now powered by AI. Therefore, it only makes sense to extend these advancements to the way services are delivered to customers.
But now it is not just about embracing AI. It is now time to embrace and evolve with generative AI. The new LLM-powered technology is reshaping the face of industrial processes. Conversational AI solutions, which were till now helping the industry in providing personalized automated engagement to their customers, have reached their next phase thanks to generative AI.
Verloop.io launched its own LLM-powered features to help agents respond to customers faster with its generative AI language features. Taxmann, a tax research and publication house, became the first adaptors of our new features to empower their support agents to resolve more incoming queries in less time.
About Taxmann
Benevolent Late Shri U.K. Bhargava started Taxmann in 1972. Shri U.K. Bhargava led everyone around him by example and inspired them with his characteristic dedication to hard work and perseverance. He single-mindedly pursued his vision to provide world-class quality products at astonishing speed and give authentic publications in the ever-changing Taxation Stream.
What started as a small family business in 1972, Taxmann has become a technology-oriented Publishing/Product company with independent Research & Editorial, Production, Sales & Marketing, and Technology divisions. These four functions went on to become the backbone of Taxmann.
Taxmann is the leading publishing house on Domestic and International Taxation and Indian Corporate laws providing an impressive tally of titles on Accounts and Audit, Banking and Finance, Management, Taxation and Business Laws for Professional use, and Academic use for Under Graduate and Post Graduate curriculum. They roll out authentic legal content on Taxation and Corporate Laws on various electronic mediums and platforms.
Besides the in-print publications, Taxmann is a global software Development Company providing IT Solutions to enterprises worldwide. Taxmann Technologies deliver a range of software development solutions like e-book solutions, DRM Solutions, Professional Website Design, Mobile App development, Product engineering, Desktop based/cloud-based application software, CMS software payment Gateway solutions, etc.
Challenges
Challenge 1
Taxmann required Verloop.io's assistance in automating all the lead flow that came from their website since most of their offerings are subscription-based. They aimed to provide a personalized sales experience on their website through a chatbot.
In addition to this, they sought a support solution for their compliance offering, which would assist their customers in preparing e-TDS/TCS returns within minutes.
Solution
Verloop.io aided Taxmann in launching a website chatbot that could automate all pre-sales enquiries coming in. It would take all the lead data and transfer it to the sales team. So, no lead went unanswered. And after receiving the lead data, Taxmann's sales team could directly reach out to their prospects to convert them into customers.
Apart from this for their compliance model, Verloop.io also helped in automating incoming e-TDS related repeat queries and complicated queries, which were then transferred to an agent. Agents could respond to their queries on the Verloop.io Live chat dashboard itself, reducing the hindrance of switching between different platforms.
Challenge 2
The agents were only able to respond to a limited number of queries because it took time to refer to multiple documents in order to compose a response with the appropriate tone. Additionally, they were spending a significant amount of time summarizing conversations for their managers and other agents, time that could have been utilized to respond to additional queries.
Solution
Verloop.io recently launched our first phase of Generative AI features:
These features allow agents to compose messages quickly. They can easily rephrase the content for correct grammar, tone and even automatically expand the message for more details.
Apart from this, the agents did not have to go through the entire conversation to create a summary. They could do it automatically in the internal notes section of the live chat dashboard and create a complete summary using the AI-Summary button.

Result
By utilizing the aforementioned features, Taxmann agents experienced a significant improvement in their chat handling capacity. They were able to handle 27.45% more chats on a monthly basis compared to before. The ability to quickly compose linguistically and semantically accurate messages played a crucial role in this achievement.
Furthermore, agents now have access to the complete data of the customer and conversation history, conveniently located in the internal notes section. This eliminates the need to navigate back and forth through the entire conversation to gather information, saving valuable time.
As a result, agents were able to resolve queries with 14.49% fewer reply backs, indicating a more efficient and streamlined support process.
"Taxmann has experienced a significant boost in its operations and customer support capabilities since implementing Verloop.io's support solutions. The impact has been nothing short of remarkable.

We extend our appreciation to the Verloop.io team for their professionalism, expertise, and unwavering support throughout the implementation process. Your solutions have truly transformed our customer support operations and delivered exceptional results.

Thank you for your dedication and commitment to delivering top-notch support solutions. We eagerly look forward to continuing our partnership and exploring future enhancements to further elevate our customer experience."

Taxmann