back to main menu
How Portea Medical Escalated Every Patient's Query into a High-Priority Ticket with Verloop.io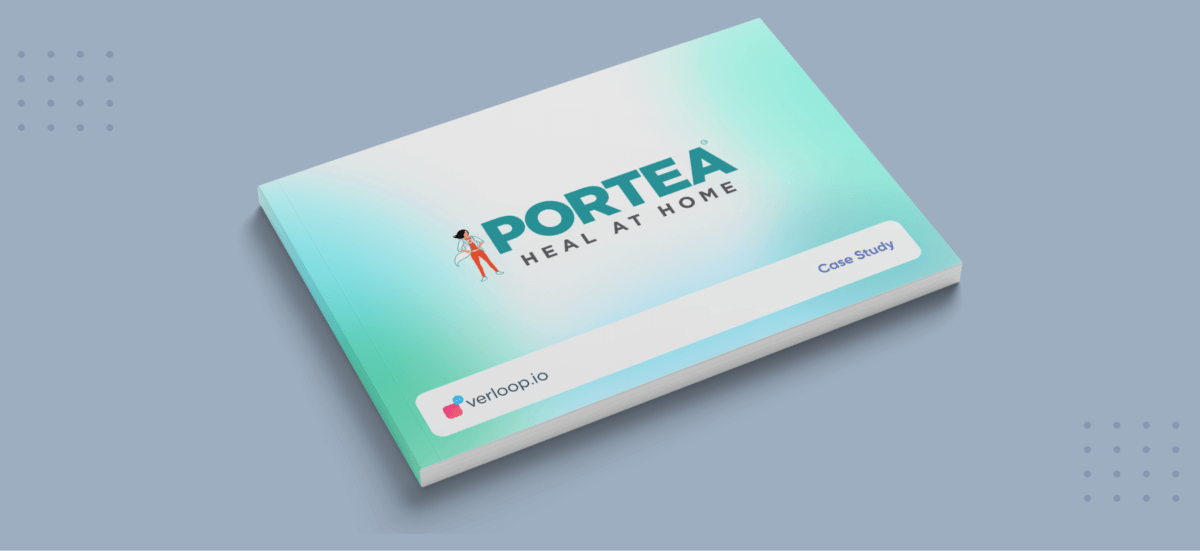 Headquarters
Bangalore, India
Use Cases
WhatsApp Business API FAQ Builder WhatsApp Outreach Instagram chatbot Facebook Chatbot Website Chatbot Conversational Commerce Solution
Healthcare is a delicate business. However, the rapid development of artificial intelligence has helped to fill many of these gaps in the Healthcare Space.
Patients no longer have to be concerned about flexibility in home healthcare, all thanks to Conversational AI-powered chatbots. They have improved healthcare for the better to address urgent patient concerns, health records, prescription lists, treatments and more.
About Portea Medical – Making Health a Top Priority
Portea Medical is a leading home healthcare company that offers in-home medical care and launched a number of initiatives aimed at improving healthcare access and outcomes in India.
Portea Medical has over 4,000 healthcare professionals and has served over 10 lakh patients in over 40 cities in India. The company is well-known for its technology-enabled platform, which allows patients to book appointments, access medical records, and communicate with healthcare professionals via a mobile app or website.
The Challenge
Dealing with A Mountain of Tickets
In the healthcare industry, almost every other query received is high priority and needs immediate attention. Before switching to a Conversational AI-driven platform like Verloop.io, Portea Medical dealt with problems like
Recipe Customisation,
Issues with Agent Handoff
Lack of Proactive Engagement,
Lack of Bot Accuracy, and…
Constant Need for Manual Intervention.
This situation required a concrete solution that was more receptive to a patient's concerns at the earliest!
The Solution
Verloop.io's Conversational AI Enters… And Changes The Game!
Conversational AI can really take charge and ensure that no queries go unanswered, and that's a guarantee!
After welcoming Verloop.io's Conversational AI-Driven solution to their platform, Portea Medical received phenomenal outcomes.
Greater visibility into account/profile quality
Reduced Turnaround Time (TAT)
Enhanced Reporting Mechanism
Enhanced Sound Notifications
Easy In-Template Access
Tickets sorted a lot faster
All the credit goes to Verloop.io's cutting-edge technology, which is designed to make customer support and deliver a happy customer experience feel like a breeze! 
"Verloop.io offered the solutions to many challenges that we were facing, like better UI and adaptability changes. They brought AI-based technology to the table, which made it easy for us to choose Verloop.io."
Vinay Venugopal, Deputy General Manager, Portea Medical
The Imapct
Fit as a Fiddle? Every Patient at Portea Medical!
"Collaboration of Verloop.io has been very useful and effective in terms of faster communication with our patients."
Vinay Venugopal, Deputy General Manager, Portea Medical
Along with quickly scheduling appointments, having more context for every patient's medical history, and experiencing an influx in the number of easily resolved tickets, Portea Medical received positive engagement from patients on their website and across all platforms. Upon integrating a chatbot by Verloop.io on their website and WhatsApp Messenger, Portea Medical noted faster communication on service alerts, quicker updates, and faster turnaround time (TAT) from the Verloop.io support & customer relationship team.
"Verloop.io's flexibility to bring changes and good governance has been positive for us."
Vinay Venugopal, Deputy General Manager, Portea Medical