back to main menu
NinjaCart Improves Customer Satisfaction by more than 11% and solves 689% More Queries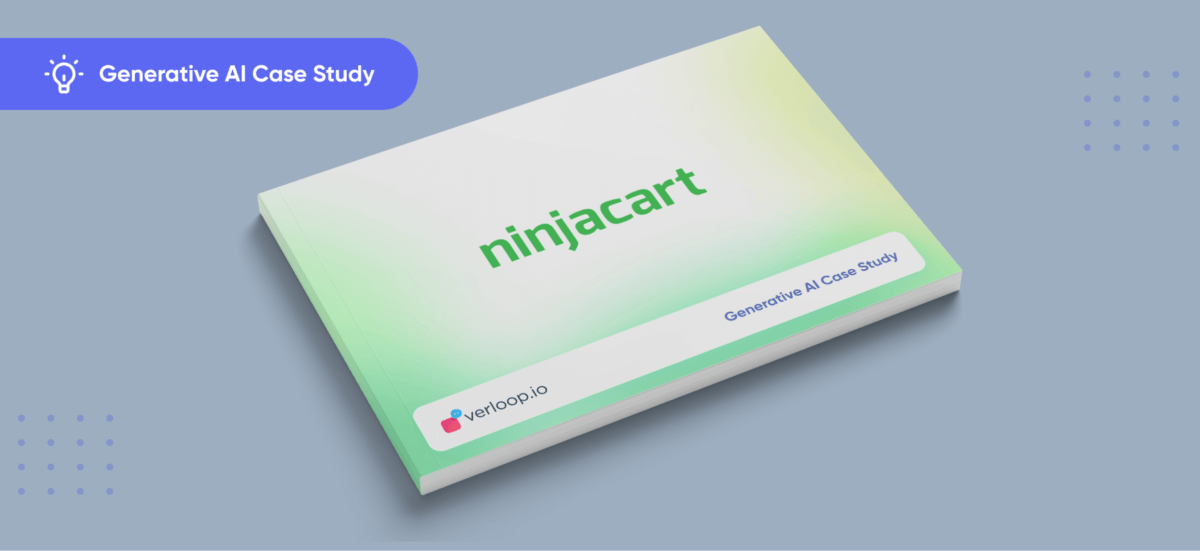 67.87%
Agent Response Time
reduced by
11.11%
Customer Satisfaction improved by
87.19%
First Response Time reduced by
Headquarters
Bangalore, Karnataka
Use Cases
WhatsApp Business API FAQ Builder WhatsApp Outreach Instagram chatbot Facebook Chatbot Website Chatbot Conversational Commerce Solution
The widespread capabilities of Generative AI have caused a sensation globally, with individuals and organisations alike seeking to determine the optimal means of utilising the technology to enhance their processes across diverse fields.
The supply chain industry revolves around managing various vendors, delivery systems and overall transport systems. This means the support system is laden with delivery, order and management enquiries. So how does a supply chain company tackle them?
Automation and AI are certainly the keys, but now this is also not enough. Though conversational AI is capable of answering all repetitive queries coming and providing personalised answers. But with the birth of Generative AI, the world expects more contextual and human-like interaction. And even generating contextual cognitive answers and summaries of conversations, without the need for human interventions.
Ninjacart understanding of this became one of our first adaptors of our Generative AI features, let us see why and how it impacted their customer support service.
About Ninjacart
Ninjacart, India's largest B2B Fresh Produce Supply chain platform, is solving one of the biggest challenges: connecting farmers directly to the consumers through its platform, through collectors, distributors and finally the customers. In 2015, Thiruhirukumaran Nagarajan collaborated with Vasudevan, Kartheeswaran, Sharath, Sachin, and Ashutosh to establish Ninjacart as a company in Bangalore that provides on-demand grocery delivery services pan India.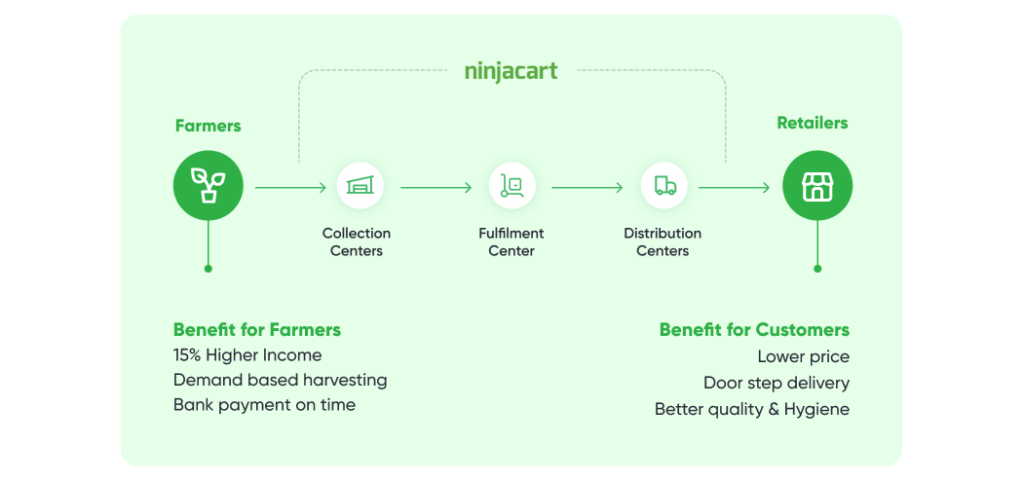 Challenges
Ninjacart has a large number of farmers, collectors, fulfilment centres and distributors in its database. They send outreach messages via WhatsApp for any new updates, promotions or just overall brand awareness. And any query coming in is transferred to their agents. It has been dealing with a high influx of query calls lately. These queries have a wide range, such as brand enquiry, process, stock level checking, order delivery status, product pricing, and more. To address this issue, Ninjacart has implemented a comprehensive customer service process that includes customer support, order tracking, and resolution of complaints. The queries that were transferred to agents took a lot of time to resolve, thus affecting the overall experience of their system.
Solution
In February, Verloop.io introduced its generative AI, which runs on ChatGPT and offers various features such as AI-Rephrase, AI-Tone Adjustment, AI-Expand, and AI-Summary for its customers. Ninjacart was among the early adopters to test and integrate these capabilities into their operations. With these features, agents could easily:
Rephrase or paraphrase their messages,
Adjust the tone of their messages to casual, semi-casual or formal,
Expand any phrase
And generate a summary of the conversation.
All of these tasks could be accomplished with just a single click.
Results
This feature is a great add-on to the tool. The value it brings in terms of time-saving and effective writing is simply amazing and super helpful. With this feature, we were able to save time and increase productivity. This has helped us in auditing agents' performances as well. – Alok Sulakhe, Team Lead, Ninjacart
Query Resolution Time Reduced
In just a month of deployment, Ninjacart improved its overall performance substantially in terms of resolving customer queries. Agents were able to resolve the query much faster as compared to before. This was because agents no longer had to waste time in thinking and writing cohesive answers, they could just make use of the AI-language features to help with writing responses to the customers.
First Response Time Reduced
First response time is basically the time taken to respond to the user after they have raised a query. And this metric is very important for improving the customer experience and satisfaction score. Ninjacart saw that their first response time got reduced by 87.19%, within no time of the deployment.
Agent Response Time Reduced
Another no-brainer performance improvement that Ninjacart saw was that along with the improvement of their query resolution and first response time(FRT), it significantly reduced the agent response time by 67.87%. And this is just in one month of time.
Customer Satisfaction Score Improvement
With faster response time and better query resolution with personalised answers with the right tone, Ninjacart saw that overall customer satisfaction improved by 11.11%, which means an overall better customer experience.
Number of Queries Resolved per Month Improved
Before using our generative AI features, Ninjacart was able to resolve around 1K+ queries per month, but with the help of our agent assist generative AI features, their agents are able to resolve more than 9K+ queries per month, which is an average of 689.12% improvement in handling incoming queries.
Agent Tracking System Launched
Before, using our generative AI feature– Summary, agents had to write notes of every conversation manually, which of course took a lot of time and gave no space for managers to track their conversations and performance. But with AI-Summary, managers and team leads are now able to track the overall performance of every conversation and agent.