Headquarters
Jakarta, Indonesia
Use Cases
WhatsApp Business API FAQ Builder

Midtrans, a payment gateway provider regulated by Bank Indonesia, is a technology-based financial company that supports a wide range of online business lines through comprehensive and inclusive payment solutions. As the leading payment gateway in Indonesia, Midtrans provides online payment processing services for businesses including start-ups, MSMEs, and enterprises.
Midtrans provides online businesses with access to a complete selection of payment methods that have the highest acceptance rates in the industry, including GoPay and other electronic money, bank transfers, debit cards, credit cards, virtual accounts, QRIS, and payments at convenience stores.
Supported by an anomaly detection system (Aegis) and a world-class disbursement system (Payout), Midtrans has partnered with bank networks and large fintech companies to power millions of businesses and individuals in Indonesia. Midtrans is in full compliance with the latest security guidelines and complies with the PCI DSS and ISO 27001 industry standards.
As part of the GoTo Financial ecosystem, Midtrans is accelerating financial inclusion by opening new growth opportunities and empowering everyone to realise their dream of a better life in the rapidly expanding digital economy.
Challenge: Taking merchant onboarding to completion
Let's accept the fact that Payments are a complicated space to be in. With a whole lot of compliances and regulations, onboarding merchants can be one more cog in the wheel to expand and grow your business. And fortunately, if your business is growing at a faster pace, onboarding merchants can become a bitter-sweet problem.
Midtrans was facing a similar problem in onboarding more and more businesses who wanted to start accepting payments using Midtrans. The challenge was broken communication in terms of the missing pieces of information. In other words, the inability of merchants to understand the process and intermediary steps or even get answers for plain simple doubts that need to be addressed during the onboarding process.
The inability to address the queries merchants had would lead to merchant drop-off from the onboarding process. This meant the business loss for Midtrans that had to be prevented at all costs.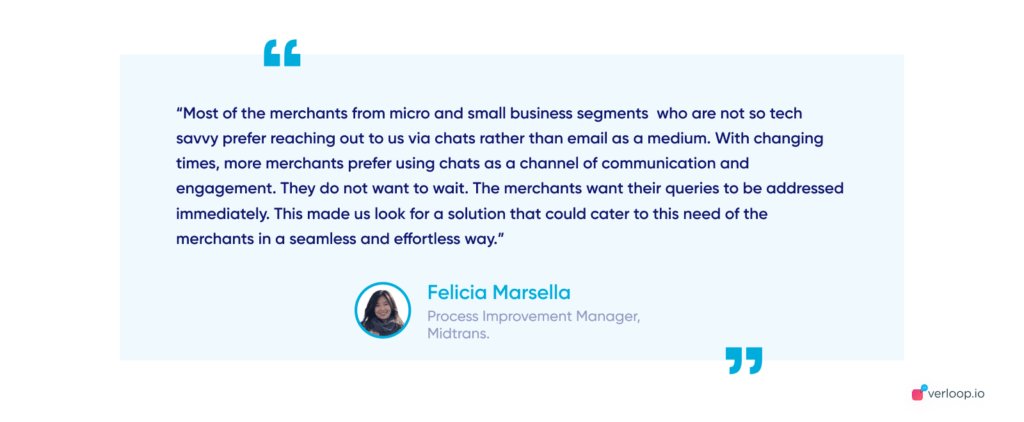 The nature of queries kept changing from one merchant to another. A few wanted to know more details about the product offerings, a few wanted to talk to an agent and others wanted to know their registration status, etc.
The other challenge was to be cognizant of all possible queries merchants may have and design a simple and easily navigable conversation flow for merchants so that they are not lost during the process (in a conversation). And they reach the final step of the onboarding process and complete the registration.
WhatsApp chatbot: Onboarding merchants at scale in a personalised way
Earlier Midtrans allowed merchants to register via the website. If they left the process in between, they would come back to the portal and complete their onboarding process. However as the influx kept increasing the merchant portfolio diversified, Midtrans started looking out for complimenting ways to onboard merchants without interrupting the current flow. Something that was quick and self-serving. A hassle-free way for merchants to get onboarded with Midtrans.
"Merchants wanted to be guided by chats (in Bahasa). And we wanted the onboarding process to be completed successfully. Chats designed with intelligent workflows work like a step-by-step guide for the merchants to complete their registration process. So we wanted a solution that not only engages with the onboarding merchants but also guides them through their queries and onboarding process."

says Felicia
A WhatsApp chatbot seemed like a perfect solution. One could instantly reply to the merchant in a peer-to-peer conversation format. Merchants can have their queries answered immediately. And Midtrans could successfully drive merchants to onboarding completion.
Many businesses like Midtrans have started leveraging WhatsApp chatbot for their business requirements because of its personalised, non-intrusive way of engaging with the end-users. With the WhatsApp chatbot, a business can reach its users where they spend most of their time.
In order to achieve that, Midtrans needed a solution that could build the custom flow based on the nature and flow of the merchants' queries. A chatbot solution that could offload stress from the agents, automate their support and still have scope to connect merchants to live agents if needed. And all of this in their native language Bahasa. Verloop.io provided all of that.
"We got in touch with Verloop.io. They understood our business use case for chatbot. Setting up bot flow and bot recipe on the Verloop.io platform was super simple and easy. We could also connect the bot to other platforms that could create a more comfortable flow reducing the load on our agents and fastening the response time. We could use AI-powered FAQ-builder to automate queries and still drive a conversation to a live agent if merchants wish to. The flexibility we got with Verloop.io's product was unmatchable.", says Felicia
Verloop.io also factored in the ability to nudge merchants (who left the onboarding process in between for any reason) to complete the process. It provided Midtrans with the ability to do an ID OCR process on the chat itself in which case merchants do not have to enter the information manually. This helped merchants with the onboarding process and their internal team to track the status of the onboarding process. There are multiple use-cases for a chatbot that Verloop.io could help Midtrans with.
Merchants complete onboarding with automated bot flows
"With Verloop.io, we have been able to work as a team. They are collaborative and easy to communicate with. They do not stick to their role as a vendor alone but rather work as a solution consultant who helps us navigate through the business problems and find a solution to the same. Verloop.io constantly shares information and insights and it is fun to brainstorm with their team.", says Felicia.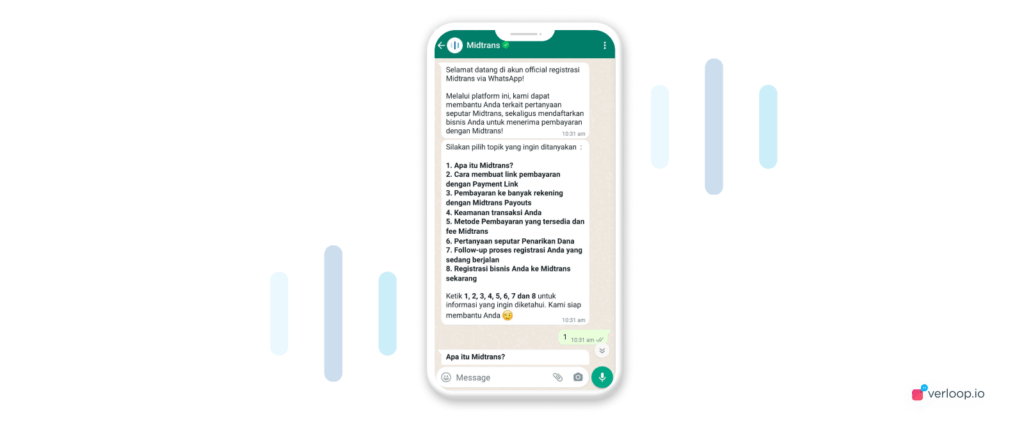 Verloop.io also provides a built-in integration with Salesforce that helps to store merchant data immediately. It helps the onboarding team to do the KYC/KYB process easily.
Midtrans collates feedback from the merchants recently onboarded and from the Verloop.io's team to keep improvising the workflows and further ease the onboarding process for the merchants.