back to main menu
Marathon Realty Boasts A 55% Lead Conversion Rate With Verloop.io's WhatsApp Chatbot For Real Estate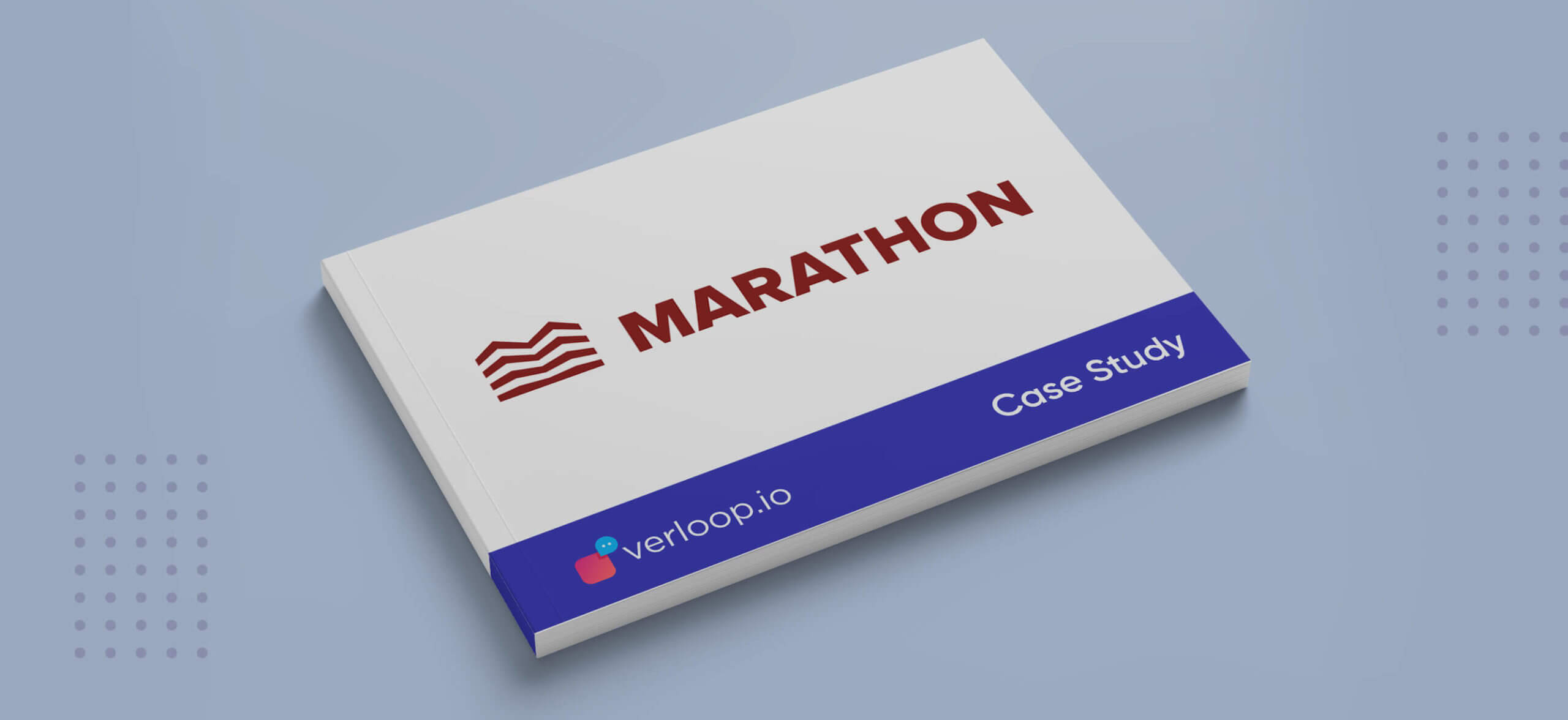 Headquarters
Mumbai, Maharashtra
Use Cases
Omnichannel
Conversational Intelligence
Introductions
Deepak Ramkrishna and the Real Estate Industry's problematic reputation
Founded in 1969, Marathon Realty has developed over 4 million square feet of land. As a design-driven brand with meticulous attention to detail & cutting edge engineering, Marathon counts over 5,000 families, 4000 retailers, and 350 business as happy customers. Marathon's product offerings range from affordable housing projects and ultra-luxury skyscrapers to bespoke offices and large business centers.
The Real Estate industry is fraught with hurdles. Barriers to entry are as high as any in the world, and high costs paired with tight timelines means that there's little room for error. Marathon Realty's Head of Marketing and Communications, Deepak Ramkrishna understood the ground-level challenges the industry faced. In his quest to ensure his leads didn't face similar struggles, Deepak sought a more efficient tool for Marathon's lead acquisition and engagement. Instead of relying on spammy emails and phone calls like the rest of the industry, Deepak wanted interested prospects to enjoy a simpler, smoother customer journey. With Verloop.io's Head of FDA, Sujoy Correa, Marathon took its first steps in building the perfect WhatsApp Chatbot for Real Estate.
Your reply and action has been very prompt, and I appreciate your promptness in addressing customer concerns. Keep up the good work!

– Deepak Ramakrishna, Head of Marketing and Communication, Marathon Realty
1. Customer Delight from Day One
Marathon Realty prides itself on attention to detail. Every single aspect of the brand – from engineering, design, and advertising – is kept in-house to ensure an uncompromised standard of quality. Customers are even given an open channel of communication with senior management to ensure all feedback and grievances are handled immediately. With this overarching vision, Deepak wanted to improve the way Marathon Realty engaged with its customers – from the first interaction to the last.
Instead of relying on impersonal and ineffective channels of lead generation like forms, Marathon Realty moved to conversational platforms like a chatbot on their website and WhatsApp number.
The gains from this move towards conversational automation were immediate. In just a single month, Marathon Realty generated nearly 2000 leads at a 55% conversion rate. This was astronomically higher than conversion rates real estate companies see from forms, websites or landing pages – which often fizzle out at 2 or 3%.
These inefficiencies stem from a fundamental problem – channels like forms tell customers what you want to tell them, not what they want to know. Chatbots allows customers to ask questions, have their queries answered and move through the sales funnel with ease.


2. Reap the Rewards of Empowered Customers
By making the sales process easier, customers began to automatically generate and qualify themselves. Another positive effect was that leads began to move through the sales funnel quicker. Marathon Realty saw a record 9% of its lead schedule a site visit to a property they were interested in – all from a single interface. This efficiency meant that Marathon could reduce its marketing spend while improving its top-line revenue.
Marathon also paired their real estate bot with ads to drive even higher conversions. Prospects who clicked on ads were taken to chatbot-powered landing pages and WhatsApp chatbots. These bots saw traffic-to-lead conversions of up to 80%. More leads flowing into a sales funnel more quickly = more happy Marathon customers.


3. Unbeaten Customer Engagement
Marathon Realty, like many real estate companies, develops a wide variety of documentation that it creates for customers to enjoy. These documents were traditionally sent to customers over email. Emails were also the preferred way to send customers all-important notifications and reminders about site visits. The problem? No one reads emails anymore. The worldwide average engagement rate of emails is a measly 2.4%. Sending customers information through email meant that Marathon leads, prospects and customers were simply not going to read it.
Enter – WhatsApp. As Marathon started sending customers outbound messages through WhatsApp, they saw the results pouring in. Now, with over 14,000 outbounds send every month, Marathon sees a delivery success rate of 94% and an open rate of 75(!)%. These new stats meant that more customers saw more of their digital assets, missed fewer site visits and had improved brand recollection. It also meant that Marathon sent fewer emails and witnessed higher engagement rates since more customers replied to them on WhatsApp than email.