back to main menu
Food Crowd Accentuates Customer Experience Using WhatsApp Chatbot and Outreach by Verloop.io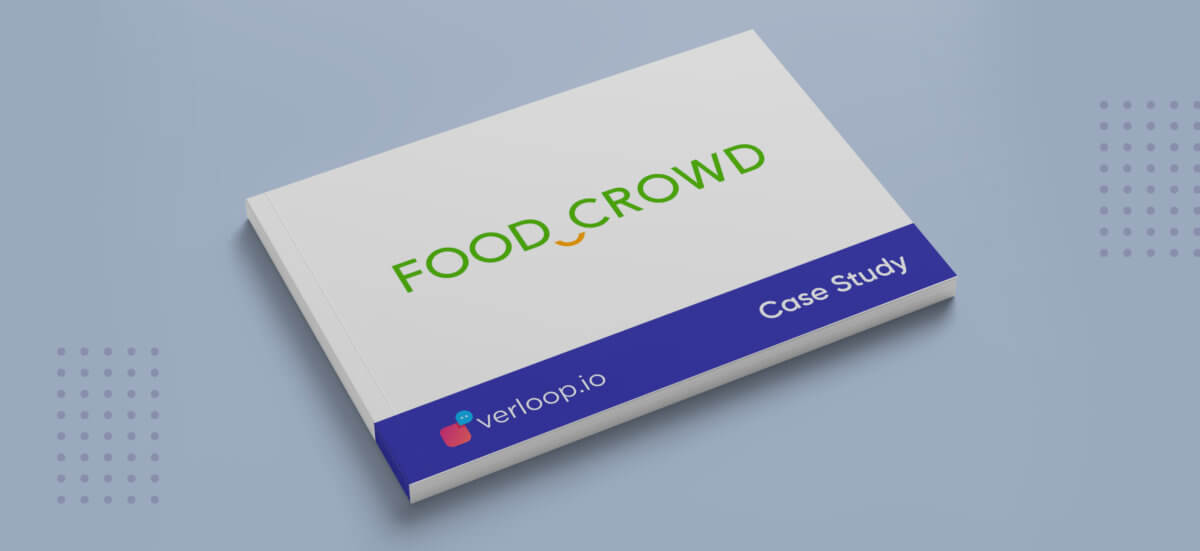 5 seconds
First Response Time
Use Cases
pre-sales and post-sales support;
place order,
cancel order,
repeat order,
check order status,
return order,
refund status
Food Crowd is part of Al Dahra, a prominent multinational leader in agribusiness, specializing in the cultivation, production and trading of animal feed and essential food commodities, and end-to-end supply chain management. It is based out of the UAE.
Al Dahra has a widespread geographic footprint, with a workforce of 5,000 employees, operating in over 20 countries and catering to more than 45 markets, with a leading position in Asia and the Middle East.
Food Crowd as a platform offers a wide range of sustainable, fresh, and high-quality locally grown produce. It believes in sourcing from THE COMMUNITY TO THE COMMUNITY driving the key
value of "Buy Local to Support Local".
The Challenge: Keeping Customer Community Happily Informed
Food Crowd receives 25+ orders in a day totalling to over 600 and above orders in a month. In the course of shortlisting the products, filling up the cart to order the items and getting them delivered – it can be a painstaking process for customers at times.
And on certain days, even worse if any item is missed in the delivery, or the order has been unduly delayed. The immediate reaction of any customer under given situations is to reach the customer support team. Resulting in a huge number of repetitive queries and long wait queues at customer support.
Imagine a customer trying to reach out to the support desk post business hours with long wait queues or no support agent to be found – the frustration could be huge and the customer could be gone forever. Net-net business loss and poor word of mouth. Statistics show a poor customer experience is talked about 7 times more than a positive customer experience with a brand.
Luckily, Food Crowd has been extremely particular when it comes to attending to their customer queries and keeping them informed about their order details. Food Crowd strongly believes in the power of building a happy customer community around their brand.
In order to ensure that poor information dissemination doesn't become a problem as and when the business grows and scales – Food Crowd started its search for an omnichannel and a humanistic support automation solution that could not only handle customer queries
immediately but also helped Food Crowd to share information with its customers at scale with ease.
That is where Verloop.io partnered with Food Crowd in delivering delectable customer experiences to its customers.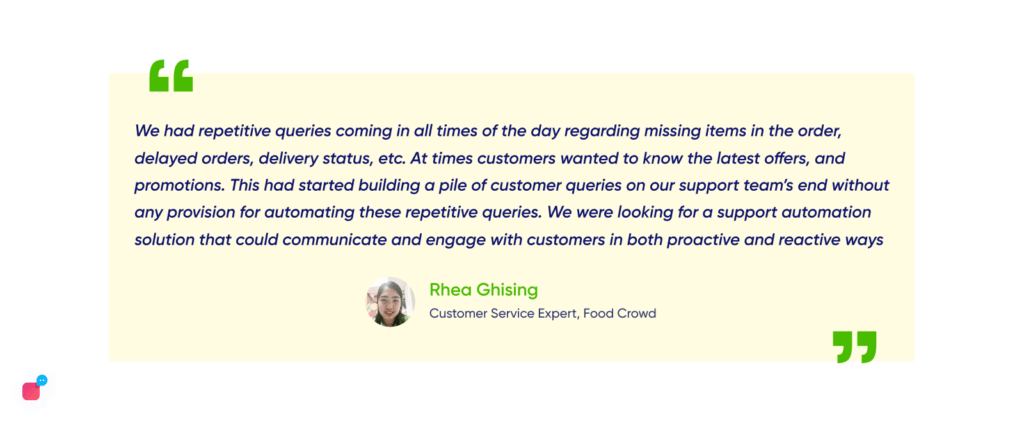 The Remedy: Building an Omnichannel Support System for Customers

Food Crowd was using calls and email to address customer queries regarding:
Quality issues of the products
Missing items in the order placed
Or about the ongoing promotions and discount offers
It started becoming daunting for support agents to address all customer queries at once and immediately. This caused long wait times for customers leading to a poor customer experience.
Plus, Food Crowd keeps setting up the latest offers and discounts on select few products from time to time in order to attract customers and delight them. This information needed to be reached into their inbox without running the fear of being blocked by the customers – as Food Crowd expected to gain higher visibility into these discounts and offers.
This led Food Crowd to start using Verloop.io for:
Chat Automation: AI-powered chatbots could assist agents in answering repetitive customer queries thereby improvising the First Response Time and Average Handling Response Time for a query. Also, in absence of agents or fewer agents during non-business hours, chatbots could really come handy to offload the support load and close on customer queries immediately. This makes customer support available 24×7 for Food Crowd's customers. 
Outreach: leveraging the WhatsApp chatbot automation by Verloop.io (Verloop.io is the official Business Service Provider, BSP, of WhatsApp) that could be used to proactively send messages to its customer base about new launches, new offers and promotions. This resulted in higher customer engagement because of the inherent acceptance of WhatsApp as a medium of communication.
With the WhatsApp chatbot, it has become super simple for Food Crowd to reach out to customers on their pending queries even if they have dropped off. Over and above, Verloop.io could help Food Crowd build custom bot flows and bot recipes to address customer queries in a personalized fashion.

He adds, "Not only this, we are seeing higher open rates and better engagement with Verloop.io's Outreach functionality. It has amplified our campaign outreach efforts and helped us monetize these deals in a much more efficient and scalable fashion."
It's a Win-Win!
With Verloop.io, it's a win-win situation for both support agents of Food Crowd and its customers as well.
Food Crowd has been able to deliver easy access to the right information to its customers regarding their orders. It has also helped Food Crowd in disseminating this information to its customers on time without them having to wait for an agent to be there at the support desk to answer those queries for customers.
Food Crowd has seen an upliftment of CSAT thereby improving to 95% and First Response Time has reduced to 5 seconds
And with enabling chatbot on WhatsApp, Food Crowd has seen a considerable increase in customer engagement.
Now Food Crowd can boast of its 24×7 Customer Support available across all channels including web, mobile and WhatsApp – thereby building a Community of Happy Customers.