Headquarters
Ahmedabad,India
Use Cases
Omnichannel Support Automation, Omnichannel sales, agent transfer
The burgeoning Indian bathware industry, experiencing a robust CAGR of 7.74% from 2023 to 2028, grapples with significant connectivity and communication hurdles. As consumer demands escalate and market dynamics evolve, establishing seamless interactions and ensuring uninterrupted access to vital resources becomes paramount for sustaining this growth trajectory. The need for effective solutions to address these issues has become increasingly evident. One of the major players in India faced similar challenges. Let's see how they were able to resolve this and set up an effective communication system for their customers.
Meet Astral Bathware
Astral Bathware, a division under the esteemed parent company Astral Limited, is renowned for its expertise in crafting top-tier bathroom and kitchen fixtures. Since its inception in 1998, Astral has ascended as a global powerhouse, celebrated for its unwavering commitment to excellence.
Astral Bathware complements this legacy with a distinguished array of faucets and sanitaryware, distinguished by their contemporary flair, enduring aesthetics, and impeccable craftsmanship. To offer customers an immersive experience, they've established a flagship display centre in Ahmedabad, India, where patrons can explore their exquisite collection of faucets and sanitaryware. They also collaborate with individual investors to set up their dealership.
Challenges Faced by Astral Bathware
Astral Bathware encountered a significant upswing in customer inquiries regarding its premium product range. The existing support framework, designed to handle customer enquiries and complaints, proved to be insufficient. Further adding undue strain on their support team. Simultaneously, the company experienced a noteworthy surge in dealership inquiries, attracting high-profile investors eager to partner with Astral's esteemed network.
This necessitated the establishment of a more robust support system to manage efficiently the burgeoning influx of inquiries.
Unified Cloud Based Automated Customer Support Launched
They implemented a cloud based unified communication solution, with the help of Verloop.io, which enabled them to provide their customers with uninterrupted access to their services. This solution provided them with the ability to scale easily their services and meet the needs of their customers.
With Verloop.io's conversational AI platform, Astral Bathware was able to build an engaging conversation flow for its customers.
The solution can converse in 2 languages – English and Hindi. They launched the solution on four channels for maximum engagement:
Website
WhatsApp
Facebook
Instagram
The provided conversational AI solution, depicted in the accompanying screenshot, is customised to gather vital customer details, namely names, associated queries and phone numbers. This information empowers assigned agents from the respective departments to efficiently assist customers.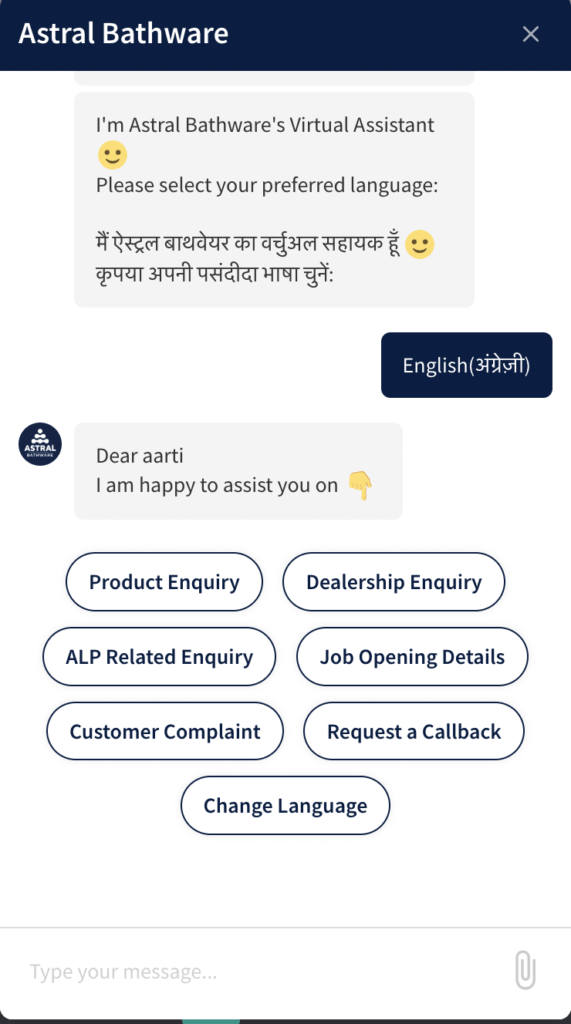 Product Enquiry: With this feature, customers have the ability to choose the product and select various options for inquiry, receiving relevant information through the FAQ model.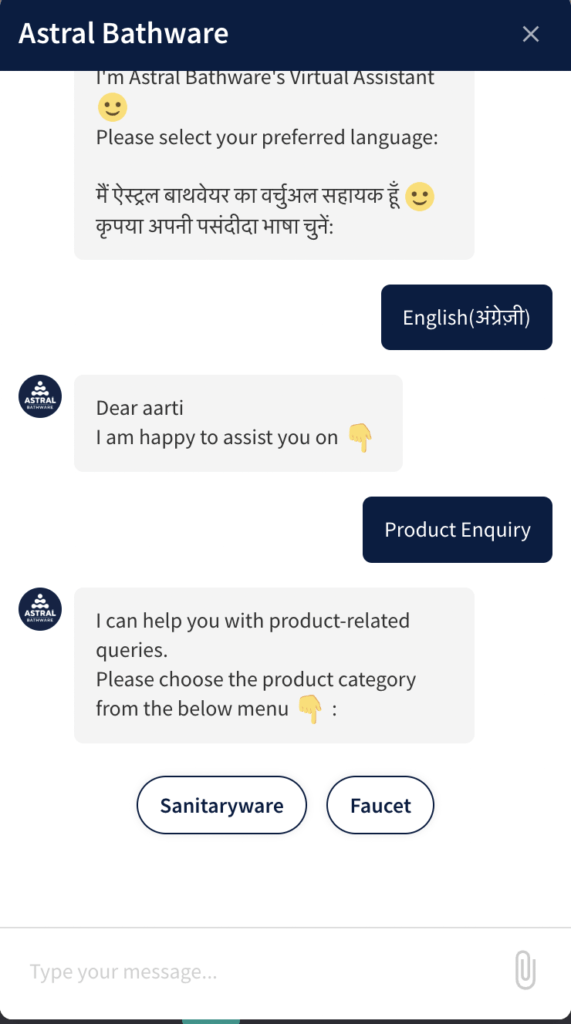 Dealership Enquiry: This feature enables users to engage with an agent who will guide them through the process of acquiring a dealership.
ALP-Related Enquiry: Once users input their ALP code, they are seamlessly connected with agents for prompt query resolution.
Job Opening Details: Any candidate wanting to apply for a position in Astral Bathware, can also do that by conversing with the bot.
Customer Complaint: Prospective candidates can initiate their application process with Astral Bathware by engaging with the bot.
Request a Callback: Clients have the option to request a callback through this dialogue sequence.
Change language: Users can opt for their preferred language at the beginning of the conversation or even switch it midway by accessing the main menu page.
Astral Bathware Delivers Delightful Customer Experiences with Conversational AI Support
The implementation of an innovative AI-driven conversational automation system revolutionized the management of customer queries, consolidating them into a centralized platform. On a monthly basis, the platform successfully handled an influx of over a thousand queries. This strategic approach guaranteed that every inquiry was promptly attended to, resulting in a noteworthy surge in overall customer satisfaction levels and fortifying the brand's market presence.
This transition not only streamlined query resolution but also substantially elevated the brand's responsiveness to customer needs, further solidifying its reputation as a customer-centric industry leader. The data-driven insights derived from this centralised system provided invaluable feedback, enabling Astral Bathware to fine-tune continuously its support operations for even greater efficiency and effectiveness. This shift towards a more tech-enabled support framework has set new industry benchmarks for customer service excellence.
24/7 Available Support
The solution operates around the clock, every day of the week, and throughout the year, ensuring uninterrupted resolution of queries and seamless collection of customer data.
First Response Time Reduced
By implementing a conversational AI solution to address customer queries, Astral Bathware successfully reduced its average first response time.
Centralized Support
Introducing a centralized platform equipped with omnichannel capabilities and multilingual support. This revolutionary system removes the need for agents to juggle multiple platforms for customer queries. Now, with Verloop.io, agents can seamlessly access customer data and promptly respond to inquiries.
Resolution Time Reduced
Before adopting Verloop.io, the task of gathering and resolving queries took several days. However, with the implementation of a centralised data system, this process has been significantly streamlined. Now, the average resolution time is reduced to a couple of minutes.
CSAT Score Improved
Through the integration of a comprehensive multilingual and omnichannel support system, response and resolution times were optimised, leading to a notable increase in customer satisfaction levels.
Quote by Astral Bathware
"With Verloop's chatbot at our side, we've seen a transformative boost in our customer experience across all Astral verticals. The ease of managing queries and fostering vibrant customer interactions is unparalleled. Truly a beacon of excellence in modern customer engagement!"